15 Ford vs. Chevy Statistics You Should Know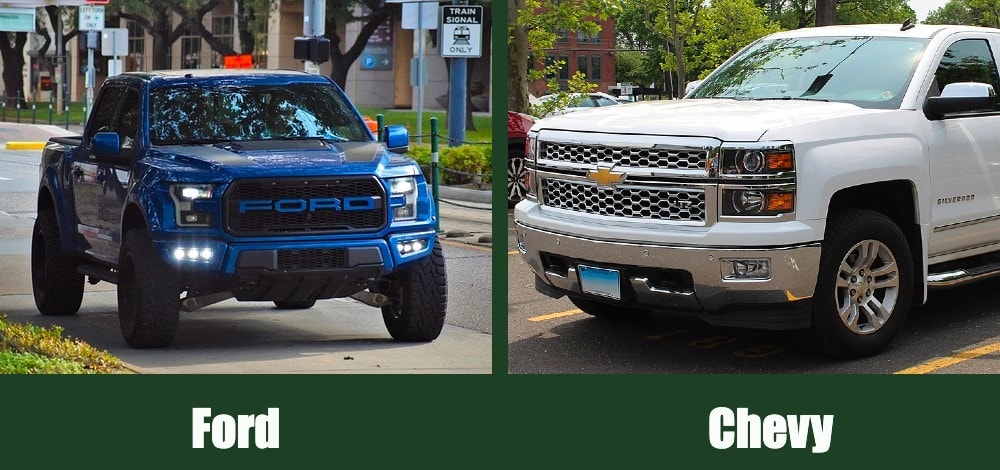 Note: This article's statistics come from third-party sources and do not represent the opinions of this website.
Ford vs. Chevy trucks, a debate as old as time—or at least as old as these two brands have existed alongside one another. When we get down to the nuts and bolts of the matter, both Ford and Chevy make excellent vehicles, both known for reliability and innovation. The rivalry between these two brands is so iconic that the term "It's a Ford vs. Chevy t2020hing" is commonly used to demonstrate that something is an opinion—you like this one, or you like that one.
If you haven't picked a side yet, below, you'll find 15 Ford vs. Chevy truck facts that may help you get there. If not, at least you'll learn something new! We compare their

The 15 Ford vs. Chevy Truck Facts


The Historical Battle Between Two Brands Begins
1.

Ford's first Model T was released October 1, 1908.
(History)
Before the Model T was released, cars were a luxury item that only the wealthy could afford. In fact, before 1908, there were less than 200,000 cars registered. The Model T wasn't the cheapest car initially. But as Ford's innovative technologies could produce their automobiles more economically, Henry Ford passed those savings on to his customers. He insisted that his vehicles were for ordinary people to drive every day.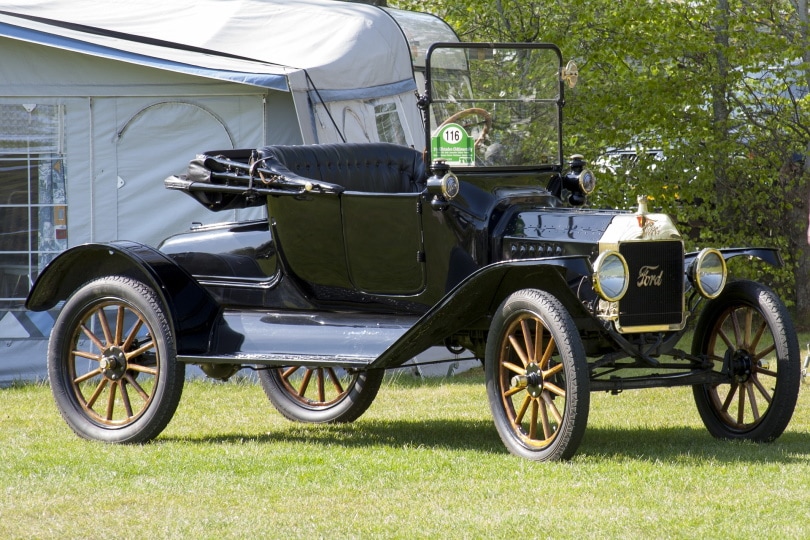 ---
2.

Louis Chevrolet founded Chevrolet on November 3, 1911, along with General Motors' founder, William C. Durant.
(Corporate GM)
Louis Chevrolet was a racer, and that spirit and drive are what he brought to life when he founded Chevrolet. He took technologies and features that were typically only found in high-end automobiles at the time and created a line of affordable cars and trucks. Chevy became known for durable and robust performing four- and six-cylinder engines early in life.
---
3.

By the early 1920s, over 50% of registered automobiles were Ford.
(Corporate Ford)
It didn't take long for Ford to dominate an exploding market. Within approximately 12 years after the Model T was released, Ford could sell it for around $260, down from its initial price point of about $825. Not only was the quality excellent, but consumers loved to save money. At the peak of the Model T's popularity, Henry Ford was recorded saying, "There's no use trying to pass a Ford because there's always another one just ahead.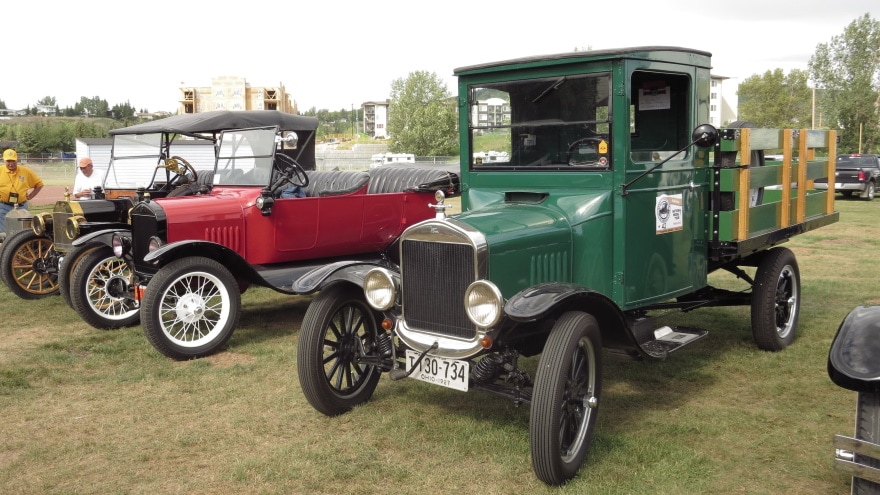 ---
4.

Chevy released its first one-ton truck in 1918.
(Chevy Truck Legends)
Ford wasn't the only brand making waves, though. In 1918 Chevrolet built its first truck that was made to work. The price point was high for the time, starting at $1,325 for the cowl and chassis model—or as we know it today, a cab and chassis, which is also commonly known as a flat deck truck. When Chevy released this truck, they intended to allow their customers to customize it to their needs.

Modern Head-to-Head Ford vs. Chevy Facts
5.

In 2021, Ford sold 595,249 F-Series pickups.
(Ford Authority)
In 2021, Ford narrowly held onto its lead in sales. The F-Series includes the F-150, F-250, F-350, and F-450. It has been the leader in overall sales for many years. The F-150 specifically has been the best-selling truck for over 40 years, earning itself the distinction of the most popular motor vehicle of all time.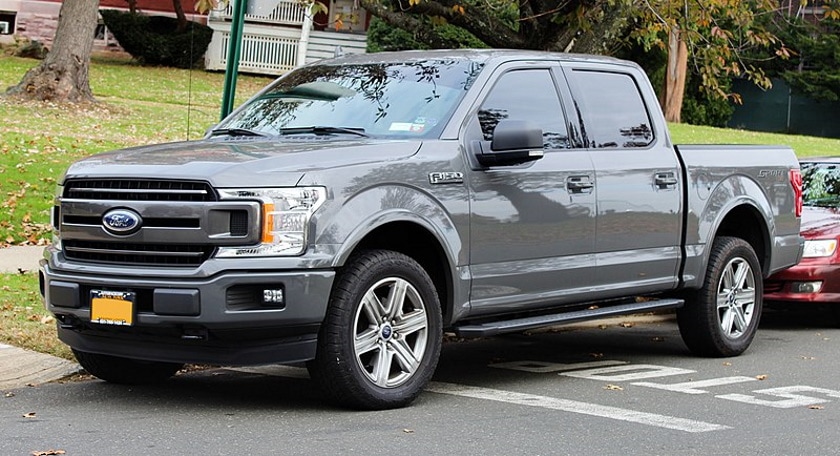 ---
6.

In 2021, Chevy sold 529,765 Silverado trucks.
(GM Authority)
Chevy's sales in 2021 weren't anything to shake a stick at either. While the Silverado didn't take the lead for most trucks sold, it came close behind the Ford F-Series. Silverado trucks account for their 1500, 2500, 3500, and 4500 models. Chevy hasn't won awards like Ford, but its healthy truck sales prove that it manufactures an excellent truck.
---
7.

The Ford F-150 has a 3.5 out of 5.0 for a reliability rating.
(Repair Pal)
Coming in close to the top of the list for reliability rankings, it's no wonder the F-150 has been the best-selling truck for so many years. Not only do their F-150s start at a reasonable price for a full-size truck, but their annual average repair cost also comes in at only $788. And let's be honest, the purchase price is not the only number that plays into a product's overall cost. We have to factor in ongoing things like maintenance.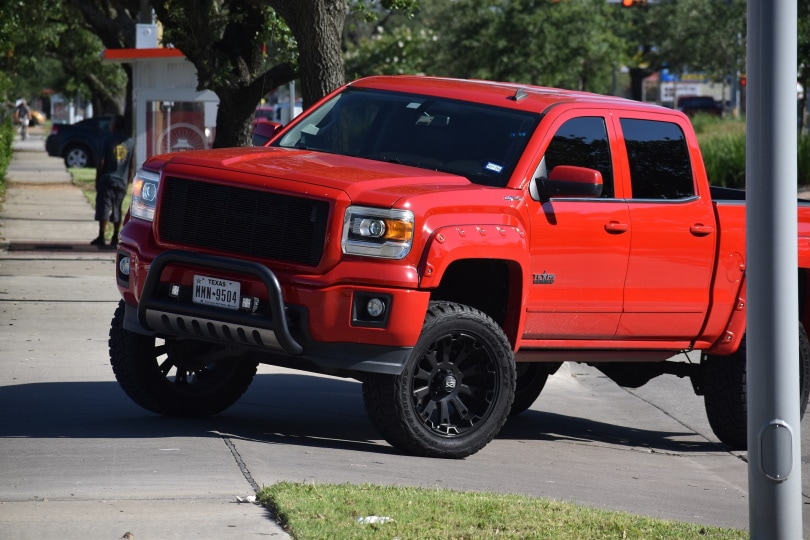 ---
8.

The Chevy Silverado 1500 has a consumer rating of 4.0 out of 5.0 stars.
(Consumer Affairs)
It doesn't matter what we are talking about; if it has a 4/5-star rating, it is a superior product. The 1500 Silverado is no exception to the rule. With almost 400 consumers giving it rave reviews on everything from comfort to power, it's easy to see how this truck was such an incredible seller in 2021 and is projected to do just as well this year.
---
9.

Ford is investing more than $11.5 billion into electric vehicles in line with its commitment to reduce CO2 emissions.
(Corporate Ford)
It is becoming more critical than ever for companies to take a firm stance in their environmental protection plans. Ford is doing just that with a massive investment into environmentally friendly vehicles. They aren't stopping with their vehicles alone, either. By 2035, they want all their production plants to be using 100% renewable energy.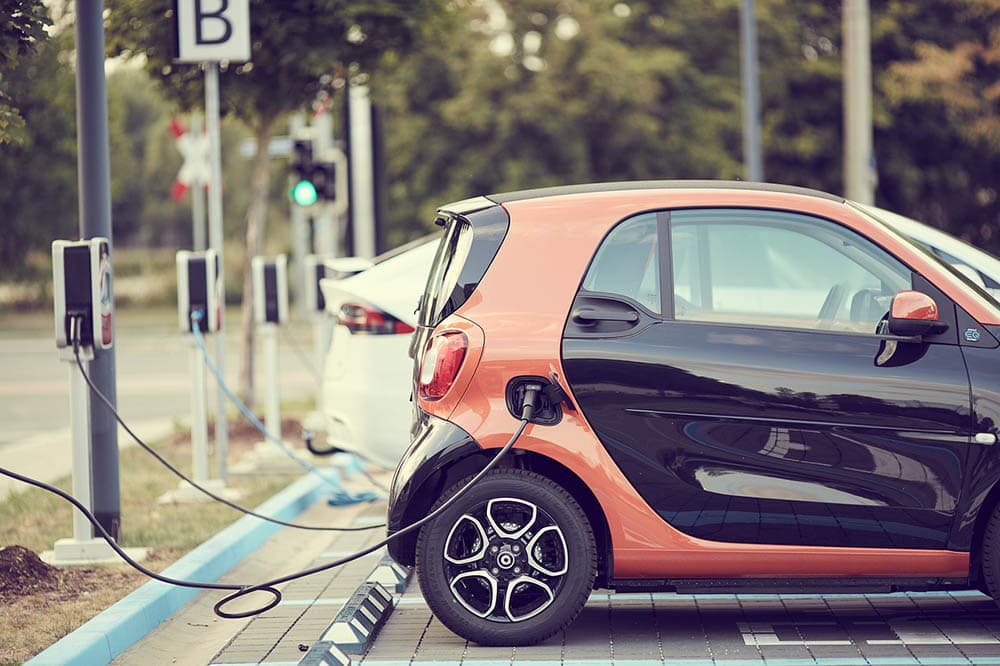 ---
10.

General Motors, the parent company of Chevy, plans to sell only emissions-free vehicles by 2035
(Corporate GM)
Chevy has big plans for 2035 as well. They are also aiming for 100% renewable energy used in their North American production plants, and their goal is to make every new light-duty vehicle with zero tailpipe emissions. Given manufacturers' current issues with acquiring some components globally, it could be an uphill climb to meet this goal.

The Nickels and Dimes of Ford vs. Chevy
11.

Ford offers SUVs starting at $20,395
(Ford-US)
Since its Model T in 1908, Ford has come a long way in the vehicles it produces. The Ford EcoSport offers the ability to get into a brand-new SUV with intelligent 4WD, and it only costs a couple of thousand dollars more than the Model T would have been comparatively speaking when inflation is considered.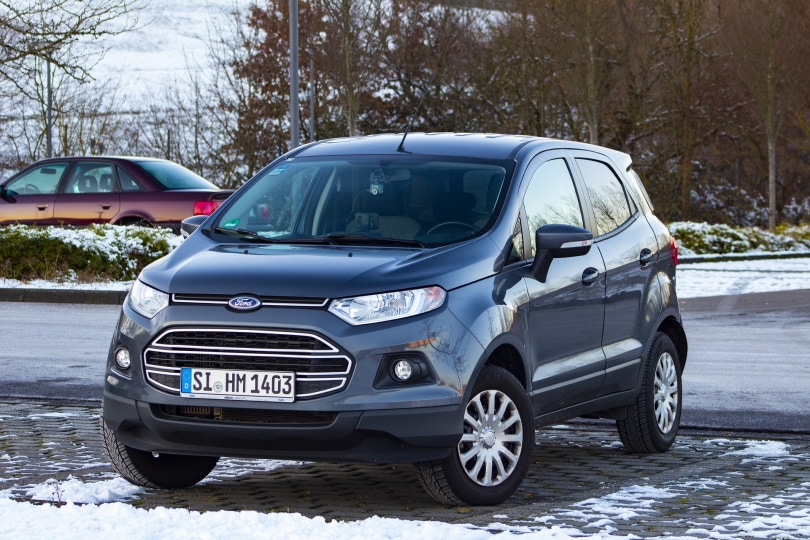 ---
12.

Chevy offers SUVs starting at $21,400
(Chev-US)
The Chevy Trax starts at a slightly higher price point than the Ford EcoSport. They are comparable crossover-SUVS, but the Trax comes in with marginally better highway fuel milage and boasts more interior space than the EcoSport. The Trax also comes standard with a 4-cylinder turbocharged engine.
---
13.

Ford F-Series pickups start at $29,290
(Ford-US)
The price on these popular trucks is relative because even though they start under 30,000, you can quickly pay more than 100,000 if you opt to go with a fully loaded F-450 with all the bells and whistles; and there are a lot of bells and whistles you can get from actual leather seats to nav systems.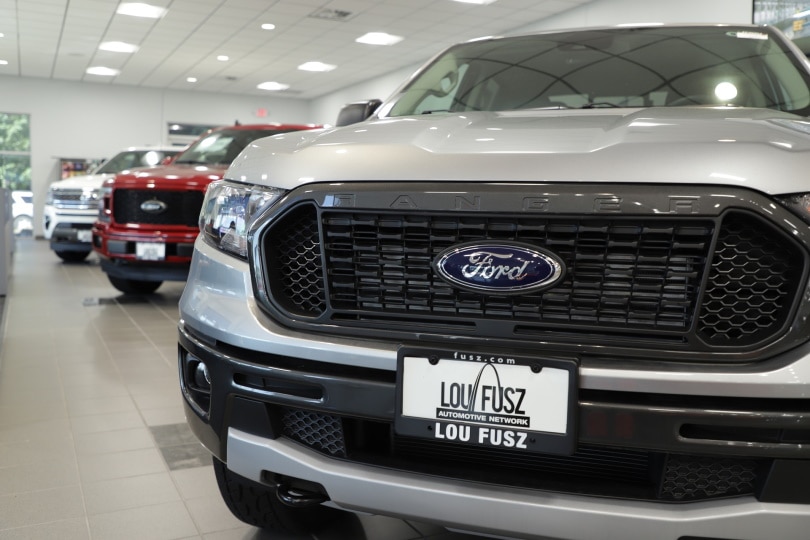 ---
14.

Chevy Silverado pickups start at $29,300
(Chevy-US)
The Silverado lineup is competitively priced, coming in at almost the same starting price as its competition. Just like the F-Series trucks, prices can quickly reach well over 100k if you have a taste for the best, and let's be honest, who doesn't want to rip around with the moonroof open and their 7-speaker Bose sound system cranked?
---
15.

 Chevy cars start at $13,600.
(Chevy-US)
Unlike Ford, Chevy has kept their foot solidly in the economy car world. They offer the Spark as a super affordable economy car. This is one major differentiating factor between the two brands; Chevy offers something for literally any budget. In today's ultra-competitive market, a company can't afford to turn away any business, and Chevrolet understands this.

FAQ: Ford vs. Chevy Trucks
Which truck pulls better: F-150 or Silverado 1500?
Both trucks have an impressive towing capability. However, the Ford takes the win in this category with almost 900 pounds more towing capacity at 13,300 pounds.
Which truck has better standard features?
Infotainment features in today's vehicles are unreal. In this Ford vs. Chevy truck battle, Chevy takes the prize here. The Silverado is packed with standard features like touch screen displays and Apple Carplay/Android Auto.
But what about safety?
Safety is not the only factor in what vehicle to purchase, but it's certainly a major one. Ford is a clear winner in this area as its trucks come standard with many advanced safety features. In contrast, Chevy trucks only have a standard rearview camera. However, more options are available for Chevy if that's the preferred brand.
Ford vs. Chevy: who has better engine options?
Chevy takes the lead with engine options. The Silverado alone has five different gas engine options and several diesel options. Not to mention, there are several engine options in the Colorado vs. only one engine across all Ranger trim levels.

Conclusion: Ford vs. Chevy
As we can see, the Ford vs. Chevy truck battle is nowhere near ending. Both brands produce superior trucks, each with its own pros and cons. At the end of the day, it truly comes down to personal preference. Sometimes you're a Ford person. Sometimes you're a Chevy person. Which are you?
---
Featured Image Credit: L – Ford (F. Muhammad, Pixabay), R – Chevy (kevauto, Creative Commons CC 4.0 International).