Graco 390 vs 395 – Which One's the Best Choice?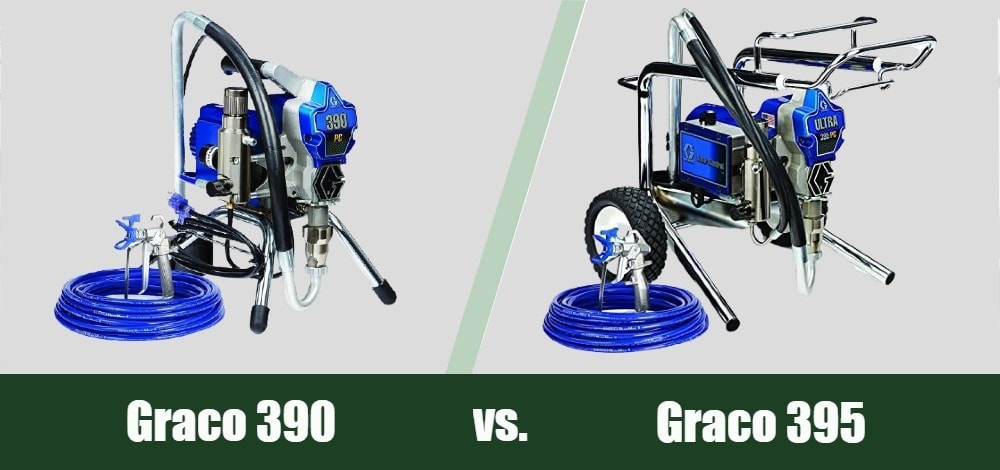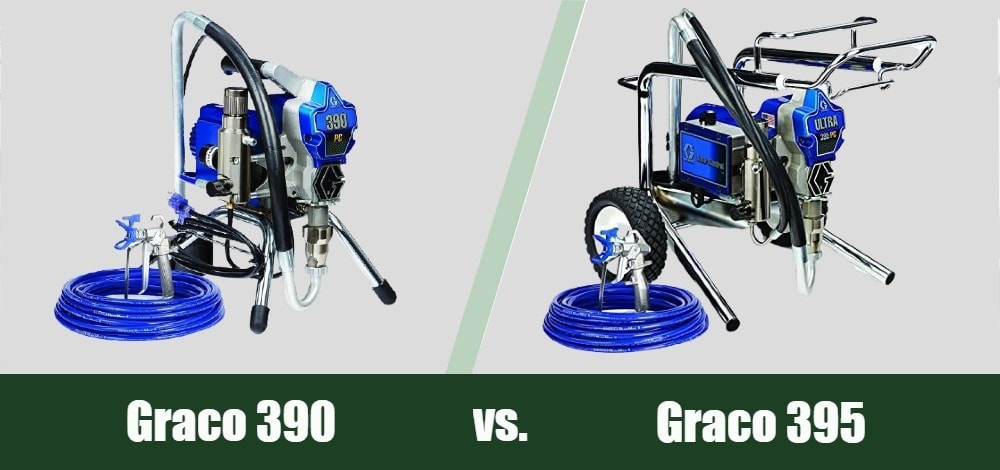 | Rating | Image | Product | Details | |
| --- | --- | --- | --- | --- |
| The Winner | | Graco 390 | Excellent quality for the price,Lightweight,Easy to transport | CHECK PRICE |
| The Runner-up | | Graco 395 | Better quality,Larger maximum tip size,Higher GPM application rate | CHECK PRICE |
Minnesota-based Graco produces a wide range of high-quality fluid-handling equipment. A key line in their product offering is airless sprayers for the professional painting contractor market segment. These are definitely pro-grade pieces of equipment and are not recommended for the typical homeowner/DIY enthusiast, unless they have experience with airless sprayers. Why? Because to produce the best results, these precision tools must be set up and adjusted correctly, requiring attention to critical details like oiling packings, thoroughly cleaning all components, balancing pressures, and so forth.
The two models in our comparison today are at the low end of the product line, engineered to appeal to contractors just getting started or to experienced pros looking for a sprayer for smaller projects. Entry-level often conjures up images of lower quality, less capable, and less expensive tools. But, in the case of these two sprayers from Graco, the only "limitation" is in the number of gallons per week the sprayers are engineered to apply. Everything else is in line with what a user expects from a professional tool.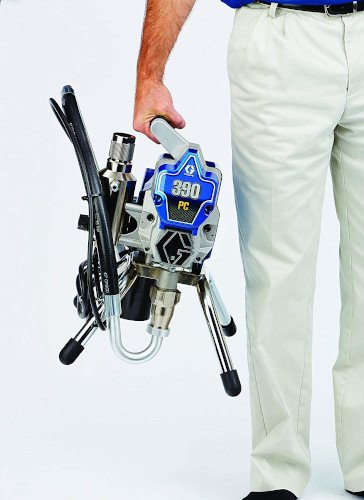 What are the differences between them?
Time to pit our sprayer contestants against each other to see which of the pair is the best choice for you, our readers. No more talk let's see some results!
Performance – it's a tie, when based on gallons per week
Both sprayers are rated at 50 gallons per week maximum finish application. This is a bit of an oddity in the sprayer field, rating a particular piece of equipment on max gallons per week. Does it mean it can't spray more? No, but if you want the longest life out of the sprayer, it is not a good idea to regularly exceed the limit.
Price – point to the 390
For users with the strictest of budgets, they are going to find the lower price of the 390 very attractive. Especially considering they aren't giving up much in terms of capabilities.
Power and output – point to the 395
The 395 takes the contest when it comes to power and amount of paint it can apply. It comes with a 7/8 hp DC motor compared to 5/8 hp motor of the 390 and can apply finishes at a rate of .54 GPM versus .47 GPM. Plus, the motor is a totally enclosed, fan-cooled design to keep as much finish material (paint, etc.), from getting into the motor and causing problems.
Weight – point to the Graco 390
You might ask if weight is a serious criterion for evaluation. We feel it is, especially if the user is constrained in some way in the amount of equipment they can get to a job. At 30 pounds, the 390 is definitely the slimmer of the two siblings with the 395 tipping the scales at 55 pounds.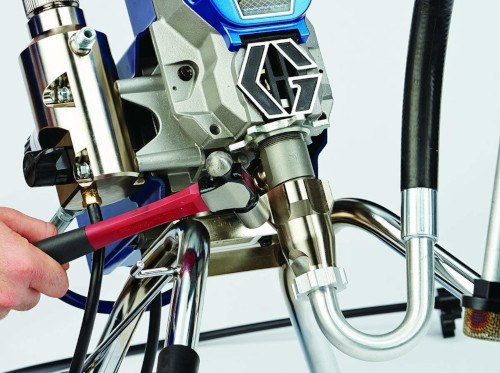 Quick Rundown of the 390 ProConnect
Here are a few of the best features of the Graco 390, and some "not so good" as well.
Pros
Excellent quality for the price
Lightweight and easy to transport
Powerful motor
Cons
Limited to 50 gallons per week at .47 GPM application rate
Quick Rundown of the 395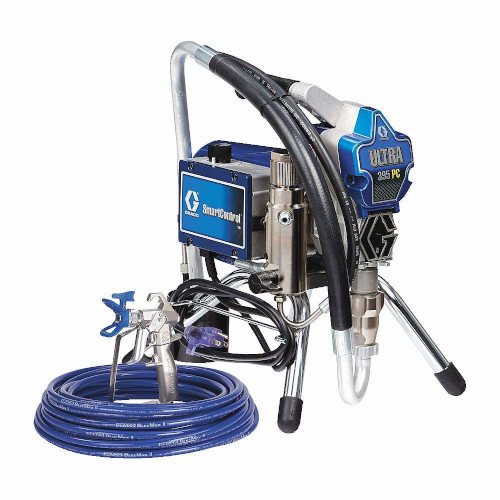 You could mistake these two for twins, their characteristics are so similar. Here are a couple of pros and cons for the Graco 395.
Pros
Better quality, more powerful TEFC DC motor for longer life
Larger maximum tip size and higher GPM application rate
Comes with the Contractor versus the FTx gun
Cons
More expensive and heavier of the pair
What the Users Say
Time to bring the audience, I mean users, of each sprayer into the contest and see where they stand on each of these Graco airless sprayers. We have to tell you now that there was no real "hating" on either sprayer. There were some nits here and there which we'll point out, but as a general rule, users love their Graco sprayers. So much so that one received a 5.0 rating and the other a 4.5.
Both sprayers are praised for their performance and the quality of the applied coatings. In a word, they do what the users hope they'll do, and do it quite well.
Dual filters (one at the pump and another in the gun) are also fan favorites. The pair are easy to remove and clean and having two provides an extra measure of protection against work stopping clogs.
Easy to get back in operation if there is an issue. Graco equips its sprayers to clear clogs and handle other problems within a few minutes so as to minimize job downtime. A prime example is the ability to change the pump in one minute. Naturally, you'll need a spare to complete the change. Another is the easy access to the primary filter. Nothing to disconnect, just unscrew and clean/replace.
And now for the promised nits. While easier to clean than other professional models, cleaning came up routinely as an undesirable aspect of the tool. It is an unavoidable aspect of all airless sprayers, they have to be cleaned thoroughly or they will not perform.
One user reported that the sprayer created a mess and then admitted he had not properly tightened the gun and hose. Seems this person was a homeowner/DIYer. Didn't we warn you?

Conclusion
This is a tough call but, the winner is the 390 ProConnect, primarily on price and weight. It is an exceptional sprayer for the price and is a perfect choice to start or continue a small painting or property maintenance business. Professionals with an established business will also find room on their trucks for the 390, particularly when sending a crew to a small project where the lower GPM of the 390 is not much of an issue. Graco has hit a homerun with the 390 ProConnect, and a solid triple with the 395.
Related Read: 10 Best Paint Sprayers – Reviews & Top Picks