8 Great Greenhouse Flooring Types (with Pictures)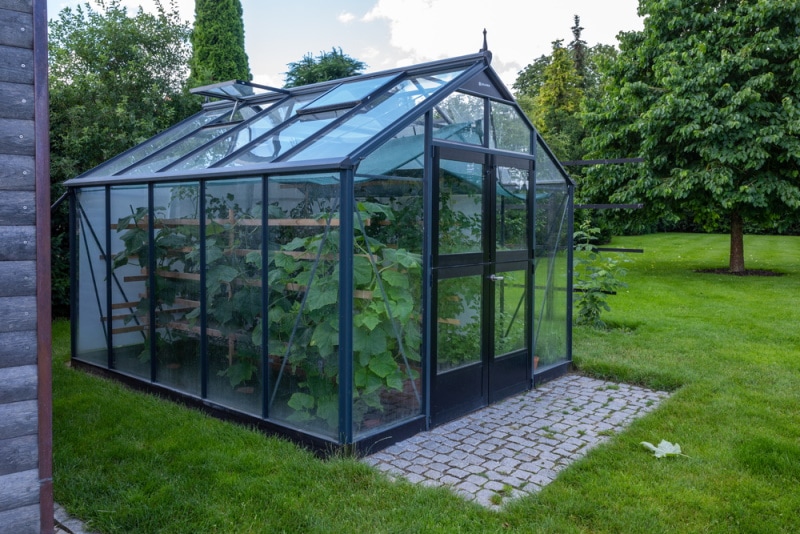 Picking the right flooring option for a greenhouse is not an easy decision. You have to weigh the pros against the cons of all the various types, just to be sure you're not installing something that will leave you with regrets.
An ideal greenhouse flooring is not only aesthetically pleasing but also durable and low maintenance. What's more, it will also be responsible for keeping all those pesky pests and moisture at bay, thus ensuring your interior space remains clean at all times.
If you're interested in making your gardening experience a lot more rewarding and fulfilling, here are some options to consider.

The 8 Greenhouse Flooring Types
1.

Soil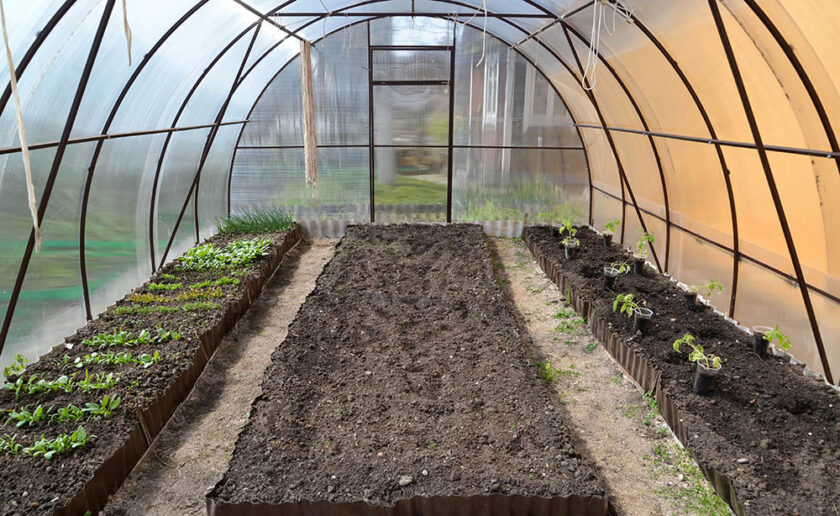 We like to recommend this flooring type to gardeners or farmers who prefer working with small and compact greenhouses. It's also a suitable option for those who want a durable floor without having to invest a lot of time and money.
Unlike other options, this one supports the cultivation of vegetables and fruits directly on the ground. Some people don't consider this proper flooring, but we disagree. If you'd like to create walkways, all you've got to do is to install some wood planks or pavers.
---
2.

Concrete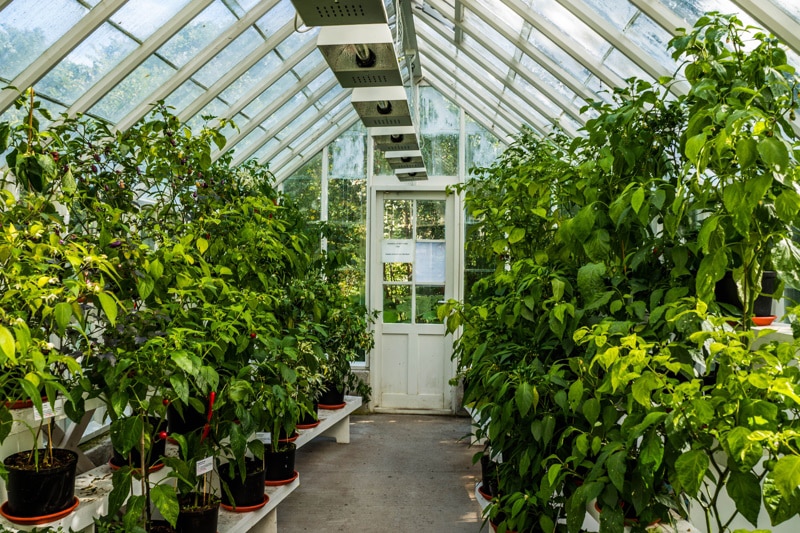 Contrary to popular belief, your concrete slab is not only primed to serve you as a base. Depending on your taste and preference, it can also double up as a flooring option for an incredibly designed greenhouse.
The only downside is that it comes with a high price tag. Mostly because you'll likely have to hire a professional to help you out unless you have the requisite level of experience.
Is the concrete flooring long-lasting? Yes! Furthermore, it's easier to maintain and clean and can hold almost any amount of weight. Sadly though, it doesn't provide good drainage. The only way to fix that is to ensure the slab is installed at a slight slope.
Lack of insulation is yet another problem that you'll have to deal with. From what we've observed, these floors often make their structures colder during winter and hotter in the summer.
---
3.

Rocks & Pebbles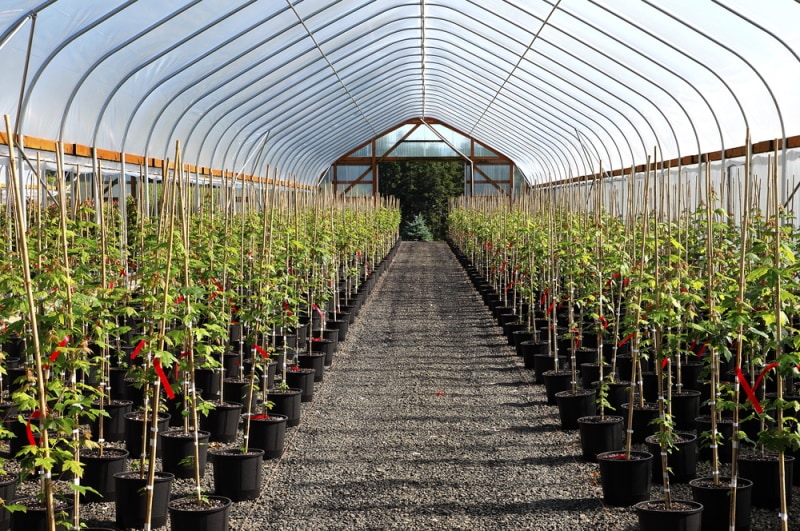 Times have changed. Gone are the days when people believed greenhouses were only meant to be simple structures. Nowadays, we have flooring options like rock and pebble variations that are designed to offer your greenhouse a sophisticated aesthetic.
You don't even have to worry about the effort invested in installation because this is one task that can be carried out without an extra hand. Procuring the raw materials (stones and pebbles) shouldn't be an issue, as they are accessible through a contractor.
Don't forget to remove all weeds before installation, and put up a weed mat. Without the mat, the weeds will sprout right back up, forcing you to uninstall and then reinstall the flooring.
---
4.

Bricks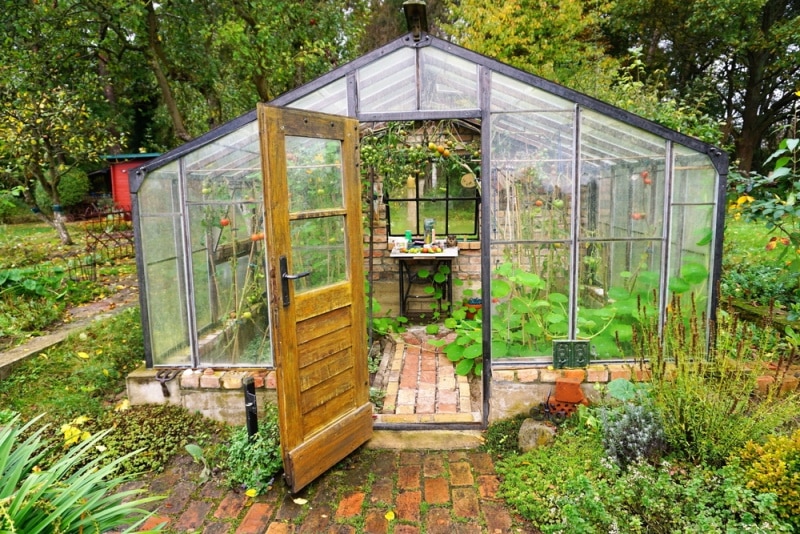 In terms of cost, there really is no difference between the brick flooring option and concrete. It's just as expensive, but the good news is that it provides a more polished look.
We usually feel like brick holds an edge over concrete because it doesn't need a drainage system to be effective. This material is so adept at absorbing water and has the ability to influence the humidity levels in the greenhouse. Plus, it's worth noting that this flooring doesn't usually demand mortar in place.
To reduce the cost of the greenhouse's construction, you can use bricks as your foundation. It will double up as the flooring, hence saving you a ton of cash. If you're considering building a large greenhouse, you'll have to install double-skin flooring. The singles are only appropriate for small areas.
---
5.

Gravel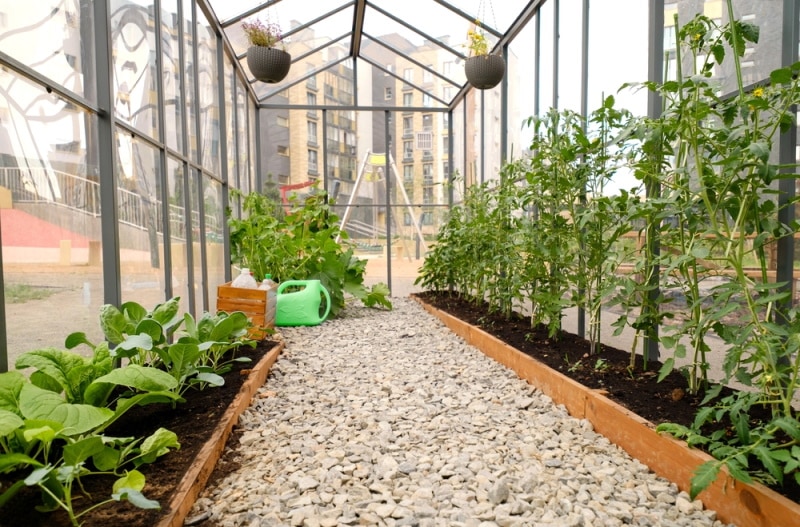 Durability and affordability are the two aspects that make gravel a popular choice among gardeners. On top of those two, it's also known to provide incredible drainage.
The only thing that we'd implore you to not forget is placing a polypropylene ground cover below the material. It normally serves the purpose of inhibiting the growth of weeds, consequently ensuring your flooring is well protected. Polypropylene will also save you money indirectly, as you won't be required to purchase any weedicide.
---
6.

Mulch
The mulch option has a way of improving the soil quality, doesn't seem to be affected by any drainage problems, and is comparatively stable. That's to say, if the plan is to grow your fruits or vegetables directly from the ground, this is what you ought to be going for.
You will however have to find time to replenish it at least twice a year since it's susceptible to breaking down. On the flip side, you'll be installing a flooring option that's not only readily available but also easy on the pocket.
Remember, we have different types of mulch and not all of them are suitable flooring options. Shredded mulch should be your go-to, as it always creates a stable walking platform by interlocking.
When purchasing mulch, buy it per cubic yard. That's the tactic that most farmers and gardeners use to save money.
---
7.

Vinyl
Vinyl covering can be used by both small-scale and large-scale farmers. This flooring option is normally produced using polypropylene and polyvinyl and is very affordable.
You could install it on your own, but it will be great to have a professional on standby to guide you. Vinyl drains well, is easy to maintain, and is long-lasting. If you're lucky, you might find a brand that's also antibacterial, anti-microbial, and UV-resistant.
---
8.

Weed Barrier Matting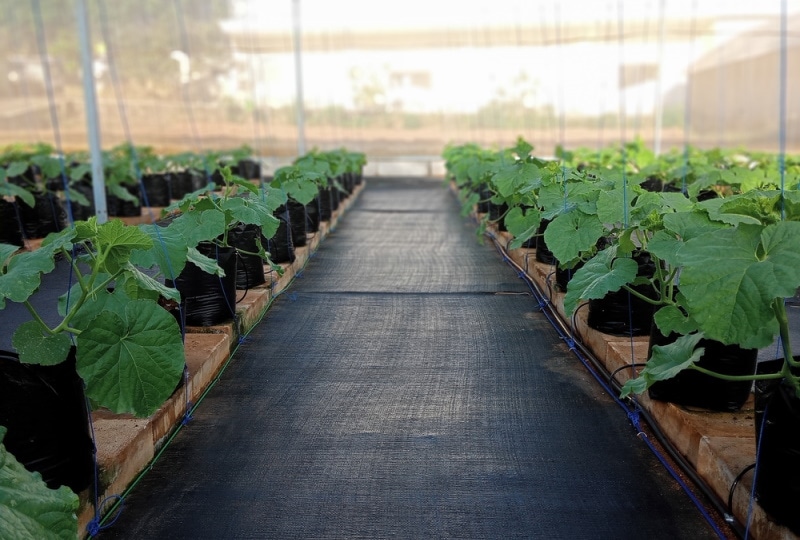 Also referred to as a weed cloth, this barrier is a synthetic material that's produced to prevent weeds from ever growing in your garden. It goes without saying that it's durable, easy to maintain, clean, and walk on.
You can install one in a greenhouse if you're looking to improve drainage or prevent the floor from getting muddy.

Which Is the Best Greenhouse Flooring Option?
In truth, there's no right or wrong answer to this question. It all boils down to your preferences and the compromises that you're willing to make. If you're only interested in durable covers, you should go for concrete or brick. They are the most durable, from our experience.
If the weeds in the greenhouse are about to drive you mad, you can install the weed barrier matting option. The point is, there's something for everybody, as long as you know what you want.

Final Thoughts
When choosing a greenhouse flooring cover, don't just focus on the costs involved. And we're not telling you to treat the cost factor as insignificant in your decision-making process. It will always play a prime role, but so will all the other factors.
Think about the insulation, durability, ease of cleaning, drainage, aesthetics, and installation. There's no doubt in our minds that taking all these factors into account will ensure you get more bang for your buck.
You might also like:
---
Featured Image Credit: karegg, Shutterstock