Honda Passport vs Toyota Highlander: Comparing Quality, Style & Sales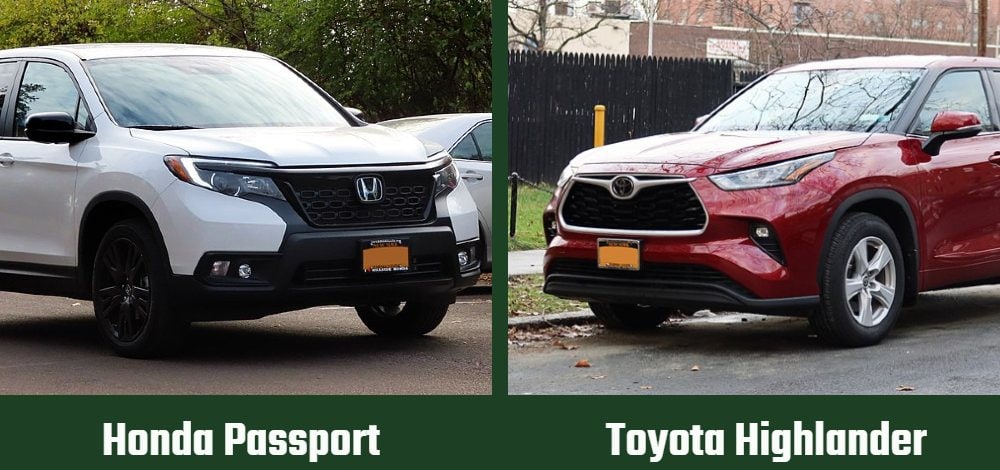 The Passport and Highlander are two of the top mid-size SUVs on the market, but they are not made equal. The Highlander comes out on top between the two in almost all the categories. However, the Passport is not without merit and remains a popular choice for many people.
If you're looking for a mid-size SUV with room for more than five people and some excellent hybrid options, then the Highlander is a clear choice. However, if space is less of an issue, the Passport also has good power and capabilities as far as storage and design go.
Below, we will go over the significant selling points of each model. Then, we will compare them head-to-head in five main categories: performance, price, fuel economy, design, and safety.

At a Glance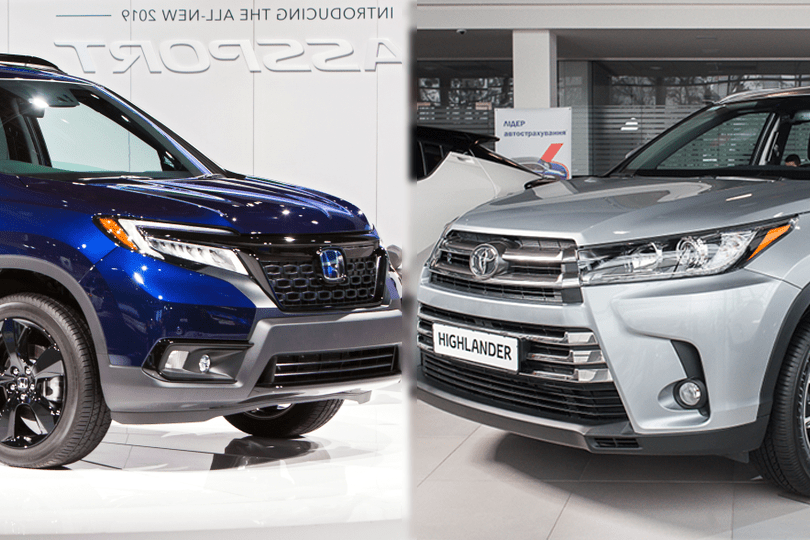 Let's look at how these two SUVs stack up to each other.
Honda Passport
Starting MSRP: $37,870
Warranty: 36 months / 36,000 miles
Horsepower: 280
Engine: 3.5-liter V-6
Drivetrain: All-wheel drive (AWD) / Front-wheel drive (FWD)
Estimated mpg: Up to 20 city / 25 highway
Seating capacity: 5
Toyota Highlander
Starting MSRP: $35,405
Warranty: 36 months / 36,000 miles
Horsepower: 295
Engine: 3.5-liter V-6
Drivetrain: AWD / FWD
Estimated mpg: Up to 21 city / 29 highway
Seating capacity: 8

Overview of the Honda Passport: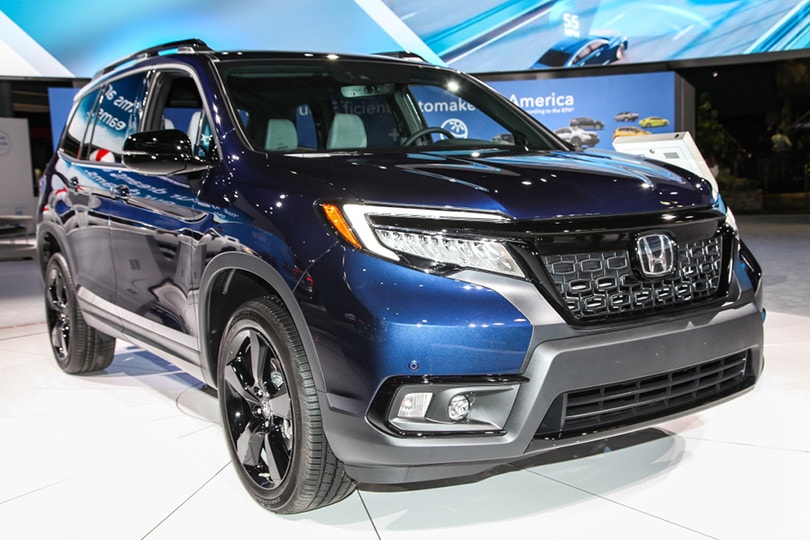 This year is a good year for the Passport. Honda addressed one of the main complaints that previous generations got; its forgettable looks. The front end got a redesign this year. It has a bolder grille with sharp, square lines complemented by a new front and rear bumper design.
Honda also added a new package option to the Passport line; the TrailSport. This new trim level is equipped with a unique wheel-and-tire combo and improved stability to give it an off-road-inspired feel. In addition to the new TrailSport, the rest of the Passport line received a few minor updates. Overall, 2022 was a year of looks and style upgrades.
Performance
The Passport shares the same 280 horsepower V-6 engine that the Pilot has, and FWD is the standard option. However, AWD is an available factory add-on if you prefer more capability. But even equipped with AWD, the Passport isn't meant for off-road use. It rides fairly rough when off-road due to its higher ride height.
When it comes to highway driving, the Passport performs well and feels good to drive. Plus, it now comes standard with a tow package of up to 5000 pounds. So, towing a boat or many holiday trailers won't be a problem. Although, fuel mileage leaves a bit to be desired, especially if it's equipped with AWD. But it's not about miles per gallon; it's the "smiles per gallon."
Interior
Honda makes a few mid-size SUVs. If you need third-row seating, you'll have to get into the Passport's cousin, the Pilot. However, if seating for five adults is adequate, the Passport offers a comfortable interior with a reasonably-sized cargo area.
Nothing stands out as extraordinary about the Passport's design, but overall, the interior is functional without many complaints. In addition to the main cargo area, there is plenty of cubby storage throughout for passengers to put their belongings.
Technology and Safety
Like most Honda vehicles, the Passport comes standard with Apple Carplay and Android Auto. It also has an 8-inch touchscreen display. Besides Bluetooth and some USB power points, this is all you get unless you want to upgrade to the top trim levels. If you opt for the upgrade, you'll be getting features such as an upgraded sound system, wireless device phone charger, or a navigation system.
The Passport receives the maximum rating for its overall safety. There are some additional features that you can add, such as blind-spot monitoring or rear cross-traffic alert, but most other Honda Sensing safety features are standard from the base trim and up.
Overview of the Toyota Highlander: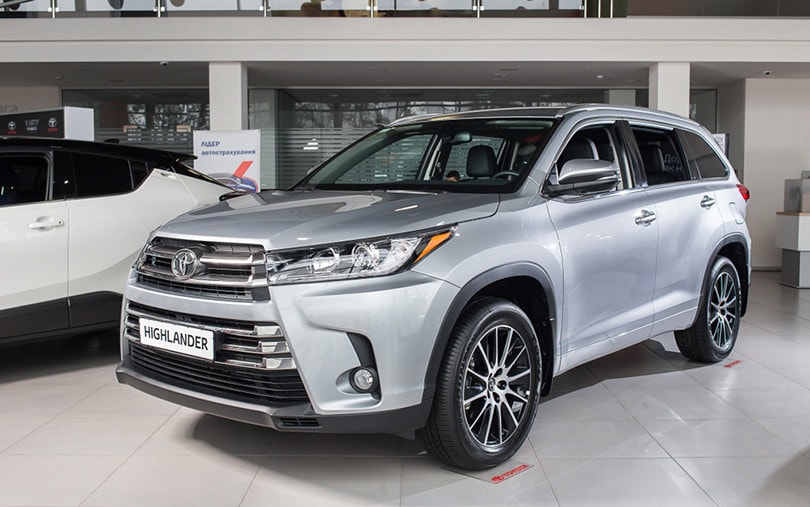 The adage, "if it ain't broke, don't fix it," holds true for the Highlander this year. The Hybrid Bronze Edition is an addition to the line. But other than the new hybrid, the only significant change is an adjustable passenger seat on the XLE trim and up. Even without any changes this year, the Highlander remains at the top of the pack for mid-size SUVs.
Performance
The standard 295 horsepower V-6 engine does not disappoint. It has ample power to tackle passing on the highway while retaining decent fuel mileage compared to the horsepower it offers. Toyota offers the Highlander in both FWD and AWD options from the factory. Although, the AWD will cost extra.
If you're eco-minded and want the fuel economy, Toyota has proven they are one of the leaders in hybrid engine technology. The Highlander Hybrid will not let you down. Between a 2.5-liter engine and two electric motors, it still pumps out 243 horsepower. The hybrid is also available in FWD and AWD.
Interior
Most trim levels of the Highlander offer eight-person seating. However, on the top trim levels, it's possible to get captain's chairs which drop it to seven-person but is more comfortable for your second-row passengers.
The interior design in the Highlander rivals that of the comparable Lexus SUV. However, it does fall short in cargo space behind the third row. So, if cargo space is your most significant selling point, the Highlander won't blow your mind.
Technology and Safety
Most trim levels come standard with an 8-inch touchscreen display. However, if you go with either of the two top trims, that will upgrade to a 12.3-inch display. The standard sound system is decent, but you can upgrade to an 11-speaker JBL system too. Toyota also offers standard infotainment features such as Apple Carplay, Android Auto, XM Radio, and Amazon Alexa integration.
Toyota has consistently demonstrated its commitment to the highest levels of safety, and the Highlander is no departure from this model. Every trim level comes standard with most of Toyota's driver-assistance technology. Because of this, the Highlander receives the maximum safety rating from the NHTSA.
How do These Two SUVs Stack Up?
Both these SUVs have some great features. Let's take a look at how they compare in several different categories.
Performance
The Passport is no slouch in the performance department. Both SUVs have the same size engine, however, the Highlander squeezes 15 more horsepower out of its engine. Plus, it does it with better fuel economy compared to the Passport.
Price
Edge: Tie
The Highlander does start a couple of thousand dollars cheaper than the Passport. But they have quite a few more trim-level options. A fair comparison between the trim levels of the two SUVs brings the starting price point to a level playing field.
Fuel Economy
Even considering a significantly more powerful engine and AWD, the Highlander still takes a reasonable edge over the Passport when it comes to fuel economy. This lead is solidified even more if you opt for the Highlander Hybrid.
Design
The Passport went through a significant overhaul in its design this year. Still, it wasn't enough to take the lead away from the Highlander. With a considerable amount of extra space between seating for three additional people and more storage, the Highlander has a much better design.
Safety
Both brands have an incredible track record when it comes to safety. The only slight edge here is that Toyota offers more standard features. However, both vehicles receive the maximum overall safety ratings from the NHTSA.
What the Users Say
Two great sources for consumer reviews are Consumer Reports and Edmunds. We've gone to these sources and others to find out what shoppers like you are saying about each model.
Consumer reviews
Many Highlander reviews complain that while it does have third-row seating, that row is only suitable for kids.
Consumers praise the Highlander's balance of fuel economy and power.
Cargo space with the third row up in the Highlander is lacking.
"The ride quality is great. Suspension is tuned in a way that absorbs small bumps nicely while remaining dialed in a responsive." – 8/10 Highlander Review
Many people like how great the Passport's AWD system is; it's a worthwhile upgrade.
Drivers love the new rugged-looking TrailSport trim level.
While it receives maximum safety ratings, many people complain that the Passport's driver assisting technology could use some work.
"For what you pay for the Passport, you don't get a lot of vehicle for the money. Overall, it's still a decent SUV, though." – 3/5 Passport Review

Conclusion
For most buyers in the market for a mid-size SUV with the maximum amount of space and comfort, both the Passport and Highlander are easily some of the top picks in the industry. In our opinion, the Highlander takes the edge, though. It offers many trim levels to give you flexibility for factory options, but it remains competitively priced. And like purchasing any Toyota, you're buying into a brand that is famous for its reliability and durability.
See Also: Toyota Highlander vs. Honda Pilot: Which Should You Choose
---
Featured Image Credit: Left: Honda Passport (image Credit: Kevauto, Wikimedia Commons, CC BY-SA 4.0) | Right: Toyota Highlander (Image Credit: Kevauto, Wikimedia Commons, CC BY-SA 4.0)