Nissan Pathfinder vs Toyota Highlander: Comparing Safety, Price & Performance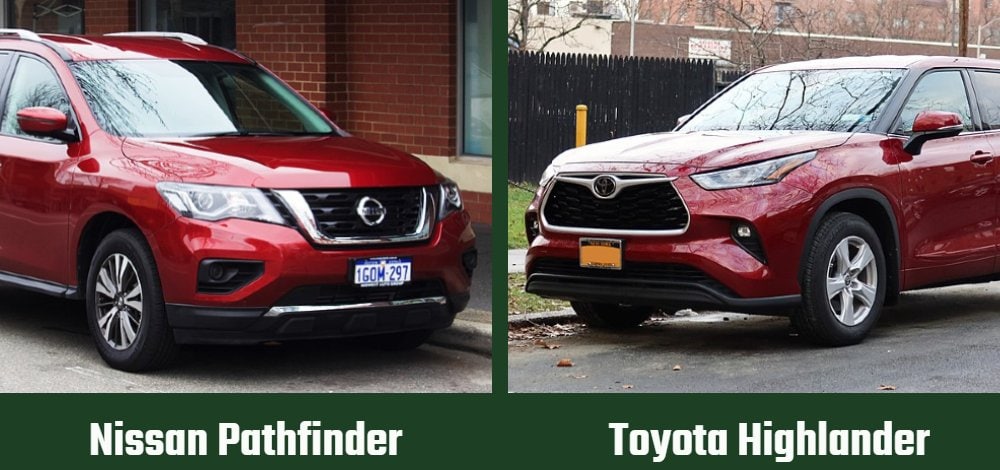 Looking at the 2022 Highlander and Pathfinder, you'll feel like Toyota and Nissan are finally figuring out the 3-row mid-size SUV, albeit in their unique ways. The 2022 offerings are refreshingly impressive in value, with both manufacturers sidestepping shortcomings of prior year models to score points in style, comfort, performance, and more. There's little compromise on either side, and both seem to be making a sincere effort to win in this ever-popular category.
In comparing the Highlander and Pathfinder this year, it's interesting how they take separate routes to arrive at similar solutions. The lineups and progression of upgrades couldn't look more dissimilar, and that could be significant if you want to save the absolute most money without sacrificing features. But no matter what, if you're a parent trying to find the next family vehicle, these two well-rounded options should be on your shortlist.

At a Glance
Nissan Pathfinder
Specs
Engine: 3.5L V6
HP/Torque: 284 hp/259 ft-lb
Transmission: 9-speed automatic
MPG: 21 city/26 highway/23 combined
Tow rating: 3,500 lbs. S Model/6,000 lbs. SV, SL, Platinum models
Toyota Highlander
Specs
Engine: 3.5L V6; 2.5L 4-cylinder dual-electric motor in hybrid models
HP/Torque: 295 hp/263 ft-lb
Transmission: 8-speed automatic
MPG: 21 city/29 highway FWD; 20 city/28 highway AWD; 35 combined hybrid
Tow rating: 5,000 lbs.; 3,500 hybrid
Nissan Pathfinder Overview
The Pathfinder models aren't a challenge to figure out this year. There are only four in the lineup, each available in FWD or AWD for an extra $1,900, and the specs are similar throughout, with expected add-ons in higher-tier models.
Nissan took a focused approach to the simplicity of the lineup, and it works out to give the Pathfinder more credibility as a family wagon. We don't get a divergent model this year. There is no lackluster, mid-tier, "off-road-for-show" vehicle that underwhelms against more rugged contenders in challenging terrain. Instead, you have a practical family vehicle for all things families would want to do. It keeps you comfortable and your kids entertained on the way to school, and it has the power and grit needed to take the boat to the lake for the weekend.
Nissan Pathfinder Models
Comfort and Entertainment
The S series doesn't hold back in comfort compared to other base models among the competition, but it takes one or two upgrades to get any noteworthy features. Upgrading to the SV, you get the following:
Features
10-way power driver's seat adjustment
Heated front seats
Remote start with Intelligent Climate Control
Optional second-row captain's chairs
Leather-wrapped steering wheel
Moving to the SL, you upgrade to leather seating, power passenger seat adjustment, heated steering wheel, optional panoramic moonroof, and optional heated second-row captain's chairs. When you jump up to the Platinum, second-row captain's chairs are standard, as are the second-row center console, driver's seat memory, and complete climate control in the front seats.
Standard infotainment packages in all Pathfinder models include an 8-inch touch display with the latest NissanConnect operating software, Apple CarPlay, Android Auto, voice recognition, and a 6-speaker sound system. Upgrading to the SV gives you a wi-fi hotspot, but the SL and Platinum are where the entertainment packages take off. In the SL, you gain an extra USB, wireless CarPlay, Door-to-Door navigation, and a 3-month trial to SiriusXM Travel Link.
A wireless phone charging pad and 13-speaker Bose audio system are available options on the SL and standard on the Platinum version. You'll also gain a heads-up display and a customizable all-digital dashboard in this top-end model.
Safety
The standard driver's assist features on the Pathfinder are impressive and more comprehensive than many of its rivals. Even the cheapest base model comes with the following components as part of the Nissan Safety Shield 360 package:
Safety features
Forward collision detection
Automatic braking with pedestrian detection
Lane departure and lane-keep assist
Blind-spot monitor and rear cross-traffic alert
Automatic reverse braking
Driver alertness monitor
High beam assist
Upgrading to the SL adds automatic intervention for lane departure and blind-spot monitoring. You also gain Nissan's ProPilot Assist, an autonomous driving feature that assists with braking, accelerating, and lane centering.
Performance and Fuel Economy
The Pathfinder's fuel economy of 23 mpg combined is average at best. If good gas mileage is your main priority, you're better off with a lower-priced but more fuel-efficient Volkswagen Tiguan or Mitsubishi Outlander. Or, if you don't mind spending some extra cash, you could opt for one of a handful of hybrid options like the Kia Sorento or, yes, the Toyota Highlander, both of which get over 35 mpg combined.
A 9-speed automatic transmission replaces the CVT of prior Pathfinder versions, so you get better dependability without sacrificing much in smooth acceleration. Getting up to 60 mph takes just under 7 seconds, beating many of its competitors and contradicting its relatively low power and torque. Every AWD model also includes a 7-mode dial selector for various types of terrain and an Intelligent 4×4 system to automatically adjust torque and maintain traction and direction in adverse conditions.
Pros
Excellent standard safety and driver-assist package
Lots of storage cubbies and cargo room
Sharp, updated exterior style
Superior towing capacity
Quiet and pleasant ride
Cons
Limited third-row legroom
Struggles in off-road situations
Toyota Highlander Overview
Toyota made a vehicle for everyone in this year's expansive Highlander lineup. There are more tiers to this lineup than in the Pathfinder's, and you also have several hybrids among the bunch. As with Nissan, Toyota crammed standard features into entry-level models, doing its best to maintain competitive value with every step in the series.
And like the Pathfinder, gas models are FWD with an AWD upgrade, this time for $1,600–$1,950, depending on the model. It's a well-designed ride featuring Toyota's hallmarks of reliability and fuel economy, and it gets unexpectedly luxurious once you move into the top-tier models.
Toyota Highlander Models
Models
L
LE
Hybrid LE
XLE
Hybrid XLE
XSE
Limited
Hybrid Limited
Platinum
Hybrid Platinum
Bronze Edition
Comfort and Entertainment
The first two rows of the Highlander are adult-friendly in space and comfort, and each model is generously appointed. The XLE replaces fabric interiors with SofTex vegan leather and upgrades seating to a 10-way driver side and 8-way passenger side power-adjustable seating, a notable advantage over the Pathfinder's 4-way passenger side adjustability. Moving to the Limited and Platinum models upgrades the comfort even more with leather seating.
Captain's chairs are an available option on the XLE model and above, and you can upgrade to heated with the Platinum. Third-row legroom is limited, so it's only suitable for children.
The standard infotainment package is full of features. Every Highlander includes an 8-inch touchscreen display, Apple CarPlay, Android Auto, Amazon Alexa, a 6-speaker sound system, and a wi-fi hotspot. Moving to the XLE, you gain a wireless charging station and optional Driver Easy Speak, which projects the driver's voice throughout the cabin. The Limited and Platinum bump the screen size to an enormous 12.3 inches, and audio improves to an 11-speaker JBL system.
Safety
Every Highlander comes equipped with the Toyota Safety Sense 2.5+ package and a complimentary 1-year subscription to Safety Connect, a suite of services to help with roadside assistance, stolen vehicles, and collision notifications.
The Safety Sense 2.5+ service setup is similar to Nissan's offerings, but you also get road sign assistance and dynamic cruise control as part of the standard package. Blind-spot monitoring doesn't come with the L series, but it is available on every subsequent upgrade.
Performance and Fuel Economy
The Highlander edges the Pathfinder for fuel efficiency in the gas versions, but the hybrid blows it out of the water. With 35 mpg combined, the Highlander hybrid is one of the most economical three-row SUVs available.
Like the Pathfinder, the driving response is adequate but uninspiring. The 8-speed automatic transmission replaces the CVT from last year's model, giving you more reliability without giving up too much in smooth acceleration and deceleration. The hybrid sticks with the CVT, and you lose some acceleration. The gas model compares to the Pathfinder, but the hybrid goes from 0–60 in about 7 seconds.
Pros
Good fuel economy
Excellent standard safety features
Upgraded interior seating from prior year models
Expansive infotainment options
Cons
Outdated touchscreen
Infotainment control array feels awkward
Poor third-row seating space
How do they compare?
Performance
Edge – Split: The Highlander and Pathfinder feel roughly the same as you cruise around, and they have similar off-road capabilities. But they both have unique advantages otherwise. On the one hand, the Pathfinder offers one of the best towing capacities in the class at 6,000 lbs. Meanwhile, the Highlander wins in the fuel economy battle.
Price and Value
Edge – Split: Determining the better value between the Pathfinder and Highlander depends on where your ideal vehicle falls in the lineup. From the basic package, the Pathfinder is the better value. It has a lower starting price and comes with more meaningful standard features than the Toyota. In the middle, you'll find the Pathfinder SL and the Highlander XLE are comparable in price and, for the most part, features. When you get to the top-tier models, the value shifts to Toyota. And of course, if you want good fuel economy, the clear choice is the hybrid.
Safety
Edge – Highlander: Despite being cheaper than the base Highlander, the basic Pathfinder model has a superior safety setup. That small battle aside, Toyota still wins the overall safety war. The Pathfinder earns respectable marks from IIHS (no rating from NHTSA), but even though there are no glaring deficiencies, it can't compete with the Highlander's 5-star NHTSA rating or its position as an IIHS Top Safety Pick+.
Entertainment
Edge – Pathfinder: You could go either way on the entertainment side as both vehicles provide something the other doesn't, like Alexa in the Highlander or the Bose system in the Pathfinder. We're giving the edge to the Pathfinder because you don't have to spring for the expensive top models to get incredible options. In comparing those mid-level options, the similarly priced Highlander XLE and Pathfinder SL, you'll see there's more opportunity in the latter. When you get to the top models, the Toyota may take its infotainment package further, but the higher value across the lineup is in the Nissan.
Comfort and Storage
Edge – Highlander: Nissan has some quality comfort features (especially the large bin between the front seats) at a fair price, yet Toyota made the more noticeable leap forward in the Highlander this year. To be clear, the third row is not comfortable. But the Pathfinder's is almost as bad and comparing the other passenger seats, the Highlander gives the front passenger and second-row seats more adjustability and features. Neither the Pathfinder nor the Highlander comes away as the cargo king among 2022 mid-size SUVs. In the head-to-head battle, however, the Highlander wins. Both vehicles have about 16 cubic ft. of storage behind the third row, but the Highlander gains more once you start laying seats down. There's 48 cubic ft. behind the Highlander's second row compared to 45–47 cubic ft. (depending on the series) in the Pathfinder. And with the second-row seats down, the Highlander's 84.3 cubic ft. capacity easily beats the Pathfinder's 80.5 cubic ft. of storage space.
What the Users Say
Highlander owners love the top-rated safety features, interior appointments, and spaciousness in Toyota's line. Platinum and Limited owners are quick to point out their vehicles' luxuriousness, and nearly every owner enjoys the responsive driving and acceleration. For drawbacks, many drivers find the seats become uncomfortable, especially on long drives, and some even notice lower back pain after prolonged periods of sitting.
For many Pathfinder owners, it feels like Nissan put out the revamped SUV before ironing out its trouble spots. There have been four recalls on it thus far, and a laggy, unreliable infotainment interface is a common source of frustration. But even though the Highlander is a bit more buttoned-up, new Pathfinder owners appreciate this year's sleek, burly exterior and its assortment of features for the price.

Conclusion
Nissan and Toyota made crucial steps in the right direction this year. The Highlander is the better vehicle, offering the dependability that you expect from the brand, exceptional fuel economy, and best-in-class safety. It's a more expensive option at its starting price, but the confidence the Highlander affords is hard to match in any other model.
Looking at the 2022 Pathfinder, you can see that Nissan is making smarter moves to cater to more customers. The exterior styling is a significant step up, and some of the features seem so practical that it's surprising they're exclusive to Nissan. There are certainly some issues to work out, and the 2023 Pathfinder may bring more flawless execution to this year's great ideas. That said, with the features you get for the price, it's almost like Nissan is realistic about its position in the hearts and minds of its customers and wants to give more for the money.
They're two distinct vehicles, but the Pathfinder and Highlander vie for the same crowd. Neither are the most exciting to drive, but if you contend with a car full of kids in your daily driver and want to keep everyone comfy and entertained, make sure to give these two stellar options a test drive before deciding.
See also:
---
Featured Image Credit: Left: Nissan Pathfinder (Image Credit: EurovisionNim, Wikimedia Commons CC BY-SA 4.0) | Rght: Toyota Highlander (Image Credit: Kevauto, Wikimedia Commons, CC BY-SA 4.0)