How Much Can the Toyota Tundra Tow? Facts & FAQ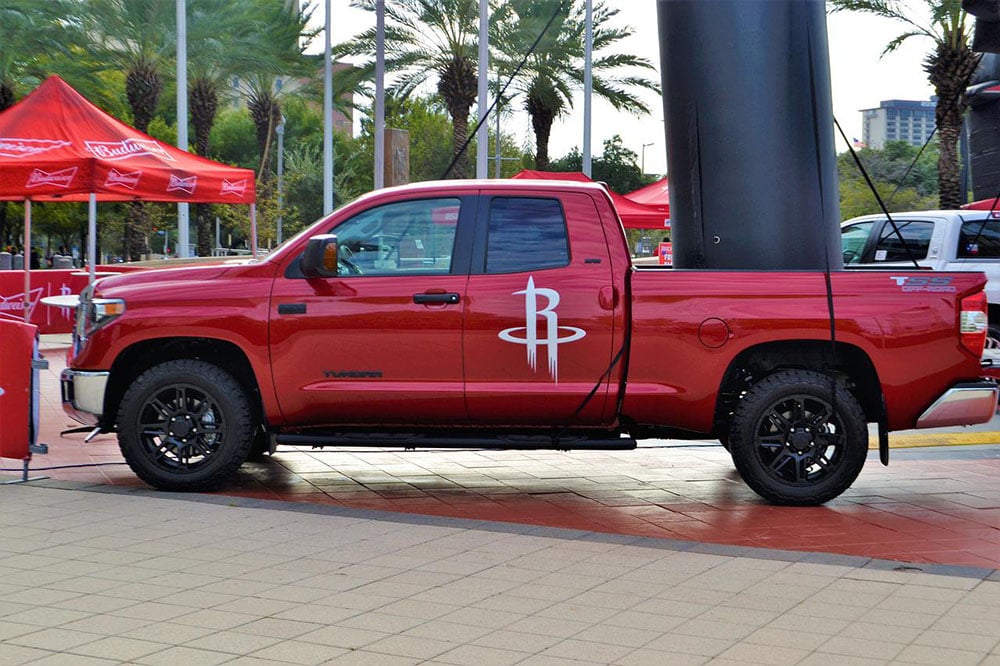 There are many options on the market nowadays if you're looking for a truck that can work hard for you. Toyota is well known for its trucks—the Tacoma and the Tundra. However, they aren't always the first choice for a work truck because they aren't available in the larger 3/4 and 1-ton options that other brands offer.
But even without the larger truck options, Toyota Tundras can still tow well over 10,000 pounds (lbs) depending on the trim level you go for.

General Overview of the Toyota Tundra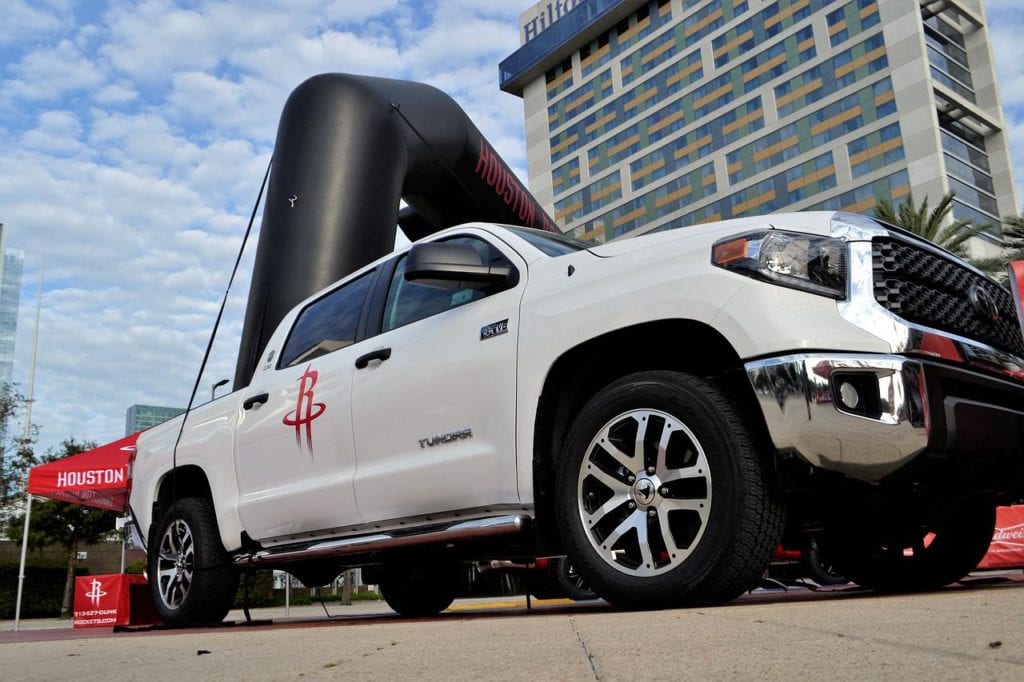 Toyota's first full-size pickup was the T100. But in 1999, they changed it up and designed a brand-new pickup—the Tundra. The early models shared many similarities with its predecessor. However, it has undergone much change and evolution over the years.
Since 2000, the Tundra has been upgraded and changed in many minor ways, and it's also gone through three major overhauls, and as of 2022, it has been redesigned and is currently in its third generation.
Other than offering uncompromised quality and durability, a significant thing that Toyota is known for is creating different trim levels to offer just about anybody the ability to get into a Toyota. Each trim level is equipped with different options from the factory, allowing you to buy a truck set up exactly how you want it.
And some of these options increase or decrease functional capability, such as towing. For example, the Tundra currently has seven trim levels—each with its own variety of options—and the towing capacity ranges from around 8,000 to just over 11,000 pounds.
What are the Different Types of Tundra?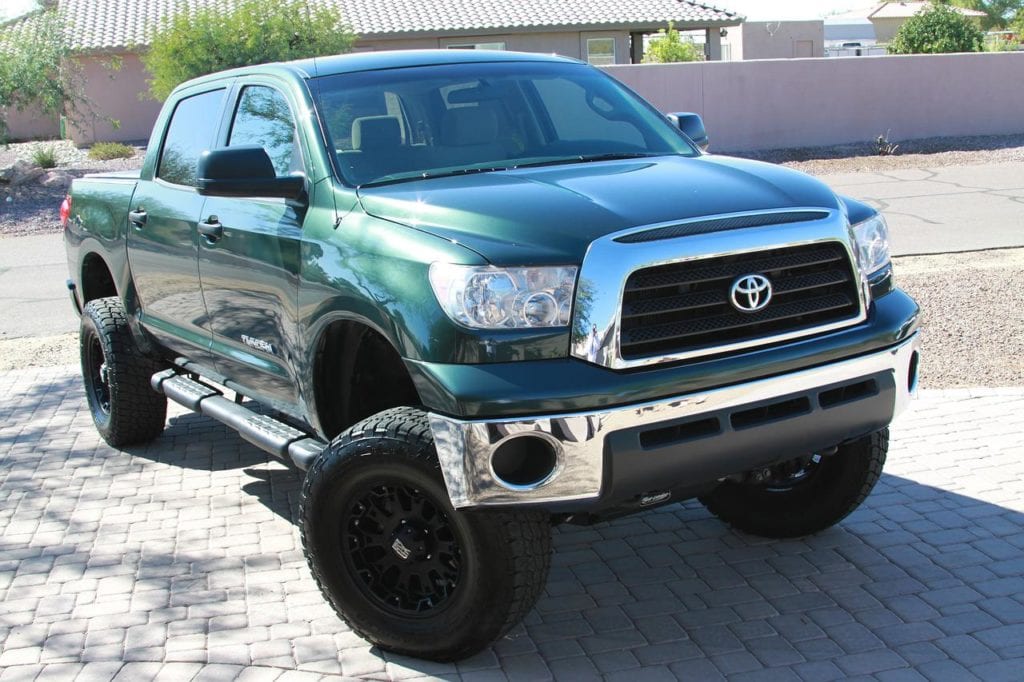 | | |
| --- | --- |
| Trim Level | Towing Capacity |
| SR | 8,300 lbs |
| SR5 | 11,200 lbs |
| Limited | 11,110 lbs |
| Platinum | 10,890 lbs |
| 1794 Edition | 11,020 lbs |
| TRD Pro | 11,175 lbs |
| Capstone | 10,340 lbs |
Tundra vs. Tacoma Towing
Suppose you're set on getting a Toyota. In that case, you may want to compare the Tundra and the Tacoma before deciding. Let's look at the difference in towing capabilities between the two. The above chart demonstrates that the Tundra will tow between 8,300 and 11,200 lbs.
Since it's a smaller truck, it's understandable that the Tacoma won't tow as much. Depending on the trim level you go for, the Tacoma will tow a maximum weight of around 6,400 lbs. This is still decent, but if you need the sheer towing strength of a half-ton pickup, then the Tundra is the right truck for you.
However, suppose you don't necessarily need all the towing capability. In that case, the Tacoma may be worth considering for its sportier and more rugged riding capabilities for going off-road.
Pros
Award-winning quality and durability
Tons of customization options
Great technology options to improve your comfort and experience
Thoughtfully designed interior and exterior
Great power and towing capability
Cons
Doesn't have a great turning radius for tight maneuvers
Depending on the driver, there is limited visibility in some instances
It's not the worst on the market, but the fuel economy on the Tundra isn't incredible

Frequently Asked Questions (FAQs)
How big of a camper can the Toyota Tundra pull?
Because of its decent towing capacity, the Tundra can safely pull a trailer that is around 7,000 lbs. This allows for luggage, passengers, water, etc. All while remaining safe to tow regarding vehicle damage or accidents. When looking at campers, all the weight information should be readily available. So, there should be no guessing whether your Tundra can handle the trailer or not.
---
Can you increase a Tundra's towing capacity?
A vehicle's manufacturer must calculate the towing capacity based on several things like components, frame, or size. And while you can't legally increase a vehicle's towing capacity beyond what the manufacturer has specified as the safe limit, you can improve things on your truck to make it tow its limit more safely and efficiently. For example, you could install a heavier-duty transmission or increase transmission cooling.
---
Which half-ton pickup can tow the most?
This article is about the Tundra towing capacity, but unfortunately, it's not the winner. The latest Ford F-150 has the highest tow rating of any half-ton truck on the market. With Ford's Max Trailer Tow Package, the towing capacity is boosted up to a whopping 14,000 lbs.
---
Can I tow more than the factory capacity limits say?
It's important that you do not ever exceed the manufacturer's specified gross vehicle weight rating (GVWR). Doing so will put your vehicle at risk of needing extensive repairs such as new suspension parts, transmission, engine, etc. In addition, if you exceed the GVWR, it puts you and others on the road in danger because it will be much easier to lose control and get in an accident.

Conclusion
Toyota Tundras aren't the most powerful trucks on the market. However, they aren't slouches either. You can get some incredible engine options across seven trim levels. So, there is a package there for most budgets and needs.
If you're still on the fence, it might be worth heading down to your local Toyota dealer and taking one for a spin. You won't necessarily be able to test the towing, but you can get a feel for the truck's power and handling.
---
Featured Image Credit: ArtisticOperations, Pixabay