11 Hygge Interior Design Ideas You Can Try Today (With Pictures)
You can't go wrong with a layout that makes you happy. Interior design often seems overwhelming as we try to follow trends and abide by specific standards. But by embracing the hygge approach, you can shed the stress with a fail-proof look focused on warmth, coziness, and friendship.
Hygge can borrow from almost any style, making it effortless to use in intriguing ways throughout the home. Learn how to create intimate, comfortable spaces that never lose appeal as we look at hygge interior design ideas.

The 11 Hygge Interior Design Ideas
1.

Lean on Natural Features
Whether intentional or not, sustainability and energy efficiency are defining characteristics of the hygge style. Much of the decor, including functional pieces and fashionable accessories, derives from natural elements. They act as a tonal foundation for the space, adding a sense of calm and delight.
Houseplants should feature proudly in a hygge space. Their organic shapes and rich colors brighten the mood as they refresh the air. Find inspirational ways to hold potted plants in mason jars, vintage tins, or antique silver pieces. Bring out the natural elements in eclectic ways with hardwoods and bamboo in flooring, furniture, and accessories, with lush greenery, large and small, creating a free-flowing complement.
---
2.

Create Intimate Spaces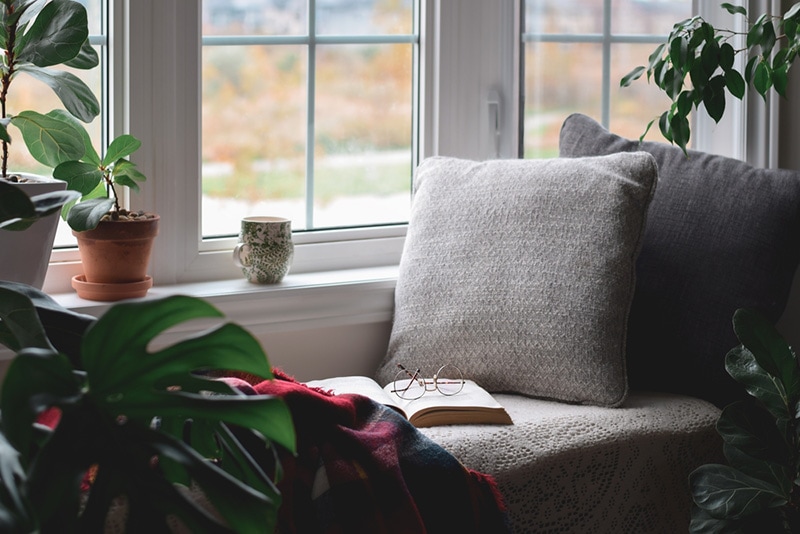 The cozy spot in the corner is quintessential hygge, and no list of design ideas would be complete without it. Arrange it any way you like as long as it keeps you perfectly comfy and warm as you settle in with your favorite book.
Imagine a simple end table offering enough room for a lamp and a cup of tea alongside a soft chair with pillows, throws, and, ideally, a place to kick up your feet. Bring your favorite items together into a spot set aside for you; it's a rare departure from an otherwise social style.
---
3.

Books and Antique Elements on Display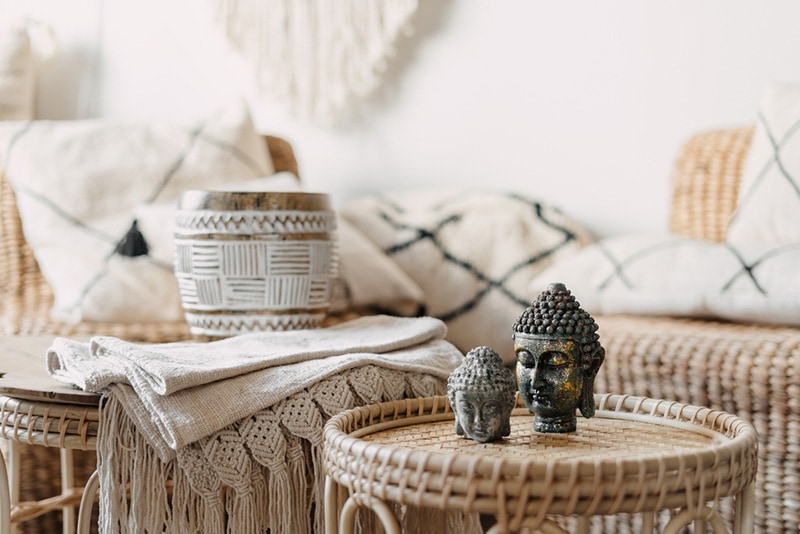 You can't judge a book by its cover, but you can use it to start a conversation. Such is the magic of the random knick-knacks that rest atop bookshelves and coffee tables in a hygge space.
We express ourselves with these minor touches. They disarm us to show we're welcoming others into our lives while imparting information and telling stories that lifeless modern accessories never could. Our conversations validate the hygge style, and shared memories in antiques, books, and time-worn treasures facilitate those moments.
---
4.

Accommodating Entrances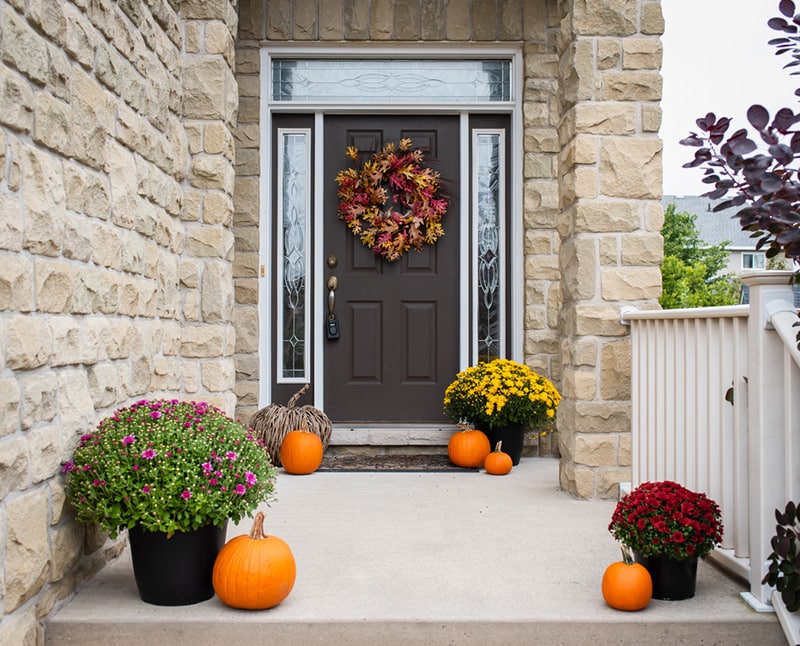 The warmth of the hygge style includes interior and exterior elements. Before guests even walk in the door, greet them with a welcome mat, wreaths, potted plants, and other lively elements that create an air of hospitality.
The welcoming atmosphere should seamlessly transition indoors. A vintage hook rack or hall tree should greet visitors as they enter, adding character to preview the home. Inside and outside, small touches around the entrance are perfect places for switching things up as the seasons change to bring extra fun and care to the effort.
---
5.

Create a Coffee or Tea Bar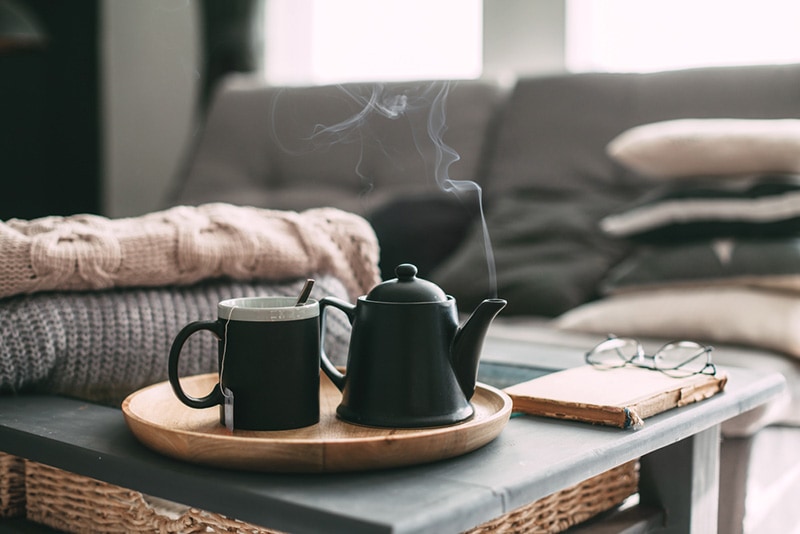 Quality conversation over a hot cup of joe is an essential aspect of life in Denmark, home to the hygge lifestyle and one of the world's top coffee-consuming countries. When bringing authenticity to the style, nothing is simpler or perhaps more effective than adding a coffee bar. It doesn't have to be fancy or sizable. Even a well-adorned tray with a teapot and cups will accomplish the proper look and feel.
---
6.

Add Herbal Aromatic Essences
Hygge is pleasurable, relaxing, freeing, and inspirational, and we don't have to limit ourselves to what we see and touch. Smells tie in closely to our emotions, with the ability to inspire feelings of coziness and security or make us feel irritated and distressed. While many of our design elements add to the visual ambiance, they can also impart delightful scents, another dimension in the convivial atmosphere we're trying to accomplish.
Scented candles are a straightforward solution. You can change them with the seasons and setting, using a sensory design element that complements the decor in ways you'll always appreciate, even when others don't notice the nuance. A fragrant floral bouquet works as well as diffusers and potpourri, leaving plenty of easy, sustainable ways to freshen the indoor air.
---
7.

Cycle the Throws and Throw Pillows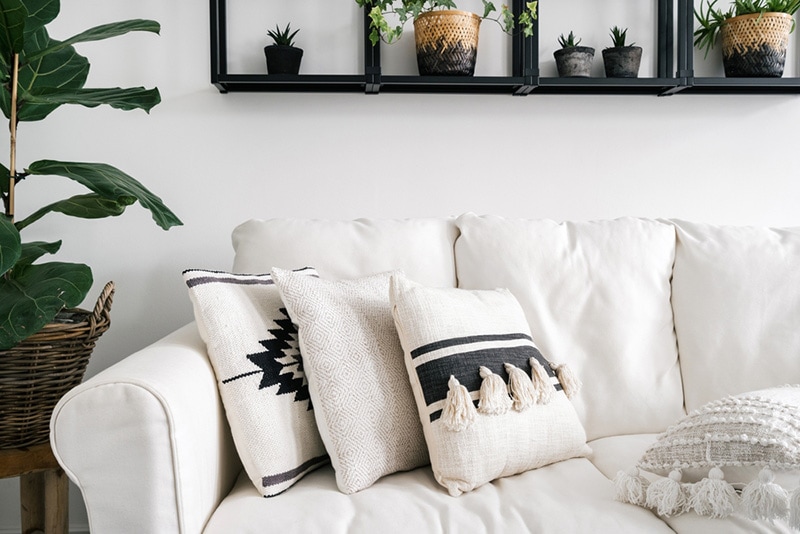 The natural textures work their way into throws and throw pillows, and essential elements add comfort, originality, and intrigue to the room. Bring in layers of different materials, including cashmere, wool, flannel, cotton, linen, mohair, lace, and leather. Play with patterns and contrast since these accessories are easy to swap, especially when you want to keep things seasonal.
---
8.

Employ Wicker Baskets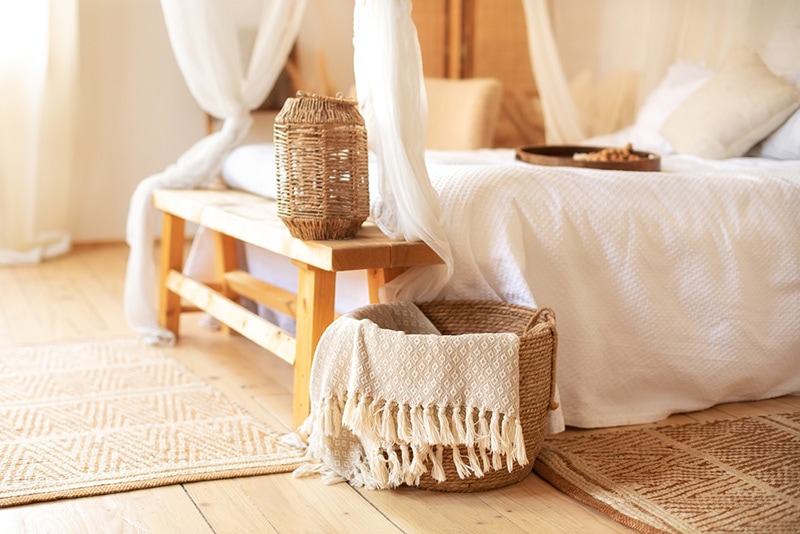 Wicker baskets always carry a soothing, delightfully imperfect feeling about them, and their practicality fits well with the traditional hygge elements. Use them to match a thriving snake plant or Monstera plant, or take advantage of their storage capacity for throws and pillows.
---
9.

Don't Forget the Rugs
Wall-to-wall carpet doesn't work in a hygge setting. Instead, rugs are crucial elements atop the natural wood floor. They bring everything in the room together rather than leaving them feeling disparate on a blank surface. And beyond that, rugs feel great under the feet! A quality wool, cotton, or jute rug softens and warms the area with its light-grabbing texture and insulating nature.
Rugs can be a defining feature in the room while being easy to move and store. They're some of the best places to add visual intrigue that can change as is appropriate for the seasons. Take them away with the warmer weather, or layer them for unique mixes of patterns and texture in the winter.
---
10.

Luxurious Touches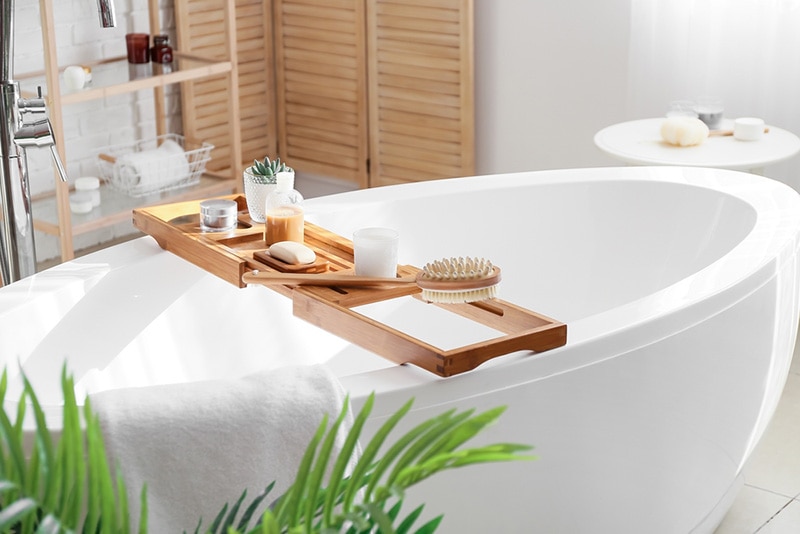 An elegant accessory is always welcome in a hygge interior, bringing hints of glamor to an often laid-back style. Make a statement with a velvet sofa, or bring out some fine china to spark conversation with guests.
Don't feel like you can't save some of the luxuries for yourself. The at-home spa is essential to many hygge interiors. Treat yourself to soothing soaks in the tub, setting the perfect mood with candles, houseplants, scented bath bombs, and plush bath robes and towels.
---
11.

Soft Lighting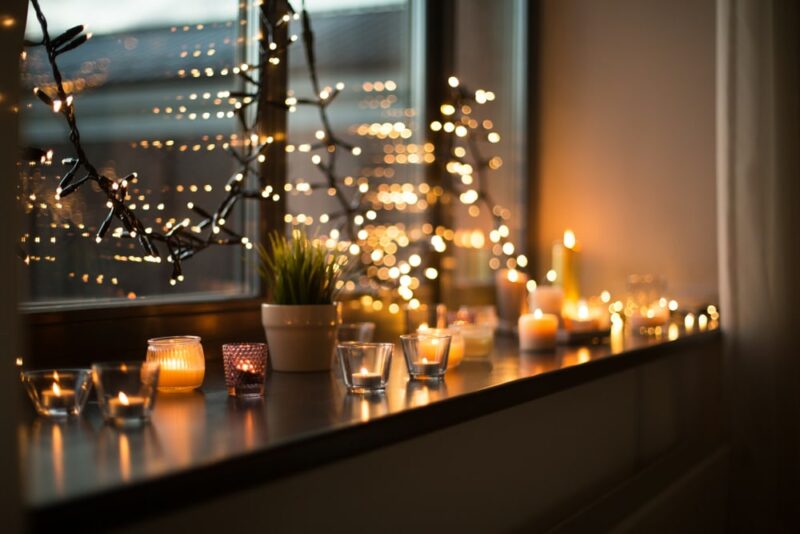 It shouldn't surprise you that hygge hinges primarily on warm lighting schemes, meaning candles factor in heavily. Whether on a serving tray, tabletop, or windowsill, no candle is out of place in this power-saving design. But candles are hardly the only way to create the room's permeating glow. String bulbs, pendants, and other intimate accents perfectly set the mood with diffuse lighting that doesn't waste a bit of energy.
Final Thoughts
Hygge decor is more about a feeling than a look. It embraces happiness, coziness, and togetherness as central tenets to ensure delight in your space. With elements that celebrate nature, it emphasizes life's simple pleasures and the warm spirit of a home rich in family and friends. Following these hygge interior design ideas, you'll discover the freedom to create a style that fits your ultimate definition of comfort.
See also:
---
Featured Image Credit: Ground Picture, Shutterstock