12 Industrial Interior Design: Ideas For a Modern Home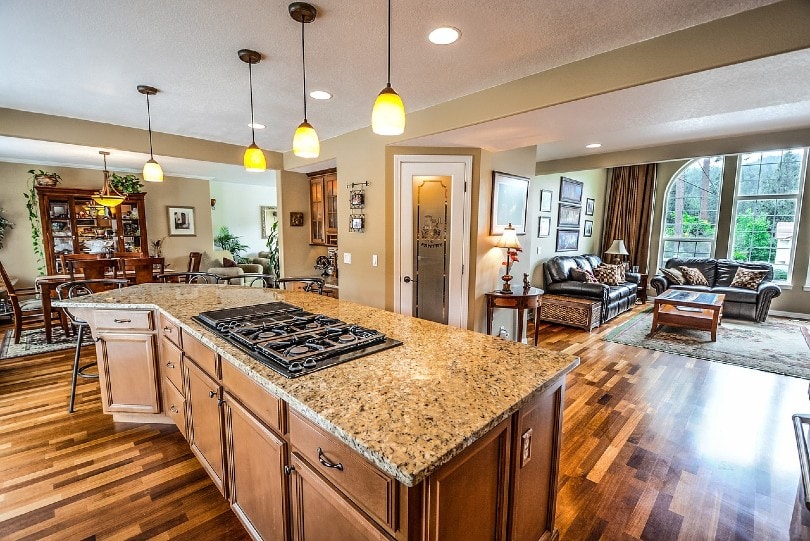 Are you a bit tired of the "generic" interior decorating styles that lack color, imagination, and boldness? Then you might want to go with industrial: open layouts, brick walls, lots of concrete, metal, and reclaimed wood. In 2022, industrial interior designs are in huge demand, and today, we'll look at the 12 best ideas for your home.
The combination of polished contours with rustic elements creates one-of-a-kind, exciting, and inspiring designs. Furniture also plays a big role, but it's a bit more streamlined. And the best thing about this—you won't have to be a professional designer/decorator to make this work. So, check out our top picks, find the one you like most, and go with it!

The 12 Industrial Interior Design Ideas For Modern Homes
1.

Exposed Red Brick Walls
While this is a common trend, exposed red bricks is one of the finest examples of an industrial interior design. An exposed brick wall (preferable red) grabs the attention instantly and serves the right purpose: it gives your room that factory look. There are lots of different options here, like various brick sizes, shapes, and textures. Plus, you don't have to expose an entire wall.
To accentuate it, use décor elements like a wreath, wooden clock, or a retro night lamp. Or, if you want to spice things up a bit more, try adding exposed shelving. Yes, we're talking about "naked", see-through shelves. They will take the industrial vibes to the next level.
---
2.

Industrial Meets Rustic
Looking for a can't-go-wrong-with mix? You just found it! Industrial interior design goes hand in hand with almost anything rustic. It can be a vintage table, stylized chairs, or a cupboard. And you don't have to be scientific about it. As long as most of the room is done in an industrial style and you have one rustic piece, that's more than enough to create the necessary combination.
Kitchen counters, islands, cabinet doors, and drawers will all come in handy if they're crafted from wood and stand out. Speaking of materials, reclaimed wood is what we'd recommend here. The shapes shouldn't be very smooth, by the way, because that will take some of the "warmth" away.
---
3.

Exposed Construction Elements
The goal here is to create an unfiltered, unfinished look by leaving all the pipes and beams in the room exposed. Ideally, it should be the roof, but a wall full of supply lines and pipes will do as well. The rest of the room should be polished, with monotone walls and a wooden floor (or whatever you've got)—nothing exotic. What we're trying to achieve with this approach is a strong contrast.
While metal pipes or plastic air ducts don't look "expensive", this concept will, most likely, grow on you. And if not, you can always have the roof covered. That's the beauty of industrial design: you won't have to introduce any big changes that are hard to fix later.
---
4.

Wall-Tall Windows with Iron Frames
Large, loft-type windows aren't only used in industrial interior design. But they do fit it perfectly, especially if there's enough space in the apartment. A wall full of glass creates a sense of freedom and provides an excellent view of the city, welcoming natural light in. Factories used to feature wall-tall windows to remove the tainted air and let fresh air in. The frames and panes should be made of iron/steel and form a grid.
This doesn't mean wooden frames won't cut it, of course. Smaller windows can fit the picture as well, but still, the bigger they are, the better.
---
5.

Distressed Leather Chairs and Couches
The furniture in the picture looks like it's been through a war. It's got that worn-out, torn apart, ready-to-be polished look. However, these chairs and couches aren't really old. Instead, they're covered in distressed leather. The aged appearance is 100% artificial. Now, industrial interior designs are mostly a bit cold and minimalistic in terms of colors and textures.
Distressed leather, in contrast, adds that rustic, homey feel to it. Even if it's just a single chair, it will still serve as a "countermeasure" against the rest of the setup. Dark brown is the most popular color, but you can go with whatever "fits the profile", including black, red, and white.
---
6.

Edison Bulbs and Light Fixtures
Cost-effective, environment-friendly, and with a unique design, the Edison bulbs are an absolute match for your industrial makeover. These bulbs have been around for centuries but are still in great demand. All you'll have to do is hang a dozen of these from the ceiling, and that's it! Cage lighting also deserves your attention. It's when the bulbs are encased in metal bars instead of being exposed.
Another tried-and-true option is the use of large dome lamps. Lighting plays a huge role in industrial interior design, and these lamps will help you achieve the right tone. Not a fan of lamps or bulbs? Then go with pendant lights instead. A little bit of experimenting can go a long way here.
---
7.

Open Layouts, Large Spaces
The title says it all: to create an authentic industrial mood, you'll need a rather large room. Manufacturing plants and warehouses used to be huge and that's what has to be recreated here. But what if you don't have a space that big? The best thing to do in such a situation is to ensure free movement. That will help create the illusion that the room is bigger than it is.
As you see in this example, the apartment is far from being massive. However, thanks to the way the furniture and everything else is placed, we have a beautiful industrial design on our hands.
---
8.

Concrete as a Bold Statement
When we speak about using concrete in a room, it's usually for the floor. Well, that can very well work in an industrial interior design, but you can also take this one step further. For example, why not try and make the countertop concrete as well? And what about some of the walls? Concrete is probably the most industrial element in any décor, as it's very rough and tough.
Thanks to its neutral color (different variations of gray), it goes well both with wood and metal.
---
9.

Wood + Metal = Love
Metal makes an excellent duo not only with concrete but also with wood. In fact, this is one of the best ideas for industrial interior design. By simply putting together a room that has both metal and wooden components, you can create a lovely décor. Frames, fixtures, and table feet can be metallic, while table and chair tops, shelves, and, let's say, the floor should be made of wood.
If the metal is exposed, and the wood is rustic, the design will be even more captivating.
---
10.

Antique Furniture Elements
When the room has a brick wall, exposed pipes, and bigger-than-life windows, adding some antique touches here and there can turn the entire thing around. Some people don't like distressed leather, but that's not the only item that we can introduce. Think about old furniture, like from the 50s and the 60s that you have stored somewhere in the attic or the shed.
Or maybe you have a vintage floor lamp, a desk, or a bed. Mix different things until you find the combo that you truly like.
---
11.

Framed Art/Memo Boards
Art has a strong presence in most interior design styles, and industrial is not an exception to that rule. It doesn't even matter what kind of art you're into, as long as it "goes with the flow" and adds to your industrial décor. The art pieces can be matching or differ in size. Alternatively, you can nail memo boards to the walls for a rustic vibe (like in the kitchen, for example).
---
12.

A Platform for the Bed
Have you ever tried sleeping on a raised bed? If the answer is no, then we encourage you to introduce a platform into your industrial interior design. Now, this platform doesn't have to be of a specific size, height, or shape. The same is true for the materials. It can be concrete blocks, lumber, and even bricks—use whatever you've got handy!
---
What Are the Key Elements of an Industrial Design?
It all started in 1760, during the First Industrial Revolution. Back then, factories were growing at a rapid pace, and they all featured open plans, tall windows, and brick walls. Many decades later, during the early 21st-century housing shortages, the US government decided to turn these manufacturing plants into apartments to solve the issue.
And that's when people started moving into these large, empty spaces with exposed walls, bricks, wood, and concrete floors. They managed to turn all of that into a beautiful style. But how does it work, though? Eclecticism is at the core of industrial interior design, and we already covered most of it when going through the best ideas. Still, here's a list of the major pillars of industrial décor:
Exposed brick walls. In most classic designs, exposed bricks ruin the vibe, but in industrial, they only add to it. That rustic "manufacturing plant" feel is what sets it apart from drywall, wallpaper, and other elements.
Exposed pipes and ducts. Want to go industrial? Then don't bother trying to hide the steel tubes, pipes, and air ducts. For some folks, this might be a bit too raw and unfiltered, but most people like it.
Old-school lights and bulbs. Bare bulbs, cage lighting, and gigantic lamps are a big trend in interior design. As long as it looks vintage and screams "old factory", consider adding it to your décor.
Rustic and vintage touches. Go for a rustic, almost rural feel. Mostly, this applies to furniture. It shouldn't be high-tech, polished, or anything like that. Antique chairs, tables, and closets—take your pick!
Distressed furniture. As mentioned, if you see a worn-out chair in a room, that doesn't mean it's actually old. Instead, it's an artistic statement. Distressed leather goes great with metallic and concrete surfaces.
An open layout. Lastly, to nail the whole industrial concept, do your best to make the room look as big as possible. One way to achieve that is to install large-frame windows that let sunlight in. That will instantly make you feel like you're in a factory.
How Do You Get Everything Right?
Adding the right bulbs, couches, and windows is very important, but there's a lot more to industrial interior design. If you want to master this style, you need to also think about the colors. Black, white, and brown are running the show here. You can mix them however you like. For example, why not paint the windows and the doors black, leave the walls white, and pick brown furniture?
And don't forget about textures. Try to mix modern with rustic—that's the key to a lovely industrial décor. A double-sided bookshelf, a bed that "sits" on a raised floor or a kitchen counter in the corner is what you should go for. Now, if you're renting an apartment or just living in a house that doesn't have any rustic pieces, don't worry! You can always buy brick wallpaper, sticky tiles, or add vinyl to the floor. This won't cost much!

Conclusion
Alright, that is it for our list of the finest industrial interior design ideas. At a glance, these designs may seem a bit cold and even depressing with all those metal shelves, iron frames, and minimalistic wooden accents. And yes, the elements of a facility or a workshop don't always create a warm, fuzzy feeling in a room.
However, once you take a moment to learn your way around this concept, you'll see that the opportunities here are truly endless. That's because your imagination won't be limited nearly as much as it would be with the more conservative decorating styles. So, just choose whatever ideas resonate with you at the moment and enjoy!
---
Featured Image Credit: user32212, Pixabay