15 Industrial Interior Design Ideas to Try Today (With Pictures)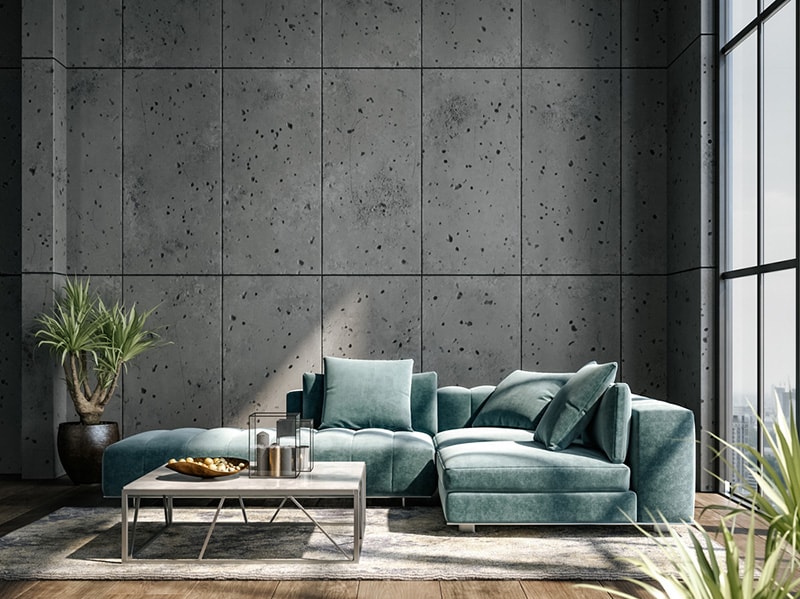 Are you living in an industrial loft, or is your office in an industrial-style room? If so, there's no reason you can't make it look absolutely stunning. But before you can transform the space into your dream room, you need to get some inspiration, which is exactly what we will do for you here. We've highlighted fifteen different interior design ideas you can incorporate into your industrial space and transform your space into whatever you're envisioning.

Top 15 Industrial Interior Design Ideas
1.

Exposed Brick
| | |
| --- | --- |
| Materials: | None |
| Difficulty Level: | Varies |
One of the best ways to transform an industrial interior is by using exposed elements. If there's brick in the construction, you absolutely should use it as a part of the décor. However, not every industrial room has a brick to expose. If the room doesn't have any exposed brick, it would be quite the challenge to add it to the room, but it's certainly possible if you're willing to expand the budget a bit.
---
2.

Vintage Metal Light Fixtures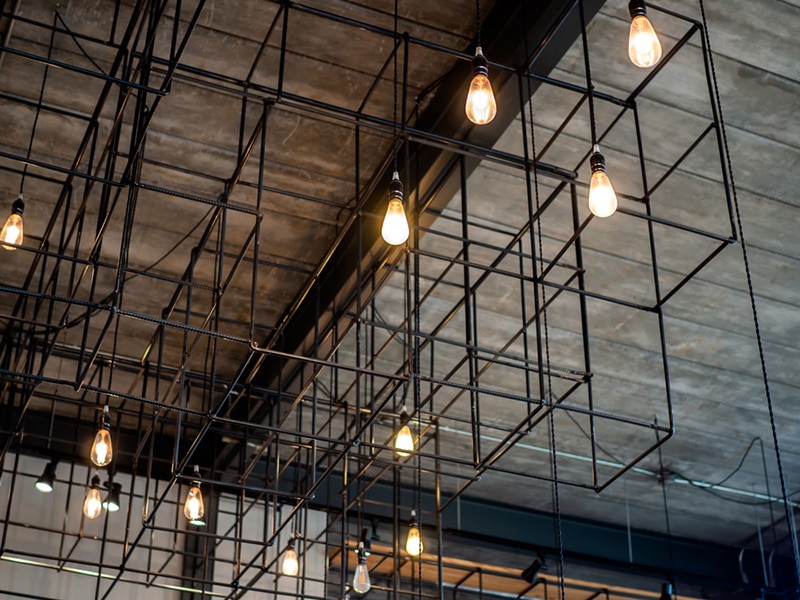 | | |
| --- | --- |
| Materials: | Vintage metal light fixtures |
| Difficulty Level: | Easy |
One of the simplest ways you can spruce up an industrial room is by swapping out the light fixtures for vintage metal. It's a classic look for industrial interior design, and it's one of the simplest changes you can make. There are several vintage metal light fixture options you can pick from, so we recommend looking at different options before picking one to go with!
---
3.

Exposed Metal Beams, Pipes, & Ducts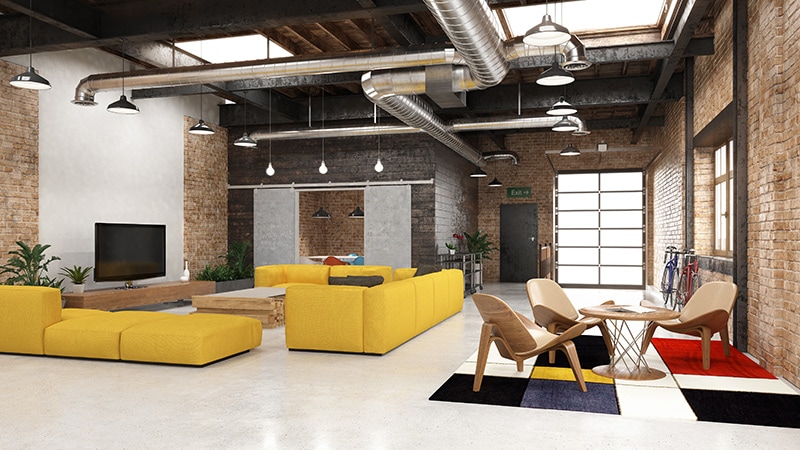 | | |
| --- | --- |
| Materials: | Varies |
| Difficulty Level: | Varies |
A classic look for industrial rooms is to expose the metal beams, pipes, ducts, or whatever else is in the home. The construction of your industrial space will determine what you can expose and whether you should expose it. Most industrial spaces have good features to expose, but sometimes, you just have to start knocking down walls to figure out what's there!
---
4.

Add Vintage Pieces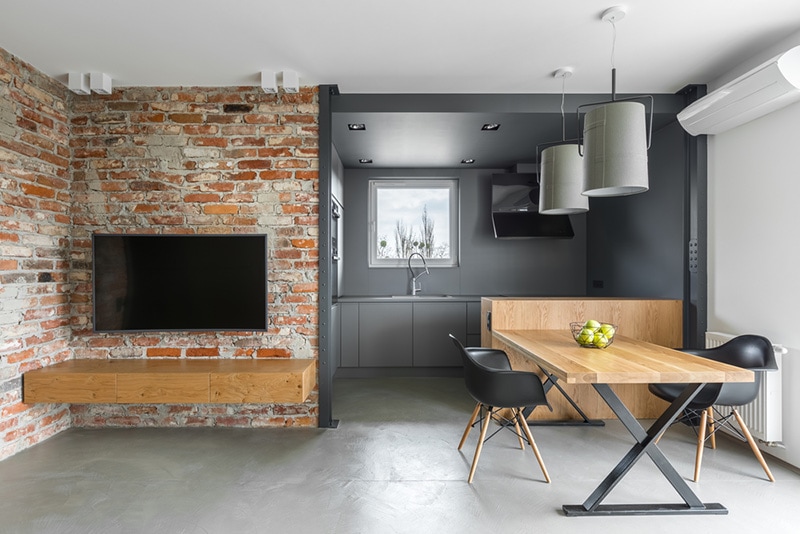 | | |
| --- | --- |
| Materials: | Various vintage décor |
| Difficulty Level: | Easy |
Industrial spaces might seem like they need to get super modern, but one of the best ways you can decorate the room is by adding vintage elements. This could be a smaller décor piece, a signature piece, or some vintage furniture.
Vintage elements work great with modern décor, and if you can find ways to mix and match the two, it's an excellent choice for industrial spaces. You can also mix this idea with others on the list to come up with great décor for your industrial space.
---
5.

Implement Loft Windows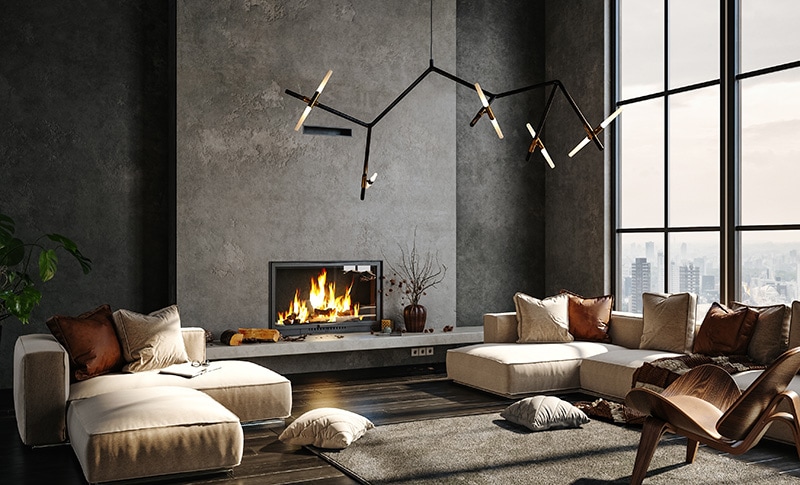 | | |
| --- | --- |
| Materials: | Varies |
| Difficulty Level: | Varies |
If your industrial space has loft windows, see if you can incorporate them into the décor. It can be the signature piece of the room, and if you use it right, it looks great. In fact, even if the room doesn't have loft windows, you should look into whether you can add them.
Loft windows completely transform an industrial space, and there are different ways you can use them. But whatever you do, don't ignore them!
---
6.

Use Neutral Colors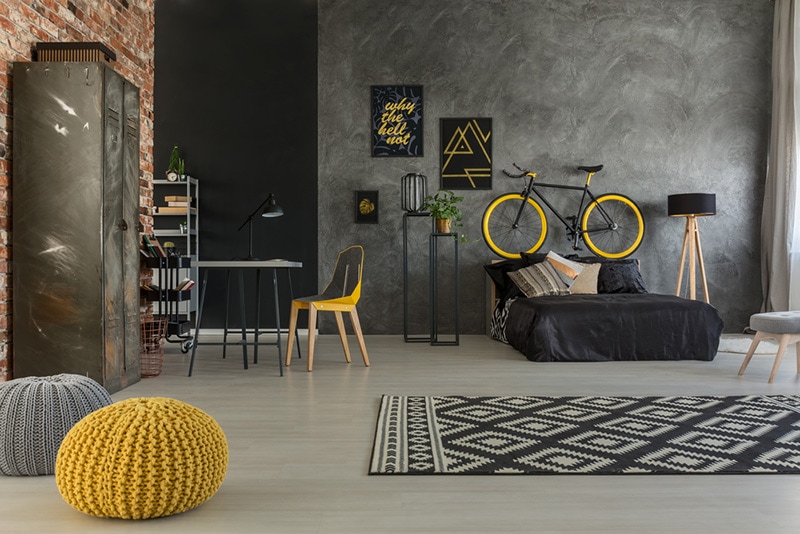 | | |
| --- | --- |
| Materials: | Paints, linens, curtains, and more |
| Difficulty Level: | Easy |
While some people want to use bright and bold colors throughout their space, with an industrial space, it's often best to go with neutral colors. They're easier to incorporate into different spaces, and they look great with classic industrial décor.
Often, the furniture and the rest of the décor look great as the centerpiece in the room, and going with neutral colors helps ensure those pieces can shine.
---
7.

Go Modern Rustic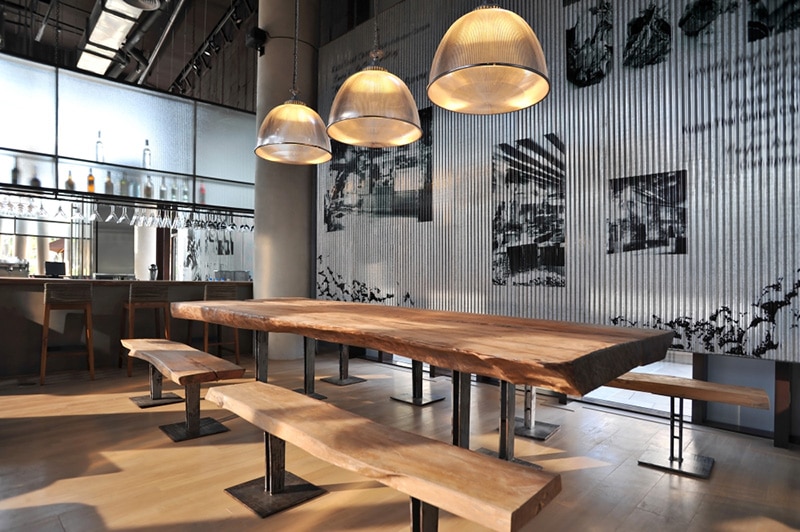 | | |
| --- | --- |
| Materials: | A mix of vintage and modern décor |
| Difficulty Level: | Moderate |
Modern rustic might seem like an oxymoron, but the truth is that when you combine modern and rustic décor, you get an amazing final look. You don't need to find a single piece that's both modern and rustic; instead, you can get multiple pieces that come together for the final look.
Get some modern pieces and some rustic pieces, and ensure they go into the same room and work well together to master this look!
---
8.

Raw Concrete Walls
| | |
| --- | --- |
| Materials: | Varies |
| Difficulty Level: | Varies |
Tons of industrial spaces have raw concrete walls, and while you might want to cover them up, consider turning them into the focal point of the room. Raw concrete doesn't look the best in many other types of décor, but in industrial spaces, it looks great if you use it right.
However, this décor only works if there's already raw concrete in the room. We wouldn't pour extra concrete if it's not already there!
---
9.

Use Black
| | |
| --- | --- |
| Materials: | Paint, black décor, black linens, black curtains, and more |
| Difficulty Level: | Moderate |
Black is a color that you have to be a little careful with, but with industrial spaces, it can look great. That's because industrial spaces are extremely large, and adding some dark elements won't make them seem too small.
Don't overdo it, but consider adding some darker elements as accent pieces to help the space feel a bit cozier and more connected.
---
10.

Use Metal Fixtures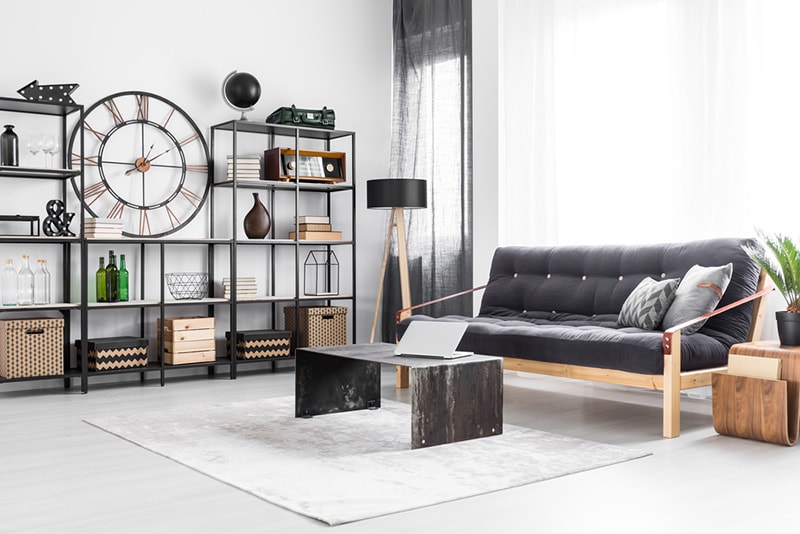 | | |
| --- | --- |
| Materials: | Metal fixtures |
| Difficulty Level: | Moderate |
Metal and industrial spaces just go together. Metal light fixtures, pipes, tables, shelves, and just about everything else you can think of go great with industrial décor. You don't need to add metal to everything, but if it features a prominent role in the décor, it should look great!
Not only does it look great, but it's easy to care for, and it's less expensive than other options. This alone makes it a great addition to other options on our list.
---
11.

Bring in Distressed Leather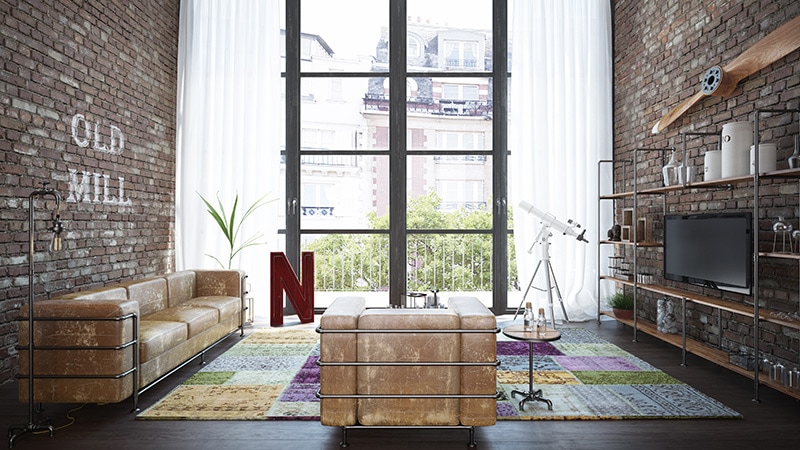 | | |
| --- | --- |
| Materials: | Leather |
| Difficulty Level: | Easy |
Brand-new leather throughout your industrial space might not look great, but if you give the leather a bit of a distressed look, it's great! Distressed leather works great with other types of industrial décor, and it's why we recommend incorporating distressed leather into various rooms.
It looks great in bedrooms or living rooms, but don't bring in too much distressed leather, or it can make the room feel run down.
---
12.

Use an Open Layout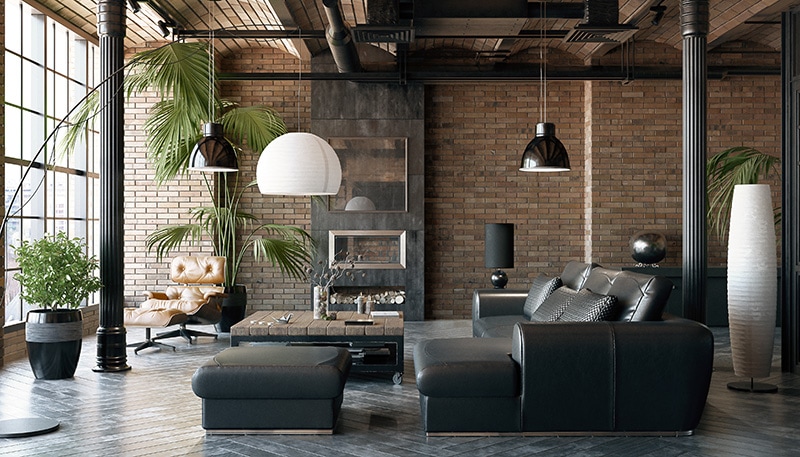 | | |
| --- | --- |
| Materials: | Varies |
| Difficulty Level: | Varies |
Many industrial spaces are wide open, and the last thing you want to do is try to close some of these spaces off. Keep it open as much as possible and let things flow together. While it might be a bit more complicated to figure out at times, when you piece it all together, an open layout works much better for industrial spaces.
---
13.

Use Copper Cookware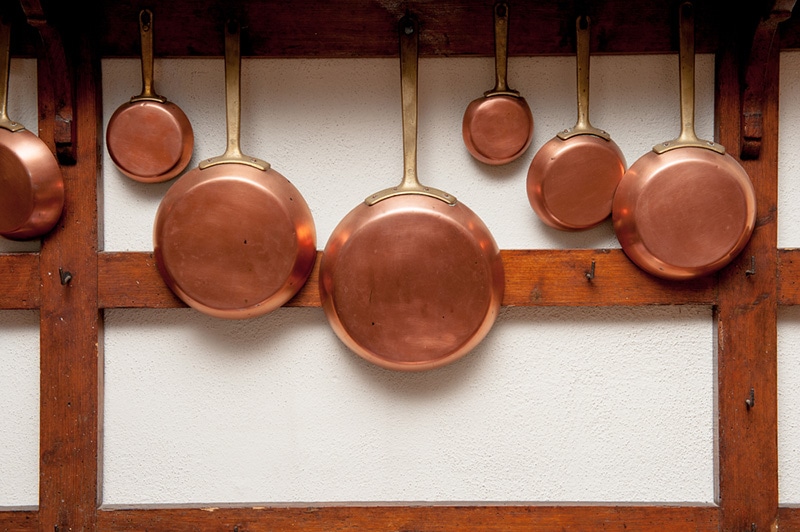 | | |
| --- | --- |
| Materials: | Copper cookware |
| Difficulty Level: | Easy |
Is your kitchen in an industrial space? If so, stick with copper cookware. It might be a bit more expensive than other types of cookware, but it looks amazing in an industrial setting. And helping to offset the cost is the fact that copper cookware is extremely durable, so you don't have to worry about replacing it any time soon.
When possible, get matching copper cookware. That way, it all flows together and really elevates the rest of the room and décor.
---
14.

Use Repurposed Wood
| | |
| --- | --- |
| Materials: | Old wooden furniture and décor |
| Difficulty Level: | Moderate |
Do you have old wooden furniture or décor? If so, why not repurpose it into something new and functional? That's the idea of using repurposed wood in the room. While it takes a bit more work to build something from repurposed wood, it looks great, and it can save you quite a bit of money too.
Unleash your creativity with reclaimed wood, but don't overdo it either. There's a fine line, but if you find it, then it can transform your industrial space.
---
15.

Use Natural Elements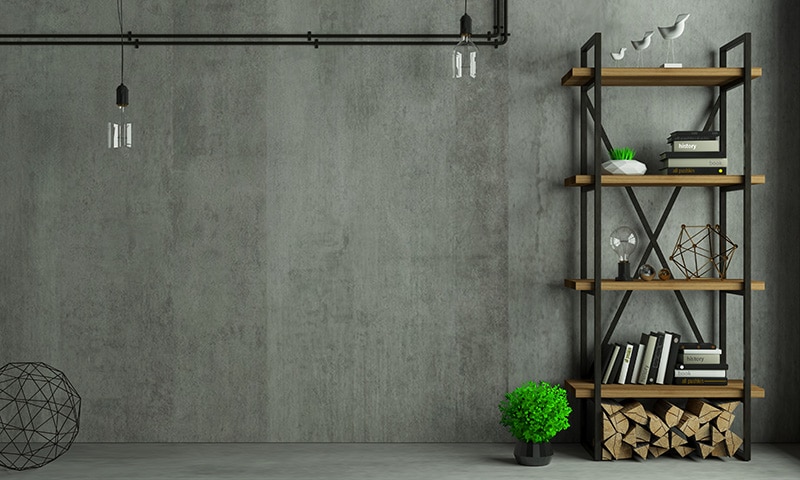 | | |
| --- | --- |
| Materials: | Plants, paints, and décor |
| Difficulty Level: | Easy |
Natural elements look great in all different types of rooms, and industrial spaces are no exception. Bring in plants, wood, natural colors, and anything else that ties the room to nature. Natural elements make the room feel more open and friendly, and it can make it easier to spend longer amounts of time in the room.
What's great about adding natural elements is that it's a common décor pattern, and it's pretty easy to incorporate into just about any existing décor.
Final Thoughts
Now that you know a little more about different ways you can spruce up an industrial space, all that's left is for you to find what matches your style and go from there. Mix and match your favorite ideas and build an industrial space that will blow you and everyone else away when they see it!
---
Featured Image Credit: jafara, Shutterstock