Jeep Towing Capacity: Pros, Cons & FAQ (With Comparison Table)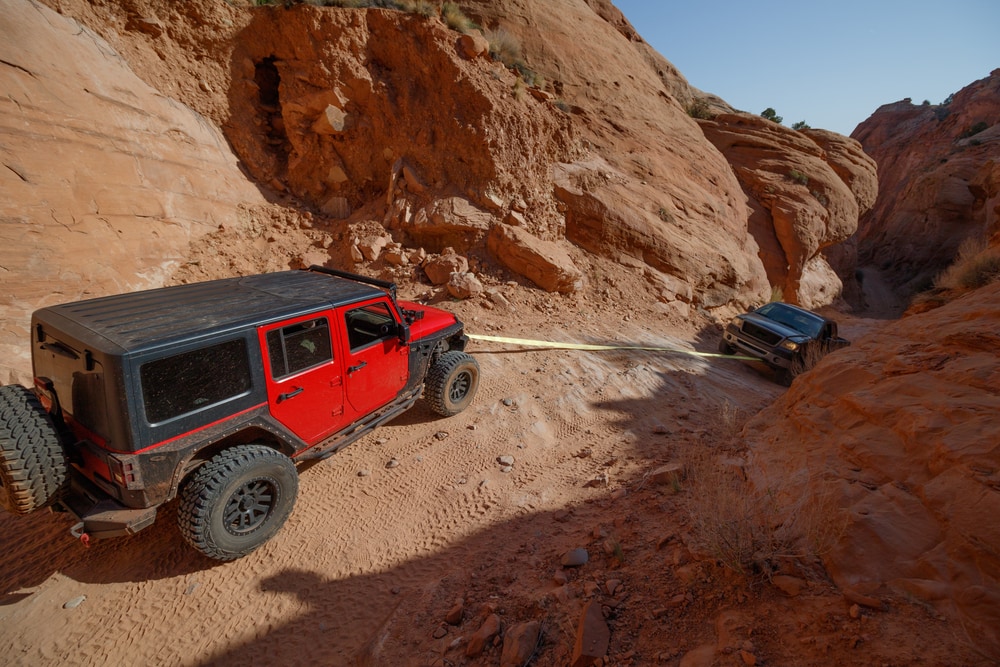 When buying a heavy-duty SUV or truck, one of the most important features is often the towing capacity. If you're looking for that 11,000–12,000 pounds (lbs) of towing capacity, you'll likely need to find a half-ton or bigger pickup. However, if you don't need quite that much, some SUVs on the market boast impressive towing capacities.
Jeep is well-known for its ruggedly built SUVs. This article will give you a brief overview of the line and its towing ability. We'll also look at how that towing capacity has changed throughout the years.

Overview of Jeep
Shortly after World War II, Willys-Overland received the trademark for "Jeep." In 1953 the company merged with Kaiser Motors, and they became Kaiser-Jeep. This was only the beginning of this brand's evolution because Jeep was purchased by American Motors Corporation in 1970, and then in 1987, Chrysler purchased the brand.
Even through several ownership changes, there's one thing that Jeep has not lost throughout the years. The entire brand began as capable vehicles that could go just about anywhere and still is today. They've added and removed various models and dabbled in different markets. But one thing that is always at the forefront of their design is being rugged and capable.
When Willys-Overland first started making Jeeps, they were entirely American-made. Now some 70 years later, they are still almost entirely made and assembled in the States. However, Jeep has expanded its manufacturing to Italy, Brazil, China, India, and Mexico to keep up with its growing international demand.
The brand is not as diverse as some others. They only produce SUVs and now one truck—the Gladiator. But the thing about Jeep is that they are connected to Chrysler. So, if you want you'd like a car for a second vehicle or something, most Jeep dealers will also have Chrysler cars available.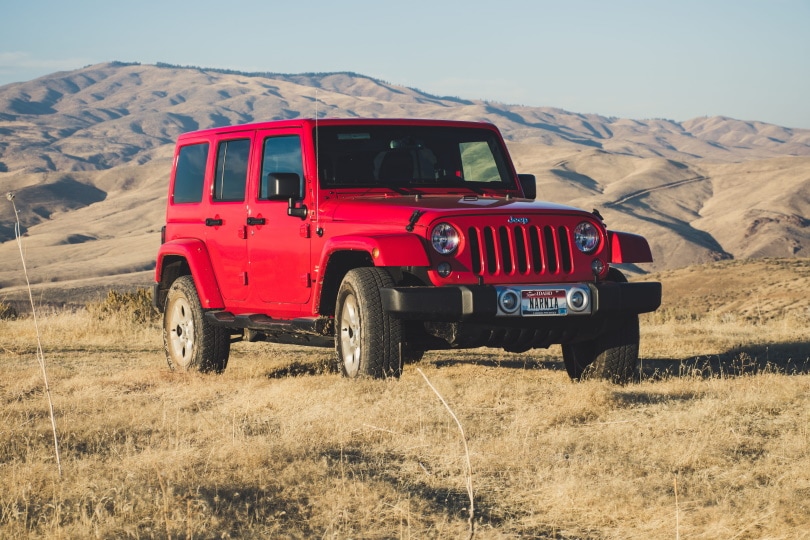 Current Jeep Towing Capacities
| | |
| --- | --- |
| Jeep | Max Towing Capacity |
| Compass | 2,000 lbs |
| Renegade | 2,000 lbs |
| Wrangler | 3,500 lbs |
| Cherokee | 4,500 lbs |
| Grand Cherokee | 7,200 lbs |
| Gladiator | 7,650 lbs |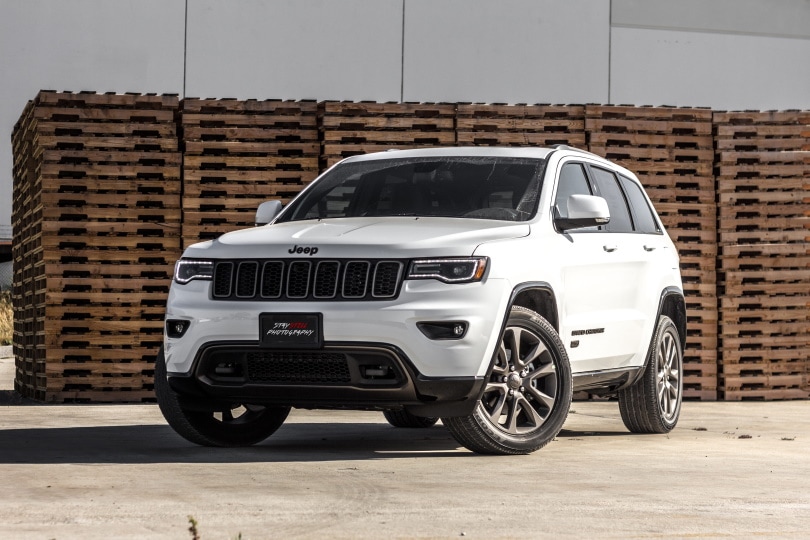 Year by Year Guide for Jeep's Towing Capacity
Let's take a look at some of the popular Jeep model's towing capacity throughout the years.
| | |
| --- | --- |
| 2017–Current | Capacity Dependant on Trim |
| Renegade | 2,000 lbs |
| Cherokee | 2,000 to 4,500 lbs |
| Grand Cherokee | 6,200 to 7,200 lbs |
| Wrangler (2017–2020) | 2,000 to 4,500 lbs |
| Compass (2018–Current) | 2,000 lbs |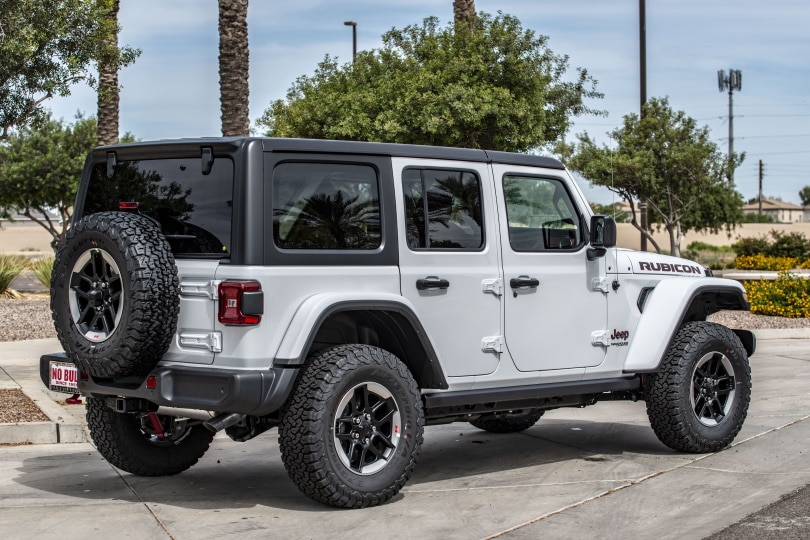 | | |
| --- | --- |
| 2010–2016 | Capacity |
| Liberty | 3,500 to 5,000 lbs |
| Grand Cherokee | 5,000 to 7,400 lbs |
| Patriot | 2,000 lbs |
| Wrangler (2017–2020) | 2,000 to 3,500 lbs |
Advantages of Jeep
Nowadays, it's becoming increasingly rare to find companies that produce their products in America. So, the fact that a large majority of Jeep's production and assembly still happens in the States is a huge bonus, especially if you want to support American-made companies.
Then there is the overall capability of the brand. Whether it's having great towing capacity or great suspension for off-road handling, each vehicle is made to have its own adventures.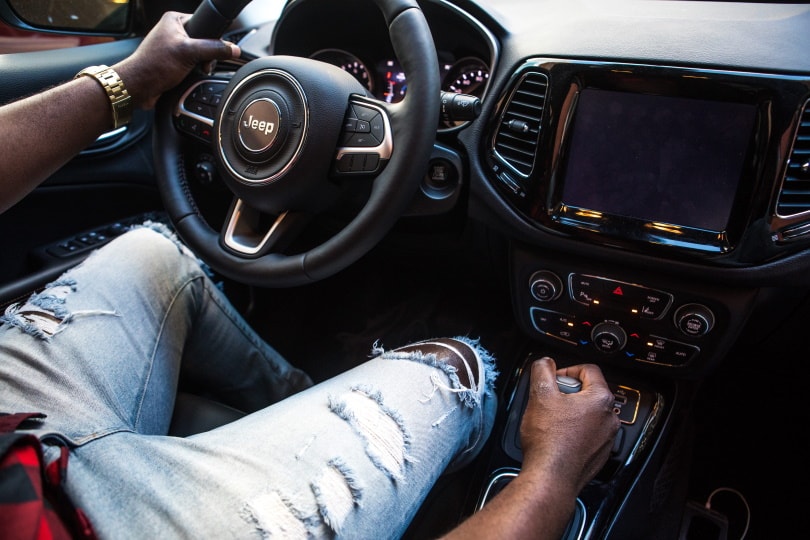 Disadvantages of Jeep
One of the most common complaints you hear from people who drive a Jeep is about comfort. Because many of them are built for rugged terrain, the focus is on capability over comfort. Also, Jeep has been plagued by several quality issues in the past.
Nonetheless, Jeep has a loyal base of drivers all over the world who won't drive anything but a Jeep.

Frequently Asked Questions (FAQs)
Which Jeep has the highest towing capacity?
Currently, the highest towing capacity in the Jeep lineup belongs to the 2020 Gladiator. It boasts 7,650 lbs of towing capacity with a gas engine.
Why did the Wrangler towing capacity go down?
For several years, the Wrangler had a 4,500 lb towing capacity. Interestingly, this has less to do with the vehicle's capability and more with federal law. For example, in some other countries, the same Wrangler (except for possibly different brakes) is actually rated for up to 5,000 lbs. These countries have speed limits that govern how fast you're allowed to drive while towing, whereas the US doesn't have these laws.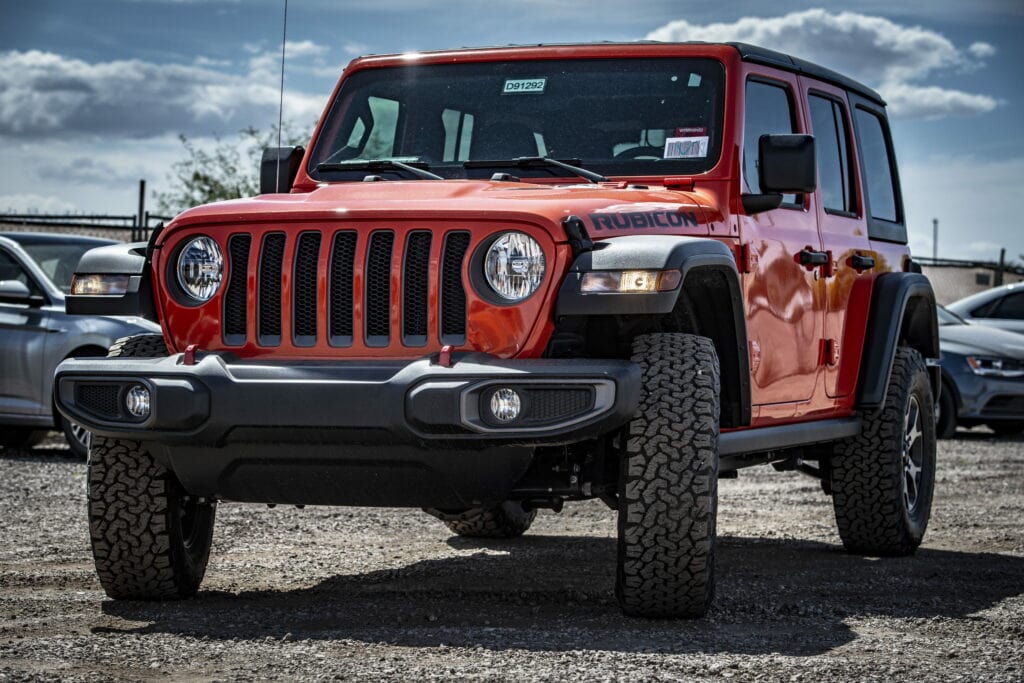 Can you change the towing capacity?
When a manufacturer produces a vehicle, they are required to set various specs for it, such as tow rating, payload (how much it can haul), and the gross vehicle weight rating (GVWR). These three things combine to give you the gross combined weight rating (GCWR), which is the heaviest the vehicle is legally allowed to be. For example, the Gladiator is an 11,100 GCWR.
You can absolutely upgrade vehicle components to make the vehicle tow more efficiently and with more power. However, you cannot legally change the manufacturer-set towing capacity of the vehicle.
How can you improve fuel mileage while towing?
With fuel prices the way they are these days, many people are looking for ways to save money on fuel. But can we improve fuel mileage while towing? There are definitely ways to help your vehicle run more efficiently, like using high-quality lubricants and ensuring that your Jeep is up to date with all its services. Another thing that improves fuel mileage while driving is lightening the load as much as possible and adjusting your driving style by minimizing passing and slowing down.

Conclusion
Finding the best vehicle for your needs is more than simply a towing capacity. Once you find a vehicle that fits your criteria for towing, there are other questions to ask. Do you like how it looks? Is it good for more than just hauling? Does it have the options you want?
Jeep has a diverse lineup that will fit many different people's lifestyles. Whether you're looking for the raw towing capacity of the truck-like Gladiator, or you want something a little better on fuel that can still haul a small trailer like the Compass.
---
Featured Image Credit: Jeppe Karl, Shutterstock