Jeep Wrangler Towing Capacity: Types, Alternatives & FAQ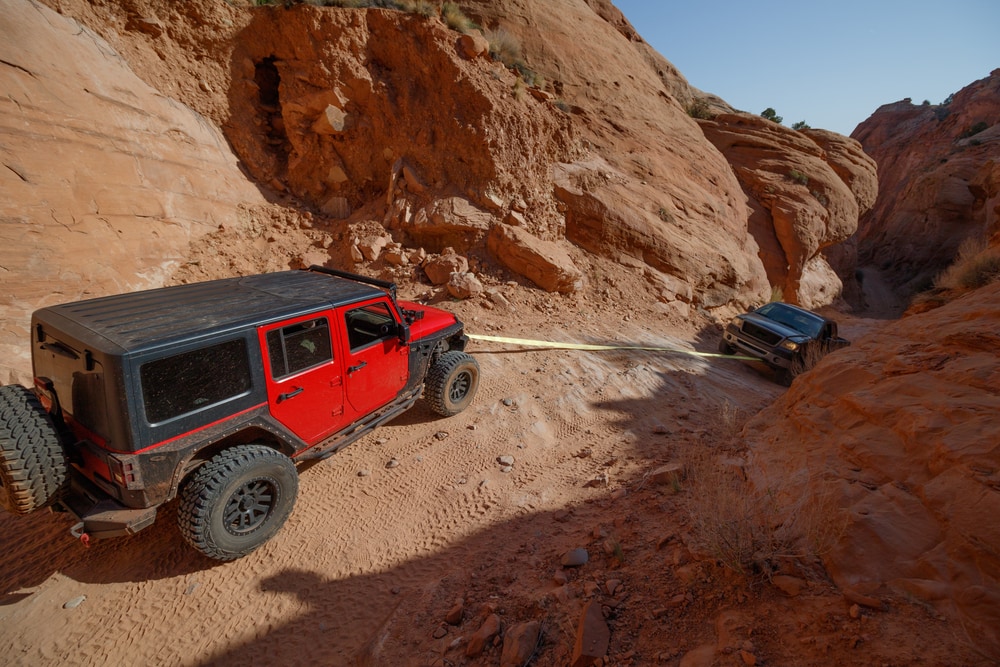 For years, the Jeep Wrangler has been a top choice and prized possession for anyone passionate about off-road exploration. Its nimble frame, powerful 4×4 drivetrain, and rugged axles and suspension are iconic in the industry, giving drivers limitless opportunities to traverse the most unforgiving terrain.
The Wrangler brings a promise of a boundless outdoor experience, and much of that hinges on being able to bring your equipment and toys along for the ride. Although storage is limited, the Wrangler's ability to tow up to 3,500 pounds is all you need to bring a small trailer, camper, or boat to help you get the most from your adventures.
Trim levels and packages factor heavily into each vehicle's total hauling capability. To help you find which off-roader can handle your gear without compromise, we'll detail the towing capacity for each 2022 Jeep Wrangler trim.

General Overview of the Jeep Wrangler
Since 1987, Jeep's defining model has been the American embodiment of the unbridled freedom to drive. It turns heads unlike any other car at its price point and single-handedly fulfills Jeep's "Go Anywhere" promise. More comfortable off the road than on it, the Wrangler grounds the Jeep identity for diehard fans, even as the company transitions to more family-friendly and eco-conscious varieties for paved streets.
The Wrangler hasn't changed much from its original styling and WWII roots. Its design is more of a tradition than an evolution. There have been necessary adaptations, including the 4-door addition in 2006 and the recent hybrid model, but the appearance remains familiar.
Consistency is an essential part of the charmingly unrefined appeal. You won't find Jeep attempting any future-forward redesigns. The rugged character is distinctly Wrangler, from its trucklike handling to its removable panels and soft-top cover.
The 2022 Wrangler stays true to its history while supplying modern luxuries such as the UConnect 4 interface with a 7-inch touchscreen. Higher-end models offer options like onboard Wi-Fi, navigation, and upgraded interior appointments. It comes standard with 4WD and a 3.6L V6, supplying 285 horsepower and 260 pound-feet of torque.
Depending on which of its 12 trim levels you choose, you'll have optional 3.6L V6, 2.0L 4-cylinder, or 3.0L diesel V6 engines in automatic configurations. In the top-end model, the Rubicon 392, you get a thunderous 6.4L HEMI V8 with 470 horsepower, 470 pound-feet of torque, and a 0–60 time of 4.5 seconds. Going the more eco-conscious route, you can opt for the I4 PHEV-driven Wrangler 4xe, Jeep's hybrid offshoot that supplies better fuel economy but similar off-road power.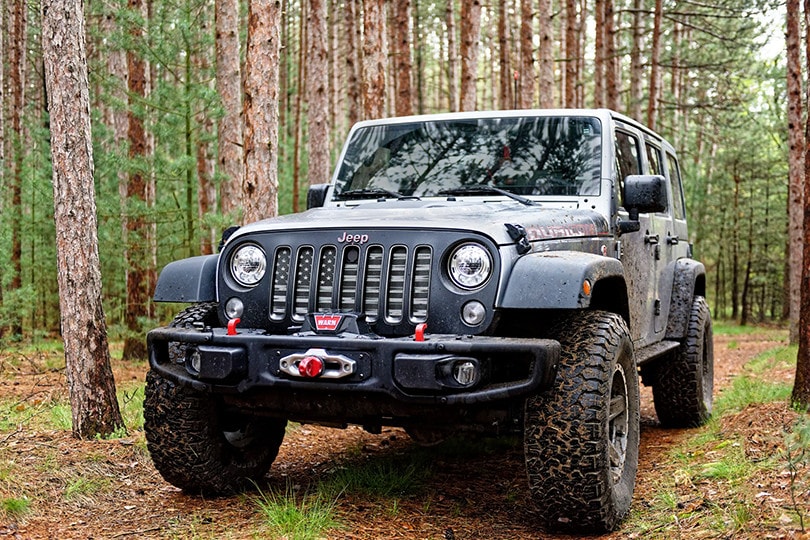 Jeep Wrangler Towing Capacity
The 2022 Jeep Wrangler 2-door models can tow up to 2,000 pounds, and the 4-door Unlimited models can tow up to 3,500 pounds. The lower weight and shorter wheelbase (the distance between the front and rear wheels) limit what the 2-door models can reasonably tow compared to the 4-door models.
When building your Wrangler, you have several customizable features that typically affect a vehicle's towing capability, like the gear ratio and 4WD system, but the primary difference will be the engine.
The Wrangler's standard 3.6L V6 or the Rubicon 392's V8 won't have an issue with the 2,000 or 3,500 pounds in the respective 2-door and 4-door models. Below these engines, the turbocharged 2.0L I4 can tow closer to 3,100 pounds, and the 3.0L EcoDiesel V6 has a nearly 3,400-pound towing capacity. The turbo gives these engines more torque than the 3.6L V6 (up to 442 pound-feet in the EcoDiesel), but they also have a more difficult time managing the stress of a heavier tow load.
What are the Different Types of Wrangler
| | | |
| --- | --- | --- |
| Main Model Type | 2-Door Max Towing Capacity | 4-Door Max Towing Capacity |
| Sport, Willys Sport, Sport S, Willys, Rubicon | 2,000 | 3,500 |
| Sport Altitude, Sahara, Sport RHD, Sahara Altitude, High Tide, High Altitude, Rubicon 392 | X | 3,500 |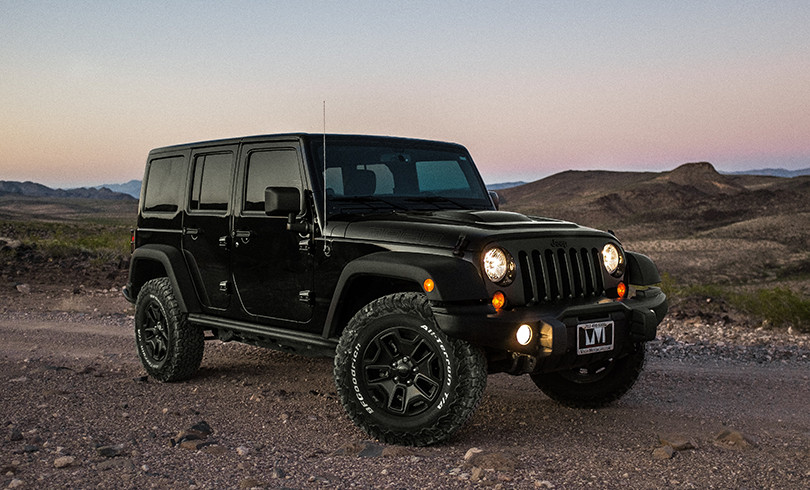 What Can You Tow with a Jeep Wrangler?
The difference between the 2,000-pound and 3,500-pound max towing capacities of the various Wrangler options is significant. Before choosing between the 2-door or 4-door options or deciding on a powertrain, consider what you're going to tow. It's easy to overestimate the size of your load, so here's a quick breakdown of some typical items you can expect to haul with your Wrangler:
2-Door (2,000 lb. Towing Capacity)
4-Door (3,500 lb. Towing Capacity)
Small Teardrop Trailer

Two Jet Skis

Light Boat

Two Snowmobiles

Motorcycle

Four Kayaks

Two Canoes

Small A-Frame Camper

Two Motorcycles

Two ATVs

Teardrop Trailer

20-Foot Aluminum Fishing Boat

Trailer with Two Horses

Pop Up Camper
It's crucial to refer to your Jeep model's towing capacity and investigate the weight of the equipment you are hauling and the trailer itself. The tongue weight of your trailer is also critical to factor into your gross vehicle weight rating (GVWR). GVWR is the maximum amount your Wrangler can weigh when it's full of people and cargo, or your vehicle's curb weight plus its payload capacity.
Tongue weight refers to the downward force that a trailer exerts on your vehicle at the tow hitch. The tongue weight is typically 10%–15% of the load, making the maximum around350 pounds for a 4-door Wrangler.
Advantages of Jeep Wrangler Towing
If you're the type of person to use your Wrangler to the fullest extent of its off-road capability, the 3,500-pound max should be more than enough to handle your camping gear or boating equipment. You also get standard front and rear tow hooks to help your buddy out of the muck if you're going off-roading.
In fairness, the Wrangler's towing capacity isn't spectacular, so you should buy it more for its endurance through challenging landscapes than its ability to haul the family camper. Off-road capability generally has an inverse relationship with towing capacity. Everything that makes the Wrangler so perky and toy-like on intense terrain, like the springy suspension and tall ground clearance, won't do you any favors when you need to keep a heavy trailer under control.
With that in mind, you also wouldn't want to take most trailers through the places that a Wrangler can travel. Towing capacity could be sky-high, but not many loads would fare well going through a creek that's two feet deep or over the rocky terrain that would have you disconnecting the sway bar. Take the Wrangler as far as it can go, and you'll find the towing capacity is both adequate and the least of your worries.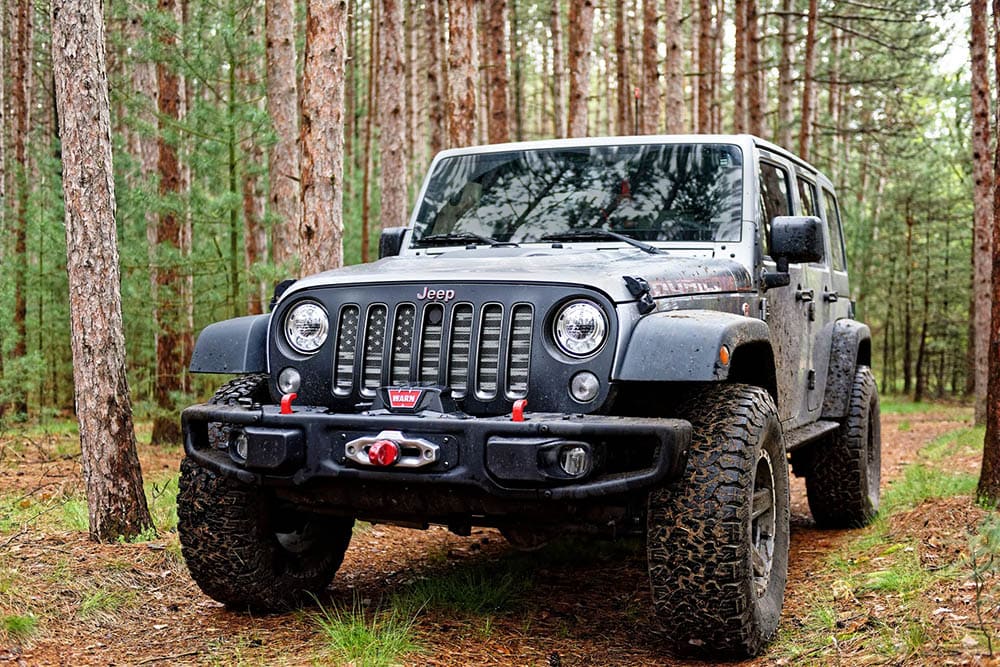 Jeep Wrangler Alternatives with Improved Towing
Look to the Toyota 4Runner or the Land Rover Defender for improved towing capacity with some off-road power. Although it isn't as rugged as the Wrangler, the 4Runner can tow up to 5,000 pounds. Meanwhile, the pricey Defender delivers off-road versatility and power to compete with the Jeep, and it has an incredible max tow capacity of over 8,000 pounds.
If you want better towing than the Wrangler while staying in the Jeep lineup, you can opt for the off-roading Gladiator pickup or the brand's number one vehicle, the Grand Cherokee. The Gladiator offers a modest towing upgrade in its 4,500-pound capacity, but the Grand Cherokee is the clear choice if you need heavy-duty towing with its 6,200-pound maximum.

Frequently Asked Questions (FAQs)
What Happens If I Tow Over Capacity?
Towing over the recommended weight limit may be possible, but it's also risky. A heavy load will be harder to control with an under-weighted vehicle, especially down hills and around turns, putting you at risk of getting in an accident and causing severe personal injury or property damage.
Stopping and accelerating will be more strained with an overweight trailer. You'll likely speed up the wear on your brakes, chassis, and various powertrain and drivetrain components trying to move and control it. To avoid the hefty cost of replacing burnt-out tires or an overheated transmission, it's crucial to only tow according to your vehicle's specs.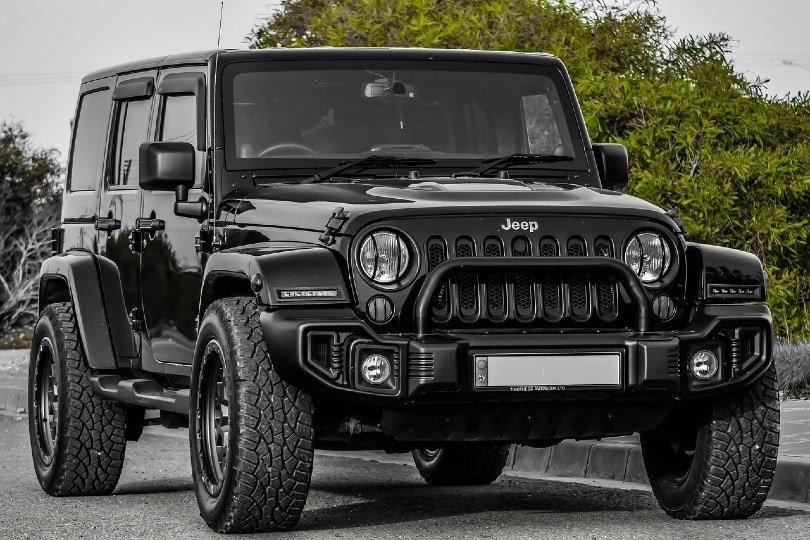 What Do I Need For Towing?
An excellent towing capacity won't mean much if your car doesn't have the appropriate hitch to hold the trailer and the extra power to operate it. Jeep offers a tow package including a Class II receiver hitch, 240-amp alternator, 700-amp maintenance-free battery, and the necessary hookups to get your Wrangler ready for towing.
Trailer weight is a crucial consideration, but trailer balancing is equally vital if you want to prevent accidents and maximize your towing capability. Unbalanced loads from left to right can compromise stability, particularly through turns. Meanwhile, if your trailer isn't balanced from front to back, it can either pull up on the hitch or press down too hard. It will destabilize your back wheels or apply extra weight, lowering your vehicle's towing efficiency.
Conclusion
Jeep is keeping it consistent with their most recent Wranglers, much to the delight of hardcore fans everywhere. You have options with the off-road-ready Gladiator and the more luxurious, comfortable, and family-friendly Grand Cherokee if you're prioritizing hauling capability. But the Wrangler is, without doubt, an off-road vehicle, the ultimate symbol of outdoor adventure for prospective car buyers, and Jeep doesn't seem too interested in compromising that appeal for better towing capacity.
---
Featured Image Credit: Jeppe Karl, Shutterstock