11 Creative Kitchen Organization Ideas You Can Use Today (With Pictures)
If your kitchen has been driving you crazy because it seems like everything is scattered everywhere, getting organized is key. If you want some excellent tips on organizing your kitchen in a way in which everything has its own place, we have you covered.
Here we found some extremely clever ideas on how to keep your kitchen well organized and looking its best. And don't worry, we'll motivate you to start tidying up the place as well.

The 11 Kitchen Organization Ideas
1.

Under-the-Sink Kitchen Cabinets
Does it drive you nuts every single time you look underneath your kitchen sink? This is typically the spot where most people keep cleaning supplies and other products. If you are sick of the constant mess, you can get different baskets and hanging devices to neatly organize each one of these items in its own place.
---
2.

Dry Food Item Organization
Your pantry is full of different colored boxes and other items that might be unsightly to look at. Whether you have an enclosed or exposed pantry, you might want to make the whole thing look more organized and aesthetically pleasing. Getting individual containers for dry food items can make visibility much clearer and create a fantastic visual appearance in your cabinets.
---
3.

On-the-Counter Storage Spot
You might enjoy this overall look if you're all about aesthetics. There's a place to put your salt and pepper, your cooking utensils, and whatever else you can conjure up. You can make your own platform or get your own Lazy Susan to put all of these items inside or on top of. It helps create a little aesthetically pleasing area where your storage can fit properly.
---
4.

Hide Your Trash
No one wants an unsightly trash can in their way. If you want to hide your trash cans and any smells that come with them, you can use one of your counter sections to create proper storage. This leaves a lot more room for floor space as well since you won't have to figure out where you're going to place the trash can.
---
5.

Fruit Hanger
Finding a spot for your fruit can be pretty tricky, but you can always hang it underneath one of your cabinets. You can buy macrame hanger, but it's also something you can DIY. Not only does it look really awesome, but it is also super space efficient. If you are skilled at macrame or just a beginner, either one will be sufficient.
---
6.

Pantry Arrangements
Here is another more rustic idea for your pantry. You can use store bought or antique crates to police canned goods and other items inside. Then you can use clear canisters for all of your dry food needs.
---
7.

Pots & Pans Placement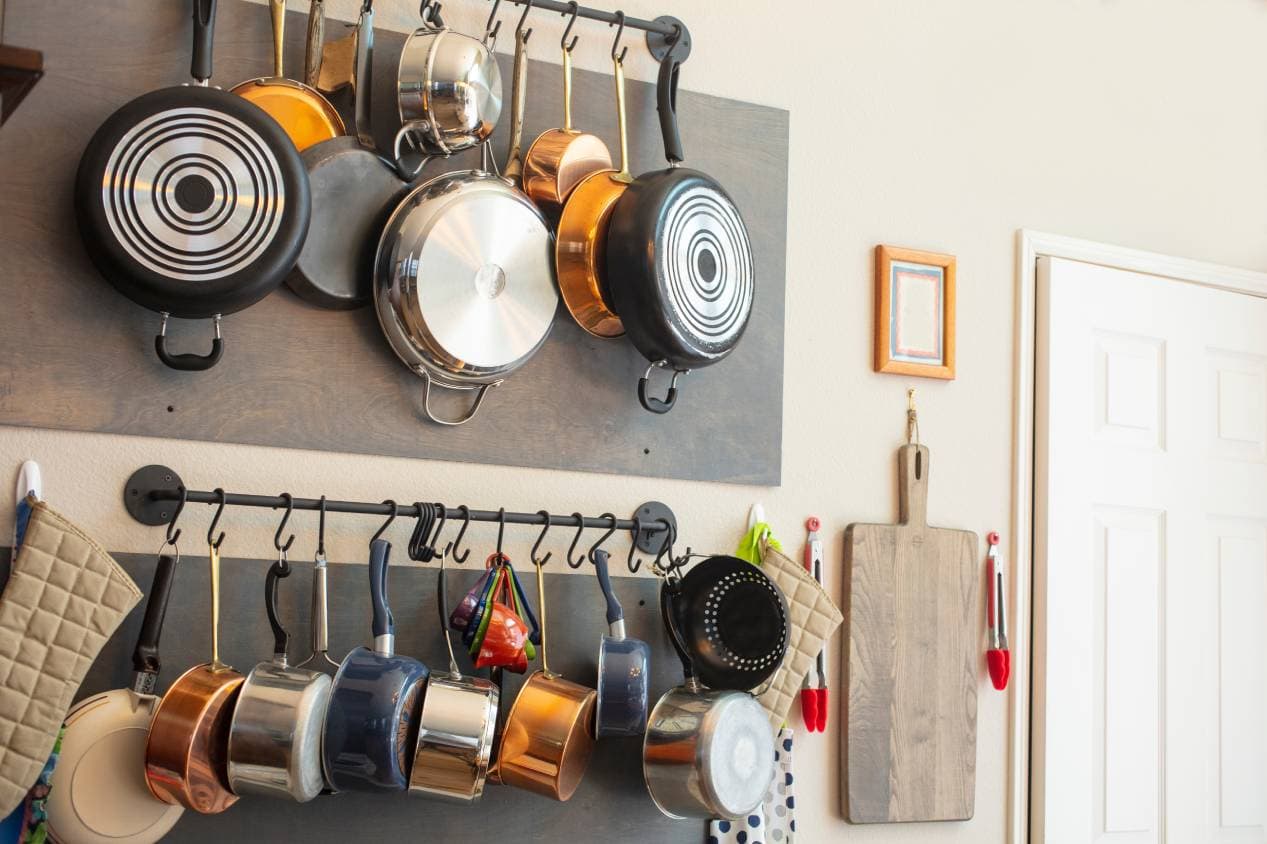 If you would like somewhere to hang your pots and pans, you can always place them on a wall. This way, they are out of your main space and cabinet areas, and they look pretty snazzy hanging up. This is especially good for homes that have a more rustic or industrial appeal.
---
8.

Mini Utility Area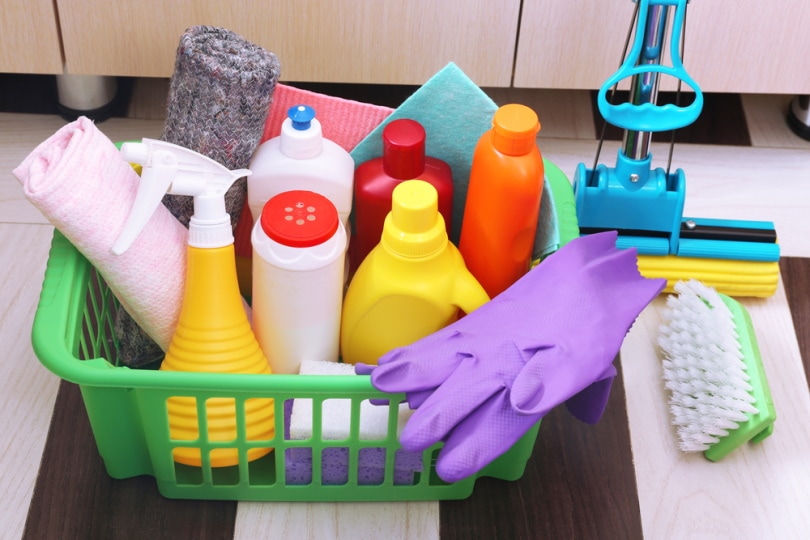 Are you constantly looking for a place to stash your broom and mop? If you need a little hang-out for your obstructive cleaning supplies, you can always create a little cabinet on the end of a refrigerator or wherever it fits in your home. That way, it can stay out of the way, and you can close it off, out of sight out of mind.
---
9.

Decorative Basket Storage
Decorative baskets are an excellent way to organize things in your kitchen while making them look appealing to the eye. This idea can work virtually for anything you want to put in them.
---
10.

Hanging Wall Baskets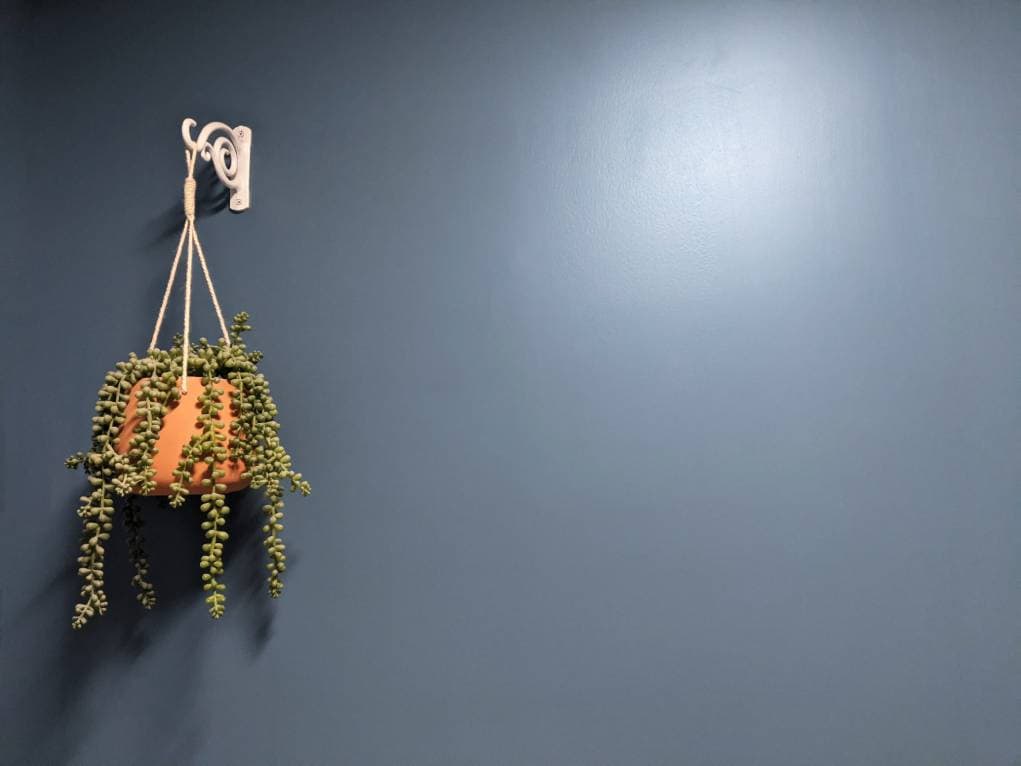 Some folks have used baskets hanging on a wooden plank to put their fruit. But it doesn't just end there. You could use this wall hanging for any items you can fit. Plus, it looks very rustic and aesthetically pleasing.
---
11.

Slide-Out Pantry
Making a slide-out pantry is a really good idea for folks who don't have a lot of kitchen space. It fills up the space between your fridge and the wall, and acts as a series of shelves. You can put dried goods and whatever else needs to be stowed away entirely out of sight. We love this space-friendly option.
Conclusion
Hopefully, this article gave you a few really good ideas on managing the space in your kitchen a little more effectively. Tons of cute ideas are bantering across internet for you to check out anytime.
Creative minds are constantly coming up with new concepts to improve the environment inside or outside the home. You can use one or a combination of these organization methods to get your kitchen in tip-top shape.
---
Featured Image Credit: RODNAE Productions, Pexels