12 Ladder Shelf Décor Ideas to Get You Inspired (With Pictures)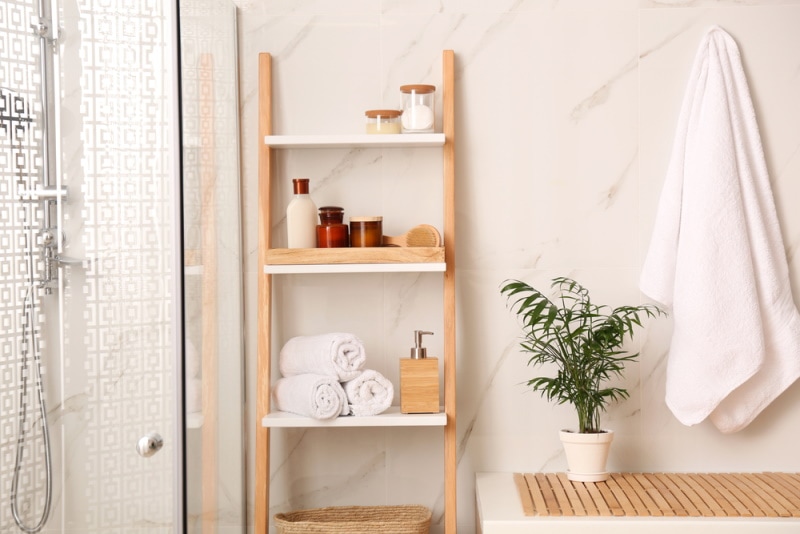 Whether you're thinking of adding a ladder shelf to your home or trying to figure out how to use one you already have, there are tons of options out there. We've highlighted 12 different ladder shelf décor ideas for you below. Look through the ideas here, get some inspiration, and then set up the perfect décor for your home!
The 12 Ladder Shelf Décor Ideas to Get You Inspired
1.

Add Some Lights
| | |
| --- | --- |
| Cost | Low |
| Ease of Completion | Easy |
While this décor style doesn't fit into every room, it's sometimes the perfect way to make your ladder shelf look over the top. You can drape the lights over each shelf, wrap them around the rungs, or wrap them around the ladder's sides.
Either way, if this is the décor style you go with, ensure you take the time to pick out the right bulbs and position them correctly to get the exact look you want.
---
2.

Use Planters
| | |
| --- | --- |
| Cost | Moderate |
| Ease of Completion | Moderate |
If you want to add a touch of nature to the décor, then adding some planters to the ladder shelf is a great way to do it. But while there's no denying the results of a plant-filled ladder shelf, it does take a bit more work and vision to set up.
You need to get the right pots and plants to get the perfect look, and since plants constantly grow, this requires a little vision of how everything will look when it's blooming and in season. Additionally, finding enough pots and plants to fill up the shelf can drive the cost up a bit.
---
3.

Make It a Bar
| | |
| --- | --- |
| Cost | Moderate |
| Ease of Completion | Easy |
If you don't have a bar cart or a dedicated space for you to hold your drink supplies, a ladder shelf can be just what you need! It allows you to put everything on display for easy access and a stylish look.
If you already have everything you need, this décor won't cost you a dime, but if you don't, the cost of purchasing everything can quickly add up. In the end, the exact amount you spend comes down to the type of alcohol you want for your bar and, as you can imagine, this cost can vary quite a bit.
---
4.

Add Some Books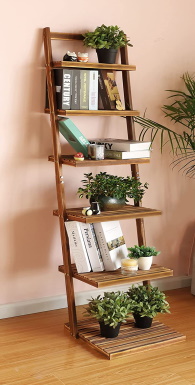 | | |
| --- | --- |
| Cost | Moderate |
| Ease of Completion | Easy |
While you can't turn a ladder shelf into a full library, it's a great choice if you have a smaller library or collection of books you want to display. Whether it's your kid's books or yours, a ladder shelf is a great way to show them off them in a sophisticated way.
---
5.

Towel Rack
| | |
| --- | --- |
| Cost | Low |
| Ease of Completion | Easy |
A simple ladder can be easily used as a towel rack in the bathroom. The best part about this decor idea is that you do not need a large ladder or one with wide steps. A basic ladder will do the trick! Well, you might need a fresh coat of paint to spruce up the ladder if it is quite worn out!
---
6.

Add Seasonal Décor
| | |
| --- | --- |
| Cost | Moderate |
| Ease of Completion | Moderate |
As the seasons change so should your décor! Whether it's floral notes during the spring, gourds in the fall, or snowmen for the winter, a ladder shelf is an excellent rotational décor piece.
It does cost a bit more to get all the different décor for each season, and it does require you to pull things out and put them away every few months. Still, when you get the proper décor and swap it out as the weather changes, it really adds a nice element to the feel of your home.
---
7.

Create Additional Kitchen Storage
| | |
| --- | --- |
| Cost | Low |
| Ease of Completion | Easy |
Does your kitchen not have enough storage? If so, using a ladder shelf might be the perfect solution. It creates a ton of vertical storage where you can put various appliances.
Even better, chances are you already have all the kitchen appliances you need to put on the shelf, so you don't need to spend anything on the décor. Still, while it's a great solution for some homes, it's certainly not the right fit for everyone.
---
8.

Dedicate It to Family
| | |
| --- | --- |
| Cost | Low |
| Ease of Completion | Easy |
Whether it's a memorial to a family member that's passed on, a space for family photos, or a collage of your kids growing up through the years, a ladder shelf makes the perfect piece to highlight all your precious memories.
Adding lots of photos and mementos to each shelf creates a homey feeling and gives the décor of your home a more personalized touch. However, if you don't have the pictures already, they're not really something you can just go out to a store and purchase.
---
9.

Go Minimal
| | |
| --- | --- |
| Cost | Low |
| Ease of Completion | Moderate |
Creating a minimalistic look for your home is one of the most consistent modern décor trends. And just because you have a ladder shelf doesn't mean you can't use elements of this style.
Instead of packing the ladder shelf full of different décor, keep it simple by adding only a single element or two. It's not the easiest look to master, but if you do it properly it can give your room a refined appearance.
---
10.

Add Some Toys
| | |
| --- | --- |
| Cost | Low |
| Ease of Completion | Moderate |
Are you finding that you're constantly picking up your kid's toys from the floor? Why not reinvent the typical toy box by using your ladder shelf? While we don't recommend just throwing toys on each shelf, if you add a few containers a single ladder shelf can hold a lot of the mess. This will free up space throughout the rest of the room and help eliminate a good portion of the clutter from the floor.
---
11.

Make It Vintage
| | |
| --- | --- |
| Cost | Moderate |
| Ease of Completion | Moderate |
If you're a collector of older things and antiques, a ladder shelf can be the perfect way to show them off. This décor idea really pops if you have an aged or distressed ladder shelf, as the shelf then really matches the décor.
This isn't the easiest look to pull off if you don't already have the décor pieces, but a few trips to yard sales, flea markets, and antique shops should get you everything you need. If you bargain shop, you shouldn't even need to spend a ton, but then you will have to put a bit more effort into finding everything.
---
12.

Designate the Area for Self-Care
| | |
| --- | --- |
| Cost | Moderate |
| Ease of Completion | Easy |
If you're putting a ladder shelf in your bathroom, putting some great self-care items on there is a great choice. Whether it's candles, scrubbing salts, lotions, or just about anything else related to self-care, dedicating the ladder shelf to the products you use is a great choice. Not only does it provide dedicated storage space for these items, but it also puts them in plain view so you're more likely to use them.

Conclusion
Now that you have a few ladder shelf décor ideas, all that's left is for you to find the perfect way to incorporate one into your home! When you use them properly, they look beautiful and can really elevate the look of an entire room.
Try a few out and see which one you like the most—you might just find that you want a few more ladder shelves for your home!
See also:
---
Featured Image Credit: New Africa, Shutterstock