Makita 5007MG Magnesium Circular Saw Review 2023 – Pros, Cons, & Verdict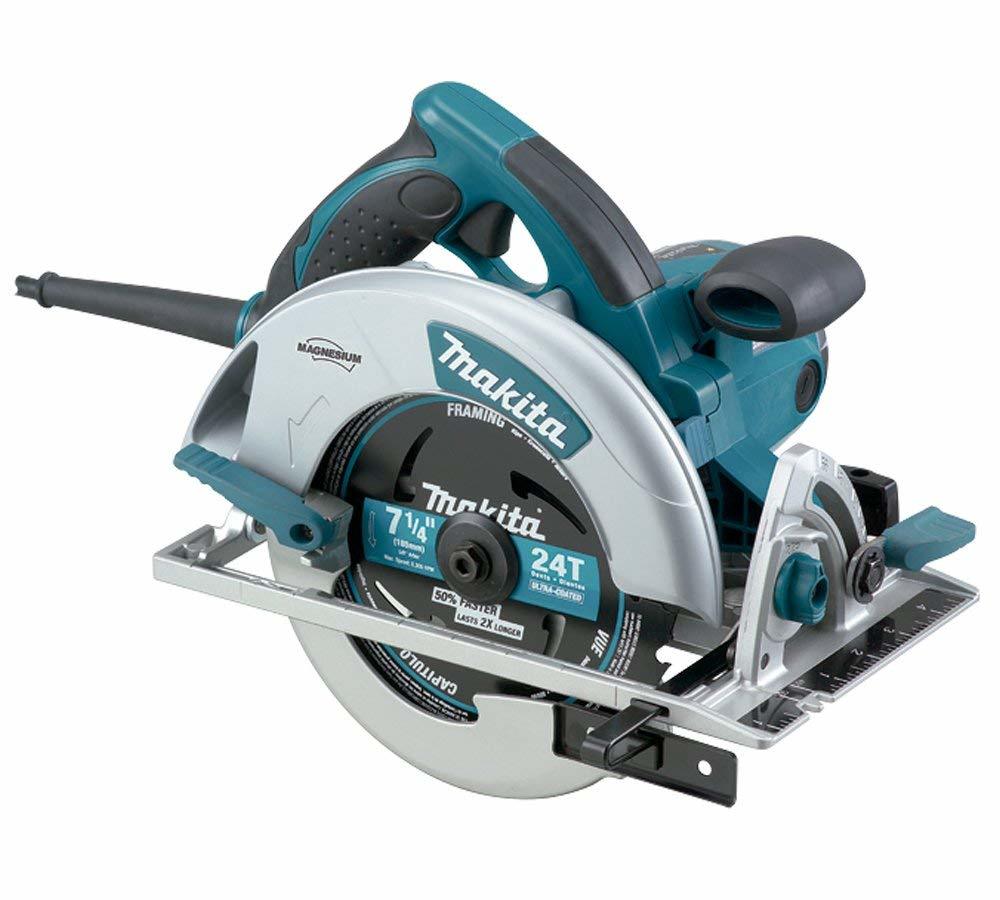 We give the Makita 5007MG Magnesium Circular Saw a rating of 4.3 out of 5 stars. 
Build Quality: 5/5
Power: 4/5
Features: 4.5/5
Price: 3.5/5
Review Summary
There's a lot to like about the circular saw that we'll be looking at today. It's well-built, powerful, and durable. Though it's made for hobbyists, woodworkers, and do-it-yourselfers, it has many attributes reminiscent of a pro caliber tool.
But that's what you expect from a company like Makita, right?
People familiar with power tools are also going to be familiar with Makita. The company has established a big reputation for itself in the tool game, namely for creating high-quality tools like this one.
We're going to be taking a pretty in-depth look at the 5007MG in the paragraphs to come, but for now, let's go over a few things.
The components are a big part of what make this tool special. Magnesium (that's why it's called MG) is integrated throughout the tool, creating a product that boasts pro-quality durability while still maintaining the lightweight frame that most people prefer.
Of course, we aren't trying to tell you that this tool is perfect. In terms of flaws, we did notice that the dust dispersion is pretty out of control. Be prepared to get sprayed in the face.
Do the pros outweigh the cons? Find out for yourself as we dive deep into this review.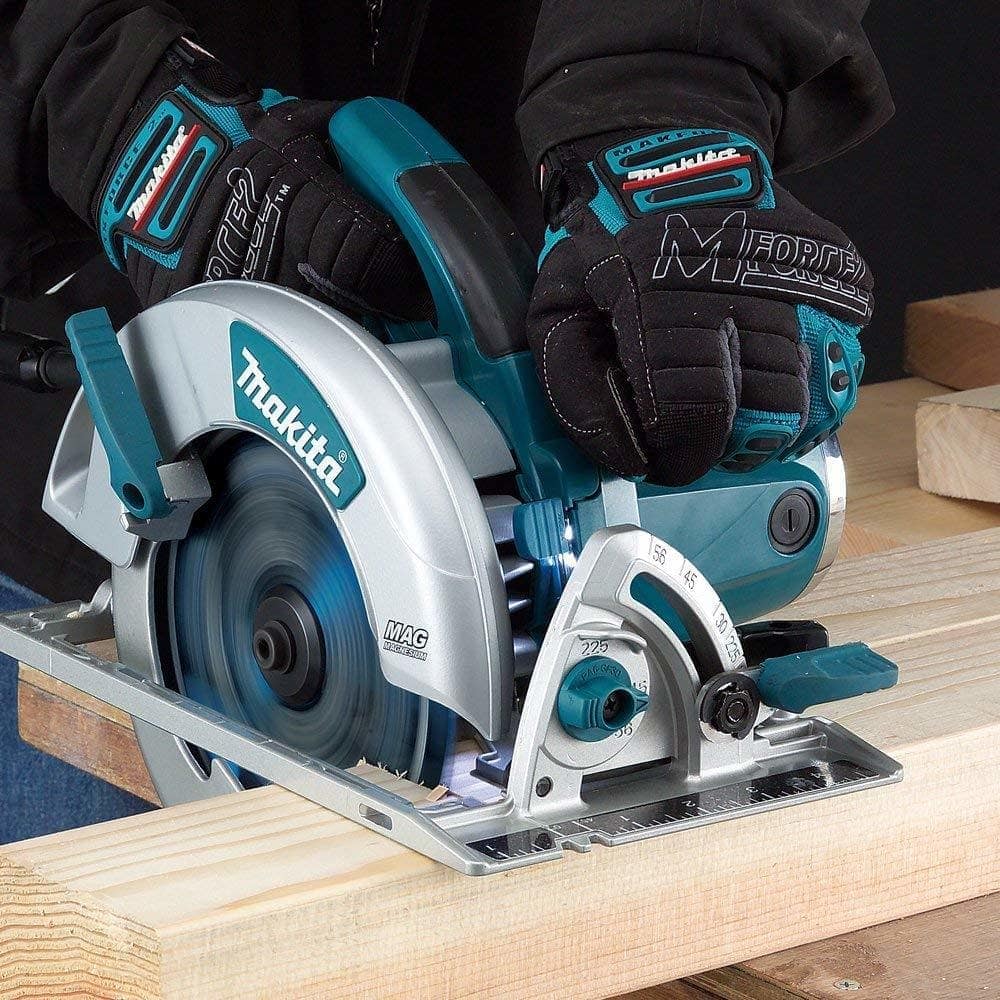 Makita 5007MG Magnesium – a Quick Look
Pros
Magnesium components create tremendous durability
Lightweight
15Amp Motor
5,800 RPM
Cons
A little pricey
Wide dispersal of sawdust
Specifications
Company: Makita
Model: 5007MG
Power Rating: 15Amp
Power Source: Corded
Rotations Per Minute: 5,800
Weight: 10.1 Pounds
Magnesium:
Magnesium is such an important component of this saw that it even found its way into the name.
Is the marketing emphasis on magnesium a gimmick, or is there truly something special about this component?
Judging by how durable this tool is, we're inclined to believe that the magnesium deserves the marketing it receives—and even the bump in price that accompanies it.
Makita advertises that this tool features jobsite-level durability, and from our experiences with it, we second this assertion.
If you want a tool with maximum durability but don't want to pay several hundred dollars for it, the 5007MG is a good option to consider.
Lightweight:
The fact that this tool is lightweight is nice, particularly when you consider just how durable it really is. While it's not unusual for a good lightweight tool to clock in around 10 pounds, those tools are not usually quite this durable.
The benefits of having a nice lightweight tool are, of course, pretty straightforward. For one thing, it's  a whole lot easier to transport a tool when it weighs less.
The weight factor also helps to mitigate the risk of fatigue you face when working long hours on the job. Naturally, this is a pretty big plus.
Ergonomic:
Don't undervalue the benefits of having an ergonomic tool. Hard work can often lead to plenty of discomfort but when a tool is designed cleverly, this doesn't need to be the case.
The handles and controls on this tool are designed specifically to be as comfortable to use as possible.
Additionally, the design has been optimized so that most users shouldn't have any trouble understanding how to use it.
You've got to love a tool that works well for both beginners and pros, right?
Light:
Last but not least, this unit also includes a pair of LED lights mounted near the blade that assist with ensuring accuracy down the cutting line.
The lights illuminate the path that you should be cutting, making it just a little bit easier to stay on line.
Is this feature necessary? No, and many people may not care to use it. But if you want or need the extra help, it's definitely nice to have.

FAQ
Does this tool come with a case?
Yes! The saw comes with a case made specifically for this tool.
Where is the blade positioned?
The blade is positioned on the right side of the saw.
Does this saw come with an electric brake?
Unfortunately, no. This saw does not feature an electric brake, though some of Makita's other tools do.
What the Users Say
Most users seem pretty pleased with this tool. A lot of people are fond of the lightweight design, especially because this hasn't been a component of previous Makita circular saws.
It's also earning a lot of favor for its durability. We've seen statements from several professionals who use the saw daily without any issues.
As we've already mentioned, there are a few murmurs of discontent. For one thing, a large number of users have complained about how wildly the sawdust disperses.
The tool is also more expensive than other similar Makita products, which long-time customers do not appreciate. This is likely due to the magnesium components, but regardless it is something of a bummer if you're trying to save money.
Makita 5007Mg Magnesium 7-1/4-Inch Circular Saw
Magnesium components create a lightweight saw (10.6 pounds) that is well balanced and jobsite tough
Powerful 15.0 AMP motor delivers 5,800 RPM for proven performance and jobsite durability
Two built in L.E.D lights illuminate the line of cut for increased accuracy

Conclusion
So, what are you thinking? We know that this is going to be a tricky decision for you. On the one hand, there's a lot to like about the tool. It's built brilliantly, sports an exceptionally powerful motor, and keeps up with industry standards in terms of what one expects from a deluxe saw.
Still, there are concerns. The 5007MG is a little bit pricey, and the sawdust dispersal is somewhat out of control. Sure, these cons aren't the worst thing in the world, but aren't there saws out there of similar quality that don't have them?
For what it's worth, though we consider the 5007MG a unique and very high quality saw that features plenty of stuff to like, we aren't trying to tell you what to buy. We just hope that we've assisted one way or another in your ultimate buying decision.
Related Reads: