Milwaukee M12 vs Dremel 8220 Rotary Tool: Which to Choose? (2023 Comparison)
In the power tools arena, two brands that genuinely stand out are Milwaukee and Dremel. Both American-based power tool manufacturers have been in the industry for decades. While Milwaukee was founded in 1923 primarily to supply power tools to the U.S. Navy, Dremel has been in operation since 1932 and became a subsidiary of Bosch in 1972.
For some reason, Milwaukee and Dremel are best known for their rotary tools. But between Milwaukee and Dremel rotary tool, which one offers the most bang for your buck?
Let's find out by comparing the Milwaukee M12 and Dremel 8220.
Milwaukee M12 vs Dremel 8220 Rotary Tool: Specifications
Milwaukee M12
Power Source: Cordless
Voltage: 12V
RPM (No Load): 5,000-32,000
Battery Size: 1.5 Amph
Charge Time: 30 Minutes
Length: 9 Inches
Weight: 1.3 lb
Accessories: Included
Warranty: 5 Years
Dremel 8220
Power Source: Cordless
Voltage: 12V
RPM (No Load): 5,000-35,000
Battery Size: 1.5 Amph
Charge Time: 1 hour
Length: 9 Inches
Weight: 1.37 lb
Accessories: Included
Warranty: 2 Years
Milwaukee M12 Rotary Tool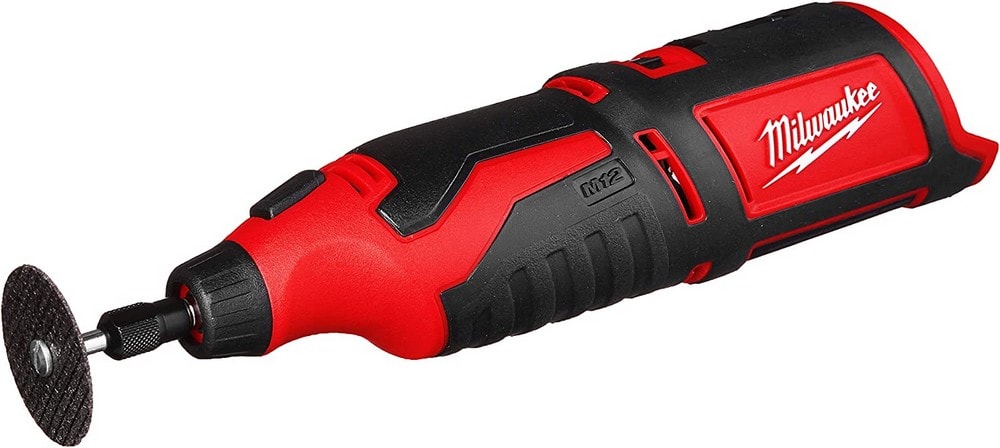 The Milwaukee M12 is a rotary tool built to flatter you with its quality construction, performance, and ease of use. While compact and lightweight (only 1.3 pounds), it features metal construction for enhanced durability.
This 12V tool comes with a powerful motor and Milwaukee's red-lithium battery technology, making it a beast built to take on both lightweight and bigger and demanding heavy-duty tasks. It features a powerful motor. The best part is that you can tinker with the speed settings for enhanced control and precision when handling different tasks.
The Milwaukee comes with a range of accessories and is also compatible with accessories and attachments from the brand. Depending on the attachment you fix, you can use it to cut, design, trim, engrave, polish, and more.
Best Features
The Milwaukee M12 rotary tool is designed to make finishing demanding tasks faster and less tiring. Here are three main features that make the machine a worthy companion for any woodworking project.
Handling
Milwaukee M12 rotary tool provides incredible power through a compact design. The machine is built to outlast its competitors and has a 5-year warranty. It weighs a mere 1.3 pounds and allows easy maneuvers when grinding, cutting, or handling other tasks that require precision.
Also, its handling is made easier by the exhaust ports that prevent overheating. This, coupled with the rubber grasps on the handle, allows you to work longer without sacrificing quality because of discomfort or hand fatigue.
Speed
This rotary tool allows variable speeds from 5,000 to 32,000 RPM. Speed flexibility enables you to use the tool for different projects with just a simple turn of the speed knob.
Like most power tools, the Milwaukee M12 heats up under continuous use of high speeds, and we must admit we expected better from the brand.
Battery
The Milwaukee REDLITHIUM lithium-ion batteries provide efficient power to the 12V motor. These uniquely crafted batteries from the brand provide reliable runtime, allowing you to complete demanding tasks without much downtime. While most batteries charge fully in about an hour, Milwaukee's REDLITHIUM lithium-ion battery charges in as little as 30 minutes.
Similar to other Milwaukee M12 series products, this rotary tool offers the added benefit of a battery level indicator to ensure you don't run out of juice off guard.
Pros
Powerful motor built for heavy-duty projects
Compact, lightweight, and cordless for enhanced portability
Durable constructions (5-year warranty included)
Cons
It heats up when used at high-speed settings continuously
Somewhat noisy
Sometimes not available in stores
---
Dremel Rotary Tool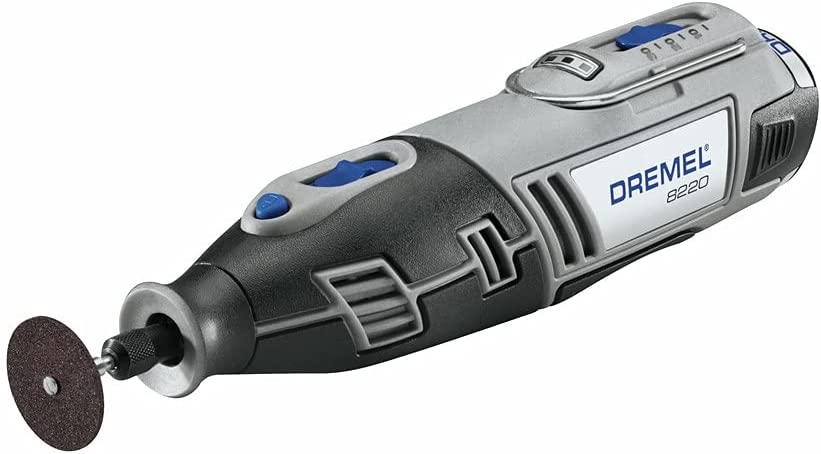 The Dremel 8220 rotary tool is a top choice for woodworking professionals and DIY enthusiasts. It's easy to use and highly versatile, thanks to its 30 plus attachments that come with the package. The tool is also compatible with all Dremel attachments and accessories, making it highly adaptable to auxiliary functions.
Some tasks you can perform with the tool include cutting, drilling, polishing, sanding, engraving, buffing, and carving. This tool is a well-designed beast that allows you to perform various intricate tasks with remarkable ease.
The Dremel 8220 allows you to use one tool for a range of tasks that would otherwise require you to invest in extra tools. It can perform light and heavy-duty jobs, although you should beware that the machine tends to heat up when used continuously at maximum speed.
Best Features
The Dremel 8220 is most notable for its ease of use. Because it is cordless, it allows portability and ease of movement even when working indoors. Also, changing attachments and accessories is dead easy, and you don't have to use a wrench.
Here are three more top features of the Dremel 8220.
Handling
The Dremel has a lightweight construction and weighs about 1.37 pounds with the battery. Although heavy compared to cordless rotary machines, the weight is manageable even when working for extended hours.
Generally, handling the machine is easy and comfortable, thanks to its ergonomic build. The flexible 360-degree handle also helps to give you more control over the tool for enhanced precision when handling intense projects.
Speed
You can twitch the speed settings of the Dremel 8220 between 5,000 and 35,000 RPM (revolutions per minute). Thanks to the dedicated on/off button that allows quick customization of the tool's speed settings, you will have enhanced control and precision when working on complex projects.
Battery
The Dremel 8220 is a 12V power tool that can run for 15 semi-continuous minutes at high speed. It delivers impressive performance, and you can change between three-speed settings. Even though this tool offers 33% more runtime, the batteries drain depending on your speed settings, techniques, and workpiece material.
As the batteries run out of juice, you may notice a slight decrease in RPM. It takes 1 hour or less to charge the batteries to full capacity, and it makes sense to invest in an extra battery to reduce your downtime when handling time-intensive projects. Dremel's Lithium-Ion batteries have an expected lifespan of up to 2 years.
Pros
Compact and lightweight tool for easy maneuvers
Versatile and compatible with a whole array of Dremel attachments and accessories
The powerful motor allows convenient speed adjustments
Cons
It takes 1 hour to charge the batteries
Prone to heating up when used continuously under high speed
Not the best option for heavy-duty work
Our Verdict
There you have it; a detailed Milwaukee rotary tool versus Dremel comparison. These are two highly reliable tools, and while they have their differences, they are both excellent choices for professionals and DIYers. Be sure to consider the perks and tradeoffs of both devices before making your final decision.
In a wrap, these rotary tools have a nearly similar score in terms of power and efficiency.
However, settle for Milwaukee if your top preference is to acquire an ergonomically designed cordless rotary tool with enough power for outdoor work. On the other hand, Dremel takes the crown home for having speed adjustments you can manipulate on the fly. We must also mention that the Dremel rotary tool is an unbeatable beast for its versatility.