10 Most Expensive Homes in Pennsylvania (with Pictures)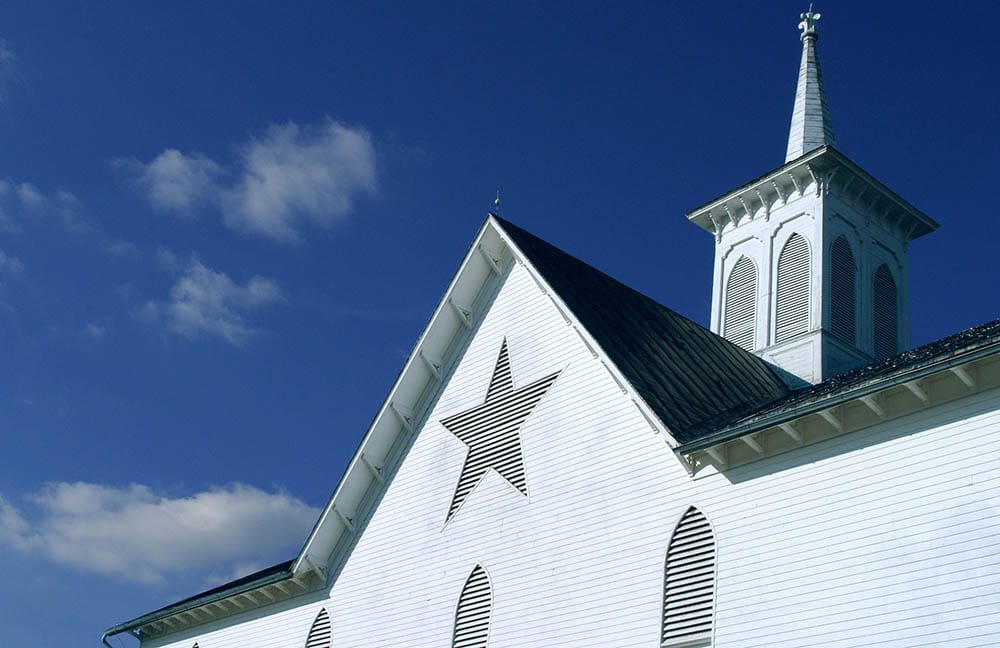 We all know that the housing market is exploding. But there are rising home prices, and then there are the most expensive homes in all of Pennsylvania. These are multi-million homes that most of us will only ever dream of owning.
But just because most of us won't be able to afford these homes doesn't mean it's not fun to look at what's out there. That's why we tracked down 10 of the most expensive homes in the Keystone State for this list.

The 10 Most Expensive Homes in Pennsylvania
1.

402 Rockwood Path, New Hope, PA
| | |
| --- | --- |
| Sale Price: | $5,275,000 |
| Square Feet: | 14,313 |
| Bedrooms: | 5 |
| Bathrooms: | 8 |
Sitting on 50 acres, this home offers grandiose features and privacy. The property is so large, it has its own private lake, and on the far side of the lake, there's a private gazebo. This property also has its own tennis court, an in-ground pool, and a luxury-covered deck that overlooks it all.
The interior boasts five different bedrooms, a three-story elevator, a built-in bar, and much more. It's spacious with over 14,000 square feet, but much of the 50-acre lot is undeveloped land.
There's no natural shade on much of the land either. Most of the property is simply space for a lawnmower to roam.
Pros
In-ground pool
Private lake
Built-in bar
Covered luxury deck
Lake-side gazebo
Private tennis court
Three-story elevator
50-acre lot
---
2.

145 Dutton Mill Road, Malvern, PA
| | |
| --- | --- |
| Sale Price: | 5,600,000 |
| Square Feet: | 6,896 |
| Bedrooms: | 8 |
| Bathrooms: | 9 |
This home in Malvern, Pennsylvania, is priced similarly to the one in New Hope, but while just under 6,900 square feet is hardly small, it's less than half of the New Hope home. It also comes on a much smaller lot, but again, 11.5 acres isn't exactly small.
But no matter how you cut it, it's a great home and lot. It has a completely custom main kitchen and even a second caterer's kitchen for events. This property has four different buildings.
The main building is the primary living residence, and then there are two guest houses and a bar. Add in the private clay tennis court, and it's not hard to see how this home sold for $5.6 million.
Pros
Four different buildings
5-acre lot
Custom kitchen
Separate caterer's kitchen
Separate bar building
Private clay tennis court
---
3.

7111 Sheaff Ln, Ambler, PA
| | |
| --- | --- |
| Sale Price: | $5,625,000 |
| Square Feet: | 41,796 |
| Bedrooms: | 10 |
| Bathrooms: | 15 |
One look at this home and you can tell that it's a little different from the rest. It has an unconventional exterior appearance that some people will love and others will hate. But there's no doubt that this $5.6-million home has plenty of luxury features.
Like most of the homes on this list, it has an inground pool and a beautiful stone courtyard. However, one unique feature is a private indoor mini basketball court. The home itself has many bedrooms and bathrooms, and at just under 42,000 square feet, space isn't a premium. It also sits on 50 acres, so there's plenty of privacy too.
Pros
Private basketball court
In-ground pool
Stone courtyard
42,000 square feet
50-acre lot
Multiple bedrooms and bathrooms
Cons
Unconventional exterior appearance
---
4.

4 Ayrshire Dr, Villanova, PA
| | |
| --- | --- |
| Sale Price: | $5,800,000 |
| Square Feet: | 9,817 |
| Bedrooms: | 5 |
| Bathrooms: | 9 |
This $5.8-million home in Villanova, Pennsylvania, might be the smallest lot on this list, but that doesn't mean it isn't worth the cost. The home itself is just under 10,000 square feet and has five bedrooms and nine bathrooms.
Each bedroom has its own en-suite bathroom, and it's a newer build, so there's not much upkeep. The in-ground pool is just about perfect, with a pool cabana and island bar and grill for the ultimate backyard experience.
For extra luxurious touches, there's a sauna room, and the master bathroom has a heated floor. Our main complaint with this lot is how close it is to the neighbors. If we were spending close to $6 million on a home, we'd want a little more space for ourselves.
Pros
In-ground pool
Separate pool cabana/island bar and grill
Heated bathroom floors
Sauna room
Iconic farm views without the work
Cons
25-acre lot
Right next to the neighbor's home
---
5.

9006 Crefeld St, Philadelphia, PA
| | |
| --- | --- |
| Sale Price: | $6,000,000 |
| Square Feet: | 7,632 |
| Bedrooms: | 7 |
| Bathrooms: | 6 |
This house isn't quite as large or expansive as many of the other houses on this list, and what helped drive up the cost is the location. This Philadelphia home is right in the thick of things.
Still, with 2.74 acres and over 7,600 square feet, this isn't a small home. It also has plenty of tree coverage in just the right areas for more privacy and seclusion, and there's custom work throughout.
There's also an elevator to take you from different floors. It's simply a beautiful lot and estate in Philadelphia.
Pros
Has an elevator
Plenty of tree coverage
Custom fountains
Close to everything in the city
Secluded neighborhood
---
6.

135 Cheswold Valley Rd, Haverford, PA
| | |
| --- | --- |
| Sale Price: | $7,300,000 |
| Square Feet: | 12,417 |
| Bedrooms: | 6 |
| Bathrooms: | 11 |
This home in Haverford, Pennsylvania, might only sit on a 4-acre lot, but with a secluded tree-lined driveway, there's plenty of privacy and it feels much larger than it really is. Not only does the home have a private feel, but it also has many luxury features that you'd expect to find in a $7.3-million home.
It has an in-ground pool with a pool-side built-in grill. That's especially nice since the pool is a distance away from the main residence. But with the pool house, that doesn't really matter.
In the main home, there's a fully equipped gym, a home bar, a rec room, and even a movie theater that provides all the recreational comforts without ever leaving the home.
Pros
In-ground pool
Private tree-lined driveway
Private movie theater
Pool house
Secluded and private home
Full-equipped home gym
Custom home bar
Butler's pantry with wine fridge
Built-in outdoor grill
Cons
4 acres
Pool is a bit far from the house
---
7.

399 Cornetti Rd, Fenelton, PA
| | |
| --- | --- |
| Sale Price: | $7,500,000 |
| Square Feet: | 18,000 |
| Bedrooms: | 6 |
| Bathrooms: | 8 |
Few homes get as much privacy as this $7.5-million ranch out in Fenelton, Pennsylvania. The home itself sits on an impressive 428-acre lot with plenty of space. The property itself is fenced in, but it's so large, it is home to about 300 deer!
Not only does this property come with the main 18,000-square-foot property, but there are also two separate homes, a barn, and two equine stables. Moreover, there's a private pond that's stocked with fish!
This home is the outdoor adventurer's dream home, but at $7.5 million, it's going to stay a dream for the average person.
Pros
428-acre lot
Lot includes two extra homes
Private pond
Fenced-in property with 300 deer
Two stables
Barn
Plenty of square footage
---
8.

733 Spring Mill Road, Villanova, PA
| | |
| --- | --- |
| Sale Price: | $7,900,000 |
| Square Feet: | 12,791 |
| Bedrooms: | 7 |
| Bathrooms: | 12 |
One look at this home and it's not hard to see why it sold for so much. The home has a massive motor port in the front, and if you drive around to the side, there's an eight-car garage that's a car enthusiast's dream.
Inside the home are a library/office, golf simulator, movie theater, bar, gym, and even an elevator. There are entertainment options for days, and you don't even need to leave the house! Just a quick step outside is an in-ground pool with a poolside cabana.
Our only real complaint with this $7.9-million home is the size of the lot and your proximity to neighbors. A 4.5-acre lot isn't small, but with the size of the home, garage, and pool, it's a full 4.5 acres.
Pros
8-car garage
In-ground pool
Pool-side cabana
Large front motor port
Private movie theater with a bar
In-home golf simulator
Private library and office
Fully equipped gym
Has an elevator
---
9.

980 Providence Road, Newtown Square, PA
| | |
| --- | --- |
| Sale Price: | $8,000,000 |
| Square Feet: | 8,565 |
| Bedrooms: | 8 |
| Bathrooms: | 9 |
This $8-million home in Newtown Square, Pennsylvania, is a classic example of a luxury ranch home. This home has 129 acres, a 10-stall horse barn, a five-stall colt bar, and six fenced-in paddocks for you to take your horses out.
Not only do you get all those structures, but there's also a nine-car garage and a two-bedroom guest house. There's also a private pond on the property for even more outdoor fun.
However, compared to many of the other ultra-luxury homes on this list, it doesn't offer quite as much. It's all beautiful, but it doesn't have advanced features like basketball courts or movie theaters.
Pros
10-stall horse barn
Five-stall colt barn
Nine-car garage
Six fenced paddocks
Two-bedroom guest house
129 acres
Secluded home
Close to Philadelphia and New York City
Private pond
Cons
Not as many "luxury" features
---
10.

8500 Flourtown Avenue, Glenside, PA
| | |
| --- | --- |
| Sale Price: | $8,450,000 |
| Square Feet: | 20,159 |
| Bedrooms: | 7 |
| Bathrooms: | 12 |
This might not be the most expensive home in Pennsylvania, but it's close. It's an authentic Tudor estate from the 16th century, and it still has that majestic feel. The home is over 20,000 square feet and sits on 18 acres. Furthermore, it has some of the finest architecture of all the homes on this list.
The entire property is fenced and gated for additional privacy, and it even boasts an outdoor landscaped amphitheater. In addition to all the outstanding architecture, there's also an outdoor in-ground pool.
It's one of the most unique homes in Pennsylvania, and it's not hard to see how this home just sold for $8.45 million.
Pros
18-acre lot
Fenced and gated property
In-ground pool
Landscaped amphitheater
Original Tudor estate
Cons
Old home requires more upkeep

Conclusion
It's safe to say that these homes are well out of reach for most Americans. Still, with so many great features, it's fun to imagine what it would be like to live in one of these homes!
---
Featured Image Credit: Chris Ruch, Unsplash