11 Most Popular Electric Cars in the World (with Pictures)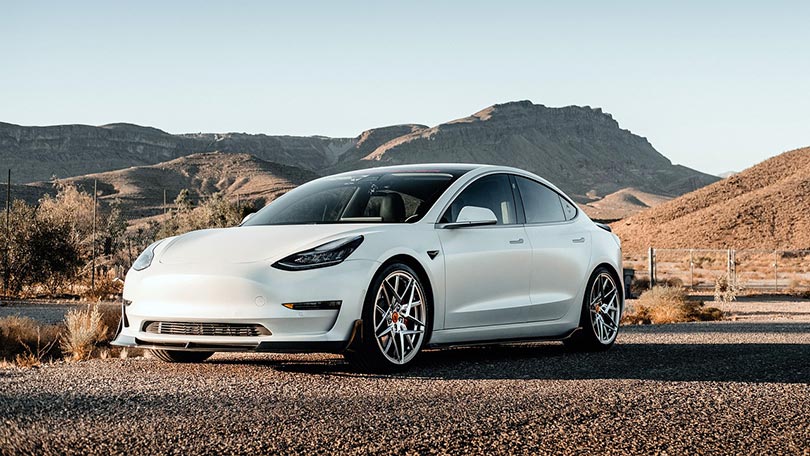 Electric vehicles, also called EVs, have taken the world by storm in the past decade. They started as a gimmicky proof-of-concept, but quickly gained legitimacy among even the most stubborn gearheads. Let's check out some of the most popular EVs and what sets them apart from each other.

The 11 Most Popular Electric Cars in the World
1.

Tesla Model Y
Units sold in 2021: 172,700
Range: 244–326 miles
Moving from electric cars to compact electric SUVs was a bold move for Tesla, but it paid off when the Model Y sold more units than all other EVs not produced by Tesla. It wasn't the instant hit that the Model 3 was, but it's on track to outpace its smaller sibling. The stylish design, Tesla's reputation, and impressive range are all more than enough to justify the Model Y's spot on our list.
---
2. Tesla Model 3
Units sold in 2021: 128,600
Range: 263–353 miles
The Model 3 made waves when it entered the EV scene in 2018, offering a robust touchscreen console and a great effective range. Its low price tag was the main allure, and in 2020 the Model 3 became one of the best-selling electric cars of all time. It also became the first EV to surpass 1,000,000 units sold as of 2021. The Model 3 might be a bit small, but the price is a bargain for the opportunity to buy into Tesla's auspicious future.
---
3. Ford Mustang Mach-E
Units sold in 2021: 27,140
Range: 205–205 miles
Nipping at Tesla's heels is this strange offering from Ford – an electric Mustang that's actually an SUV in disguise. While many Mustang fans were hesitant, it proved to be a worthy spiritual successor. With the addition of the GT trim, you can upgrade to an even sportier version. It's available with AWD or RWD, and it goes 0 to 60 in a mere 3.8 seconds. If you're loath to give up your Mustang, consider the Mach-E as your first EV.
---
4. Chevrolet Bolt
Units sold in 2021: 24,828
Range: 259 miles
Back from the dead—well, a nationwide recall—alongside the beefier Bolt EUV, the Chevy Bolt sports an even lower price than before. It has a decent amount of power for such a small car, although the Model 3 has a better range. The allure of the Bolt is the optional fast-charging feature, which drastically slashes recharge times. It's a little older at this point, but the Bolt is so cheap and comfortably functional that it's not leaving the top five best-selling EVs any time soon.
---
5. Volkswagen ID.4
Units sold in 2021: 16,742
Range: 260 miles
Unlike the ID.3 that wasn't sold in the U.S, Volkswagen's follow-up is a huge hit for American drivers. It has a spacious, SUV-like interior, the latest in infotainment screens, and the ID Light virtual assistant. The base model has RWD and about 200 horsepower, while the awaited crossover model has AWD and 100 more horses. It drives eerily smooth, and the range is very good for the ID.4's price point.
---
6. Nissan Leaf
Units sold in 2021: 14,239
Range: 149–226 miles
The iconic Nissan Leaf was one of the first EVs on the scene in 2011, practically a century ago in automotive time. Today, it still sells very well in the lower end of the EV market, despite a lackluster range. The interior is a mixed bag—some people love it, and others despise it. Either way, it's distinctive. A large part of the Leaf's appeal is its maneuverability and responsive acceleration, but the price is a big factor too.
---
7. Audi e-tron
Units sold in 2021: 10,921
Range: 222 miles
Audi's first EVs addressed a big issue among EVs: cheap interiors. Instead of cheap plastic, the e-tron and the Sportback have the option of wood and leather interiors. The electric powertrain isn't a slouch either, boasting 355 horsepower and bursts up to 400 horsepower. The range is a bit smaller than we'd expect from Audi, but that's a relatively small sacrifice to get your hands on an electric Audi SUV. The biggest drawback is the e-tron's eye-watering price point, but it is an Audi.
---
8. Porsche Taycan
Units sold: 9,419 in 2021
Range: 200–227 miles
Porsche's first foray into EVs marries the carmaker's reputation for performance and handling with cutting-edge charging infrastructure. Porsche claims that the Taycan can charge faster than any other EV on the market, but that heavily depends on whether charging stations near you can supply it. The Turbo S trim can do 60mph in just 2.4 seconds, making the Taycan the luxury sports EV. Before you fall in love even more, the Taycan has a six-figure price well exceeding even the Audi e-tron.
---
9. Tesla Model S
Units sold in 2021: 9,100
Range: 402 miles
The Model S needs no introduction. Tesla's first EV and Elon Musk's car of choice built the foundation for all later Teslas, but repeated announcements of an improved Model S hamstrung its early sales figures. The newest Model S offers the best range on our list, at 402 miles per full charge. The main gripe people have with this car is that it has an awkward yoke instead of a steering wheel.
---
10. Hyundai Kona Electric
Units sold in 2021: 8,936
Range: 258 miles
Based on Hyundai's popular Kona crossover, the Kona Electric is a big improvement on Hyundai's Ioniq, with over 100 more miles per charge. Unlike the SUVs and sporty cars so far, the Kona Electric is a hatchback with plenty of cargo space. Fused with the familiar Kona exterior, the Kona Electric appeals to Hyundai fans while making a bold transition to an electric powertrain.
---
11. Tesla Model X
Units sold in 2021: 3,000
Range: 371 miles
Just like the Model S, Tesla announced an improved version of the Model X, which hurt sales a lot. It has a similar interior to the Model S and even has the reviled yoke in place of a steering wheel. Another questionable design decision is the total lack of a gear shift, relying on the car's exterior cameras and nav system to 'guess' at your input. It still features a great range, but Tesla's old offerings aren't winning any contests.

Conclusion
EVs are replacing gasoline-powered cars at an increasing rate as people realize their benefits to the environment as well as cutting out gas expenses. From the affordable Nissan Leaf to the ultra-luxe Porsche Taycan, there's an EV on this list to suit anyone's needs.
---
Featured Image Credit: capitalstreet_fx06, Pixabay