PORTER-CABLE 4216 Dovetail Jig Review 2023 – Pros, Cons, & Verdict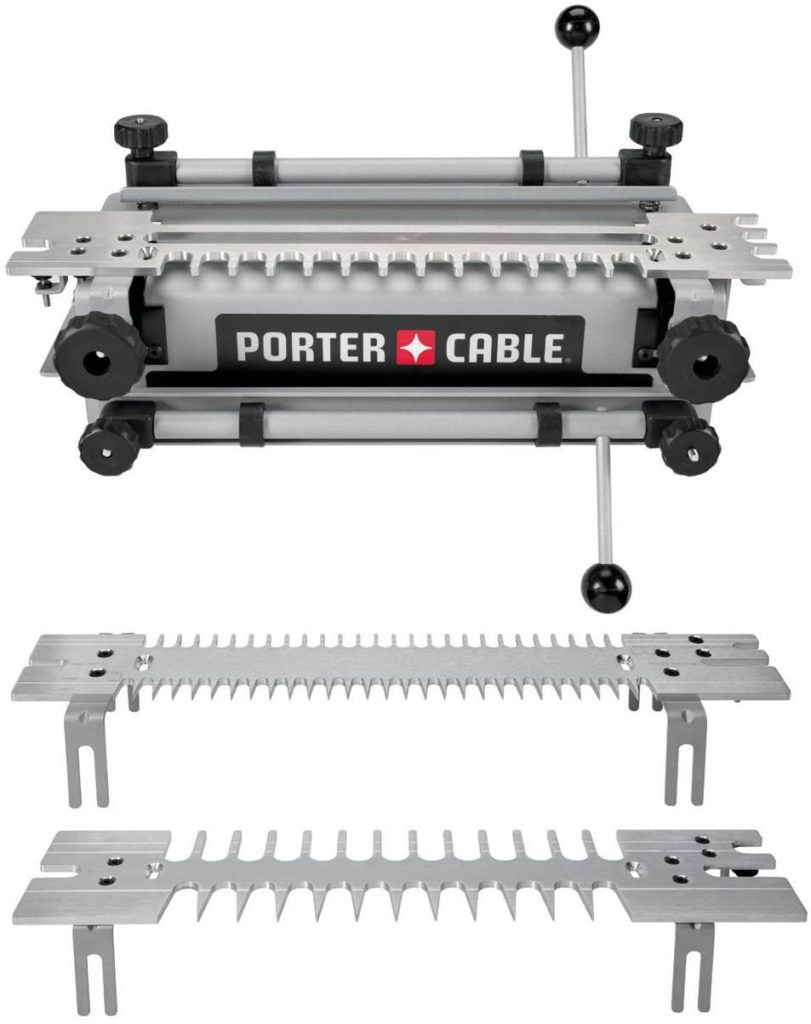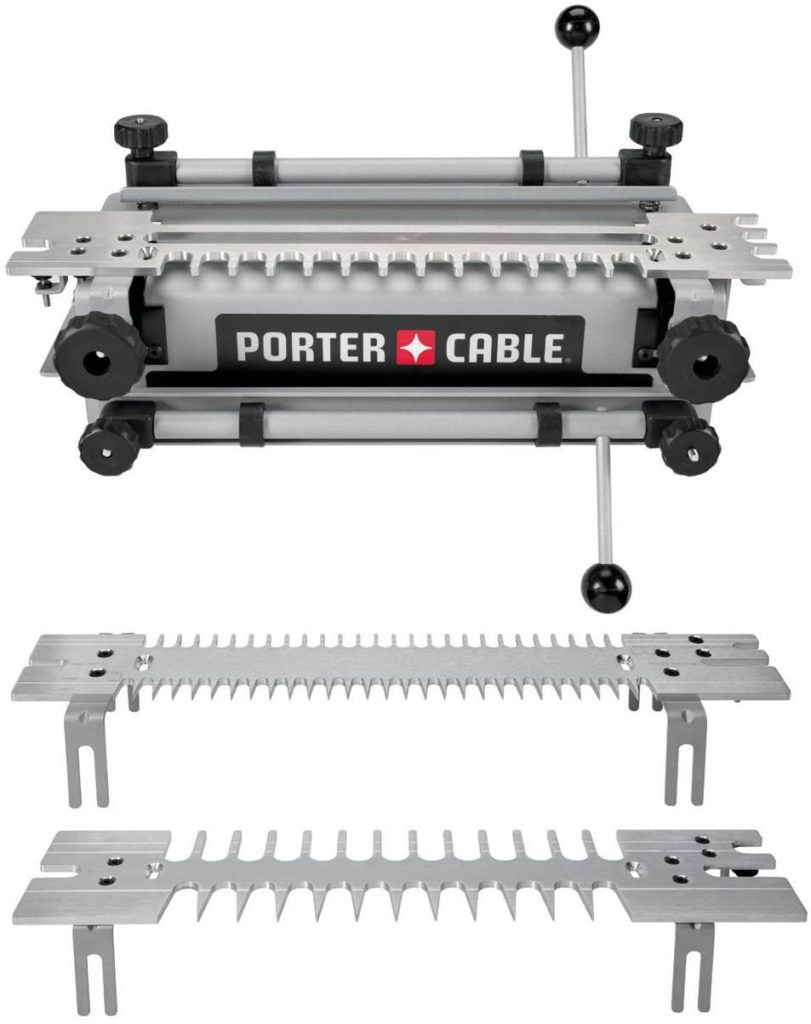 We give the PORTER-CABLE 4216 Dovetail Jigr a rating of 4.8 out of 5 stars. 
Build Quality: 4.8/5
Power: 5/5
Features: 4.5/5
Price: 5/5
Review Summary
The Porter-Cable 4216 is an upgraded version of the Porter-Cable 4212. It has a different template to make smaller cuts, which helps with its accuracy. You can use it to do more things – making it more versatile. It comes completely assembled, which is not always the case with these machines.
It is good at making accurate and quality cuts. It holds workpieces in place very quickly and satisfactorily. It is affordable and doesn't cost as much as some other options on the market. Many homeowners will find this machine within their budget.
The main problem with this tool is that it is somewhat challenging to figure out. Once you figure it out, it is straightforward to use, but it is somewhat of an obstacle to comprehend just how it works at first.
Porter-Cable 4216 Dovetail Jig – A Quick Look
Pros
Inexpensive
No assembly required
Accurate
Extra template included
Specifications
Specifications
Brand name: Porter-Cable
Model: 4216
Tool: Dovetail jig
Power type: Corded
Dimensions: 22.2" x 11.8" x 10.4"
Weight: 27 lbs
High-Quality Warranty
This dovetail jig comes with a 3-year warranty. This warranty covers all manufacturer defects. Therefore, if something is wrong, it should be covered. This is a straightforward warranty to act on as well. The customer service is usually quick to reply and users do not seem to complain much about the warranty.
Furthermore, there is a 1-year warranty for protection on parts that are damaged under normal wear and tear. If it breaks within that time, it is repaired free of charge.
Their customer service is excellent overall. If you have any problems, they can help you work them out.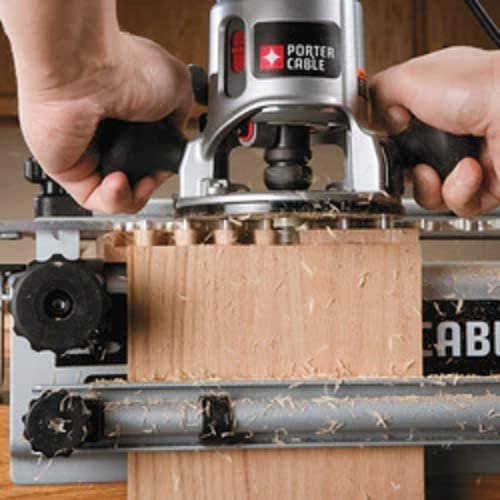 Plenty of Tools and Additions
Another great benefit of this machine is that it comes with pretty much everything you need to start using it right away. It has a rugged base. It has plenty of templates for all sorts of joints and more accurate cuts. It also has a template for small joints. It also has 4 template guides for supporting nuts and bolts. In other words, it just comes with a lot of stuff. It comes with anything you could think of, including one of these tools.
At the same time, it does not come with a router. This is the only thing it is missing that you will need to invest in separately.
No Assembly Required
Many of these machines require some assembly. However, this one does not. For this reason, we believe it is one of the better options on the market.
Because of this, it is one of the easier ones to set up. It comes with router bit gauges, which allow you to cut faster without taking a lot of measurements. Overall, this tool takes minimal time to start using, which allows you to get cutting much faster.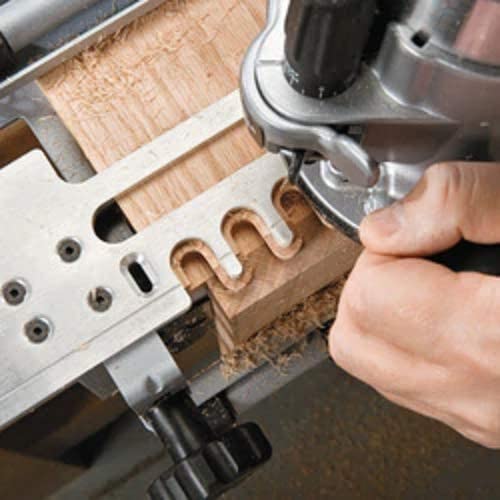 Difficult to Figure Out
This machine is a bit difficult to figure out. It is not incredibly easy to use when you get started. It does not take long to set up, but it does take some time to figure out just how to set it up. Once you figure it out, it is straightforward to use, but do plan on taking a bit to figure it out.
You may have to look up some online guides or supplemental YouTube videos to help clarify just how to use it.

FAQ
Which routers can you use with this machine?
Most routers are compatible with the Porter-Cable 4216. If you have the proper adaptor, you can easily use just about any adaptor. Always be sure to double-check before making your purchase.
Is this model suitable for beginners?
Yes and no. Once you figure it out, it is pretty easy to use. However, there is a steep learning curve. It does take quite a while to figure out exactly how to use it. Once you have figured it out, though, it only takes you a moment to set it up and start using it.
What the Users Say
Most of the users report that this model is well-liked and easy to use. It is a well-received piece overall, and it is typically well-liked by practically everyone. A quick look online will show you many five-star reviews and very few reviews lower down.
Many people seem to acknowledge that this is an easy-to-use machine. Once you figure out what is going on, it is not particularly difficult to use. You can easily cut complex joints with it once you figure out how to use it.
Users raved that it was easy to make speedy cuts with this machine. It doesn't require many measurements, thanks to all the templates included. It is straightforward to adjust it from one cut to another. It holds wood easily, which makes it even more accurate. There seem to be a lot fewer mistakes with this machine than with others.
Most complaints revolve around the learning curve at the beginning. This can be particularly difficult to use for beginners who haven't used one of these machines before. Reading through the user manual or watching videos online is a great way to learn before you even unpack it from the box.

Conclusion
This machine requires a lot of figuring it out and patience. It isn't a machine that is straightforward to use. However, once you figure it out, it is quite simple to use. It allows you to make cuts very quickly. All the templates mean there are fewer measurements that need to be made as well.
It comes with an outstanding warranty, and customer service is beneficial. We did find it very reasonably priced as well. It is a reliable option for many users because of this. Overall, we highly recommend it for most users.