PORTER-CABLE 4212 Dovetail Jig Review 2023 – Pros, Cons, & Verdict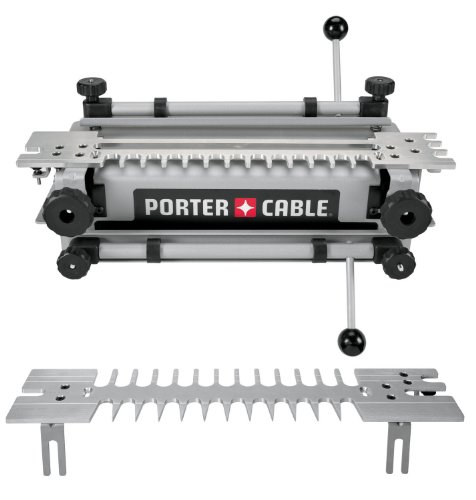 We give the PORTER-CABLE 4212 Dovetail Jig a rating of 4 out of 5 stars. 
Build Quality: 3.6/5
Power: 4.3/5
Features: 3.5/5
Price: 4.5/5
Review Summary
A great jig set, the Porter-Cable 4212 comes with the templates to do just about everything. Just about, that is. It's a great starter set that's pretty easy to set up, comes with all the parts in the box, and is very affordable for people just getting started on their dovetail joint journey of woodworking. It'll hold wood fast, which means less loss due to frustrating slippage during cuts. But, it's also the lesser brother to the Porter-Cable 4216, which is slightly more expensive but comes with an additional template. If you are looking at the two, if you need the missing template, you'll want to spend a little more. If not, this is just as good a choice.
Porter-Cable 4212 – A Quick Look
Pros
Very affordable
Accurate
Holds pieces in place
Cons
Doesn't come with a template for some small cuts
Parts sometimes flimsy
Specifications
Brand name: Porter Cable

Model: 4212

Tool: Dovetail jig

Power type: Corded

Dimensions: 22.9 x 140.7 x 11.4 inches

Weight: 24.5 lbs.
Ready to go out of the box
The Porter-Cable 4212 comes complete with two templates, one for through dovetail joints and box joints and one for half-blind joints, rabbeted half-blind joints and sliding dovetail joints. It also comes with a 12-inch dovetail jig kit, two router bits, template and router guides and clamps for the solid stainless steel base.
Set it up, lock it down, cut away
Setting up this jig is 10-minutes-from-the-box simple. That is, once the box arrives you can have it up and ready within 10 minutes. It might look confusing and complicated, but the easy-to-follow instructions will help guide you through your unpacking it and figuring it out. Once it's up, it will lock down wood pieces like Fort Knox, reducing slippage during cuts and the amount of wood you have to toss into the scrap bin. Once everything is set up and locked down, the only thing left for you to do is to start cutting angled joints.
Backed by an impressive warranty, customer service
This jig comes with a three-year manufacturer's warranty for defective parts. But, if during normal use, your parts break within a year, Porter-Cable has a program to replace those defective parts at no cost to you. Both are backed up by Porter-Cables' outstanding customer service, something that really puts teeth into their commitment to backing their products.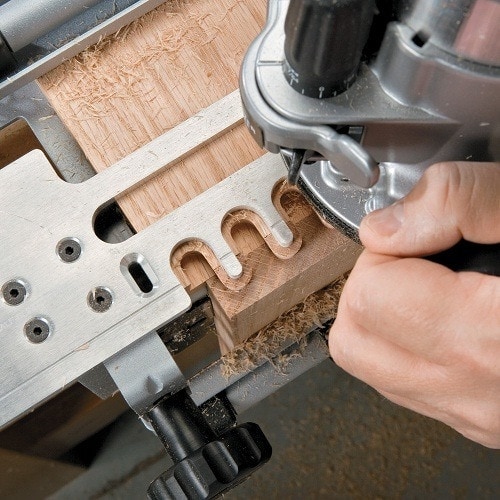 FAQ
Is this a good model for beginners?

Some people have reported that it's a touch difficult to get set up, so the question is definitely understandable. While it's understandable that any new tool line can be a bit intimidating, and this is especially true of tools designed to cut fine curved edges like a jig set, in reality, the first step to uncomplicating this is by using the oldest trick in the book. We suggest starting by reading the owner's manual.

What router can this accommodate?

If you get the right collet and adapter, this jig set is compatible with any router on the market. Just make sure you get the correct parts to make the connection, though.

What are the dimensions of this dovetail jig?

The Porter-Cable 4212 is 22.9 x 140.7 x 11.4 inches and weighs 24.5 pounds.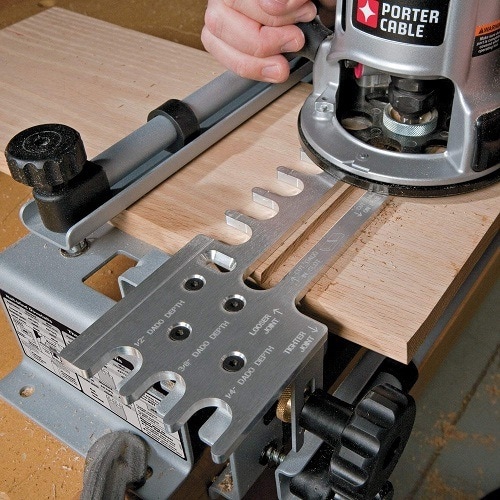 What the Users Say
Most people liked the Porter-Cable 4212. If that sounds a bit like hedging, there's a good reason for it. Most people liked it, and some people really liked it. A considerable number of people only just liked it, based on online reviews. That is, most of the reviews were clustered at the top, but a larger-than-fair-share of them settled into less-than-top rankings.

For the people who liked it, it was for reasons that might seem pretty basic. It's pretty inexpensive in terms of raw dollars, and people liked what they got for what they paid. It worked well for the vast majority of people who bought it, and many of them noted that based on the price it was a really good value. Great performance at an affordable price. That's a winning combination.

A particular favorite was the owner's manual. This kind of tool can be a bit intimidating because it does and because it has a complicated look to it. The manual is as valuable as anything in the book, some owners advised. Keep it close, read it carefully and definitely don't lose it.

Some people didn't like it, albeit just not that many. The chief complaint, in fact, was that set-up was something of a nightmare and complicated and that the instruction manual was less than clear on what they're supposed to do. We can't say for certain what this means, but if you buy this and the instructions don't seem all that clear to you, make sure you contact the company or maybe look up instructional videos on YouTube just in case you don't learn so well by reading.

The general consensus about the Porter-Cable 4212, however, was glowingly positive. It's a well-received piece of woodworking equipment, and your inventory is improved by its presence.
Conclusion
Porter-Cable's 4212 is a great value for anyone looking to get into more complicated angles while doing woodworking projects. It comes with everything in the box you'll need to be up and cutting angled joints inside of 10 minutes, and the instructions can make what at first blush looks like a super complicated job a really simple, much-less intimidating one. It's priced right for anyone new to this sort of work and is backed by Porter-Cable's impressive customer service commitment and their two-tiered warranty. We would suggest keeping close tabs on some of the more exposed parts because those are prone to breakage. The only other hiccup is that it's slightly more expensive older brother — Porter-Cable's 4216 — has an additional template for additional small detailed cuts for just a little more money.

Related Reads: