Porter-Cable 4212 vs 4216: Which One's Best?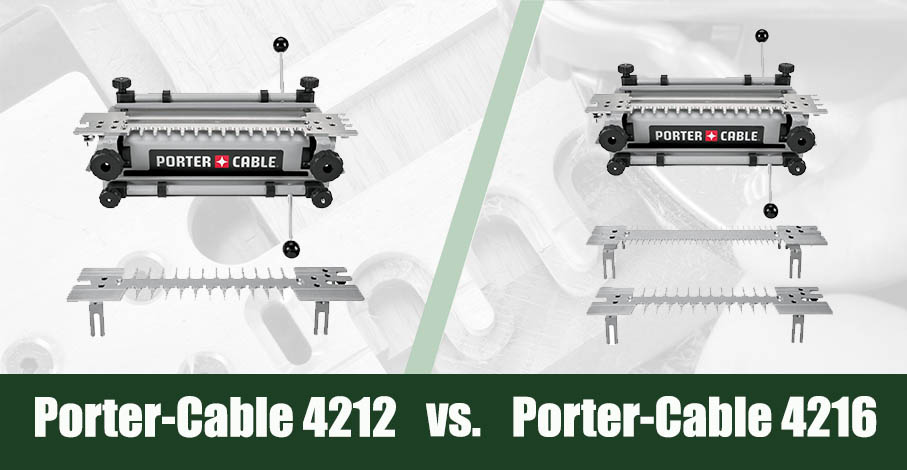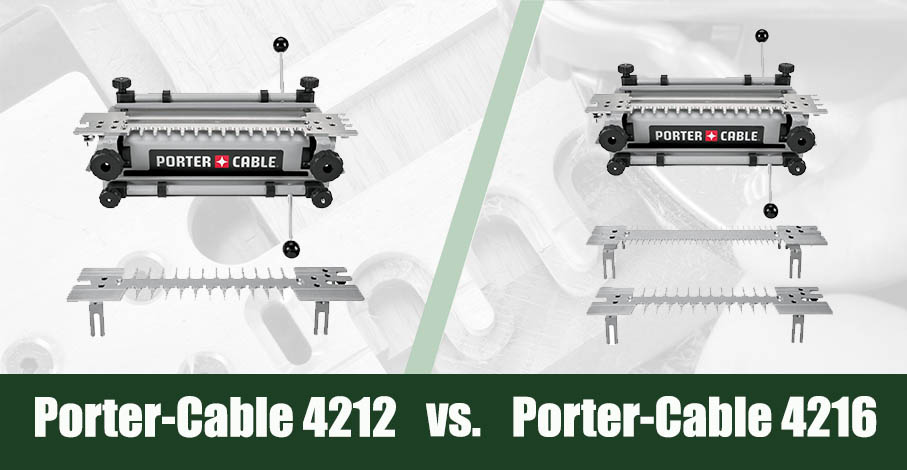 When selecting a dovetail jig for your shop, you want to find the best tool for the best price. Porter-Cable has two such tools, and while both are fantastic, only one can stand supreme.  Between the 4212 and the 4216, we think the Porter-Cable 4216 is the better unit.
Now, don't get us wrong — the 4212 is a great product. It does all the same things as the 4216, plus it has the welcome addition of being slightly less expensive. But when you need a jig for your woodworking needs, function often matters more than price, and the 4216 has plenty of functionality as well as additional templates for increased versatility.
If you are looking for a dovetail jig for your home hobby shop or doing your own projects, either will do. Still, a professional woodworker, cabinet maker, or furniture designer will appreciate the extra templates included in the 4216. For the money, it is too good of a deal to pass up. It is also the most popular with a variety of users.
If you don't need the extra templates and want to save a few bucks, the 4212 is a perfectly acceptable choice. But if you want options, you want to take your woodworking to the next level, and you don't mind shelling out the investment to do so, lean toward 4216. It is a better option.
Let's take a deeper look into the comparison of these two tools.

At A Glance
Porter-Cable 4212
Metal construction
25 lbs
12-inch dovetail kit
Metric measurements
1-year warranty
Aluminum templates
Porter-Cable 4216
Metal construction
26.8 lbs
12-inch dovetail kit
Metric measurements
90-day guarantee
1-year free service
Aluminum templates
---
Overview of the Porter-Cable 4212
The 4212 has the same overall build as its cousin, the 4216. It is very basic, comes with exactly what you need to get started, and with an array of included attachments, it is pretty much all you will require to get your woodworking projects jigged and routed. The main body is made of steel, with CNC aluminum templates to guide your wood as you route it.
It has plenty of dovetail cut-outs, box joints, and half-blind dovetail to allow pretty much any angle of cut. Operationally, it is straightforward to use. With its template alignment lines and router bit depth gauges, it is easy to set-up in no time. And the route bit gauges allow for an accurate cut without rechecking your measurements.
The machine's templates are made of the best aluminum and give the user plenty of cutting accuracy, and they are very durable for plenty of projects over time. And a huge upside is in the design. It comes as one solid piece, with no extra assembly required.
On the downside, it is quite a bare-bones model. Plus, it lacks templates for conducting fine-tuned work.
Pros
Sandpaper-backed locking bars grip wood
Easy to set
Affordable
Solid steel construction
Cons
Base model
Lacks templates for fine-tuned work

Overview of the Porter-Cable 4216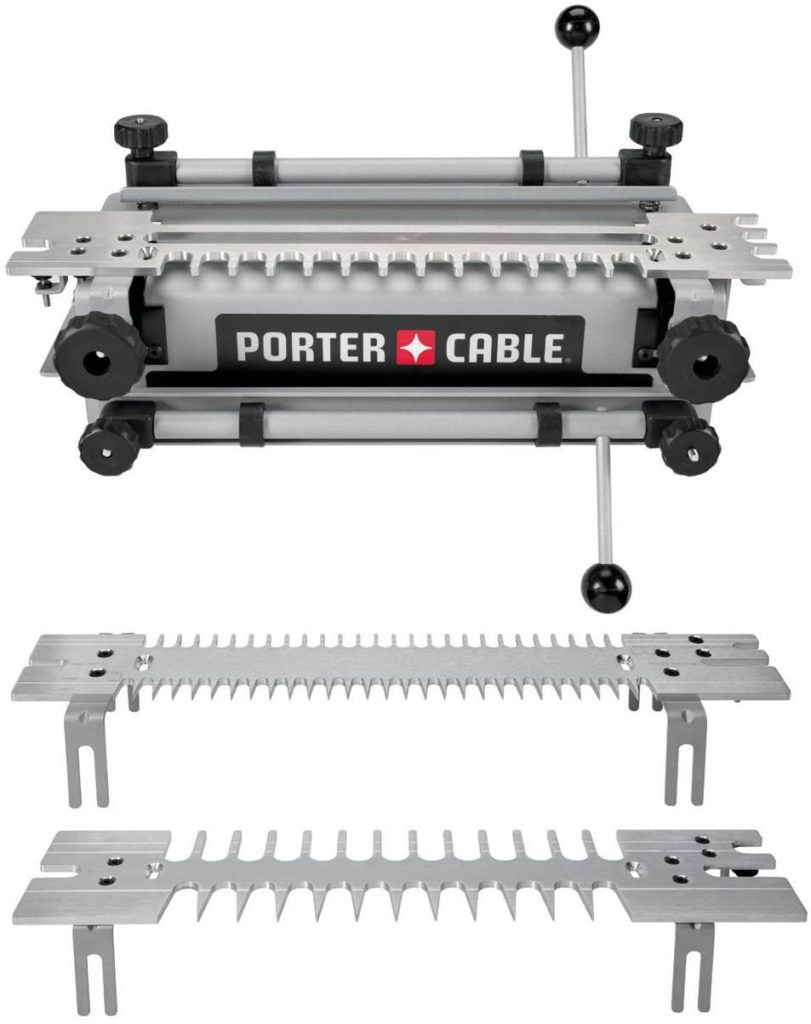 What sets the 4216 apart from the 4212 is the additional templates included with the machine. That's also the reason it has a slightly higher price tag. Aside from this, these two models are extremely similar in build and features. They are equally efficient at handling your woodworking needs with ease and precision.
The 4216 accepts all the same aluminum templates designed for this unit. It has enough within the package that you shouldn't need to purchase more unless doing something very intricate beyond the scope of the current templates.
Generally speaking, this model is a better choice for a professional woodworker who doesn't wish to hunt for the template to allow for more detailed work.
Pros
Extra templates for more precise angles
Locks wood in tight
Easy to set up and use
Cons
Higher price tag
Heavier than the 4212
---
What Are the Differences Between Them?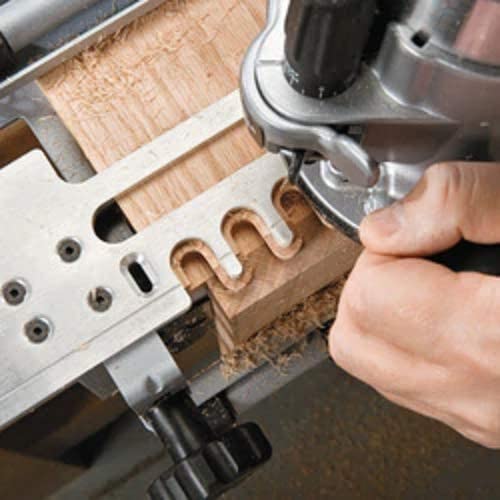 Performance
Slight Edge: Porter Cable 4216
The 4216 has additional templates that make it more versatile for performing more intricate and precise cuts. However, the machine itself works identically to the 4212, so, while it benefits from the extra templates, there is no performance edge in the device itself.
---
Price 
Edge: Porter Cable 4212
Because it is a base model, the price is naturally lower than the 4216, which offers additional templates. The difference in the price is minimal, but it is still the less expensive option. The only caveat to this is in the template price. Some templates are more costly than the price difference between these two tools. So, in the end, it's a wash.
---
Durability
Edge: Tie
Both are made of the same high-grade steel throughout, and the templates are made of top-quality aluminum.
---
Design 
Edge: Tie
They are identical in every respect as it relates to design.
---
What Users Say
Most users are overjoyed with these models. They love how easy they are to use, how even a beginner can operate them with skill and precision, and that they are stable and sturdy units. Mechanically, they are very sound, and even the instructions were simple to understand and follow.
Users admit there is some practice involved in getting your routing and jigging templates just right for the cuts. But all in all, the reviews show a thrilled group of consumers, many of whom don't feel the price is too steep for such quality tools. The only recommendation from users is to read the manual again and again.
Between the two models, beginners prefer the 4212. And it isn't for the price, but the practice. The more intricate templates seem daunting but also too tempting not to try. Just for the sake of alleviating the temptation, they went with the base model. Master woodworkers, on the other hand, much prefer the 4216. It is just more versatile.
A few scattered users received their unit with parts dented or missing, which is enough to leave a bad taste in anyone's mouth. But the real crux was when trying to get Porter-Cable's customer support services. On average, it took a week to reach an actual human voice.

Conclusion
These are both fantastic tools. For jigs and routing, having a stable and sturdy unit to hold and guide your cuts saves a tremendous amount of hassle. Can it be done by hand? Sure. But this alternative saves you a lot of time and plenty of wasted wood.
The clear winner here is the Porter-Cable 4216. It has the added bonus of the extra templates, but even with that, the price is not much higher, which makes it even more beneficial. For home, for commercial work, the 4216 is the one to have.