Rockwell VersaCut RK3440K vs RK3441K: Which One's Best?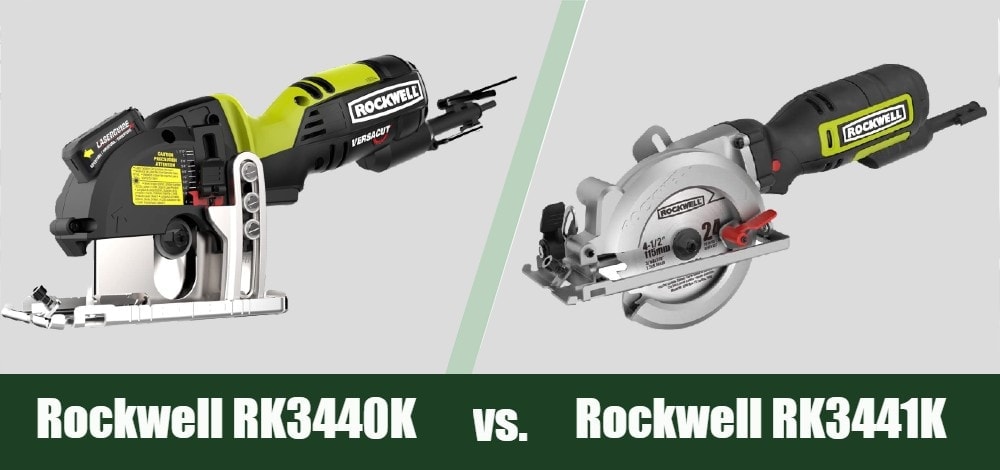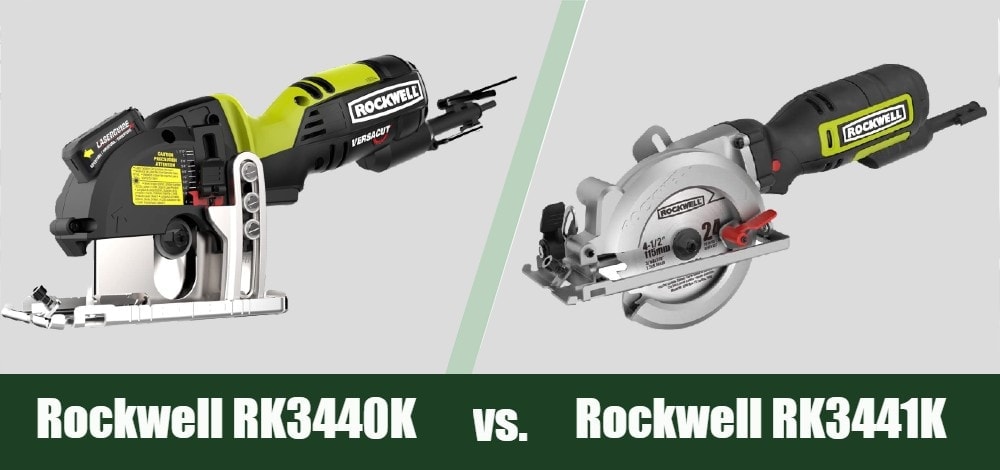 Rating
Image
Product
Details

The Winner

Rockwell RK3440K

Laser marker
Lightweight and easy handling
Comes with everything needed to get to work immediately
CHECK PRICE

The Runner-up

Rockwell RK3441K

Can be used to make bevel cuts
Easier to use than a full-size circular saw
Can cut the most commonly used thickness of lumber in a single pass
CHECK PRICE
Rockwell offers a pair of alternatives to the full-size circular saw in their VersaCut RK3340K and Compact Circular RK3441K saws. Don't consider either as a replacement for larger circular saws. Instead, view them as specialty tools for situations where the size of the traditional circular saw makes it difficult or impossible to use.
Each saw has a particular niche. The VersaCut RK3440K is an ideal go-to saw for quick projects, working with thin stock, and working on installed material. The Compact Circular RK3441K is well suited for cutting stock that is thicker than the VersaCut can handle and where beveling the material is part of the job.
Users will naturally gravitate to the saw that best suits their needs and complements their existing toolkit. For users with light-duty, around-the-house tasks, the VersaCut may be the best choice. For users who routinely tackle projects involving stock 2" thick and up, the Compact Circular will serve them better. Aside from a few features and stock cutting capabilities, either saw is a good choice.
What's the difference between them?
Let's see who wins in a little side-by-side competition between these two saws.
Power – Tied
Both saws generate a no-load speed of 3500 RPM. The Compact Circular saw's five amps is a nod towards its intended use on 2" thick stock. The 4-amp motor in the VersaCut is no slouch, providing more than enough muscle to handle a wide range of materials. Both saws use blades significantly thinner than those of a standard circular saw so that they can get by with a comparatively less powerful motor.
Bevel or not – Point to Compact Circular
If you are a user who tackles projects involving bevels regularly, the Compact Circular is the better choice. The VersaCut does not have that capability, so there's no contest for this point.
What's included – Point to VersaCut
Rockwell outfits purchasers of their VersaCut quite nicely, thank you. The saw comes with three blades (grit for tile, carbide-tipped for metal/wood, and HSS for wood), two hex wrenches, an edge guide, and a contractor carrying bag. Contrast this with the rather barebones Compact Circular that comes with a single carbide-tipped blade for wood, an edge guide, and a hex wrench.
Cuts a larger variety of stock –1/2 point to VersaCut
This may be a bit of an unfair comparison, but it is clear Rockwell encourages users to tackle tile, metal, and wood with the VersaCut. They also make it a point to focus the use of the Compact Circular on wood. The VersaCut only earns a 1/2 point in this category because Rockwell sells blades for the Compact Circular for cutting tile and metal. They just don't promote the capability in the same way.
Rugged build – Tied
Both the VersaCut and the Compact Circular saws feature rugged builds. They are quite similar in appearance and handling, and both use durable materials to provide for a long-lasting tool. The fit and finish also reflect an attention to detail you might not expect to see in tools at this price point.
Quick Rundown of the VersaCut
Now that the family bickering is out of the way, what are some specific plusses and minuses of the VersaCut?
Pros
Lightweight and easy handling
Laser marker
Comes with everything needed to get to work immediately
Cons
No bevel cut capability
Hard to see the blade which makes it difficult to hit your stop mark
Quick Rundown of Compact Circular
Rockwell 4-1/2" Compact Circular Saw, 5 amps, 3500 rpm, with Dust Port and Starter Kit– RK3441K...
[MORE MANEUVERABILITY] All the functionality of a full-size circular saw but in a compact design that's easier to use, and easier to...
[REAR MOTOR] For a more balanced feel. With the motor in the handle, you control much of the weight of the saw with just the palm of...
[EASY DEPTH SETTING] The readily accessible adjustment lever lets you change the cut on the fly, and the bevel adjustment lever enables...
Next up, we'll take a look and the good and bad aspects of the Compact Circular.
Pros
Can cut the most commonly used thickness of lumber in a single pass, 2x4s, 2x6s, etc.
Can be used to make bevel cuts
Easier to use than a full-size circular saw
Cons
No laser marker
Sold ready only to cut wood
What the Users Say
Where do users of each saw stand when commenting on what they like, and dislike, about their selection?
Users frequently comment on the ease of using both saws. They handle well because of their light weight and perform consistently and reliably. Users also routinely praise the quality of their saws. There is an oft-reported issue with the Compact Circular that we cover in the in the "negativity" section below. Users with less demanding projects love their VersaCut and users who tackle dimensional stock love that they can leave their full size saw behind.
On the negative side, users comment that the thinness of the blades for both saws can lead to inaccurate cuts as the blades heat up in use and "wander." Some users report dislike for the force needed to use the plunge cut feature of the VersaCut. Concerning the Compact Circular, the bolt that secures the blade to the arbor scan shear off, creating a potential safety hazard. It's not only unsafe, but it's also very unsettling. And the last negative comment users often raise is the difficulty seeing the blade when using the VersaCut, impacting accuracy.

Conclusion
Let's recap the game and see who comes out on top. The VersaCut RK3440K is agile and versatile, maneuvers quickly, and is fully equipped to tackle metal, tile, and wood. This little saw is perfect for homeowners with limited space and constrained tool funding who want as much flexibility as possible from a single tool. The Compact Circular RK3441K is beefier and able to tackle the type of building materials users facing complicated projects need to cut. It the job is all about 2-by dimensional lumber, this saw makes short work of it.
So, here it is:
The VersaCut is the right choice for users with less demanding needs wanting multi-role performance from a single tool.
The Compact Circular is the right choice for users who cut a lot of 2-by dimensional lumber.
Of course, users who want to complement their full-size circular saw will find opportunities for both. Budgets and projects will decide in this case.
Related Reads: