Rockwell Jawstand RK9033 vs RK9034 XP: Which One's Best?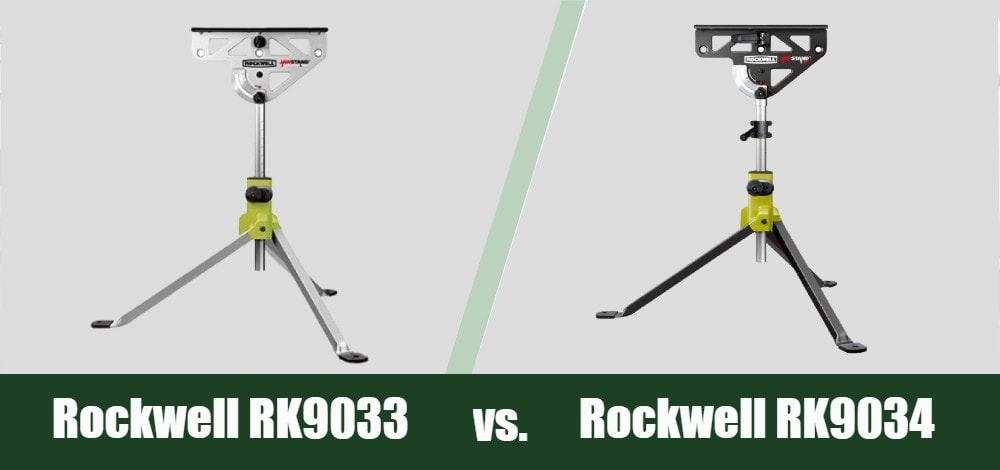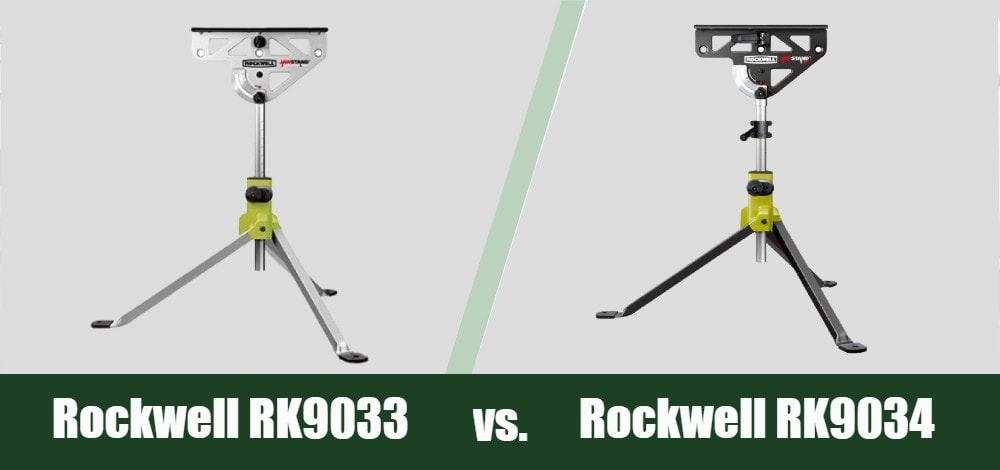 Rating
Image
Product
Details

The Winner

Rockwell Jawstand RK9034 XP

Less expensive
Still handles 220 pounds without flinching
CHECK PRICE

The Runner-up

Rockwell JawStand RK9033

Easier to use
More precise controls
Able to hold materials 43" over the floor
CHECK PRICE
The Rockwell Jawstand RK9033 and the RK9034 XP are excellent jawstands with nearly unlimited uses around the workshop. If you need something basic that's inexpensive and easy to use without many bells and whistles, choose the RK9033. If you don't mind paying a little more for extreme versatility, choose the RK9034 XP. The RK9034 XP goes a little higher and has a little crank handle that allows for superior accuracy for lining things up. Let's take a closer look at the comparison of these two sister tools.

At a Glance
Let's look at the key points of each product.
RK9033
Holds up to 220 pounds
Foldable
Weighs 13 pounds
360° rotating head with level bubble
Adjusts from 21 inches to 41 inches tall
Tilts from 0° to 90°
RK9034 XP
A micro-height adjustment knob
Low friction surface
360° rotating head with level bubble
Tilts from 0° to 90°
Smooth crank
Adjusts from 25 inches to 43 inches tall
Overview of RK9033
The RK9033 is a fantastic jackstand that will benefit any workshop. This model weighs about 13 pounds and is easy to move around. Plus, you can fold it, so it's extremely portable and easy to store. It can hold up to 220 pounds, and you can adjust the height between 21 and 41 inches tall. You can also tilt it between 0° and 90°, so it's extremely versatile.
The downside we experienced while reviewing the RK9033 was that the height adjustment knob is a little rough turning. We also thought it could be a little larger to make it easier to turn. Many of the bolts on the machine rust quickly, and we recommend finding a dry place to store it.
Pros
13 pounds
Foldable
Holds up to 220 pounds
Adjustable height
Tiltable
Cons
Hard to turn the adjustment knob
Rusts

Overview of RK9034 XP
The RK9034 XP is very versatile, and you can adjust the main height between 25 and 43 inches tall. The unique micro height adjustment mechanism gives you another 2 inches of adjustable height, and it allows for extremely precise adjustments, even under load. It has a 360° swivel head equipped with cam-lever clamping for fast changing of materials. Rubber grip surfaces help hold the material in place while helping to eliminate transfer marks. You can tilt the jaw from 0° to 90°, and it can hold up to 220 pounds.
The downside to the RK9034 XP is that it's a little heavier than similar tools at 15 pounds, and it has a very large leg base that was always in our way. The micro-height adjustment is easy to use, but the standard height adjustment is difficult to adjust.
Pros
A micro-height adjustment knob
Rubber grip surfaces
360° swivel head with bubble level
Adjusts from 25 to 43 inches
Tilts from 0° to 90°
Cam-lever clamping
Cons
Weighs 15 pounds
Difficult to adjust the height
Wide leg base
---
What Are the Differences Between Them?
Performance
Edge: RK9034 XP
We have to give the performance award to the RK9034 XP. The micro-adjust and cam-lock may not be something everyone needs, but it makes the tool more versatile. Micro-adjust is essential if you will use the jawstand to attach things to a fixed object.
Price
Edge: RK9033
The RK9033 is considerably less expensive than the RK9034 XP and is almost as useful. If you don't need micro-adjust accuracy or a quick-lock cam, the RK9033 is a much less expensive way to get your hands on a high-quality jawstand.
Durability
Edge: Tie
Aside from the few differences between the two models, the same company makes them. Both tools are nearly identical in all construction materials.
Design
Edge: RK9034 XP
We award the design trophy to the RK9034 XP because the micro-adjustment is extremely useful when doing jobs that need it. There are very few other jawstands that have this degree of accuracy, including the RK9033.
Other Rockwell Products We've Reviewed
What the Users Say
We've searched many listings of both jawstand models to find out what other people are saying, and these are some of the things we found out.
Most people like the micro-adjust feature of the RK9034 XP.
Most people find both tools extremely useful in the workshop.
Most people praise the extreme versatility of height and tilt offered by both machines.
Many people say the RK9033 is of higher quality than many other more expensive brands.
Some people complain that the handle on the micro-adjust is small and weak.
Some people complain that the RK9033 is small and heavy.
A few people wish the RK9033 had a wider grip.
A few people complain that the locking knob for the tilt head doesn't stay tight on the RK9034 XP.

Conclusion
We would recommend the RK9034 XP to most people because of the added versatility. However, if the additional features are something you are sure you will never need, you can save a few dollars by choosing the RK9033. You won't be missing any quality or durability and will still find plenty of uses for your new tool.
We hope you have enjoyed reading over this comparison and have learned something new about these two excellent tools. If we have helped you find the next addition to your workshop, please share this shoutout between the RK9033 and the RK9034 XP on Facebook and Twitter.
Related Reads: