Simonton Windows vs. Andersen Corporation: Pros, Cons, and Differences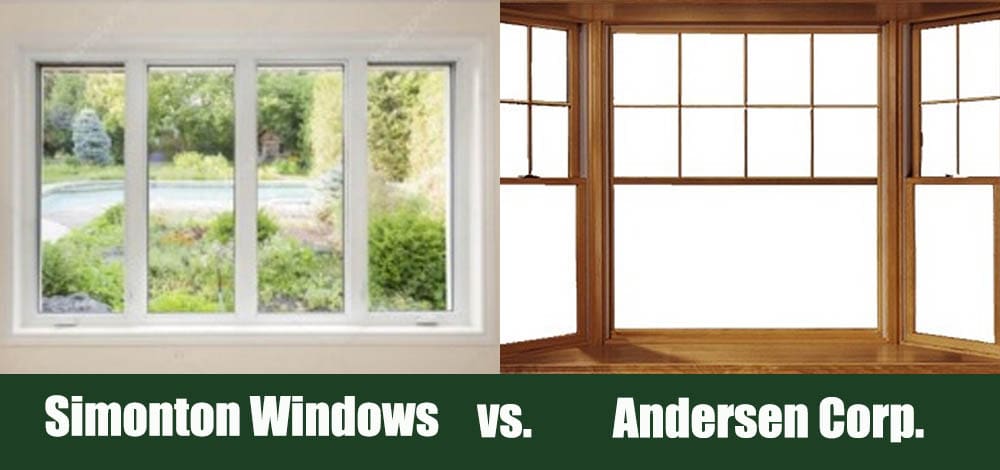 The window and door industry are highly competitive. As a result, it can be hard to wade through some of the options available. In this comparison, we will discuss the pros and cons of Simonton Windows and Andersen Corporation, respectively. Then we will compare them in four key areas: price, warranty, durability, and line diversity.
Remember that finding the brand of windows is only part of the task. Just as not all brands are equal, all installers are not equal either. A little bit of research on local window installers will go a long way to your long-term satisfaction with your window choice.

Overview of Simonton Windows:
Simonton wasn't always about windows. The company was founded in 1946 as Pen Vent Awning by Fred and Sybil Simonton. It wasn't until 1981 that their son saw the need to separate their family business from the rest of its competition. As a result, Simonton Windows was born, and they began to manufacture quality, energy-efficient vinyl windows.
Fast-forward to now, Simonton Windows has 12 different window and patio door lines. Whether it's for a new build or major renovation, they have various styles and types of windows that can be custom ordered.
Price
Simonton Windows has a diverse line of windows that can accommodate any budget. They offer budget window lines for a couple of hundred dollars per window, right up to premium lines that can run over a thousand dollars.
Durability
In 2020, Builder Magazine performed their Brand Usage Study and proceeded to award Simonton Windows with "Highest Overall Quality." Simonton Windows' commitment to a quality product does not go unnoticed because they seem to win at least one award every year that speaks to the reliability and durability of their windows and doors.
The testament to their reputation for durability stems mainly from the construction material of their windows. Simonton leverages their mastery of vinyl windows to produce affordable and durable windows. By nature, vinyl windows are resistant to rot and mold, unlike their wooden competition.
Warranty
Most windows by Simonton are backed by their Double-Lifetime Limited Warranty. The warranty can be transferred one time to a new homeowner for residential customers. Commercial windows have a 10-year limited warranty. Typical of the industry, the warranty backs against all manufacturer's defects. One downside is that there are a few hoops that a new homeowner has to jump through to have the warranty transferred to them.
Pros
Affordable and premium options are available
Award-winning durability
Backed by a lifetime warranty
Cons
Only has vinyl windows to choose from across their lines
ENERGY STAR rated glass and frames are not standard on their windows

Overview of Andersen Corporation: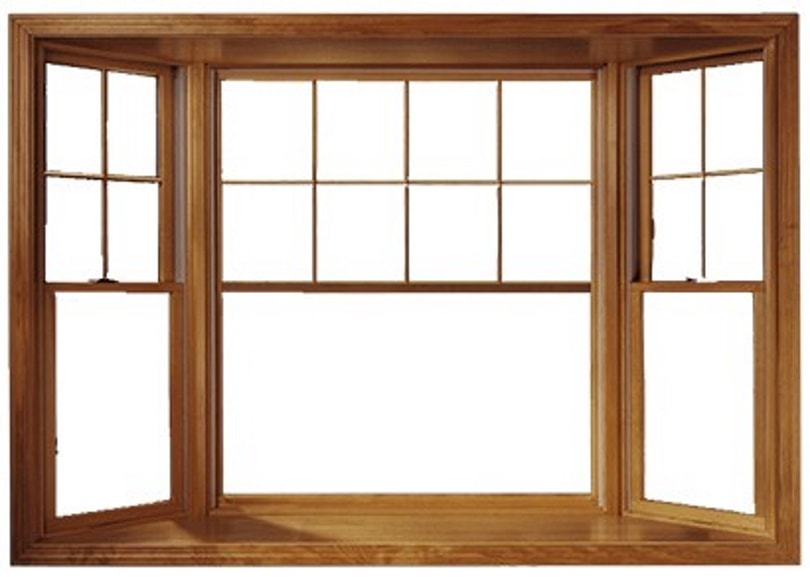 As one of the oldest window manufacturers in North America, Andersen has worked at building windows for a long time to get it right. The company was founded in 1903 and has grown to employ over 12,000 people in manufacturing facilities across North America and Europe.
Andersen is known for being a company of "firsts" in the industry. The most notable industry first was their master casement window in 1932. It was the first fully assembled window and quickly became a classic benchmark for the industry.
Another thing that sets Andersen apart from its competition is its dedication to not only producing the highest quality energy-efficient windows but doing so cleanly. They have environmental programs in place to minimize their effect on the environment. They are also committed to growing their use of renewable energy for their manufacturing facilities.
Price
Even Andersen's economy windows start at upwards of $500 installed. That price can peak at over $2000 for their highest quality windows. In part, the quality of materials that go into Andersen's windows drives the price up to start higher than its competitors.
Durability
Andersen windows are extremely durable. The Fibrex material they use in most of their windows is not quite as mold and rot resistant as vinyl. Still, its reclaimed wood and polymer construction are more resistant than a traditional wooden frame.
Warranty
One thing that sets Andersen Corporation apart from its competition is its incredible warranty. It offers a unique Owner-to-Owner warranty. As the name implies, it easily transfers from upon new home ownership. It doesn't appear to have much for hoops to jump through either. Aside from this unique warranty perk, it's a standard limited lifetime warranty.
Pros
Extremely eco-friendly production
Many options that are ENERGY STAR certified
Unique limited-lifetime Owner-to-Owner warranty
Cons
Slightly higher priced to start and much higher priced top-end windows
Limited vinyl window options available
See Also: Pella vs. Andersen Windows: Pros, Cons, and Differences

Overall Brand Reputation Comparisons
It's easy to look at two different brands and write one off as less superior than the other. There is no denying that some windows excel where others do not. However, it comes down to finding a brand that stands for and offers what the buyer is looking for, even if they are only different in one or two key ways.
Below you will find head-to-head comparisons in a few key areas that hopefully paints a big picture for you so you can make an informed decision.
Price
Both Andersen Corporation and Simonton Windows have extensive lines of windows and doors and a wide scale of prices to match. Andersen leverages their unique materials and construction to get the best dollar for their products.
Pricing Edge: Simonton takes the edge in this category. Like, Andersen, they don't compromise on the quality of their windows but still offer options for any budget. This is mainly due to all their windows being vinyl. Vinyl is much cheaper to produce, construct, and sell.
Warranty
It is generally an industry standard to offer a limited lifetime warranty on windows. Simonton Windows offers a one-time transfer of the warranty upon the home's sale. However, a couple of hoops to jump through may actually discourage some people from transferring it.
Warranty Edge: Andersen stands apart in this category. They also offer a transferable warranty. Except, their warranty isn't limited to one time, and there doesn't seem to be hoops to the transfer.
Durability
Neither brand would have survived in a competitive industry like the window and door one if they didn't both produce high-quality and durable windows. Andersen uses the patented Fibrex material in most of their windows. Fibrex is a composite material consisting of reclaimed wood and vinyl material. Not only is it eco-friendly, but it is hardy and resistant to weather and rot.
Durability Edge: Fibrex is only part vinyl, though. So, Simonton takes a very slight edge in this category due to all their windows being vinyl. Not everything about vinyl is amazing, but Simonton has won enough awards related to their durability to set them apart as absolute experts in vinyl windows.
Line Diversity
If every home or business looked the same, there would be no need for diverse window and door lines. With our significant advances in technology and what we can do with building materials, new buildings are only getting more diverse.
Both brands in question offer decent lineups. Between the two of them, Simonton's is a little smaller. And while their vinyl windows win them a spot as most durable, it doesn't do them any favors for line diversity.
Line Diversity Edge: Andersen takes this win due to offering windows in wood, Fibrex, wood/Fibrex, and vinyl. In addition, they have almost endless customization options in two of their premium window lines.
Overall Pick
Andersen wins for our overall pick due to a great mix of value, quality, and warranty. If it is within the budget, their higher starting prices are justified for the added value. Especially getting into the premium windows, Andersen sets itself apart from the competition.
Simonton should not be written off, though. They won't sell you an inferior product if this is a budget-conscious decision. However, they aren't quite at the level of Andersen's windows.

Conclusion
Whether or not you have a large or modest budget for windows, both brands we looked at today are great candidates for your new home build or renovation. And as we said earlier, when you are looking at two brands of this caliber, it will likely only be one or two factors that sway the decision because they are both great window and door brands.
---
Featured Image Credit: Left: Simonton Windows: Simonton Windows.com | Right: Andersen Corporation: Andersen.com