10 Smoke Alarm Facts and Statistics (2023 Updated)
Most people probably don't give smoke alarms much thought unless they're going off or randomly chirping. However, smoke alarms are one of the most effective ways to instantly reduce your risk of being harmed in a home fire and keep your home safe. Let's check out some of the most interesting facts and statistics about smoke alarms.

10 Smoke Alarm Facts and Statistics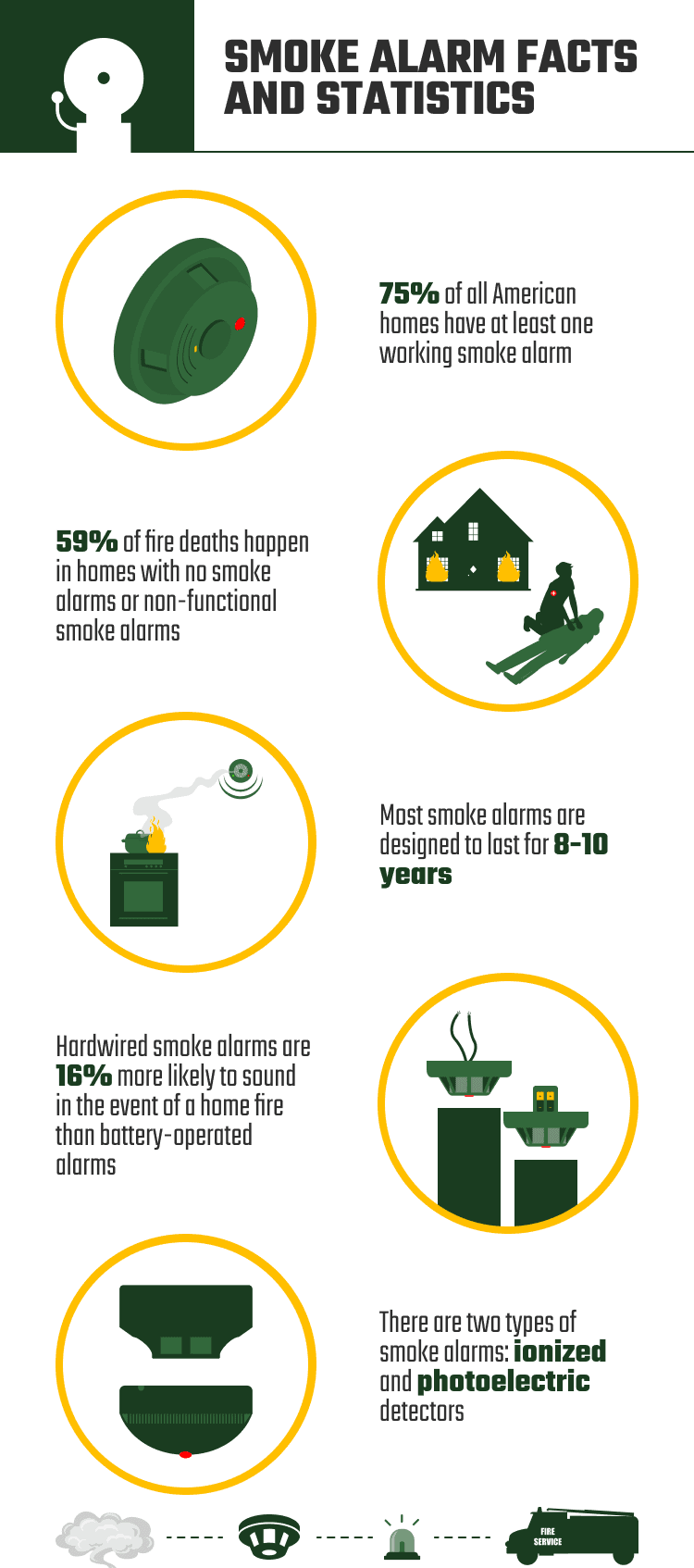 Smoke Alarm Statistics
1.

Smoke alarms were present in ¾ of reported home fires between 2014 and 2018.
National Fire Protection Association
Smoke alarms can't prevent home fires, but they provide occupants with an early warning so they can exit the home in a timely manner with family members, pets, and valuables when possible. This stat goes to show that while smoke alarms are present in most fires, it also means more households are adopting fire prevention measures.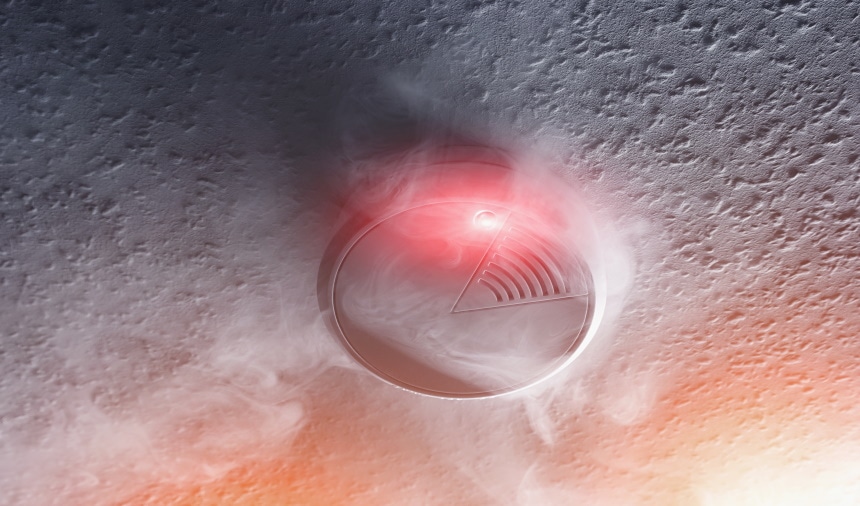 ---
2.

¾ of all American homes have at least one working smoke alarm.
National Fire Protection Association
The Life Safety Code passed in 1976 required that all US homes be equipped with smoke alarms. By 1980, half of all US homes had smoke alarms, with that number rising to 75% in 1984. Thanks to continuous fire safety awareness in the decades since, that figure has only gone up.
---
3.

Working smoke alarms throughout the home cut the risk of dying in a home fire in half.
National Fire Protection Association
This one isn't unexpected, but it helps to put a solid figure on exactly how helpful smoke alarms are in saving lives in the event of home fires. Early detection can make all the difference between being trapped in a home fire and making it out unscathed. Most home fires happen when people are asleep, and many fatalities are because people never wake up in the chaos.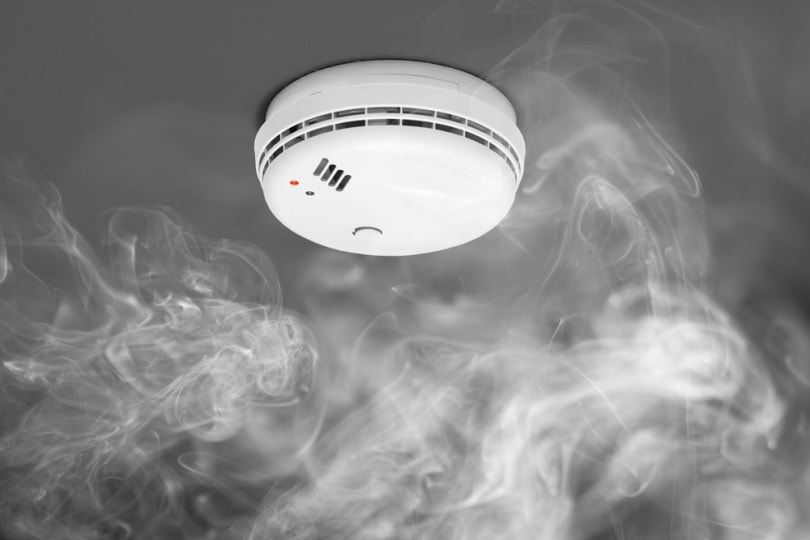 ---
4.

59% of home fire deaths happen in homes with no smoke alarms or non-functional smoke alarms.
Sloan Fire Department
The unfortunate truth is that people living in homes without smoke alarms are at a much higher risk of dying in a home fire. In most cases, these are older homes that weren't required to have smoke alarms when they were built, and they were never updated. People living in older homes built before national fire standards were adopted are the most at risk of dying in a home fire, and it's very important these homes are fitted with smoke alarms.

About Smoke Alarms
5.

There are two types of smoke alarms: ionization and photoelectric detectors.
New York Health Department
Flaming fires produce a different type of smoke than smoldering fires. Ionization smoke alarms are better at detecting the smoke from flaming fires, while photoelectric smoke alarms are better at detecting the smoke from smoldering fires.
---
6.

Most smoke alarms are designed to last for 8-10 years.
National Fire Protection Association
Smoke alarms only last about 10 years due to various household problems: dust, insects, airborne contaminants, and corrosion. Even if you take care of your smoke alarm, it still needs to be replaced every 10 years to keep it up to code. Sometimes, the sensors can prematurely degrade and the unit will malfunction before this time period, but that's a relatively rare occurrence.
---
7.

Hardwired smoke alarms are 16% more likely to sound in the event of a home fire than battery-operated alarms.
National Fire Protection Association
Hardwired smoke alarms are more dependable than battery-powered smoke alarms because they're connected to a reliable power source. Even if the wires are melted by fire, hardwired alarms are fitted with battery backups that keep them working for longer.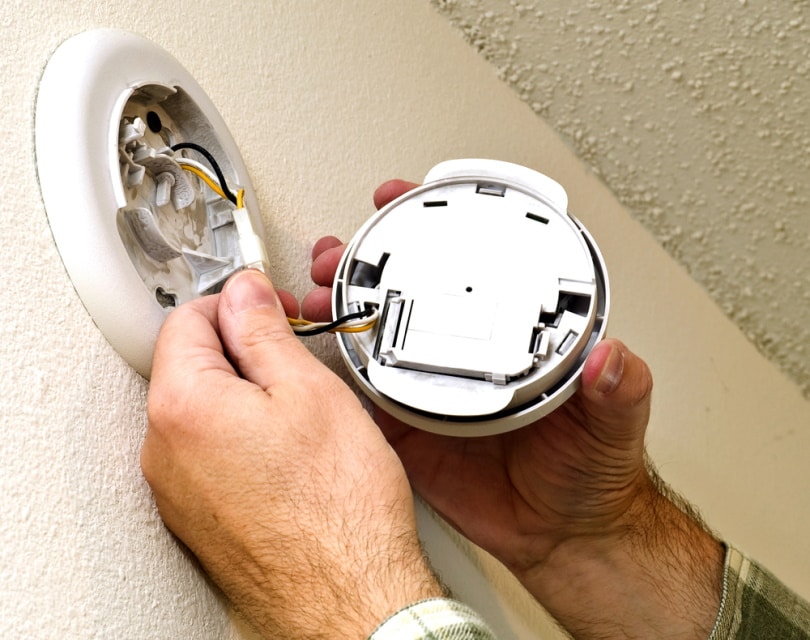 Smoke Alarm Tips
8.

Smoke alarms should be tested monthly to make sure they don't fail.
US Fire Administration
There are a number of possible reasons smoke alarms can fail, including dust, corrosion from humidity, insects, and more. To keep them in the best possible condition, test the alarm monthly to make sure that it still works. Non-functioning smoke alarms should be immediately replaced.
---
9.

Not replacing batteries regularly is the main cause of non-functional or nuisance alarms.
University of South Carolina
When smoke alarm batteries run low, they periodically chirp to remind the owner that the battery needs to be replaced. However, when people don't realize this, they simply remove the battery altogether to stop the noise. Sadly, this puts them at a higher risk of dying in a home fire. Always investigate the cause of chirping smoke alarms, because they most likely won't work in the event of a fire.
---
10.

Smoke alarms should be installed in every bedroom, outside of every sleeping area, and on every level of the home, including basements and attics.
National Fire Protection Association
When a fire starts, closed doors slow the progress of the fire and smoke. By putting smoke alarms throughout the home, you can get an earlier warning in the event of a home fire. Of course, you need to keep up with testing and replacing their batteries too. However, there's no such thing as too many smoke alarms in the home!

Frequently Asked Questions About
Should I put smoke alarms on the walls or ceiling?
Because smoke rises and then spreads horizontally throughout a space, you should place smoke alarms in the center of the ceiling. This will ensure they detect smoke sooner than if you'd placed it on the wall because there's no guarantee that the wall is near the fire source.
Why is my smoke alarm going off when there's no fire?
Smoking, vaping, and cooking can all set off smoke alarms, so it's not advised to smoke or vape indoors near smoke alarms. Smoke alarms also aren't recommended near cooking spaces, because they trip alarms quite often.
There are a few other reasons your smoke alarm could be giving a false positive alarm. Let's check them out below.
The sensor is dirty or obscured
The alarm is near a bathroom or high humidity area
Low batteries
Volatile compounds in the air from paint or other chemicals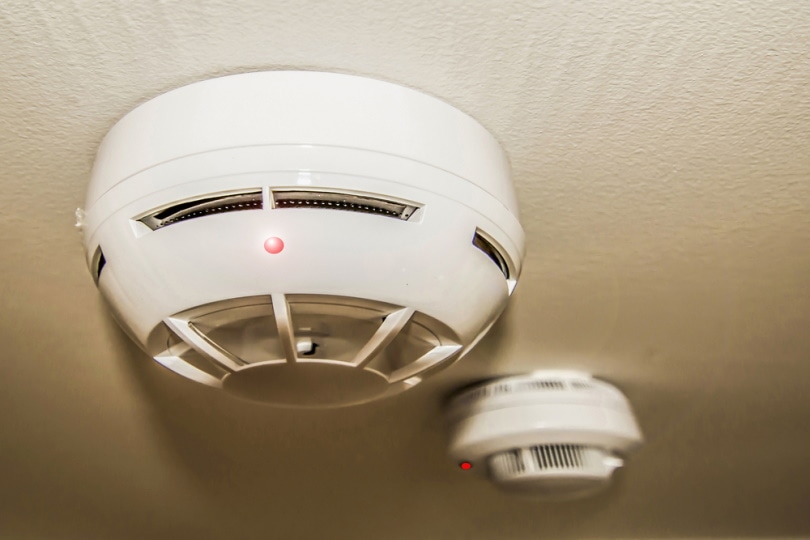 Why is my smoke alarm chirping?
There are a few reasons a smoke alarm can periodically chirp. The most common reasons are the batteries running low and the batteries being incorrectly inserted. However, the alarm could also be nearing the end of its lifespan. Many models chirp every 5 minutes when they need to be replaced and won't stop until you disconnect them.
Spaced-out chirps could mean that the alarm is malfunctioning and needs to be replaced or that the battery is malfunctioning and needs to be replaced. For hardwired alarms, you might want to have an electrician come check it out.
Do smoke alarms detect carbon monoxide and natural gas?
Most smoke alarms do not detect carbon monoxide (CO) or natural gas, but there are combination detectors available that perform multiple of these functions in one device. Always be sure you're using a high-quality smoke alarm in your home, whether it detects CO or gas.
Why isn't my smoke alarm testing correctly?
First, make sure you're holding the test button. It can take up to 10 seconds for it to work, or the batteries could be incorrectly inserted. Hardwired alarms that won't test might not be hooked up to AC power. To check, look for a green light that signals the unit is connected to a power source.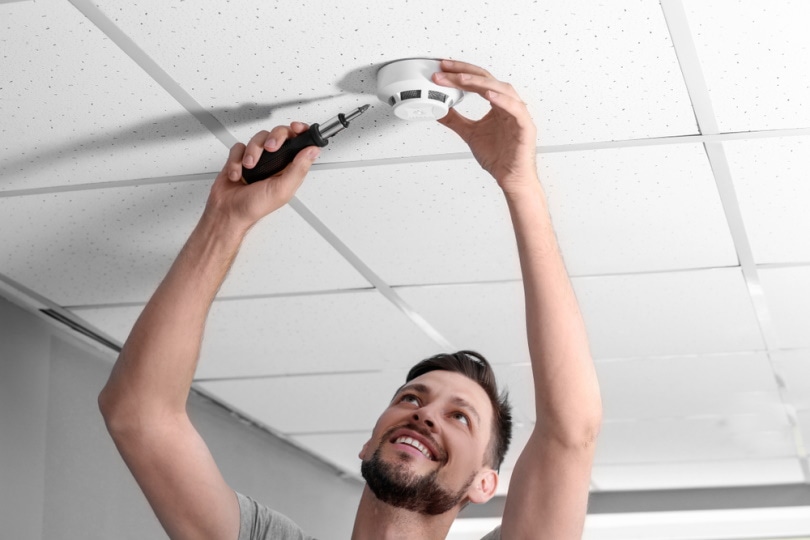 Why does my smoke alarm go off when I connect to power or insert batteries?
In a lot of cases, it's normal for smoke alarms to go off for 5–10 seconds after connecting to power or battery replacement. Weak AC power or brownouts to hardwired units can also cause a continuous weak alarm sound.

Conclusion
Smoke alarms are often forgotten, but you should always make sure your smoke alarm's batteries are regularly replaced and that you test them monthly. Simply keeping up with smoke alarms in your house once in a while can help protect you in the event of a deadly house fire. Some models have built-in CO and gas detectors, which can be invaluable in their own right.
---
Featured Image Credit: gopixa, Shutterestock