15 Smoothie Recipes Made With Yogurt (with Pictures) | Creamy & Delicious Ideas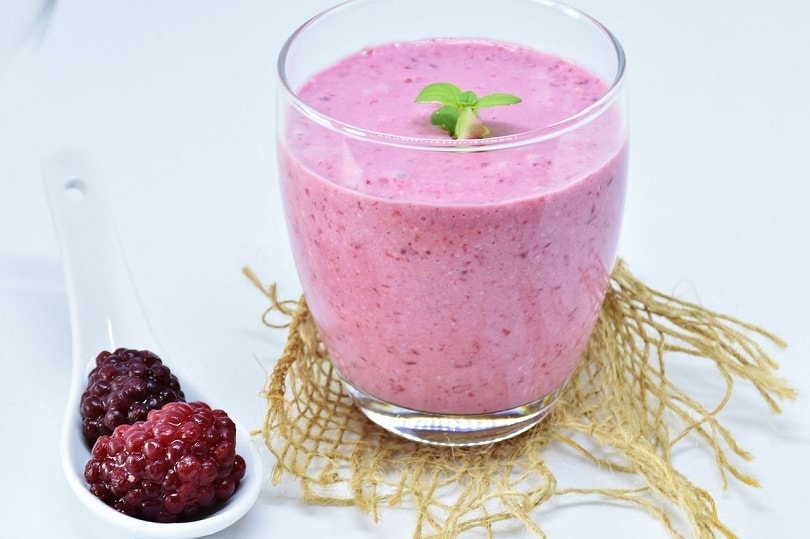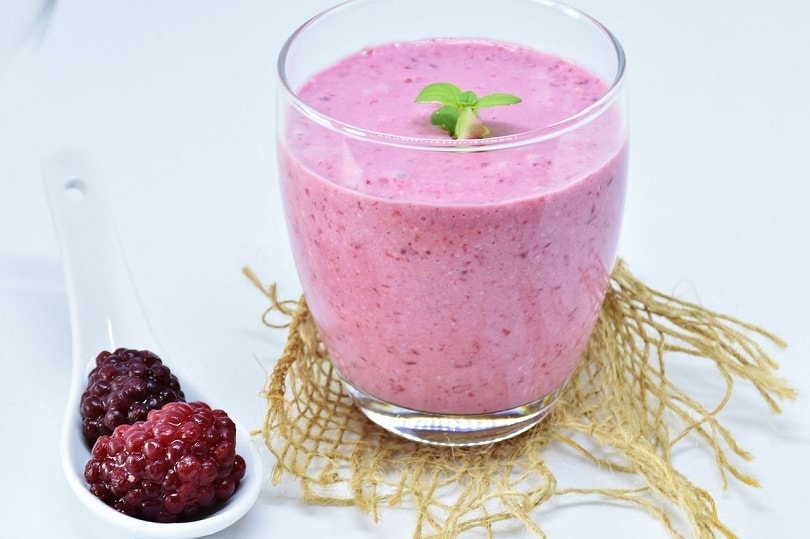 Determining the right ingredients to create the perfect smoothie will likely look different for each individual making them. For some, using frozen fruit is the only way to accomplish that creamy texture, where others insist that fresh fruit is the key to vibrant flavors. But one of the biggest questions we get about smoothie ingredients is whether adding some form of dairy is necessary. If it were up to us, we would more often than not, reach for yogurt! Flavored, plain, fruity, or unsweetened – we think there is a place for all types of yogurt in smoothies and we have created the following recipe list to prove it.
Below are 15 wildly exciting smoothie recipes that will convince even the skeptics that yogurt belongs in all sorts of blended drinks!

Top 15 Recipes For Smoothies Made With Yogurt
---
1.

Skinny Peach Greek Yogurt Smoothie
Greek yogurt is known for its ultra-thick texture. When paired with fresh, canned, or frozen peaches and a select few grains and seeds, you end up with an incredibly smooth and yummy smoothie. Get the recipe here.
---
2.

Apple Yogurt Smoothie
Apple and yogurt might not be the most obvious choice when it comes to smoothie flavors but trust us, they work! If you are willing to jump outside your comfort zone, we recommend this recipe! Get the recipe here.
---
3.

Cinnamon Roll Smoothie
For those with a sweet tooth, we suggest the cinnamon roll smoothie. It has the same comforting flavors of an actual cinnamon roll without the added calories! Get the recipe here.
---
4.

Lemony Yogurt Smoothie
Is there anything more refreshing than a freshly squeezed lemon? The tangy punch combined with a mellow yogurt makes this citrus smoothie a great way to kickstart your day. Get the recipe here.
---
5.

  Blueberry Yogurt Smoothie
Blueberry yogurt is a flavor we often come across when shopping in the grocery store. But this recipe takes this simple snack to the next level by adding ingredients that make it that hunger-satisfying.  Get the recipe here.

6.

The Best Beginners Smoothie
If you are new to blending, this recipe is a great place to start. Don't let the green color deter you, the flavor will be enough to convince you creating your own smoothies is the way to go. Get the recipe here.
---
7.

Frozen Fruit Smoothie
Frozen fruit helps create the ideal smoothie consistency. This recipe calls for berries that add an enticing color. This is a great option for those looking to prepare snacks for picky little ones or who are not huge smoothie fans themselves. Get the recipe here.
---
8.

3 Ingredient Orange Smoothie
Can a delicious smoothie get any easier than 3 ingredients? If you are a fan of creamsicles, this smoothie is an absolute dream. Get the recipe here.
---
9.

Strawberry Orange Banana Smoothie
The classic combination of strawberry and banana lends itself well to a yogurt smoothie blend. Get the recipe here.
---
10.

Mango Yogurt Smoothie
Nothing says summer like mangos, and a smoothie is a perfect answer to a hot summer day. Get the recipe here. 

11.

Banana Mango Yogurt Smoothie
Naturally sweet and without the use of ice, this smoothie is a full-flavored treat. Banana and mango are the perfect fruit pairing. Get the recipe here. 
---
12.

Strawberry Smoothie
Almost as good as a strawberry milkshake, if not better! This classic blend is bound to be a favorite among all who try it.   Get the recipe here. 
---
13.

Green Smoothie Made with Yogurt
If you are a smoothie lover, you might be someone who believes that if it ain't green, it ain't right. For those individuals, we offer this quick yet effective (and yummy we might add) recipe. The simple and fresh ingredients are certainly ones we love individually and even more when blended together. Get the recipe here.
---
14.

Strawberry Banana Smoothie with Yogurt
If you are on the hunt for a recipe that combines almost every food group, this strawberry banana concoction should do the trick. Toss in a scoop of protein powder to round it out, and this will be a one-stop-shop for topping up your daily servings of each group! Get the recipe here. 
---
15.

Berry & Yogurt Smoothie
Want a recipe that allows for substitutions or omittances? Whether you are looking for non-dairy yogurts or banana free options, this berry yogurt has them all.  Get the recipe here. 

Conclusion
Yogurt is not an essential ingredient in a smoothie, but we believe that it can elevate flavors, give smoothies that desirable and creamy consistency all while sneaking a little calcium into your diet. We hope that you have found another recipe to add to your yogurt smoothie rotation, or were blissfully converted into a yogurt smoothie lover! Either way, we hope you enjoyed the taste testing, and as always, happy blending!
Try a few other recipes and related reads:
---
Feature Image Credit: RitaE, Pixabay