Soft-Lite Windows vs Pella: Pros, Cons, & Differences?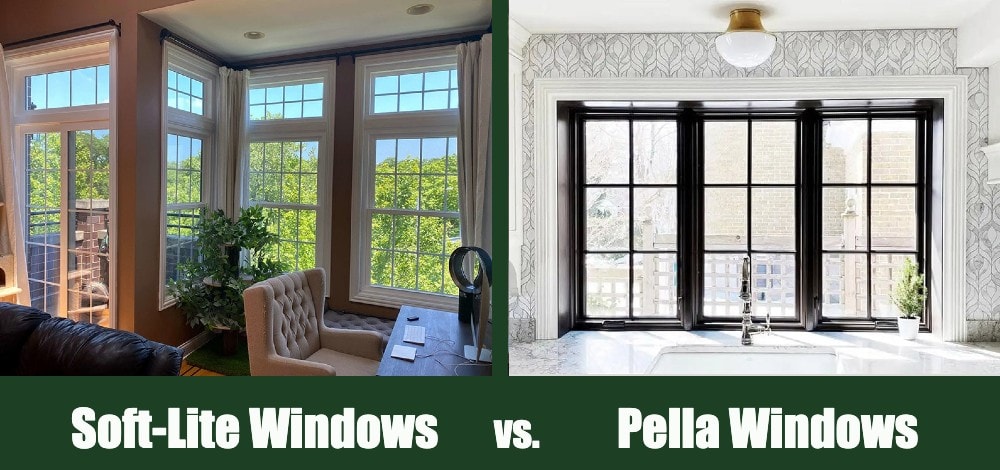 If you are looking for a window replacement, two brands you've likely heard of are Soft-Lite Windows and Pella Corporation. Both companies offer energy-efficient, attractive, and durable windows. The main difference between these two brands is their size and price.
On the one hand, Soft-Lite Windows mainly sells to homes in the South and the eastern United States, whereas Pela Corporation sells all over the nation. Even though the size of these companies is different, both have won numerous awards and offer many different products to choose from.
In other words, both companies are great and produce fantastic windows. Still, one company may be better than the other for you. Read on to learn about the pros, cons, and differences between Soft-Lite Windows and Pella Corporation.

A Quick Comparison
Brand name
 Soft-Lite Windows
Pella Corporation
Established
1934
1925
Headquarters
Streetsboro, OH
Pella, IO
Product lines
Premium vinyl replacement windows

Sliding patio doors

Windows

Patio doors

Front entry doors

Storm doors

Parent company/Major subsidiaries
Harvey Building Products Cooperation
EFCO Corporation

Grabill Windows & Doors Inc.

Pella Crafted Luxury Showroom

Brief History of Soft-Lite Windows
Soft-Lite Windows was originally founded in 1934. Ever since its founding, Soft-Lite Windows has been pushing boundaries and changing the game of windows. All the while, their products are excellent so that customers' requirements are met and exceeded.
Even though the company was founded in the 1930s, Soft-Lite Windows began producing vinyl frames in 1953. During this time, most windows were still made from wood, making Soft-Lite Windows one of the first companies to fully embrace modern science and vinyl specifically.
Unfortunately, there's not much more known about the history of Soft-Lite Windows. Soft-Lite Windows does not provide an extensive overview of its history, but they note that they have long been producers of innovative products that exceed industry standards.
Brief History of Pella Corporation
Although not much is known about Soft-Lite Windows, a ton is known about Pella. Pella has been a privately held window and door manufacturing company since 1925. In this year, Peter and Lucille Kuyper invested a total of $5,000 to buy Rolscreen Company. This company specialized in a special insect window screen that quickly grew into one of the largest window manufacturers in America.
Eventually, the company's name was changed to Pella Corporation in 1992. Since then, Pella Corporation has created 17 manufacturing sites in the United States and Canada. It has even been Energy Star certified since 1999.
Despite its success, Pella has won several awards relating to the community, such as being one of the "100 Best Companies to Work For" according to Fortune magazine. Because of how large this company is, it also participates in several charitable activities.
---
Soft-Lite Windows Manufacturing
Soft-Lite Windows is the smaller of the two companies. As a result, it has a single manufacturer in Streetsboro, Ohio. This location produces and distributes all its replacement window options. Most of their products are shipped to local contractors located east of the Rocky Mountain range.
Pella Manufacturing
Because Pella Corporation is the larger brand between the two, it has a lot more manufacturing locations than Soft-Lite Windows. Almost all the manufacturing locations are placed in the United States, but some are in Canada as well. In total, there are 16 manufacturing sites, resulting in 7,000 employees nationwide.
What product is being purchased will determine where the Pella item is from. For example, wood windows and patio doors are all manufactured in Pella, Carroll, Shenandoah, and Sioux Center, IA, as well as Macomb, IL. In comparison, fiberglass and vinyl products are manufactured in Murray, KN, Gettysburg, PA, and Portland, OR.
---
Soft-Lite Windows Product Line
Soft-Lite Windows produces two product lines: windows and doors. Because this product so extensively focuses on windows and doors, each of their products is provided proper care and attention to ensure they are well up to the company standards.
Windows
As its name suggests, Soft-Lite Windows specializes in windows. They sell a variety of Bainbridge LE windows, Barrington windows, Classic Plus windows, Pro Series windows, Imperial Elite windows, Elements windows, Barcelona Impact windows, and Panorama windows.
Its windows are all Energy Star certified. In fact, Soft-Lite Windows won the Most Efficient Windows for 2021 by Energy Star, and this has not been the first year that the company has won this prestigious title.
Doors
Soft-Lite Windows focuses on one type of door: the Kingsroyal Glide patio doors. These patio doors slide and are primarily made of windows, which explains why this company produces this door type specifically. The doors are energy-efficient and highly gorgeous.
Pella Product Line
Just like Soft-Lite Windows, Pella has two main product categories: windows and doors. The main difference is that they have a lot more options to choose from in both categories, but especially the door category.
Windows
Pella windows can be found by window type, materials, or product lines. They have practically every window type you can think of, ranging from casement to custom-built. They also offer wood, fiberglass, and vinyl materials, as well as eight different product lines for windows specifically.
Doors
Pella sells more door options than Soft-Lite Windows. They offer patio doors, front entry doors, and even storm doors. When it comes to doors, Pella offers way more options.
Related Read: Pella vs. Andersen Windows: Pros, Cons, and Differences
---
Soft-Lite Windows vs Pella: Price
Both Soft-Lite Windows and Pella Corporation are considered luxury window brands. As a result, both brands are pretty expensive, especially if you opt for custom-built or specialty-made windows. If you look at these two brands alone, Soft-Lite Windows are slightly more expensive, though.
Soft-Lite Windows
Soft-Lite Windows are considered one of the more expensive brands, though their durability makes this price worth it for most. Their budget products fall within the Barrington series, whereas the Imperial series is the most expensive.
Pella
Pella has a pretty wide range of products in terms of price. The Pella 250 series is pretty inexpensive, some costing as low as $400 to be installed. This makes the series moderately priced. In comparison, some of the wood materials can be well over $1,000, especially if they are designed to withstand elemental factors. These windows are much more expensive.
---
Soft-Lite Windows vs Pella: Warranty
Because both Soft-Lite Windows and Pella Corporation are leaders in the industry, they have top-notch warranties. In fact, their warranties are practically identical, and users report that they do a great job at upholding their warranties. This means both companies are fantastic where warranty is concerned.
Soft-Lite Windows
The Soft-Lite Windows warranty has a limited lifetime provision against any defects on the sash or frame. It also has a 10-year provision on PVC coatings, foil laminates, and mini blinds. The warranty is transferable, but it requires a one-time transfer fee.
Pella
Pella also offers a limited lifetime warranty. Similarly, there's a 10-year provision with the Pella Care Guarantee. There are certain limitations based on the product you buy, but most Pella warranties are identical to the Soft-Lite Windows warranty.
---
Soft-Lite Windows vs Pella: Customer Service
Although both Soft-Lite Windows and Pella Corporation offer fantastic customer service, one of these two companies is better than the other: Soft-Lite Windows offers some of the best customer services in the industry. Customer service has been ingrained in this company's foundation, allowing them to win this category, even though Pella's customer service isn't bad.
Soft-Lite Windows
Customer service is one of the most important aspects of Soft-Lite Windows. Customer service has been an important aspect of the company since its founding, which means the company is dedicated to providing fantastic customer support. Many users report that Soft-Lite Windows customer service reps are helpful and kind.
Pella
There aren't as many positive reviews about Pella's customer service. Although there aren't a ton of negative reviews, individuals complain that getting in touch with a good Pella representative is a bit more difficult than talking to a Soft-Lite Windows rep. Even so, Pella's customer service is much better than others in the industry.
Related Read: Harvey Windows vs. Andersen: Which Windows Are Better?

Head-to-Head: Soft-Lite Barrington Windows vs Encompass by Pella Vinyl Single-Hung Window
The Soft-Lite Windows Barrington window and Encompass by Pella Vinyl Single Hung Windows are both basic windows that are single hung. Both windows look classic and are offered with extreme durability, strength, and Energy Star certifications. The Pella is more affordable because it doesn't come with as many features and benefits, but the Soft-Lite is better otherwise.
We particularly like the Soft-Lite Windows Barrington windows because they are the most affordable window type with Soft-Lite Windows, but they still offer more reinforcement, energy certification, and everything you want from a Soft-Lite Windows window.
Our Verdict: Soft-Lite Barrington Windows
---
Head-to-Head: Soft-Lite Imperial Elite vs Pella Defender Series
The Imperial Elite and Defender Series are both high-end window varieties. They come with some of the most advanced technology to provide superior safety for both you and your windows. Both windows come in many styles, including double-hung, single-hung, and sliding.
Of these two series, the Soft-Lite Windows Imperial Elite is our favorite. This window specifically won the energy-efficient award, making it the most efficient window in terms of energy. Still, the Pella Defender Series might be a good choice if you live in a particularly sunny place because of its UV protection.
Our Verdict: Soft-Lite Imperial Elite
---
Head-to-Head: Soft-Lite Panorama Sliding Glass Door vs Pella Sliding Patio Door
Because both brands also offer patio doors, we wanted to look at how the doors differ from one another. Both doors are equipped with the same technology as their windows, making the doors efficient and protective.
Between these two brands, we prefer the Pella Sliding Patio Door. They have way more material and product options, making it the better line overall. The Soft-Lite Panorama Sliding Glass Door is still good, but it is not very customizable.
Our Verdict: Pella Sliding Patio Door

Overall Brand Reputation
In many ways, these brands are similar, but they aren't identical. Soft-Lite Windows is better in terms of performance and durability, whereas Pella is better for price, design options, and product lines.
Performance
Edge: Soft-Lite Windows
In terms of energy efficiency and functionality, both brands deliver fantastic results. Still, Soft-Lite Windows performs slightly better when it comes to energy efficiency. This company has won numerous awards involving efficiency and performance, which means this company has the edge.
---
Price
Edge: Pella
Don't get us wrong; both companies are considered expensive window brands. Even so, Pella Corporation is slightly more affordable, though not by much. This is just looking at their basic products. Pella can quickly get more expensive as you opt for customized windows.
---
Durability
Edge: Soft-Lite Windows
Soft-Lite Windows tend to be a little bit more durable than Pella. This might be because more care and concern go into their products. Some customers report negative experiences with Pella windows and recommend other luxury brands over it as a result.
---
Design
Edge: Pella
If you want to have the most beautiful windows and the largest selection, you need to choose Pella Corporation. Even though Soft-Lite Windows offers attractive windows, they simply do not offer as many style and customizable options. So, Pella wins in terms of design.
---
Product Options
Edge: Pella
Pella offers way more product options than Soft-Lite Windows. If you want maximum choice, you can't ignore Pella. Especially considering how many more doors it offers, Pella is the best if you want several options to choose from.

Conclusion
At the end of the day, both Soft-Lite Windows and Pella Corporation deliver high-end windows that are energy-efficient and attractive. You really can't go wrong with either brand.
Still, you should select Soft-Lite Windows if you're looking for the best customer support and the most energy-efficient windows. You will certainly not be disappointed with the performance and functionality of these windows.
In comparison, you should select Pella windows if you want a wide range of options and extreme customization. Though they might not be as efficient, they are worth the price if you want something more affordable or more customizable.
---
Featured Image Credit: Left: soft-lite.com Right: pella.com