17 Facts About Thunderstorms – Statistics and Data in 2023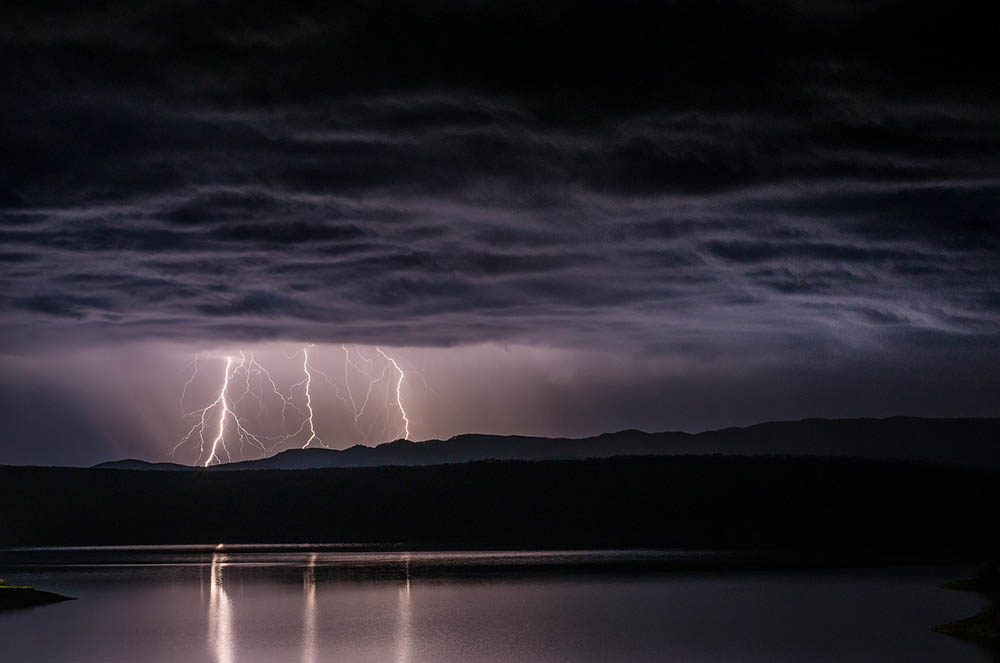 Note: This article's statistics come from third-party sources and do not represent the opinions of this website.
One of the most common severe weather events is the classic thunderstorm. Some thunderstorms only produce heavy rain and are relaxing to watch. Others result in millions of dollars of damage and even lost lives.
Keep reading to learn some key facts and statistics about thunderstorms. This article provides an overview of some of the most interesting data relating to thunderstorms and their impacts.
Click below to jump ahead:

Top 17 Thunderstorm Statistics


Statistics About Thunderstorm Frequency
1.

Millions of thunderstorms happen per year.
(Policy Genius)
It is estimated that 16 million thunderstorms happen every year around the globe. This makes the thunderstorm the most common severe weather occurrence globally.
---
2.

At any moment, thousands of thunderstorms are happening worldwide.
(Facts Just For Kids)
There are so many thunderstorms it is believed there are at least 2000 active thunderstorms at any moment on our planet. In other words, although there might not be a thunderstorm in your area, 2000 other areas are being affected by thunderstorms.
---
3.

The average thunderstorm lasts 30 minutes.
(Policy Genius)
Although some nights you are kept up for hours because of a thunderstorm that just won't go away, most thunderstorms only last an average of 30 minutes. This is pretty surprising since most people associate thunderstorms with lasting hours.
---
4.

Fort Myers, Florida is the stormiest US city.
(Farmers Almanac)
In the United States, Fort Myers, Florida is considered the stormiest city. In For Myers, there were almost 90 thunderstorms in 2020.
Fort Myers is not the only stormy Florida city. In fact, the five stormiest cities in the United States all happen in Florida. Most of the stormiest cities are located in Florida. Other states that see frequent storms include Alabama and Louisiana.
---
5.

Florida is home to the highest number of lightning strikes.
(Policy Genius)
Just as Florida has some of the stormiest cities, Florida is also home to the highest number of lightning strikes per year. Whereas lightning kills about 49 people every year, Florida has reported over 2000 lightning strike victims over the last 50 years.
---
6.

Certain locations are more prone to severe thunderstorms.
(Farmers Almanac)
More so, Florida is home to some of the most dangerous thunderstorms. In addition to Florida, Louisiana, Alabama, and states in the Midwest have some of the most severe thunderstorms in the United States.
Outside of the US, Uganda, Venezuela, and Indonesia have extremely severe thunderstorms regularly.
---
Damage Caused by Thunderstorms
7.

Billions of dollars have been paid out by insurance companies due to thunderstorms.
(WSJ)
Because thunderstorms are the most common form of natural disaster, the insurance company industry has paid out billions of dollars. In 2021, almost $5 billion was paid out due to property claims against thunderstorms.
---
8.

Thunderstorms account for millions of dollars in insured losses every year.
(Insurance Information Institute)
Even on a yearly basis, thunderstorms account for millions of dollars in insured losses. For example, in 2019, thunderstorms are responsible for over $20 million worth of total insured losses.
---
9.

Dozens of people die from lightning strikes every year.
(National Weather Service)
It's important to remember that financial loss is not the only damage to keep in mind. Thunderstorms are also responsible for many deaths. Lightning strikes alone kill, on average, 49 people every year.
If you were to just look in the United States alone, about 26 people die every year from lightning strikes.
With these numbers, the chances that you will be struck during your lifetime is 1 out of 15,300. Similarly, the chances of being affected by someone struck by lightning is 1 in 1,530.
---
10.

Most lightning strike victims are severely disabled after.
(National Weather Service)
Most lightning strikes do not end in fatalities. Instead, 90% of lightning strikes lead to severe disability. These severe disabilities impede the person's quality of life and cost thousands if not millions of dollars in medical bills.
---
Fun Facts About Thunderstorms
11.

There are specific definitions for classifying thunderstorm severity.
(NOAA National Severe Storms Laboratory)
Whenever you listen to the news, you'll likely hear terms thrown around, such as a "Severe Thunderstorm." Whenever professionals use these terms, they are referring to a specific type of thunderstorm based on severity.
Formally speaking, severe thunderstorms are classified as such if they have one or more of the following characteristics: hail that is 1 inch or greater, winds with speeds of at least 57.5 mph, or a tornado.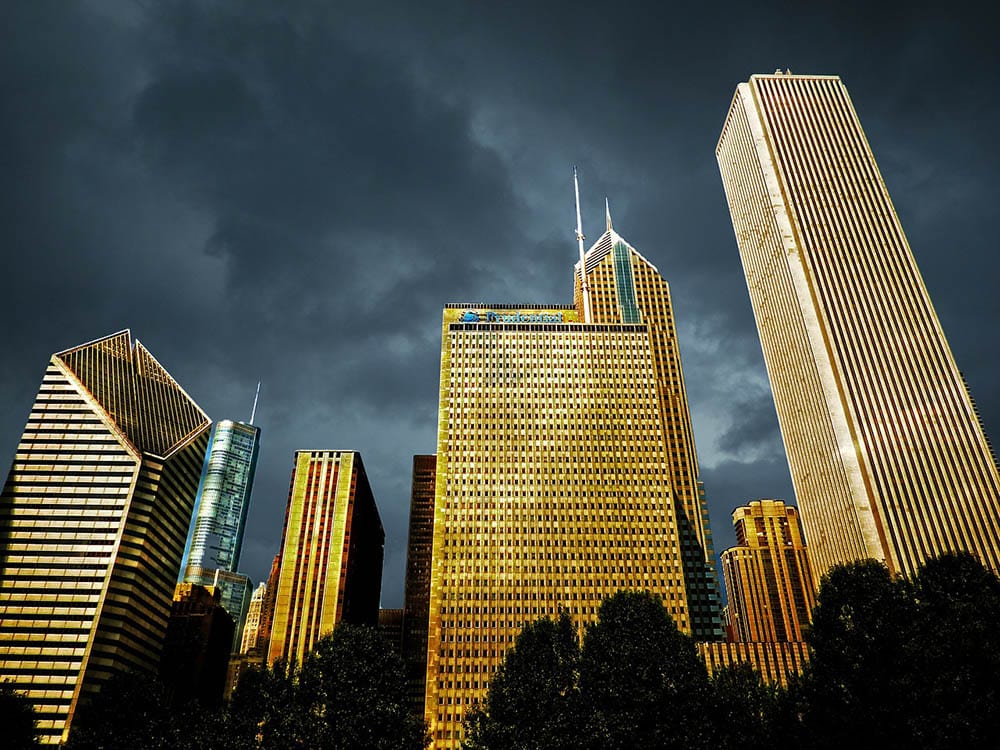 ---
12.

There is a difference between a thunderstorm watch and a warning.
(NOAA National Severe Storms Laboratory)
Some other terms you will likely hear thrown about include a severe thunderstorm watch and severe thunderstorm warning. These two terms refer to different things.
A watch is issued whenever the conditions are right for a severe thunderstorm to come about, but the thunderstorm has not been spotted yet. You should be on the lookout and get prepared in case. In contrast, a warning tells you that a severe thunderstorm has already been reported. You should act now.
See also: How Loud Is Thunder in Decibels (dB)?
---
13.

There are different types of thunderstorms.
(Spectrum News 1)
Believe it or not, there are actually four different types of thunderstorms: the single cell, the multi-cell, the squall line, and the super cell. These different names describe how the thunderstorm is formed and level of severity.
---
14.

All thunderstorms produce lightning.
(WBay)
Even though you might not be able to see them, all thunderstorms technically produce lightning. In fact, the very definition of a thunderstorm means that the storm must have one stroke of lightning.
Based on the definition of a thunderstorm, the storm must have one stroke of lightning that produces audible thunder.
---
15.

The longest lightning flash lasted over 400 miles.
(USA Today)
Shockingly, the world's longest lightning flash reached 440 miles. This mega flash happened over part of Brazil on October 31st, 2018. This has been the world's longest lightning flash to date.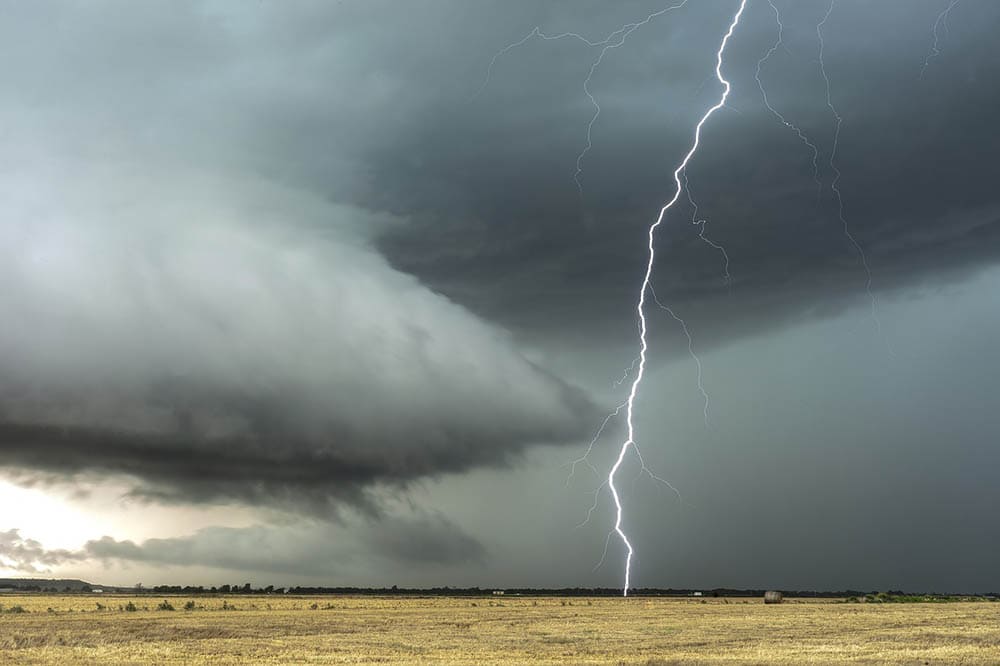 ---
16.

Other planets have thunderstorms.
(NASA)
Earth is not the only planet that experiences thunderstorms. Plenty of other planets have thunderstorms, including Venus, Saturn, and Jupiter. The other planets have similar storms, such as dust storms.
---
17.

Thunderstorms are sometimes compared to cauliflower.
(NOAA National Severe Storms Laboratory)
This might sound goofy, but many scientists compare thunderstorms to cauliflower. No, you can't try to eat a thunderstorm, but it almost looks like a cauliflower in that it has a flat cloud formation at the top and a draft that rises upwards at a point, almost like a cauliflower stem and head.
This comparison is so common that even professional and government-funded organizations make the comparison. The NOAA National Severe Storms Laboratory is just one example.

Frequently Asked Questions About Thunderstorms
What is a severe thunderstorm?
A severe thunderstorm is formally defined as a storm that produces one of the following: hail that is at least one inch thick, wind gusts that are over 58 mph, or tornadoes.
(National Weather Service)
How many thunderstorms are there?
On average, there are at least 2000 thunderstorms happening at a time.
(UCAR)
How do thunderstorms form?
Thunderstorms occur whenever moisture and unstable air can lift. Most often, the moisture comes from the ocean, whereas the unstable air forms whenever the moisture and warmth get near or above cold, dry air. This lift will then come from the differences in the air density, thus creating a thunderstorm cloud.
(SciJinks.gov)
What is the lifecycle of a thunderstorm?
Thunderstorms have three stages in their lifecycle: the towering cumulus stage, the mature stage, and the dissipating stage.
The towering cumulus stage is whenever the conditions start to form the thunderstorm. During the maturing phase, the cloud will look menacing right before it rains. Eventually, the thunderstorm will die out during the dissipating stage.
(North Carolina Climate Office)
How can I prepare for a thunderstorm?
Before any thunderstorm occurs, make sure to remove any dead trees or rotting branches that could potentially fall and cause damage or injury.
Whenever you hear of a thunderstorm occurring, make sure to secure outdoor objects and postpone any activities that happen outdoors. Then, get inside a stable location, such as a home, building, or automobile with a hard, solid top.
If you live in an area with particularly fierce thunderstorms, you can prepare snacks, candles, blankets, and other items in case the power goes out. Wait the storm out inside your secure location.
(Pennsylvania Department of Health)

Conclusion
Thunderstorms truly are fascinating and terrifying feats of nature. As these facts and statistics show, you shouldn't take any thunderstorm lightly. Make sure to prepare for any thunderstorm by getting your home ready in case of the worst.
If nothing serious happens from the thunderstorm, at the very least, admire this incredible feat of nature.
---
Featured Image Credit: Presentsquare, Pixabay