Toto Ultramax II Toilet Review 2023 – Pros, Cons, & Verdict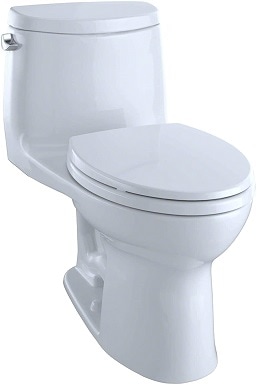 We give the Toto Ultramax II a rating of 4.5 out of 5 stars. 
Build Quality: 5/5
Power: 5/5
Features: 4/5
Price: 4/5
The Toto Ultramax II will appeal to any homeowner looking for a compact one-piece toilet with an attractive, modern design. It's one of the most environmentally friendly brands, using only 1.28 gallons per flush. With such little water use, the Ultramax II will pay for itself in water savings over other brands. The one-piece design reduces the risk of leaks and is easy to clean.

 Toto Ultramax II – A Quick Look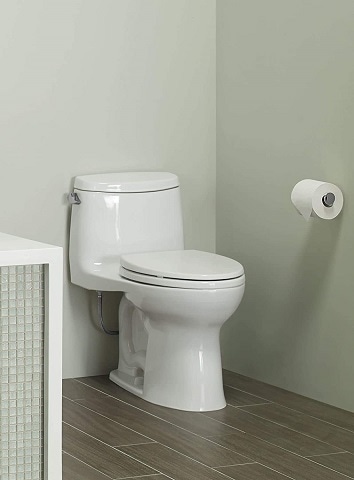 Pros
28-gallons per flush
Toto tornado flush system
Cefiontect glaze
Universal height
Soft-close seat
Quiet flush
Cons
Slanted back of the toilet
Awkward handle
Specifications
Brand Name: TOTO
Model: MS604114CEFG#01
Size:28 GPF
Color: Cotton White
Material: Vitreous China
Finish: CEFiONTECT glaze
Shape: Elongated
Certification: WaterSense
Item Weight: 99 pounds
Water-Saving
At only 1.28 gallons per flush (GPF), the Toto Ultramax II is one of the most environmentally friendly toilets available. Even though water-saving toilets are extremely popular right now, most still require at least 1.6 gallons or more to create a good flush. The Toto Ultramax II takes it a step further without sacrificing flushing power.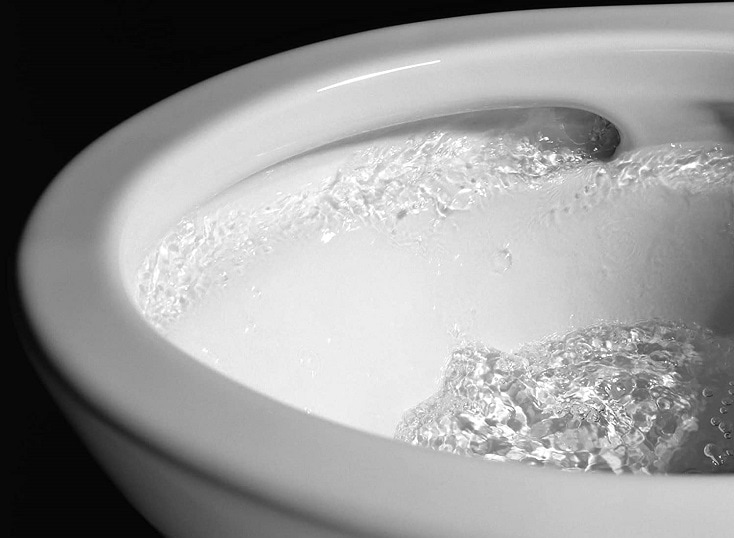 Toto Tornado Flush System
The Toto Tornado flush is another way this toilet improves on the traditional style. This flushing system pulls water into the bowl during the flush to create a cyclonic action that helps clean the bowl as it captures the waste before exiting with powerful force.
CEFiONTECT Glaze
The CEFiONTECT glaze is a baked-on coating that provides a smooth surface inside and out of the bowl that prevents material from sticking to it and reduces friction between waste material and the toilet creating a stronger flush a cleaner toilet that requires less maintenance.
Universal Height
There are three toilet heights commonly used in the United States. The standard height is between 13 and 15-inches tall to the seat. The universal height, which this toilet is, is between 15 and 17 inches tall from floor to seat. The Ultramax II is 16.8 inches floor to the seat before installing the soft close lid and 17.25 when complete. Comfort height seats are even taller at 17 to 19 inches above the floor.
These taller seats are much easier to get up and down from, especially if you are taller or have back or leg problems. However, many doctors say it's a good idea to use a step stool once you are seated to get into a better position when using them. The step stool does not need to be large or expensive to be functional, and it can help reduce the risk of the onset of hemorrhoids and constipation.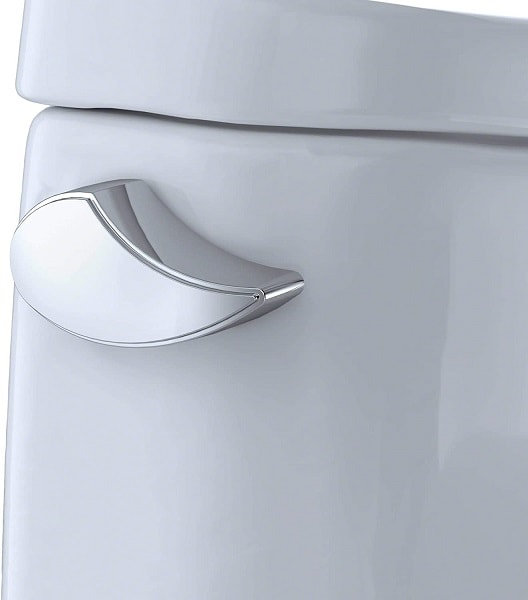 ---
FAQ
What do you use to clean cefiontect glaze?
The instructions say to use a gel toilet cleaner. Many people recommend dawn dish soap as well, along with a soft brush or cloth. You cannot use bleach or any bleach products as it can remove the protective glaze.
What is the rough-in for this model?
It is a standard 12-inch rough-in.
Does this come with the seat included?
Yes, the seat comes with the toilet.
Is the tank insulated, so it doesn't sweat?
No, the tank is not insulated. However, we have never experienced any sweating.
Is the seat easily removed?
Yes, the seat attaches with two plastic bolts.
Is this a two-bolt or four-bolt installation?
It's a two-bolt installation.
What else will I need to install this on my own?
To install the toilet, you will need a new wax ring for sure, and you may also decide to install a new inlet hose to run from the water valve to the toilet.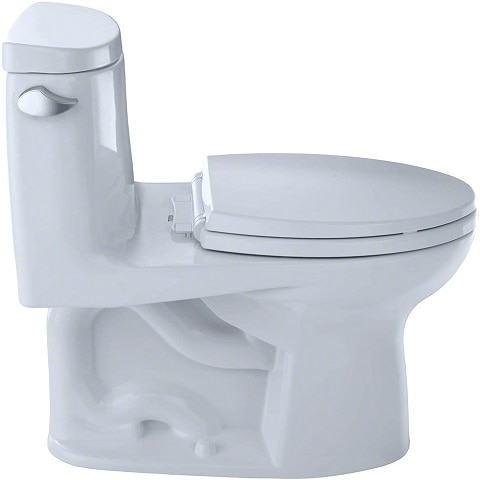 What the Users Say
We've checked all of the online locations where you can buy Toto Ultramax II to get a better idea of what other people are saying, and this is what we found out.
Most people are amazed at its powerful flush.
Many people like the compact design.
Many people feel the comfort height is easier to get up and off.
Some people complained that putting stuff on the tank could cause them to fall in the water due to the slant.
Some people found it easy to install, while others required a professional.
Some people commented that it was a quiet flush, while others complained it was loud.
A few people complained that if it does clog, the design makes it impossible to plunge.
A few people felt it has a long fill time.
---
Conclusion
We feel that the Toto Ultramax II is a fantastic toilet well suited to any home. It will pay for itself in a year or two with water savings, even over other water-saving toilets. You will likely see an immediate lowering of your water bill if you are replacing a traditional 3-gallon tank and have multiple family members. The special glaze makes it easy to clean, and the tornado flush dramatically reduces the frequency of clogs and maintenance required. We had no trouble installing it and love the soft close seat.
We hope you have enjoyed this close look at this modern wonder and have decided to give it a try. If we have helped any questions you had, please share this guide to the Toto Ultramax II on Facebook and Twitter.