Toyota Sequoia vs. Highlander: Which One's Best for Me?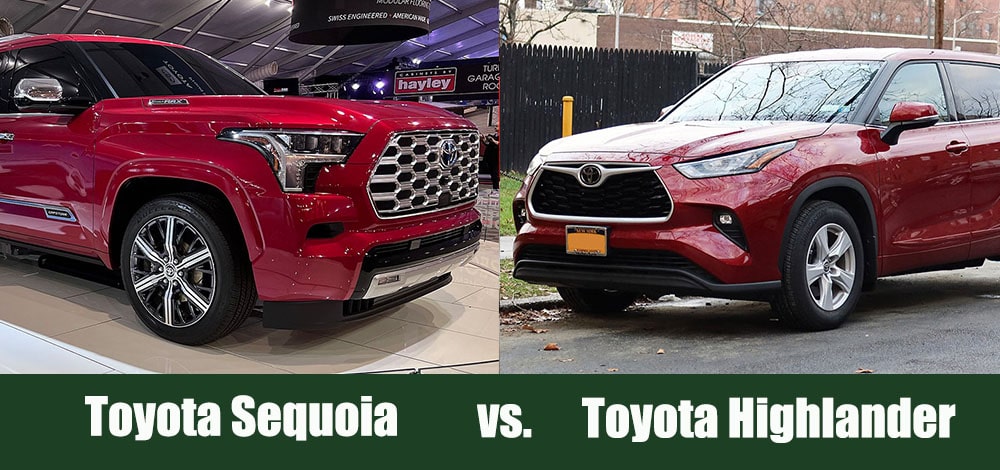 Whether you're a faithful Toyota customer or considering buying your first one, both of these SUVs are incredible options. However, while they are both great, a few significant differences separate them.
If money isn't a factor and you're looking for a high-performing full-size SUV, the all-new Sequoia might catch your eye. This SUV, built on the Tundra platform, is designed for big families that get out and need something that can work hard.
However, if you're looking for a more affordable option but still want an SUV, the Highlander offers a smaller mid-size that is one of the most popular SUVs in its category. You still have seating for eight and AWD. Plus, with a smaller engine, you get significantly better fuel economy.
Below we are going to go over some key features of both SUVs. Then we are going to compare them head-to-head in four categories: performance, price, fuel economy, and technology.

At a Glance
Let's look at the key points of each product.
Sequoia
Starting MSRP: $50,500
Warranty: 36 months / 36,000 miles
Horsepower: 437
Engine: i-FORCE MAX
Towing Capability: 9000 pounds (lbs)
Estimated mpg: Up to 13 city / 17 highway
Seating capacity: 7–8
Highlander
Starting MSRP: $35,405
Warranty: 36 months / 36,000 miles
Horsepower: 295
Engine: 3.5-liter V-6
Towing Capability: 5000lbs
Estimated mpg: Up to 21 city / 29 highway
Seating capacity: 8
---
Overview of Sequoia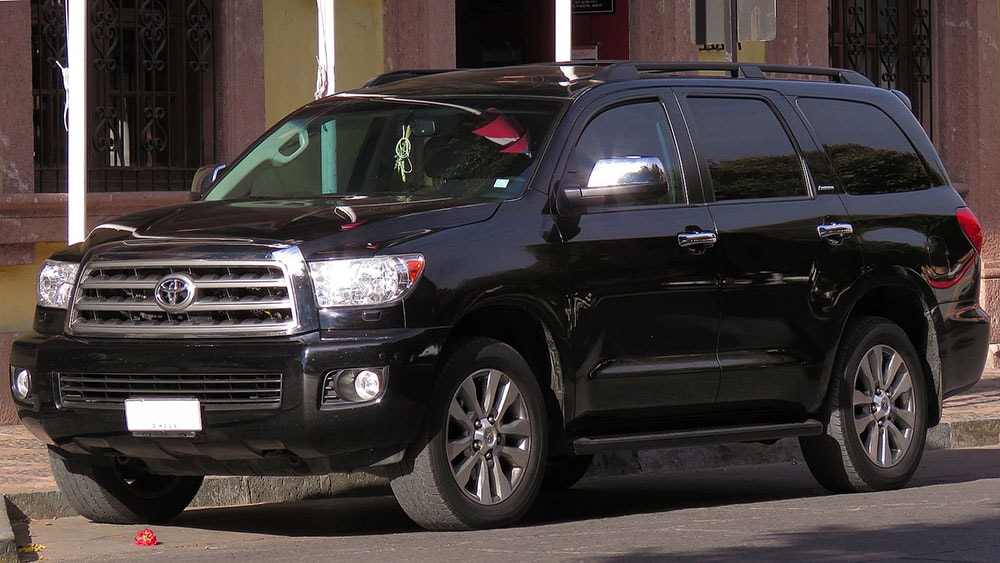 For the 2022 model year Sequoia, Toyota succumbed to supply issues and had inventory shortages. However, they're coming in strong for their 2023 models, which are going to be available this summer. This Sequoia has been redesigned to give faithful Toyota owners something new to drive.
With new sleek lines, the new-to-the-Sequoia i-FORCE MAX powertrain will take you anywhere you want to go. Everything on this SUV has been redesigned to make it worthy of that "new SUV" title.
Performance
This year, the Sequoia is getting a suspension upgrade. They now feature an independent front suspension and a new rack-mounted power steering system. In addition, this SUV has a multi-link suspension with an air suspension and Adaptive Variable Suspension in the rear. All these improvements come together to increase handling and towing capabilities.
Originally on the Toyota Tundra, the i-FORCE MAX engine and hybrid powertrain pump out an impressive 437 horsepower. It's available in both all-wheel drive (AWD) and front-wheel drive (FWD) in the lower trim levels, but the TRD Pro trim is AWD only.
With the new handling and power improvements that the Sequoia has this year, it's no wonder the towing capabilities have increased to an impressive 9,000lbs. This is almost a 22% increase over the previous generation. The SUV also comes with an integrated trailer brake controller, ready to haul right from the factory.
Interior
Luxury and comfort were top-of-mind when Toyota went to the drawing board for this redesign. They wanted to build an SUV that could work hard, look great, and be comfortable for the whole family. This is evident by the standard and available features.
The Sequoia features an exclusive 6-inch sliding third row, so depending on whether you need more room for passengers or cargo, you have what you need. Speaking of passengers, you can even upgrade to heated and cooled second and third-row seating for their comfort.
In addition to the sliding third-row, the cargo area also includes an Adjustable Cargo Shelf System. So, whether you lay the third row down or not, you'll have ample storage options to fit your needs. If this isn't enough awesomeness in the interior, you can also get genuine leather seats or a full-length moonroof.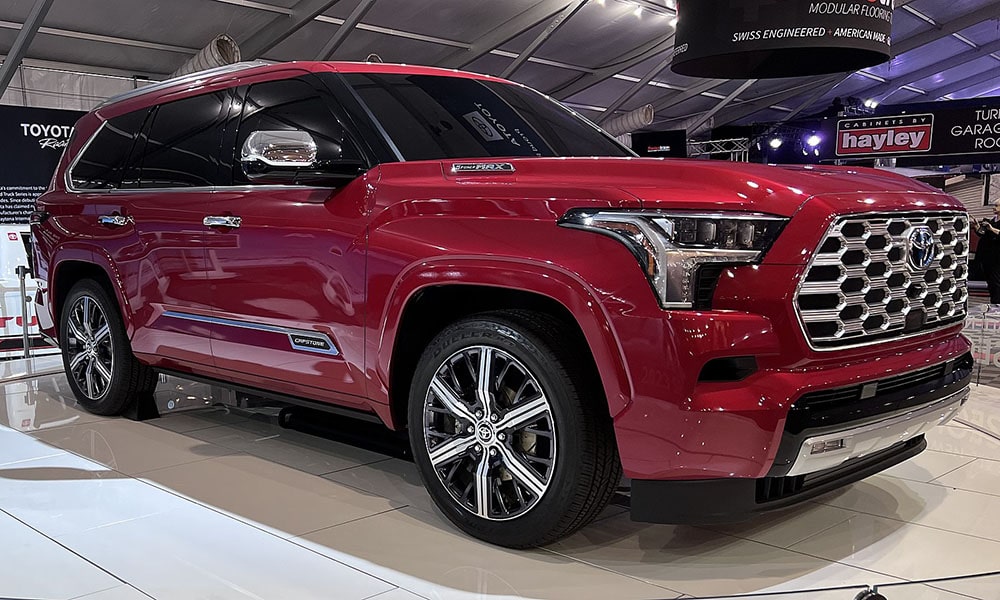 Technology and Safety
Another thing that the Sequoia borrowed from the Tundra is its infotainment system. You get either an 8-inch screen, or you can upgrade to the available 14-inch touchscreen. Or, if you'd rather keep your hands on the wheel, just say, "Hey Toyota," and you can voice-control many things on the infotainment system.
In addition to the industry standards of Apple Carplay and Android Auto, you can also link Apple Music or Amazon Music through integrated streaming your Sequoia offers. Plus, if you want a 4G Wi-Fi connection in the SUV, you add it for an extra monthly subscription.
We wouldn't be talking about Toyota if we didn't talk about the safety features. In addition to having all the standard Toyota safety technologies such as blind-spot monitoring or rear cross-traffic alert, the new Sequoia also includes the Toyota Safety Sense 2.5 (TSS).
Features included with TSS are a Pre-Collision System with Pedestrian Detection, Dynamic Radar Cruise Control, and automatic high beams. All these advanced features are designed to improve the safety of the SUV's occupants and pedestrians.

Overview of Highlander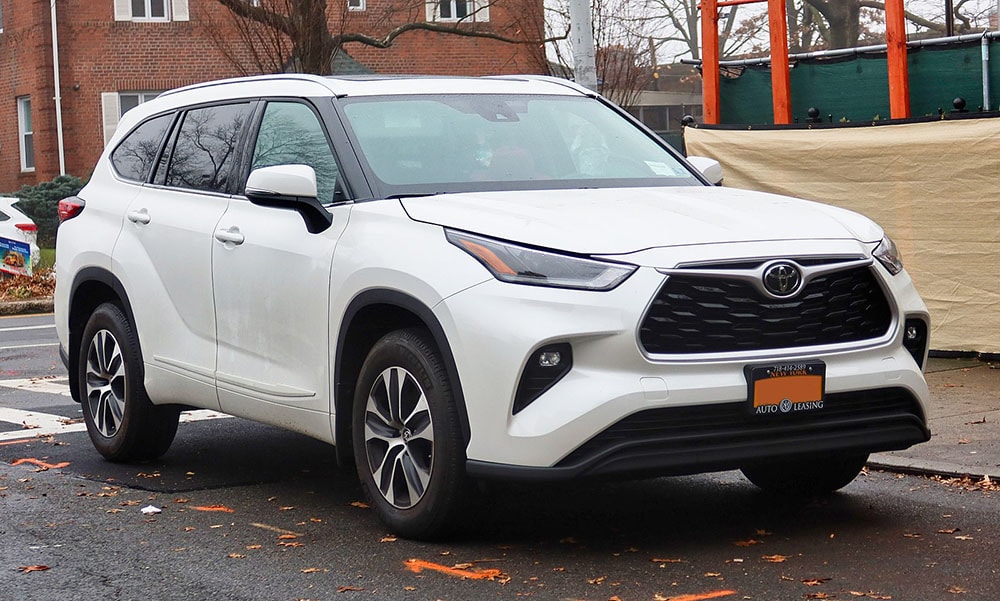 There may not be a lot of changes this year for the Highlander, yet it remains one of the top picks in the industry for a mid-size SUV. The only significant change to the Highlander line is the addition of the Bronze Edition hybrid. Another minor change is the XLE and up trims now come standard with an adjustable passenger seat.
Performance
If you're looking for a solid-performing engine, the 295-horsepower engine in the Highlander will put a smile on your face. In addition to having all the power needed to make a clean pass on the highway, it manages to have reasonable fuel mileage, especially if you compare how much power it has.
FWD is the standard drivetrain option. However, if you want the AWD, it's an available upgrade for all trim levels. If you plan to use the Highlander's 5,000lb towing capacity, then the AWD is worth the upgrade.
Toyota is one of the leaders in hybrid engine technology. Their Highlander Hybrids are no exception, and if fuel economy is a factor in your purchase decision, they are worth checking out. You still have the option of FWD and AWD in addition to a still impressive 243-horsepower between the 2.5-liter engine and dual electric motors.
Interior
All Highlander trim levels offer second and third-row seating for up to eight people. If you'd prefer captain's chairs for the second row, it drops down to seating for seven but adds comfort for your passengers.
Toyota went all-out with the Highlander's interior design; it's even comparable to similar SUVs in the luxury Lexus brand. Many comfort options are available, such as heated second-row seats or leather seats.
It's worth mentioning that one place the Highlander falls short is in cargo space, though. If you opt for the captain's chairs, you gain a little bit, but overall for its size, the Highlander doesn't boast any extra space. The cargo area behind the third row will only fit four carry-on-sized suitcases when loaded up.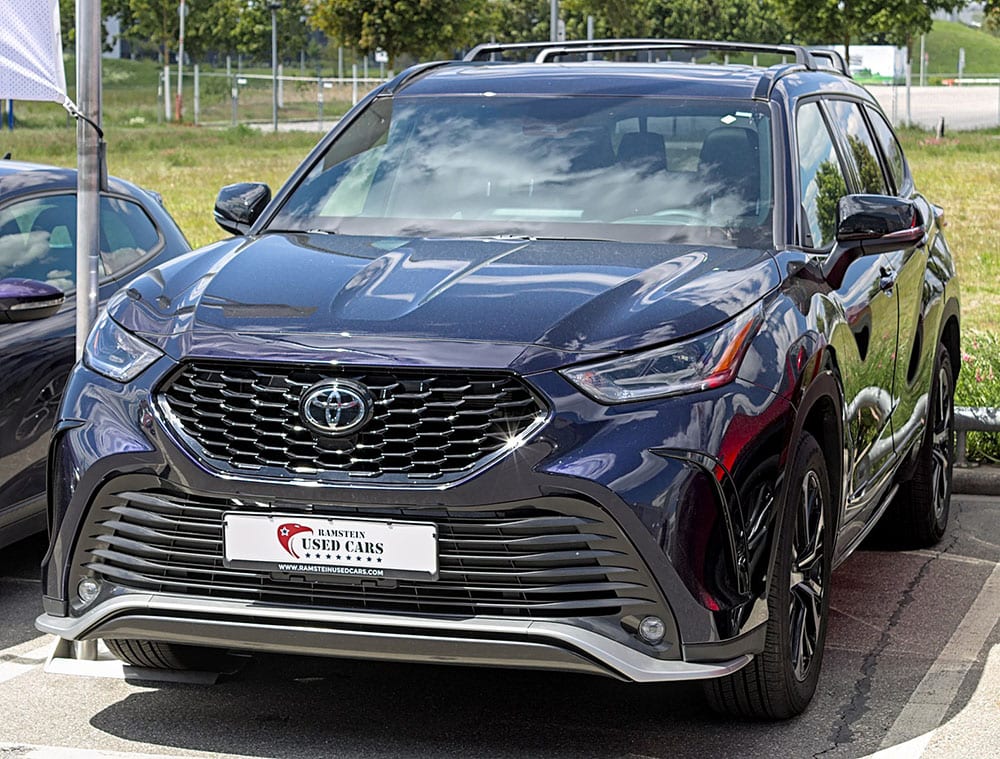 Technology and Safety
For your infotainment system, most Highlander models come with an 8-inch screen. If you want the available 12.3-inch touchscreen display, you'll have to upgrade to either of the two top trim options.
Another decent upgrade available is the 11-speaker JBL sound system. If you're not looking for the best sound system, the standard one is still good. Whichever you decide to go with, you'll have the standard options of Android Auto, Alexa integration, Apple Carplay, and XM radio.
Throughout the years, Toyota has shown us its commitment to safety. Each trim level comes standard with many of Toyota's safety technologies, such as adaptive cruise control, blind-spot monitoring, and lane-departure warning. Every year, the NHSTA gives the Highlander the highest safety rating possible.

How do These Two SUVs Compare?
While the Sequoia and Highlander are in separate categories as far as size is concerned. There are still some key comparison points that determine whether either is the right fit for you.
Performance
Edge: Sequoia
The Sequoia takes the win for performance without competition. With almost twice the horsepower and towing capacity, the Sequoia is an obvious choice if you're looking for a high-performing SUV.
Price
Edge: Highlander
What the Highlander lacks in performance, it makes up in affordability. It starts over $15,000 cheaper than the Sequoia, which is a significant price difference, especially if you aren't going to use the Sequoia's performance to its potential.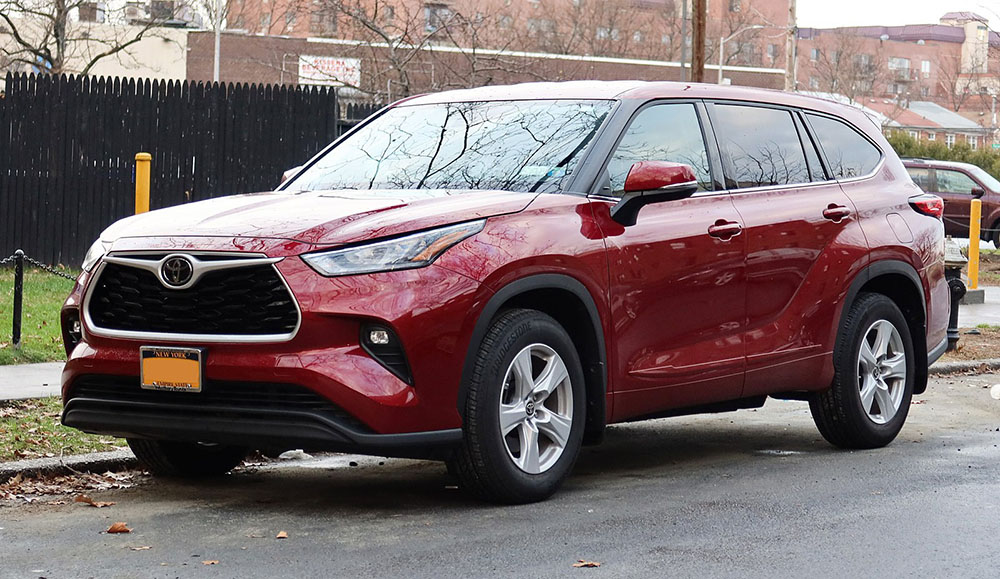 Fuel Economy
Edge: Highlander
Another win for the Highlander that is tied to performance is fuel economy. If the power isn't necessary, you'll have significant savings in fuel with the Highlander. And if you opt for one of the Hybrid Highlanders, the difference is even greater between the Highlander and Sequoia.
Technology
Edge: Sequoia
Both models share a lot of technologies. However, the Sequoia takes a significant lead over the Highlander based on the extra safety features it includes with the TSS. Also, the Sequoia has bigger touchscreen options available, and you can get Wi-Fi.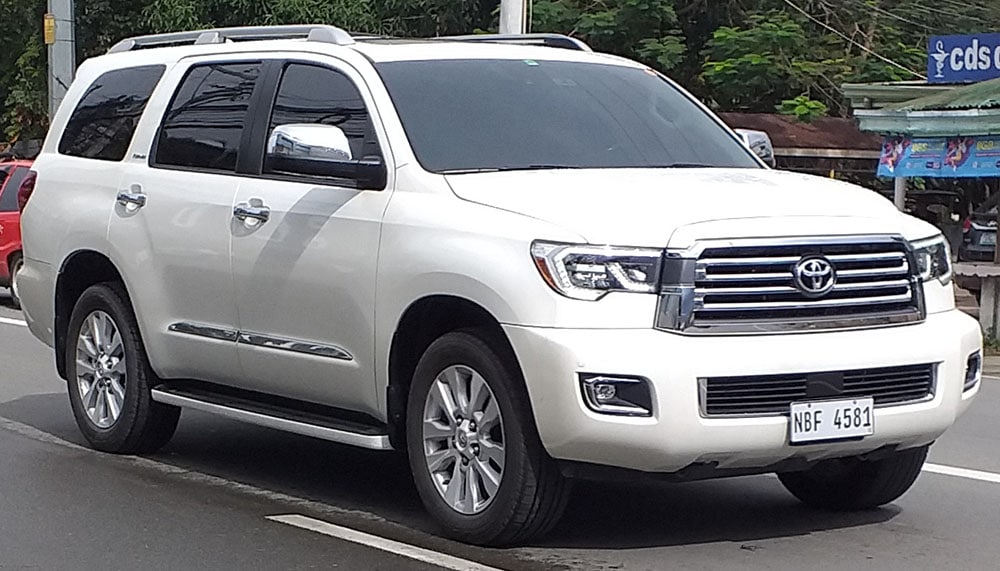 What Other Users Say
It's one thing to read a well-written review praising two SUVs, but it's another to hear it from people just like you who have purchased and driven the vehicles. We've scoured various online review websites such as Edmunds and Kelley Blue Book (KBB) to give you some real-world experiences.
Remember that the Sequoia reviews are from 2022 models, and many of these things are improved with the forthcoming 2023 redesign.
Similar in feel to my old Tundra, but with the benefit of being a full-size SUV – Sequoia Review
Ample interior space to fit the whole family – Sequoia Review
Excellent towing capabilities for an SUV – Sequoia Review
Fuel economy is not good, even by full-size SUV standards – Sequoia Review
Upgraded from a Camry to the Highlander. Super happy with all the extra space. However, the third-row seating is a bit tight – Highlander Review
Nice smooth ride, great handling, and excellent fuel economy. We love our Highlander – Highlander Review
Road noise is quite loud in the Highlander, especially on the highway. – Highlander Review
Bought a Toyota Highlander, but it feels like I got a Lexus; very luxurious feeling – Highlander Review

Conclusion
As you can see, if it's power and capability you're after, the Sequoia is the clear option. Its advanced features and incredible towing will take you everywhere you want to go without in comfort.
However, if budget and fuel economy are bigger factors in your decision, the Highlander is still one of the best options in the category. Even with this massive price and power difference, you're not sacrificing the quality and dependability that makes Toyota famous.
---
Featured Image Credit: (Left) 2023 Toyota Sequoia | Image Credit: Blueck, Wikimedia Commons CC SA 4.0; (Right) 2020 Toyota Highlander LE AWD | Image Credit: Kevauto, Wikimedia Commons CC SA 4.0