5 Different Types of Stone Flooring (with Pictures)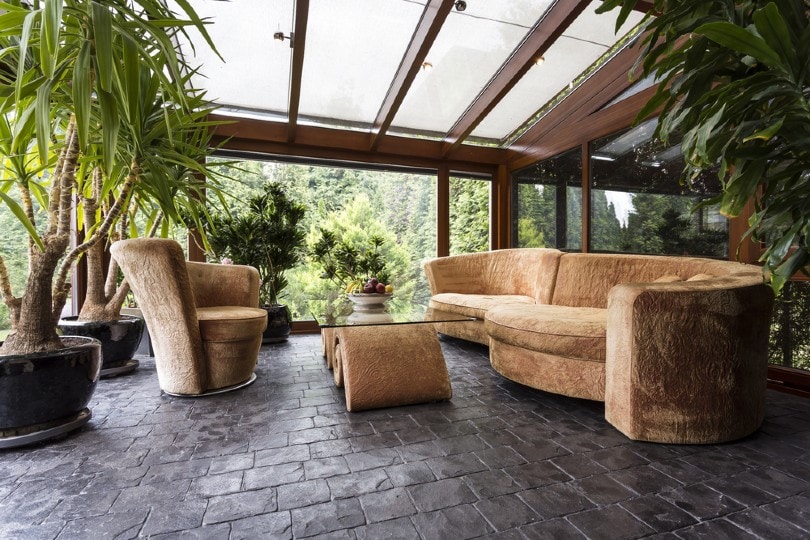 One of the best ways to add nature and elegance to your home is by adding an ideal flooring that will complement the house. Stone flooring is a popular option among homeowners. Natural stone comes directly from nature and can work wonders to the appearance of the interior. It's not only durable but also quite luxurious.
When it comes to stone flooring, there are various types you can choose from. It all depends on what you want in your space. The range is quite diverse, from slate to granite. In this article, we get to explore the different types of stone flooring that can suit different spaces.
Stick around and learn about some popular options available that make the perfect stone flooring.

The 5 Types of Stone Flooring
1.

Granite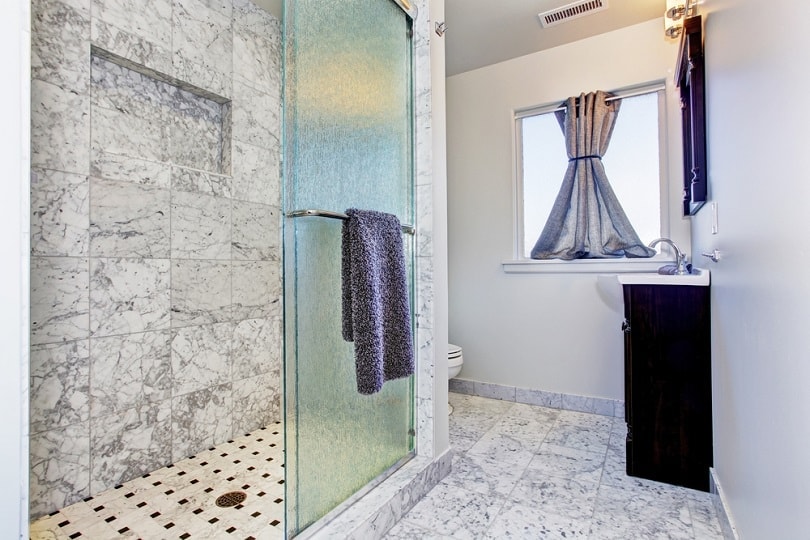 When you think about the perfect stone flooring for your home, granite often comes to mind. This is a high-end material that brings a touch of class and elegance into every space. Many people know granite as the best material for countertops in the kitchen. But, it also works for floors and can be a worthwhile investment. It's among the most durable stone flooring you can install.
You can get granite tiles set up on the floors of your home.
This natural material is made when molten rock cools down through a long and time-consuming pressure. The result is a robust and igneous rock with minerals like quartz and feldspar. This is why it has such a shiny appearance that's perfect for floors and countertops.
It's a no-brainer that many people like granite given its solid nature. You won't need to worry about scratch marks appearing on your floors when moving things around. Plus, kids and pets won't have an easy time trying to scratch the surface.
Granite surfaces are waterproof. It won't cause damage or to the floor or stains. The stain-resistant aspect is why granite is perfect for the countertops and floors in the kitchen. Just ensure the granite floor is properly sealed, and you won't have to worry about nasty stains on it.
In addition, this stone flooring material comes in various colors for you to choose from. You can have one part of the house look different from the rest. Apart from dark granite, brighter options are also available, with each piece being unique from the next. Also, there are varying patterns that add to the elegance and luxury of each space that has granite stone flooring.
Installation requires a professional team to do it right. They have to ensure the granite flooring is sealed well for it to last and give your home the perfect look.
Pros
Waterproof, stain and heat-resistant
Low maintenance
Varying colors and patterns
Solid and durable
Hypoallergenic
Scratch resistant
Cons
Long installation process
Expensive
Slippery
Fragile
Consult a flooring expert
Find a flooring specialist in your area, and get free, no-commitment estimates for your project.


---
2.

Marble Flooring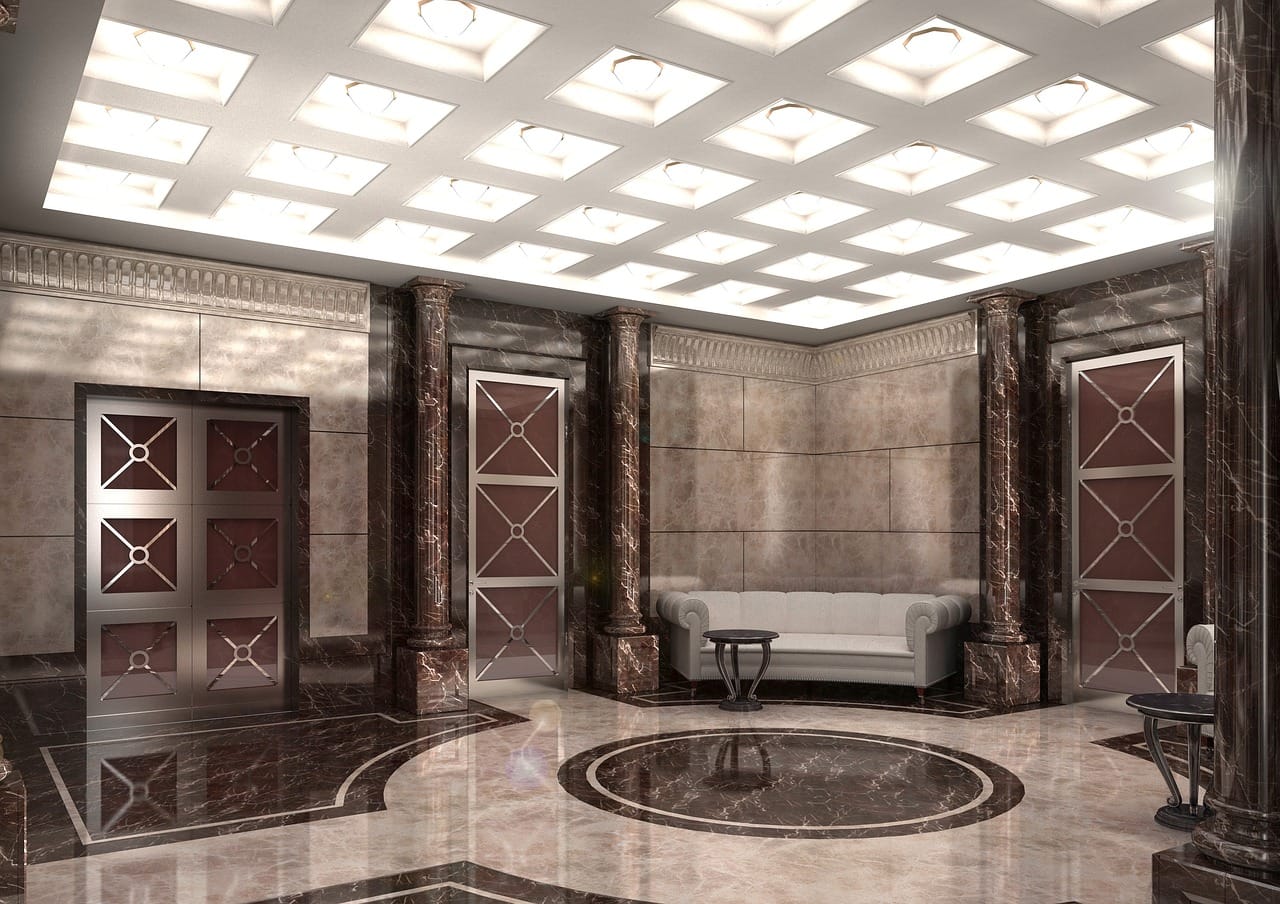 Marble is another type of stone flooring common with most homeowners. It is mined from mountainous regions and quite sought-after. The reason for this popularity is its look, style, and elegance.
Marble flooring can make any space look like a million bucks. It's why you can find palaces, castles, and mansions across the world with this kind of stone flooring. You can include it on walls, floors, and countertops for the perfect and elegant finish. It's a perfect finish to any stately home, and it carries a hefty price tag.
For marble to form, a metamorphic stone such as limestone undergoes lots of change under heat and pressure. The result is solid and durable marble rock. The material is mined as a stone and cut onto tiles and slabs used in construction.
It comes in various colors and patterns, and at times it can be confused with granite. The difference between the two is the pattern distribution. Marble has a wavy veined pattern, while granite has a spotted color pattern.
You require a professional team to do the installation if you want the perfect marble flooring. Once this is in place, you need to carry out some minimal maintenance work to preserve the flooring. Marble requires some sweeping to get rid of dust now and then. Also, pass a wet mop often to keep it clean. But, be careful when mopping not to use lots of water. Marble, unlike granite, is a porous material that can absorb water.
Ensure you also wipe away any water or liquid that pours on it pronto to avoid discoloration of the lovely marble floor. Once the discoloration takes place, it's irreversible, which can affect the quality of the marble flooring. This is because marble is alkaline, meaning it has a base pH. When it comes into contact with anything acidic, a reaction takes place hence the discoloration. Some people opt to add a sealant on the marble floor to prevent such incidents from taking place.
Another point to note is the fact that marble flooring is fragile. You can easily start to notice cracks or scratches on the marble flooring after some time. This becomes more evident the more you polish the area. But, on the bright side, it adds value to your home the minute you set it up.
You can have marble tiles cut into different shapes depending on the design and style you want. You'll notice each piece of this stone flooring is unique with distinct features.
Pros
Elegant stone flooring
Simple to polish and clean
Natural stone material
Wide range of colors and patterns
Ideal for radiant heat
Cons
Porous material and not stain-resistant
Slippery flooring
Not scratch-resistant
Costly installation
---
3.

Sandstone
Natural stones make the perfect flooring in any space. A good example is sandstone, which is quite popular globally. It's quite unique, as it makes a space look like a beach or somewhere sandy.
When mining takes place, the miners get rugged and rough material from the ground. This has to be processed through a process known as gauging to get the beautiful final product. The giant slabs that miners get have to be cut into smaller tiles, which the construction team can work with. Gauging also includes smoothening and polishing the surface of each sandstone tile.
While there are imitations of sandstone in the market, it's hard to beat the real thing. Sandstone is a strong and durable material. It's not as strong as slate and granite, but it gets the job done while adding that natural touch.
Thanks to it being a natural material, every piece is unique in terms of color and pattern. You can get it in colors like brown, reddish, tan, gold, and different shades of white. You'll notice each piece of sandstone looks different from the next. That way, you have a floor that's quite distinctive and looks elegant for all who observe it.
One point to note is that sandstone flooring shares a similarity with marble. This is a porous natural material meaning you can't have puddles of water or any liquid on it for long. It has an up to 6% absorption rate. This makes it quite vulnerable to moisture damage and staining. Therefore, it's better to avoid having sandstone flooring in areas like the kitchen or the bathroom.
In addition, sandstone flooring doesn't fare well in areas where there's lots of activity. Though this is a type of natural stone, it is soft and tends to scratch or crack easily. It's prone to wear and tear, so extra care is necessary to keep your home looking lovely and elegant. But the floor won't look the same after a decade. Places with lots of activities and foot traffic will need replacement after a short duration.
Pros
Natural elegance and beauty
Soft to walk on
Unique colors and patterns
Easy maintenance
Simple to replace
Cons
Porous material not stain-resistant
Easy to scratch and discolor
Slippery when wet
---
4.

Slate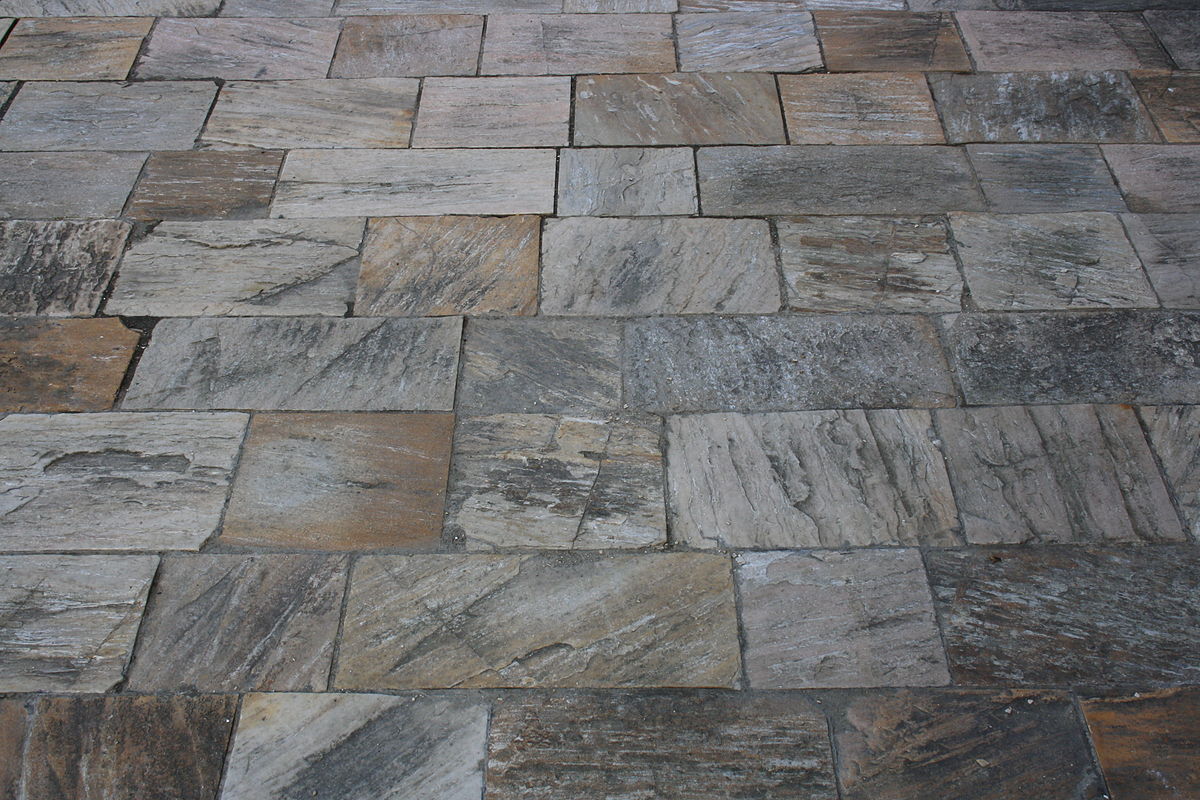 The fourth type of stone flooring you can consider for your home or property is slate. This is a natural material that's quarried in mountainous regions. It's quite elegant and looks so beautiful once the floor installation process is complete.
Slate is a type of metamorphic rock that's formed over a long period and is quite durable. But, it's also quite brittle and requires extra care when installing. While there is artificial slate manufactured in China, the natural option is always better.
Many people prefer slate flooring because it's quite durable. It gives you peace of mind that you won't need new flooring after a short period.
It's also quite a solid material that won't scratch or crack easily in an area that has lots of activities and foot traffic in the house. Just ensure the installation team seals the slate flooring to prevent staining. This is especially important in the kitchen. You can have the sealing team come in now and then to ensure this space remains stain-proof for a long time. Stains and water can easily affect the quality of slate in your home when there's improper sealing.
Still, slate flooring remains one of the best natural options you can choose for your home. There are so many colors and patterns to choose from and even color combinations ranging from black to gray and even blue. You can choose bright or subdued colors depending on the style you want in your space.
Each slate tile is unique and adds to the quality of your home. In fact, you can add monetary value to your home when you have a natural slate flooring.
Pros
Quite durable material
Waterproof and Stain-resistant
Varying colors and patterns
Ideal for indoor and outdoor use
Low maintenance
Improves value of a house
Cons
Expensive
Complex installation process
Not comfortable to walk on barefoot
Fragile
---
5.

Travertine Flooring
Lastly, you can consider Travertine flooring, a form of limestone that's quite lovely. It makes the ideal flooring material thanks to its resemblance to marble. It has some elegant and unique earth tones that improve the aesthetics of any space.
Travertine flooring has been around for a long time. Italy was the most popular producer; but today, most of it comes from Peru, Iran and Mexico. It's quite a solid and sturdy natural stone material suitable for any space. It comes in earth tones like tan, beige, rust, and brown.
However, it tends to be heavy and will need an installation team to install it properly. But the setup is similar to any other floor tiles in your home. The team will start by preparing the floor then placing a layer of cement on it. The tiles will come on top of the cement layer then the spaces have to be filled with grout.
It's quite durable, making it the best for areas with lots of foot traffic and activities. However, it is a naturally porous material and it can absorb water and other liquids. The best way to prevent moisture and stains from forming on the floor is to apply a sealant to keep it looking lovely.
After some time, it's important to re-apply the sealer. This also preserves its value and keeps your home looking elegant. You won't have to worry about scratches or cracks since this is a naturally hard material.
Pros
Durable
Lovely appearance
Low maintenance

Conclusion
Stone flooring is quite lovely and gives your home an elegant look. In this article are five examples that you can select for your space. Each has its pros and cons, so consider this before settling for one. The excellent news is that whichever kind of stone flooring you choose, you are assured of durability, and the value of your home will go up.
---
Featured Image Credit: Photographee.eu, Shutterstock