11 Brilliant Uses for Old Bricks: Reuse & Repurposing Ideas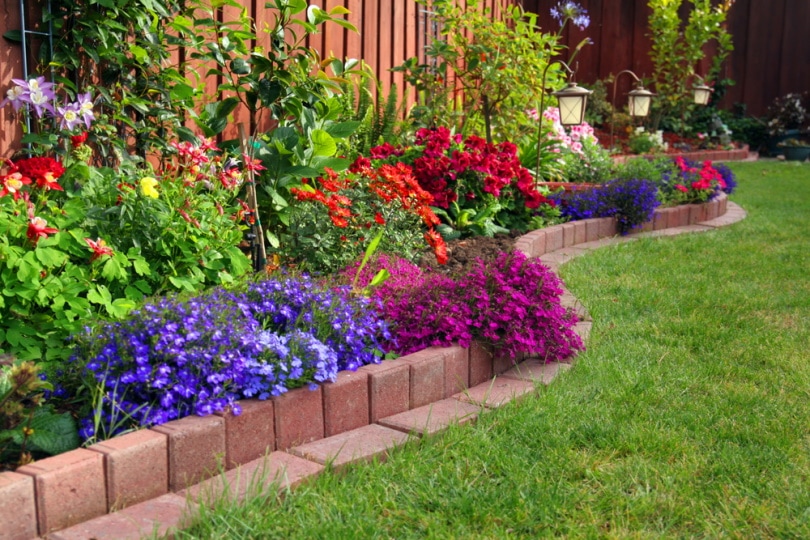 Though it's not often that homeowners will have a pile of bricks laying around, it can become a possibility for those with remodeled homes. Typically, if you're building a new home or making changes to your current home's infrastructure, you may find yourself with a stack of extra bricks in your backyard that have been left over by contractors.
What to do with these bricks? Well, trying to throw them away can be quite the task, as you'll typically need to take them to your local landfill, salvage yard, or a materials exchange program.
This can be both time-consuming and costly if you have a lot of breaks and must pay for hired hands to help with transportation. So why not just find ways to reuse the bricks? You just may find yourself saving money by allocating the bricks for another purpose and or around your house.

The 11 Brilliant Uses for Old Bricks
1.

Make A Tree Circle- condo blues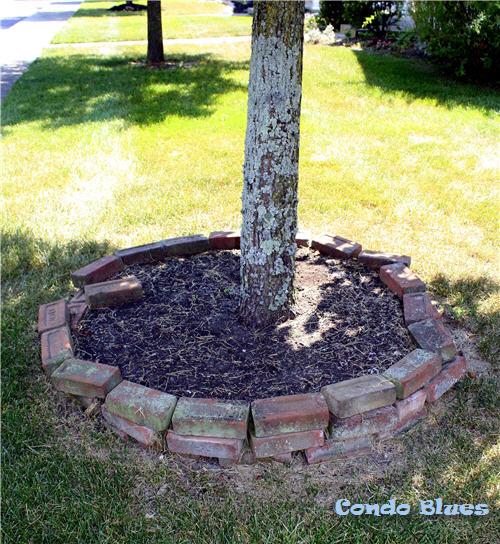 Here's a way you can add a bit of spice to your front or back yard. Have a nice tree in your yard that you want to show off? Simply stack the bricks around the base of your tree to decorate your lawn.
To really make the space look great, you can fill the gap between the bricks & the tree with potting soil and flowers or a few nice succulents. This typically works best when you have a large tree in your yard that stands out.
---
2.

Become an Artist- hometalk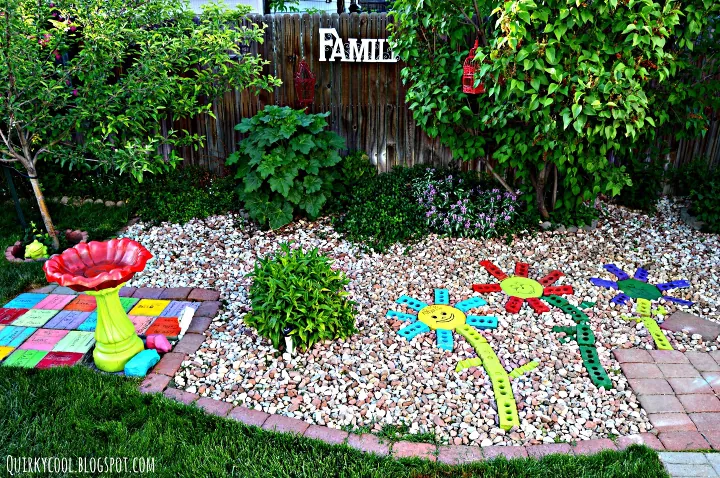 If you have a bit of extra time or are looking for a new hobby, why not use the bricks to create a bit of yard art? You can paint the bricks and build them into a number of different shapes and designs and place them in your backyard or front yard for decoration. Note that it's best to use a buggy or 3-wheeled wagon to move the bricks from their original location to the place where the artwork will go. Moving piles of bricks manually can get very physically taxing very quickly.
---
3.

Make a Bird Bath- diyncrafts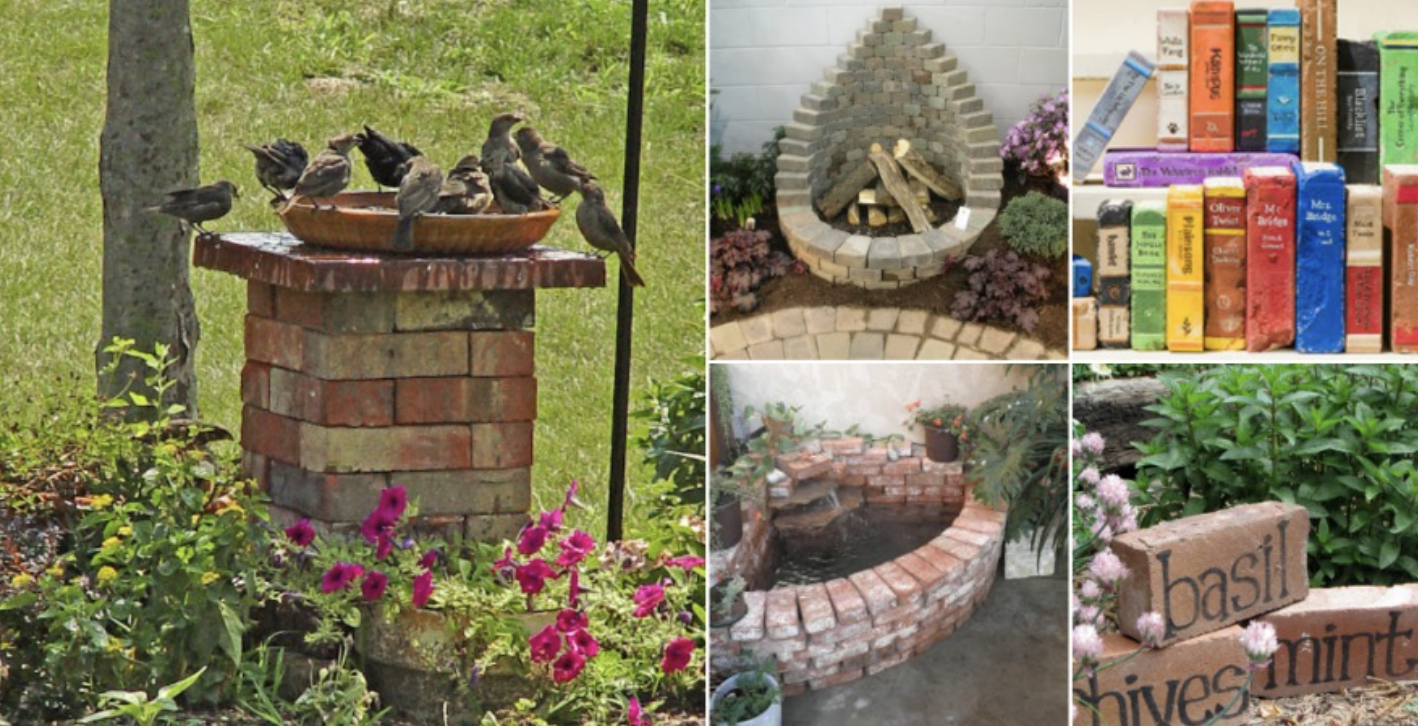 And don't forget about bird baths. If you're an avid birdwatcher or new to the hobby, you can use those bricks to create a nice bath for common backyard birds to enjoy. All you need is a bit of glue and measuring tape to make this happen. You can also spray paint the bricks to make it more appealing and line it with metal, plastic, or other decorative items to help entice the birds to take a dip.
---
4.

Make a Bookshelf- farm food family
If you don't plan on moving anywhere for a while you can also use the bricks to build your own bookcase. You can paint the brakes and add your favorite novels, reference books, and other collections to the case.
It's also a good idea to lay a band flag material over the bottom of each case shelf to prevent your books from becoming torn from the surface of the bricks. You can use wood or plastic to line the shelves quickly and for cheap.
---
5.

Use Them as Weights- rural sprout
When life gives you lemons, make lemonade. Another great way to repurpose your brick is to Simply use them as weights and your home or in your backyard. Perhaps you have a little mulch left and a bag, and you don't want it to go away, simply place a few bricks on top of it.
Or, if you have other garden materials and tools gathered somewhere in your backyard, the bricks can be piled up in a single line to keep them right where they are. You can also find various ways to use the bricks as weights in your basement or attic.
---
6.

Use Them in Your Garden- building blue bird
One of the quickest ways to make good use of your old bricks is to simply use them to help outline your garden beds. Whether you have a small or large garden, being pregnant can help to separate different types of plants and to create more space in gardens that may be on the smaller side.
You can create a raised bed by putting bricks around the edges. Doing so will make it easier to maintain weed control and mowing around your garden bed.
---
7.

Use Them as Prop Tools
Since bricks are heavy and sturdy, they make for great prop tools. This explains why you often see cars that are missing wheels propped up on bricks. It's easy to create an even stack of bricks, but just make sure that none of them are broken or you may find yourself with damaged equipment or tools.
You can also use bricks and trailers to help support their tongues (the metal attachment at the end of the trailer which helps to support its weight when towing).
---
8.

Make a Bench or Chair- morning chores
If you have a considerable number of bricks leftover, you can also make your own bench or chair for your yard or patio. Though brick seating may seem a bit uncomfortable at the very thought of it, you can add pillows and padding to the seat, back, and arms fairly easily.
One of the great things about this type of project is that it's fairly simple to accomplish given the geometric shape of bricks. You don't have to worry about cutting them or changing them in any way. Simply do a bit of measuring and find a sufficient adhesive for concrete to make it happen.
---
9.

Make Candle Holders- this old house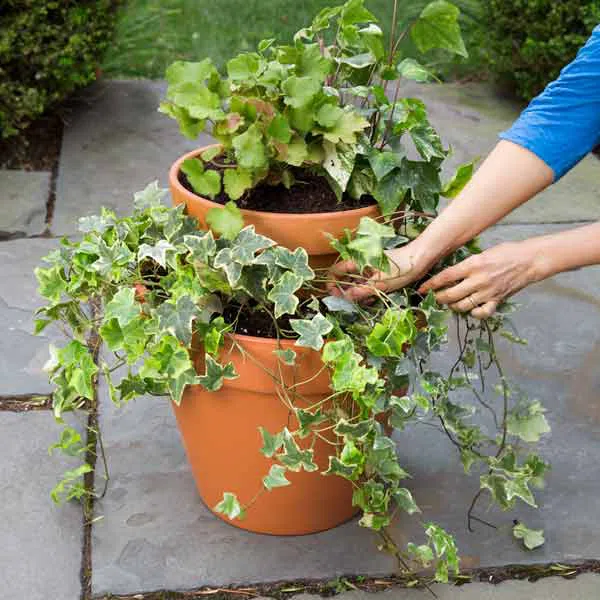 Since most bricks already come with two or three holes in the middle of them can they make great candle holders. And since they won't catch fire if the wax burns too low, you don't have to worry about them being a fire hazard in your home.
However, be sure to place something at the bottom of the brick where the candle is openly exposed. This will prevent you from potentially causing a fire in the event that you forget to blow out the candle once the wick gets low. This going to give the interior of your home a luxurious yet rustic feel, and it doesn't cost anything
---
10.

Build a Pit- grace and josie
Create your own firepit with the bricks in just a matter of days. You don't need any other materials for this project, and it's much simpler than you might think. You'll just want to ensure that you have enough space to build the pit, as you don't want to get too close to your windows or back door– and it may be best to check your local building laws to make sure it's okay from a ventilation perspective.
---
11.

Make a DIY Shallow Pond- my desired home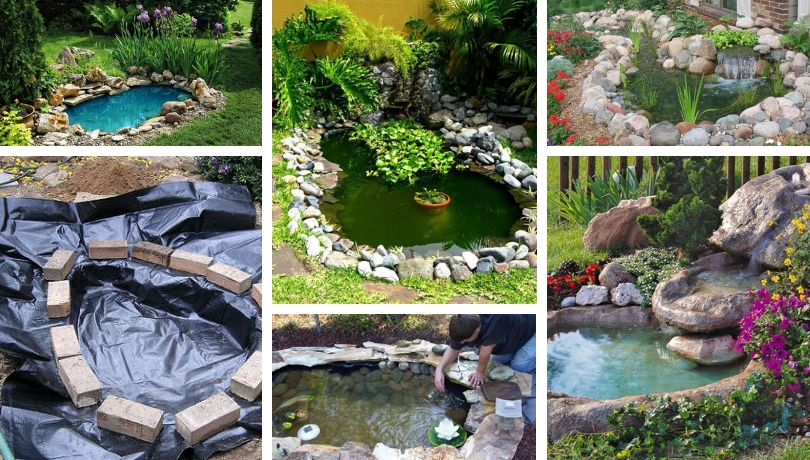 Love to watch fish swim? Then why not make your own backyard pond using those leftover bricks. You already have the bricks, simply add an acrylic, fiberglass, or steel tub and you're all set. Be sure to measure all the dimensions of the tub and the space beforehand. Overall, you'll find that the project is much simpler than it seems initially. You can also add a few plants around the tub or in front of it for extra charm.

Wrapping Things Up
Initially, having a shed or backyard full of unused bricks can seem like an annoying problem to have. But it doesn't have to be. There are a number of ways that you can repurpose those bricks and make them useful.
You can make bookcases, yard art, raised garden beds, and use the bricks propping tools. So, take a look around your yard and your home before simply tossing out the bricks. There may be more ways to use them than you realize.
---
Featured Image Credit: mpiotti, Shutterstock