Vitamix 5200 vs 7500: Which Blender is Better?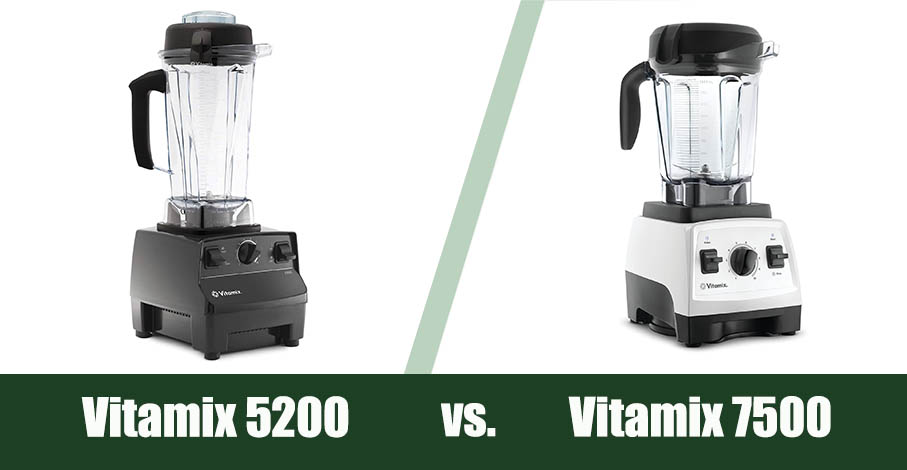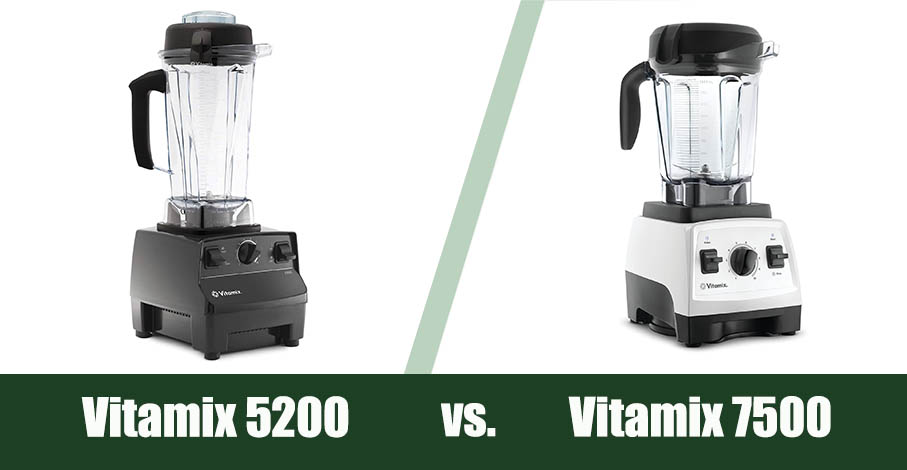 Rating
Image
Product
Details

Best Choice

Vitamix 7500

More Powerful
Pulse Mode
Optimized for Storage
CHECK PRICE

Best Price

Vitamix 5200

More Affordable
Self-Cleaning Mode
Variable Speed Settings
CHECK PRICE
Vitamix makes some of the very best blenders on the market. The features, performance, and sheer power of their products make them equally suited for your home or a professional kitchen.
They're often actually used in professional kitchens. It would almost be fair to say that the only blender that can stand up to a Vitamix is another Vitamix. With that in mind, today we have a head-to-head matchup between the 5200 and the 7500.
Spoiler alert—deciding between these blenders is going to be tricky. Many of the most important features are almost identical. They both feature variable speed settings, massive 64-ounce containers, and incredible power. Of course, they both also carry big price tags.
But there are some small ways in which the blenders differ. The 7500 has slightly more power behind it. It's also a little bit easier to store. On the other hand, the 5200 is significantly more affordable, which for many buyers will be a big point in its favor.
Which of these top-tier blenders is going to be right for your family and kitchen? Read on to find out!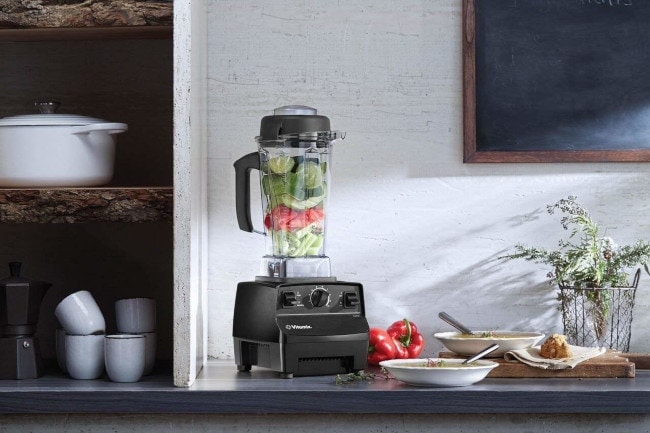 What are the differences between them?
Price (Winner – the Vitamix 5200):
In its heyday, the 5200 was one of the priciest blenders on the market. However, some time has passed since this classic blender debuted, and now there are newer high-end blenders, like the 7500, that are tipping the scales with even bigger price tags.
We mentioned in the introduction that the 7500 comes with a few more bells and whistles than the 5200 (we'll talk about them in detail later), but some people may not want to pay significantly more to get them. As good as the 7500 is, the 5200 is a legend in the world of high-end blenders.
Who doesn't want to get the sort of blender that chefs use as a learning tool for a (relatively) good deal, right? If price is the main guiding point in your decision, you're going to want to go with the 5200.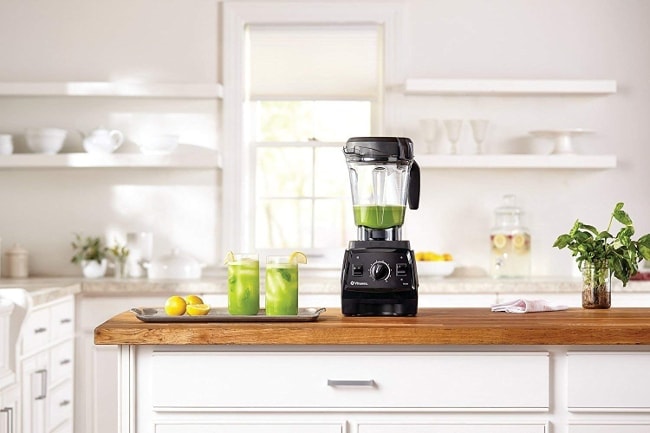 Features (Winner – the Vitamix 7500):
Before we delve into how the 7500 outperforms the 5200, it's worth mentioning that the margin of these victories is minuscule.
The mainstay features of both blenders are more or less the same.
Both feature variable speed settings so that you can take a precise approach to the unique needs of every food item, both feature high-grade, aircraft-quality steel blades, and both are extremely versatile, with the ability to do things like turn cold ingredients hot. Both even feature a self-cleaning mode, making your smoothie session cleanup as stress-free as possible.
Still, there's no denying the fact that Vitamix has made small upgrades to most of the features on the 7500. Perhaps most importantly, the 7500 features a new pulse component.
The pulse mode is going to be great for making foods like hummus that require a coarser consistency than blenders are traditionally able to produce. This feature is certainly going to be nice to have, as it makes the blender all the more versatile. But if you're budget-conscious, you may not find it worth the extra money.
Buyers will also appreciate that the 7500 has been optimized for storage. The container, while still 64 ounces, is squatter in size, which means that you won't have any trouble fitting it in your kitchen cabinets.
In terms of features, these are pretty much the only differences between the two units. The extra features are certainly nice to have, but they don't necessarily enhance the results of the 7500.
The 5200 is still a high-performance blender that performs well beyond most buyers' expectations.
Power (Winner – the Vitamix 7500):
The power of both blenders is pretty overwhelming. One of the only complaints that we've encountered from users is that these blenders might be too powerful.
Many people who have traditionally used regular blenders tend to overdo it at first with the Vitamix, which means that either option may come with a learning curve.
Still, if you're looking for the most power that you can get, the 7500 is going to be the blender for you. The horsepower of the 7500 is 2.2, compared to 2.0 for the 5200.
Noise (Winner – the 7500):
Blenders have a reputation for being extremely loud. This is particularly true when you get into the hyper-powered blender territory.
For the 5200, the reputation for nosiness holds true. This high-end blender is capable of quite a bit, but being quiet is not one of its strong suits.
For the 7500, Vitamix decided to address the problem with some noise-suppressing technology that makes a really big difference.
The 7500 runs about 40% quieter than its predecessor, the 5200. This is definitely the type of difference that you'll notice and appreciate during meal prep time.
Is it worth the hike in price? You'll have to decide that for yourself. However, in the contest of quiet operation, the 7500 is the unambiguous winner. If noise pollution is a big issue for you, the 7500 may be something to think about.
Volume: Tie
If you're looking for a high-volume container, and a blender motor that's able to make the most of it, you're getting that with either option.
Both options come with 64-ounce containers (the equivalent of a one-half gallon) that make it possible to prepare large batches that are sizable enough for families of every variety.
We did mention that the shape of the 7500 is a little bit more storage-friendly. This is true. If you have limited cabinet space and you like to keep things as tidy as possible, the 7500 will be more to your liking.
Otherwise, the volume capabilities of these blenders are exactly the same.

Quick Rundown of Vitamix 5200 Blender:
Vitamix 5200 Blender Professional-Grade, Self-Cleaning 64 oz Container, Black - 001372
Variable Speed Control: Easily adjust speed to achieve a variety of textures. The dial can be rotated at any point during the blend, so...
Large Batches: The size and shape of the self-cleaning 64-ounce container is ideal for blending medium to large batches. Design Feature...
Hot Soup: The blades in the Vitamix container reach speeds fast enough to create friction heat, bringing cold ingredients to steaming...
Pros
More Affordable Than The 7500
Variable Speed Settings
Ability to Turn Cold Ingredients Hot
Self-Cleaning Mode
Cons
Less Features Than the 7500
Some Users Report Learning Curve
---
Quick Rundown of Vitamix 7500 Blender:
Vitamix 7500 Blender, Professional-Grade, 64 oz. Low-Profile Container, White
Variable Speed Control: Ten variable speeds allow you to refine every texture with culinary precision, from the smoothest purées to...
Pulse Feature: Layer coarse chops over smooth purées for heartier recipes, such as chunky salsas or thick vegetable soups.Electrical...
Low-Profile 64-ounce Container: Perfect for family meals and entertaining, while fitting comfortably under most kitchen cabinets. Cord:...
Pros
More Powerful Than the 5200
Pulse Mode
Self-Cleaning Mode
Ability to Turn Cold Ingredients Hot
Variable Speed Settings
Optimized for Storage
Cons
More Expensive Than The 5200
Some Users Report Learning Curve
---
What the Users Say
User feedback for both blenders is overwhelmingly positive. We've heard from people that use both blenders professionally in kitchens. Historically, the 5200 has often been used by upcoming chefs to practice on in school, which is without question a testament to its uncompromising quality.
People who haven't used a Vitamix blender before are usually blown away by its power. The motor on both blenders is about as strong as that of many power tools, which of course is going to be very impressive to users who are used to standard kitchen blenders.
There's also a warm response to its versatility. Many people find the ability to make soup in one container both interesting and impressive.
The negatives are pretty minimal. Once you get past the price tag, both blenders are generally well-received.
The biggest issue that either really seems to have is the fact that some users just aren't prepared for the level of power that they present. We've seen some reports of over-blending with both options.
The pulse feature on the 7500 does seem to help mitigate this issue a little bit. However, both do require a little bit of getting used to it.
The fact that the discussion of both blenders is so similar, is a testament to how much they have in common.
While the slightly updated features of the 7500 are certainly appreciated, the classic performance of the 5200 is very similarly received.
Conclusion:
As you can see, there's no easy choice here. While it is true that the Vitamix 7500 does beat out the Vitamix 5200 in most categories, the differences are pretty minuscule.
Most aspects of the 5200 have been updated and upgraded in the 7500, but the fact remains that they both perform similarly.
The pulse feature, the slightly more powerful motor, and the more storage-friendly design do earn the 7500 a win when it comes to a head-to-head contest.
However, potential buyers will have to ask themselves if these are features that they're willing to pay significantly more to get.
The value component (relative as that term is when shopping for blenders in this price range) that the 5200 has to offer may very well earn it a lot of favor when compared to the 7500.
Ultimately, only you can decide. We just hope that we've made the decision a little bit simpler for you.
---
Featured Image Credit By: Amazon