Vitamix 7500 Blender Review 2023 – Pros, Cons & Verdict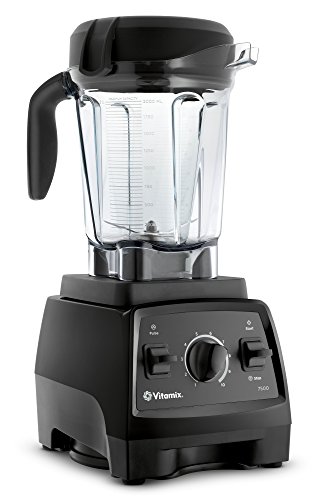 We give the Vitamix 7500 Blender a rating of 4.4 out of 5 stars. 
Build Quality: 5/5
Power: 5/5
Features: 5/5
Price: 2.5/5
Review Summary
If you're in the market for a high-end blender, it really doesn't get a whole lot more high-end than the Vitamix 7500. Yes, it costs a small fortune. And yes, you could probably get several blenders for the price of this one.
But hey, you pay for quality, right? This unit features variable speed settings, a pulse feature, a massive half-gallon blending container, aircraft-grade stainless steel blades, and a self-cleaning mode that will take much of the mess out of smoothie night.
Do you like soup? That's a rhetorical question. Everyone likes soup. With the Vitamix 7500, you can produce so much torque that it will turn cold ingredients hot in 6 minutes or less.
You aren't going to find higher-tier features than these in a blender. The price will keep most people away, but if it hasn't scared you off yet, the 7500 is worth taking a look at.
Now we'll do exactly that as we take a deep dive look into the Vitamix 7500!
Vitamix 7500 A Quick Rundown
Pros
Can Turn Cold Ingredients Hot
Features Self-Cleaning Mode
Aircraft-Grade Blades
Specifications
Company: Vitamix

Model: 7500

Weight: 13 Pounds

Dimensions: 17.5 x 7.7 x 9.4 in
Can Turn Cold Ingredients Hot: Great for Soup Lovers
You don't often think about heating food in a blender, but this is actually a really great feature to have at your disposal. For dishes like corn chowder, you can now prep an intricate family meal with only one kitchen tool.

This brings lots of convenience to the process, and it reduces your cleanup at the end of the day.

Plus, it's an awesome testament to the incredible power of this blender's motor.
Cool Running Motor: Good for the Blender
High-powered motors like the one that we see here tend to get hot fast. After all, operating at high speeds creates lots of energy, which can subsequently create lots of heat.

While this reaction makes sense, it also isn't very good for the blender. The motor on this unit maintains a constant even temperature that will ensure that it doesn't experience premature damage.

Given the price of the 7500, this is certainly a big plus.
Massive Container: Good for the Whole Family
Have you ever thought to yourself, "Boy, it sure would be nice to have a half-gallon of smoothie right now!" Probably not, but thanks to the 64-ounce container, it's certainly an option.

The sheer size of this container means that you'll be able to make food for the entire family without having to go back to the blender for a second and third round.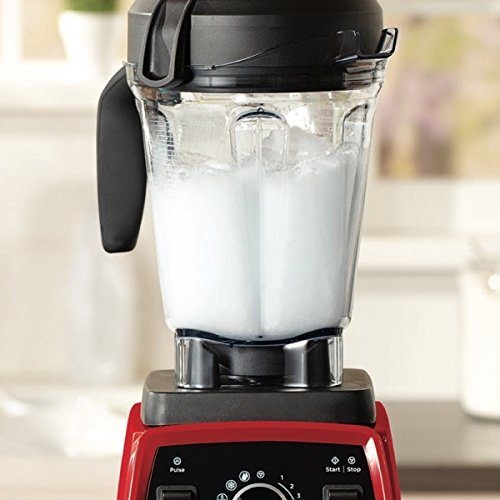 FAQ
What kind of warranty does this product come with?

The 7500 features a seven-year limited warranty that will keep you covered in the event of an unexpected issue.

Is this product only for high-volume blending?

Nope! Even though it's well-equipped for high-volume blending, it can handle jobs big and small.

Can this blender be used for mixing?

To an extent. It probably won't replace your mixer, but you can use it for more basic tasks.
What the Users Say
As you probably guessed, people who own the Vitamix 7500 are really into it. People love the power, settings, and versatility. We've heard from users who use the 7500 for everything from making soup to making ice cream, to (of course) making smoothies.

The complaints are also really small. We've heard from some users who mention that the self-cleaning feature still leaves a little bit of work to do, which is somewhat to be expected.

We also heard from some people who felt that the motor's power is almost too much, which can lead to over-blending.

Still, this is more of a learning curve than a significant and ongoing issue.

These things aside, Vitamix is a big hit with the people who use it.
Conclusion
So, is the Vitamix 7500 going to be right for you? We bet that it probably will be. The incredibly powerful motor, the aircraft-quality blades, and the wide range of possible functions all make this blender the stuff of dreams for cooks everywhere.

Ultimately, the real decision will be whether or not you're willing to pay top dollar for these features. Our bet is that if you decide you are, you won't regret it.

Looking for direct comparisons of these powerful Vitamix appliances? Try:
---
Featured Image Credit: Amazon