Vitamix 5300 vs 7500 Blender – Which is Better?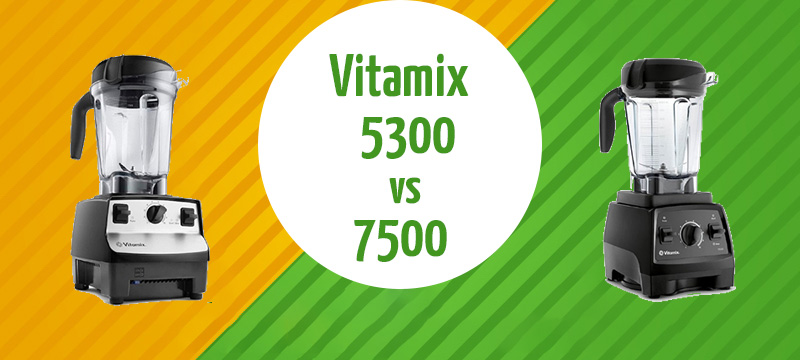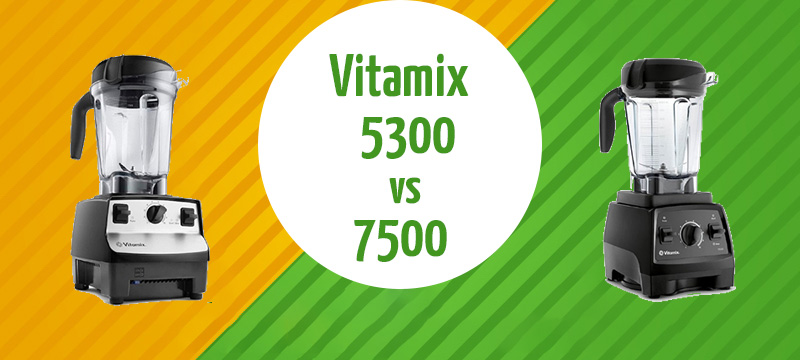 Rating
Image
Product
Details

Best Choice

Vitamix 7500

Quieter
Pulse Feature
Better Ventilation
CHECK PRICE

Best Price

Vitamix 5300

More Affordable
High-Performance Motor
Variable Speed Control
CHECK PRICE
The Vitamix 5300 and the Vitamix 7500 have a tremendous deal of things in common. Both are remarkable blenders made by a remarkable company. Both have been used by professionals and amateurs alike to make a wide variety of delicious dishes.
But how these blenders are similar doesn't do very much to help you make your decision, right?
After all, today's objective is to identify which of these blenders is better.
Unfortunately, the answer to that question is a little more ambiguous than you might like. Ultimately, the answer to "which is best?" depends on your interpretation of what the word "best" means in this context.
Are you looking for the most upgraded hardware that you can get? If so, you're going to favor the 7500. This option is newer and has revamped many different aspects of the 5300.
But these updates also come with a large leap in price. If you're a savings-oriented person, you're probably going to favor the 5300 for delivering a high-caliber performance at a more affordable price.
Ultimately, only you can make this decision. But we're going to make the process of choosing a little bit easier for you as we dive into our head-to-head matchup between the Vitamix 5300 and the Vitamix 7500.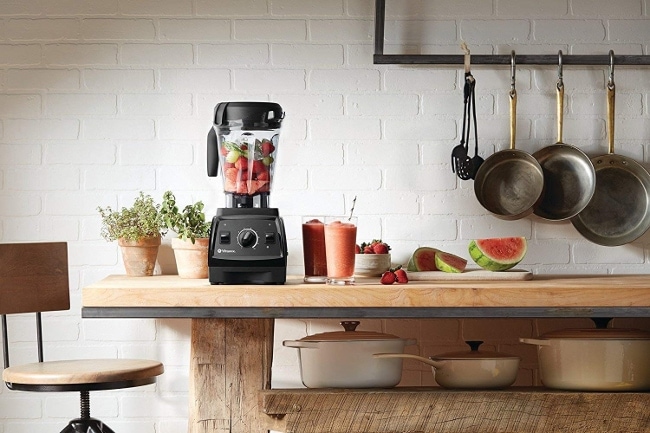 What are the differences between them?
Price (Winner – the Vitamix 5300):
Understand, of course, that we're talking about two luxury kitchen appliances that come with luxury price tags.
Both options bear prices that could equal the cost of two regular blenders. But these aren't just regular blenders.
As we mentioned in the introduction, the 7500 is newer than the 5300 and, as such, it's also more expensive.
Your money does buy you some upgraded hardware, but both blenders perform so well, that you might be willing to forgo the upgrades in favor of the more savings-oriented options.
Ultimately, this decision will be left up to you. However, it's clear that in the department of price, the point goes to the 5300.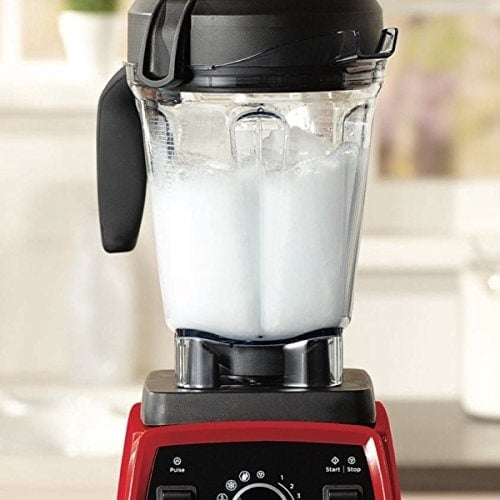 Features: Tie
We understand that the purpose of this section is to illustrate how these products differ. But it might be helpful for buyers to keep in mind that the features are the same here.
Both blenders have variable speed settings, the ability to pulse, the ability to turn cold ingredients into a steaming soup, and of course, the signature, aircraft-grade steel blades that come with every Vitamix blender.
If you're in it for the features, either model will work just fine for you.
Motor (Winner – the Vitamix 7500):
Both motors are 2.2 horsepower, but the 7500 model has been overhauled a little bit to allow for better cooling.
This is nice to see because high-powered blenders can overheat if put under enough stress. Since the housing of the Vitamix 7500 allows the machine to breathe, you aren't going to see it get too hot.
This may not sound like a big deal, as it doesn't directly impact the performance, but actually, it can elongate the blender's life expectancy. This is certainly something to keep in mind.
Noisiness (Winner – the Vitamix 7500):
Last but not least, we certainly cannot forget the noisiness factor. Traditionally, blenders are very loud, and this is especially true of high-powered options like the ones that we're looking at today.
However, the Vitamix 7500 is a living testament to the fact that this doesn't need to be the case.
The same housing components that make the motor breathe better also work to suppress the noise output.
As a result, this blender runs considerably quieter than the 5300—as well as most other high-powered blenders on the market.
If you want to make smoothies without polluting your home with noise, this is certainly something to keep in mind.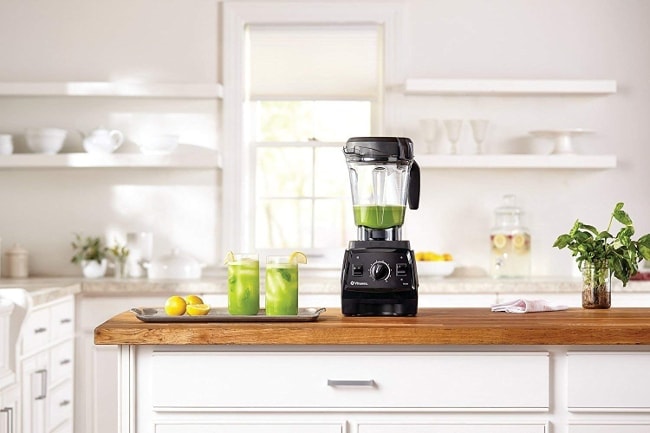 Quick Rundown of Vitamix 5300
Vitamix 5300 Blender, Black
2.3 HP motor: 120 Voltage: 50/60 Hz: 11.5 Amps:
The Vitamix 5300 offers power and convenience, with a faster, yet quieter, motor and a low-profile, 64-ounce Low-Profile container that...
Dimensions: 17.25 x 8.75 x 7.25 in. 7-Year Full Warranty
Pros
More Affordable Than the 7500
Variable Speed Settings
2 Horsepower Motor
Half-Gallon Container
Cons
Noisier than the 7500
Less sophisticated motor than 7500
Quick Rundown of Vitamix 7500
Vitamix 7500 Blender, Professional-Grade, 64 oz. Low-Profile Container, White
Variable Speed Control: Ten variable speeds allow you to refine every texture with culinary precision, from the smoothest purées to...
Pulse Feature: Layer coarse chops over smooth purées for heartier recipes, such as chunky salsas or thick vegetable soups.Electrical...
Low-Profile 64-ounce Container: Perfect for family meals and entertaining, while fitting comfortably under most kitchen cabinets. Cord:...
Pros
Quieter Than 5300
Better Ventilation Than 5300
Variable Speed Settings
Half-Gallon Container
Cons
More Expensive Than the Vitamix 7500
---
What the Users Say
As you've probably already guessed, people really like both of these blenders. Their power, versatility, and features have served just about everyone very well.
People appreciate the fact that you can make soup just as easily as you can make a smoothie, and we've also seen lots of love for the general consistency that the aircraft-quality blades can produce.
Complaints are usually small. We've heard from some people who have found the self-cleaning feature to be a little bit disappointing on both blenders. We've also heard from users who are struggling to adapt to the raw power.
Indeed, if you haven't used a high-powered blender before, you may temporarily struggle with finding your ideal food consistency. However, this should eventually cease to be an issue as you get used to the blender.
Ultimately, the majority of buyers are very pleased with their purchase.

Conclusion
The choice is not quite as easy as you were hoping, is it? The differences are small, but for some people, they will matter.
The motor overhaul that we see with the Vitamix 7500 not only makes it run quieter, but it may also make it last longer. This is certainly nothing to sneeze at, especially when it comes to blenders in this price range.
However, the Vitamix 5300 does have savings on its side, which will appeal to shoppers who don't want to go completely overboard on their purchase.
The good news is that, regardless of which option you choose, you're going to be pleased with your results.
---
Featured Image Credit: Amazon