10 Best Blenders for Smoothies in 2023 – Top Picks & Reviews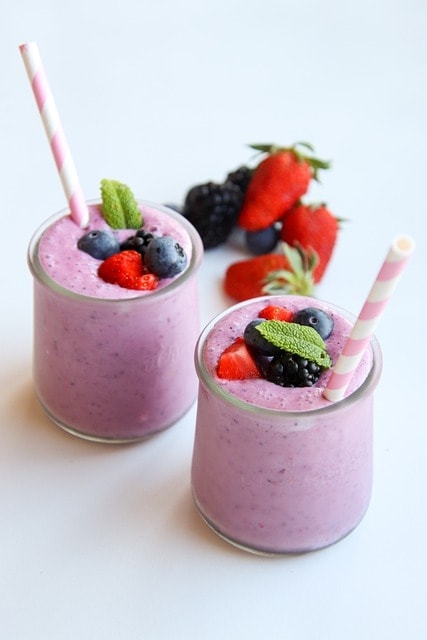 It doesn't matter if you have found yourself on a health kick or just looking to replace a blender that broke. You can find the options available to you overwhelming. There are so many different sizes and features to choose from that narrowing your choices is difficult.
We've already tried out dozens of blenders for every purpose, and we believe we can help by pointing you in the direction of 10 blenders we feel are perfect for making smoothies. Each model on our list will have some things that we like about it and some things that we don't. We'll tell you what they are and explain why so that you can feel more comfortable about making your own choice when the time comes.
We've also included a buyer guide where we break down every aspect of the smoothie blender and explain what is essential and what isn't. We'll go over what size motor to look for as well as pitcher size. We'll talk about the cleanup and whether you need all those different speeds.
Keep reading for our detailed reviews of each blender for smoothies, where we compare motor size, pitcher size, multi-speed, and cleanup to help you make an educated purchase.
Let's look at the ten blenders we chose to review for you.
A Glance at Our Favorites in 2023
Rating
Image
Product
Details

Best Overall

Ninja BL770

Powerful motor
Easy to use
Stacked blade design
CHECK PRICE

Best Value

NutriBullet Pro

Powerful motor
Easy cleanup
Color variety
CHECK PRICE

Premium Choice

Vitamix Professional 750

Powerful motor
Variable speed
Large size
CHECK PRICE

Oster Pro 1200

Powerful motor
48-ounce pitcher
Dual direction rotating blades
CHECK PRICE

Hamilton Beach Wave 54221

4 blending settings
700-watt motor
Glass pitcher
CHECK PRICE
The 10 Best Blenders for Smoothies
1.

Ninja BL770 Smoothie Blender – Best Overall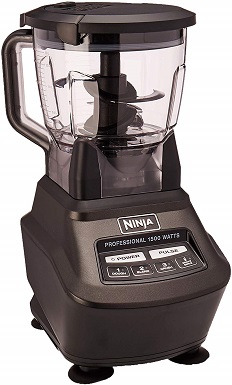 The Ninja Mega Kitchen System is our choice as the best smoothie blender overall. This blender has a powerful 1500-watt motor capable of crushing ice and frozen fruit and vegetables.
The Mega Kitchen has an extra-large 72-ounce pitcher and an additional 64-ounce processor bowl. The stacked and offset blades this unit provides do a much better job blending than a blender with a single blade at the bottom. You can choose from four clearly labeled speeds on the front panel, and it also has a pulse setting and an easy-pour lid.
It comes with two 16-ounce smoothie cups to take your creations on the road, and cleanup is easy with removable blades and a soft press front panel.
The only downside to the Mega Kitchen is there is no hole at the top to add ingredients while you blend. With that being said, we still think this is the best blender for making smoothies out there.
Pros
72-ounce pitcher and 64-ounce processor bowl
Stacked blade design
Easy to use
Powerful motor
Easy-pour lid
Two 16-ounce smoothie cups
Easy cleanup
Cons
No hole in the lid to add ingredients
---
2.

NutriBullet Pro Smoothie Blender – Best Value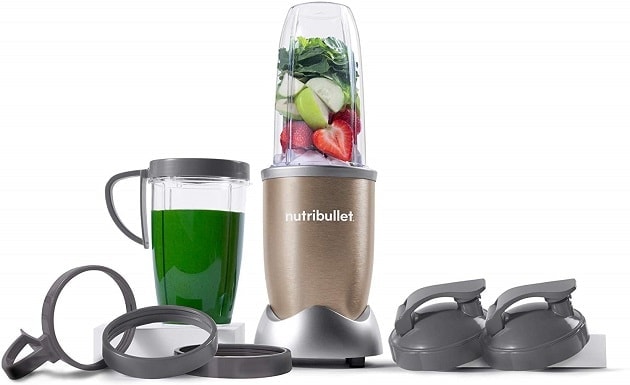 We think that NutriBullet Pro NB9-1301 is the best value pick and the perfect choice when you only need one smoothy at a time. Once you see what this little blender has to offer, we believe you will agree that this is the best smoothie blender for the money.
The NutriBullet uses your smoothy glass as your pitches, and it comes with two. You mix the ingredients in the cup, put the lid on, and attach it to the NutriBullet. It has a powerful 900-watt motor that made short work of everything we placed in the cup. It uses stainless steel extractor blades and cyclonic action to break up your ingredients. It's effortless to clean up and only requires rinsing the blade and cup. The Nutribullet also comes in many colors.
The complaints we have about the Nutribullet are that it's very noisy, especially for a blender this size, and the lid has a tendency to unscrew while your blending, which could lead to leaking.
To conclude, we think this is the best blender for smoothies for the money.
Pros
Powerful motor
Easy cleanup
Color variety
Cons
Noisy
Lid unscrews while blending
---
3.

Vitamix 750 Smoothie Blender – Premium Choice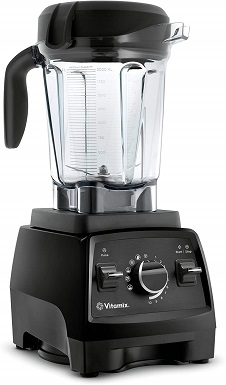 The Vitamix Professional Series 750 Blender is our premium choice. The Vitamix is a powerful blender for those concerned with performance over budget. This blender features a large cool-running motor with more power than most swimming pool pumps.
The 64-ounce low-profile pitcher is large but still fits nicely under most counter-tops. You can control the blending speed by turning a dial on the front panel, and the variable speed gives you the most versatility.
It doesn't have the stacked blade design of our top choice, but the only thing keeping the Vitamix Professional Series Blender out of the top two spots on our list is the significantly higher cost.
Pros
Powerful motor
Variable speed
Large size
---
4.

Oster Pro 1200 Blender for Smoothies
The Oster BLSTMB-CBG-000 Blender is a compact single smoothie blender perfect for the single user on the go. This blender features seven speeds to fit every blending need, and it includes a pulse setting. It also has three pre-programmed settings providing the most common blending options. We found it versatile and easy to use. The 900-watt motor has plenty of power, and the large dual direction rotating blades chopped our ingredients with ease. It has a large 48-ounce glass pitcher and comes with a 24-ounce smoothie cup.
What we didn't like about this blender is that it was a little challenging to clean. We also found no way to get replacement parts, neither an extra smoothie cup nor a replacement seal. We had no luck with customer service.
Pros
Powerful motor
Dual direction rotating blades
48-ounce pitcher
Cons
Hard to clean
No replacement parts
Poor customer service
---
5.

Hamilton Beach Wave Crusher Blender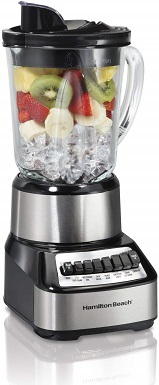 The Hamilton 54221 Beach Wave features a 40-ounce glass pitcher with a well-designed lid with a handy no-mess spout. It features 14 blending settings for every conceivable situation and has a powerful 700-watt motor. It features a patented wave-action system that continuously forces contents down into the Hamilton Ice Sabre blades.
We don't like the push-button function selector because they are hard to clean and leave plenty of space for dirt to collect.  We don't like the stacked blade design and feel it doesn't chop as well as other blade designs that use off-set blades. Also, some food does get stuck at the bottom of the pitcher and does not get blended.
Pros
4 blending settings
700-watt motor
Glass pitcher
Cons
Push-button function selector
Blade design
Food gets stuck on the bottom
---
6.

Blendtec Designer Smoothie-Blender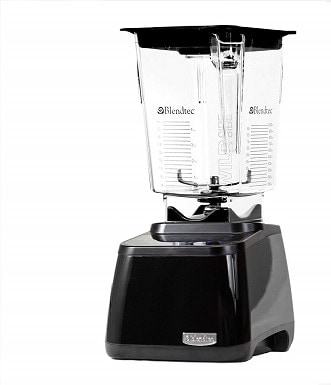 The Blendtec Designer Series Blender features an outrageously large 90-ounce pitcher that is perfect for parties and large gatherings. The jar has a fifth side designed to prevent ingredients from getting stuck, and in our experience, it worked very well. We never had to stop the blender to mix our ingredients.
The Blendtec Designer features a dull blade making it uniquely suited for homemade dough and ice cream. The friction created by the dull blades can even warm soups. Clean-up is very easy, and you don't have to worry about getting cut on the dull blades.
It is just a little bit too large for us, and the dull blades are not great for chopping ice. We like the easy cleanup offered by the touch screen, but this type of screen also doesn't last too long, and you'll be forced to buy a new unit when it goes.
Cons
Too large
Touch screen
Dull blades no good for ice
---
7.

KitchenAid Diamond Smoothie Blenders
The KitchenAid Diamond Blender has classic styling and features a large 60-ounce pitcher. It's large enough to have company over for a smoothie but not so huge it's silly to make a single smoothie. It features five speeds selectable via soft press on the front panel. This type of button is long-lasting and easy to clean. A steel-reinforced coupler between the pitcher and the base is a nice touch that will help extend the life of this component.
The base is a sturdy die-cast metal that adds a lot of stability, and the pitcher has clear, embossed measurement markings that won't wear off or fade over time.
Even though there are a lot of good qualities to the pitcher and it is BPA-free, the plastic will never have the longevity that glass does. It's hard to clean because the blades don't come out, and you're forced to try to clean under them without getting cut. While blending, we had to keep stopping to push the food down towards the blades.
Pros
Die-cast metal base
60-ounce pitcher
Clear measurement markings
Cons
Hard to clean
We had to push food toward blades manually.
Plastic pitcher
---
8.

COSORI C700-PRO Smoothie-Blender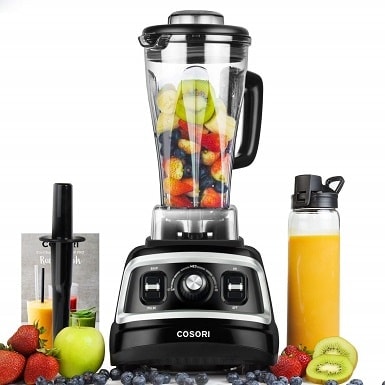 The COSORI C700-PRO Blender is a powerful blender ready for any challenge. This blender features a heavy-duty 1500-watt motor that will deliver enough torque to chop ice and frozen vegetables with ease. It also has a 70-ounce pitcher, which is perfect for most situations. Instead of buttons, you adjust the speed of the blade with a rotary knob. This design lets you choose precisely the speed you want.
The large pitcher is nice, but this model only has one set of blades at the bottom. It can be a challenge to get a consistent blend if you're working with thicker ingredients because you must push them down to the blade always, and sometimes we would overheat the unit trying and need to reset it.
Pros
Variable speed
1500-watt motor
Large pitcher
Cons
Won't blend thicker ingredients
Overheats quickly
---
9.

Homgeek Blender Smoothie Blender
The Homgeek H22259US Blender Smoothie Maker features a design that delivers 25,000 rpm from a 1450-watt motor. The large pitcher can hold up to 68 ounces, and it features eighth speeds that are set using a rotary dial on the front control panel.
In our experience with this blender, it didn't work very well with ice, and the blades often got stuck when we tried. We noticed very little, if any, difference between the eight speeds. The Homgeek is also one of the tallest blenders on this list when you place the 68-ounce pitcher on the large base. The space this blender will occupy will need special consideration.
Pros
68-ounce pitcher
25,000 rpm
Cons
Gets stuck on ice
No difference between speeds
Obtrusively large
---
10.

Jamba 58910 Blender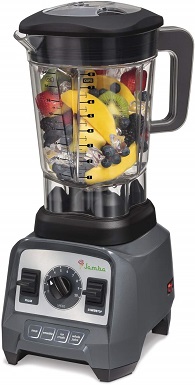 The Jamba Appliances 58910 Blender is the last model on our list. Even though it's not in the same category as our first three picks, there may still be some features of interest to you. It features a powerful motor and a 64-ounce plastic pitcher. The speed is variable control via a knob on the front panel.
In our opinion, this blender did not feel very durable, particularly the large plastic pitcher that seems easy to crack. It did get stuck on some ice, and we could often smell the motor. It was also hard to clean because the blades are locked in place, and smoothie ingredients get wedged under them.
Pros
Powerful motor
64-ounce pitcher
Cons
Gets stuck on ice
Motor smell
Hard to clean
---
Buyer's Guide: How To Select the Best Smoothie Blender
Let's look at some of the things you should look for when buying a smoothie blender.
Powerful High-Speed Motor
One of the most important things you're going to need to look for in a blender for smoothies is a powerful high-speed motor. High-speed motors will enable you to chop and blend frozen fruits, vegetables, and ice that would bog down a slower-moving blade. Blender motors are usually the electric type that uses a coil of wire and a magnet along with electricity to create the spinning motion. We often rate this type of motor in watts instead of horsepower. Higher watts equal more power.
Because we are going to be chopping a lot of ice and frozen fruits and vegetables with our blender, we need to look for one that uses a 500-watt or more motor.
Various Speeds
Look for a blender with various speeds to better handle various tasks. Try to find a blender with at least 3-settings for the most versatility.
Pulse Action
Some blenders offer a handy pulse action feature that can help get the blending started and can help with precise blending.
Pitcher Size
When making smoothies, the size of your pitcher is going to be an essential factor in your final decision. The size you need is dependent on how much you will use it. If you are using it often, it can become tedious to go through the whole process of blending the shake every time you want one. The number of people partaking in your smoothies will also affect how big a pitcher you need.
We recommend a pitcher of at least 32 ounces to get the best experience when making smoothies and to have all your bases covered. If it's just you, and your smoothies are easy to make, you might choose one that's smaller, but 32 ounces and above is an excellent place to start.
Plastic vs. Glass
When choosing between plastic and glass, there are some significant differences to consider.
Glass is going to weigh much more than plastic and is prone to cracking and shattering.
Plastic is porous and can absorb colors, flavors, and smells that are difficult to remove.
Plastic grows brittle over time and can crack or break.
Plastic is harder to clean than glass, and you are more limited to the types of cleaners you can use.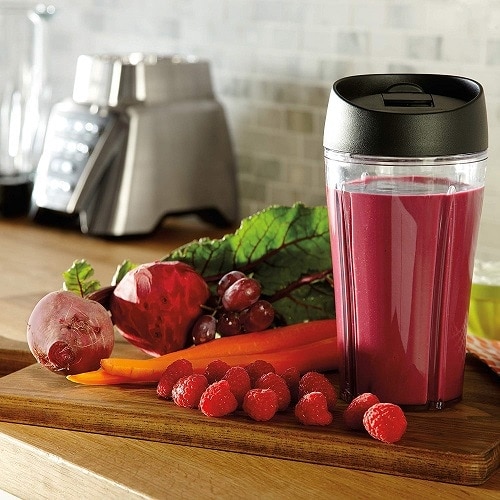 Durability
Creating smoothies every day will take a toll on your blender and owning one that can stand up to the abuse is essential. Look for a blender that uses high-quality materials in its construction and is rated for daily use.
Cleanup
Having the ability to clean your blender properly is essential. We'll need to be able to remove all blades and attachments. We will also need to consider how we are going to clean the front panel.
Metal Base
While a metal base does little to impact the functionality of your blender, it's often a sign of better craftsmanship when compared to a blender with a plastic base.
Ease of Operation
Many of the new modern designs have tons of features, but usability can take a turn for the worse as it becomes difficult to understand how to use all the features.
---
Conclusion:
Now that you have read over our reviews and our buying guide, we hope that you feel more confident about your future purchase. We stand by our choice that the Ninja Mega Kitchen System is the best smoothie blender overall. It features a strong motor, two blending pitchers, stacked blades, easy cleanup, and smoothie glass. Those features are tough to beat. For the best value smoothie blender, we recommend the NutriBullet Pro NB9-1301. It's a very powerful single smoothie maker that powers through any ingredients and won't break the bank.
Hopefully, our buyer's guide has shown you what to look for if you need to do more shopping on your own. If you feel more confident about choosing a smoothie blender and learned something new, please share this best blender for smoothies article with your friends on Facebook and Twitter so we can help them out.
Related buyer's guides: