5 Best Blenders with Glass Jars 2023 – Top Picks & Reviews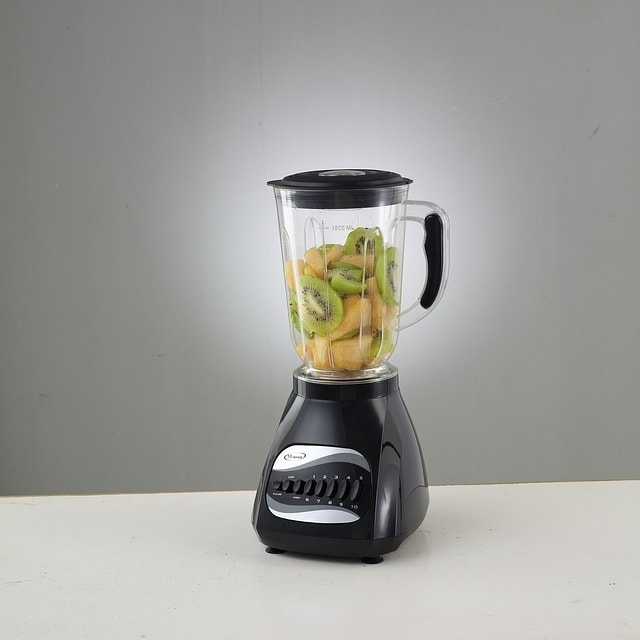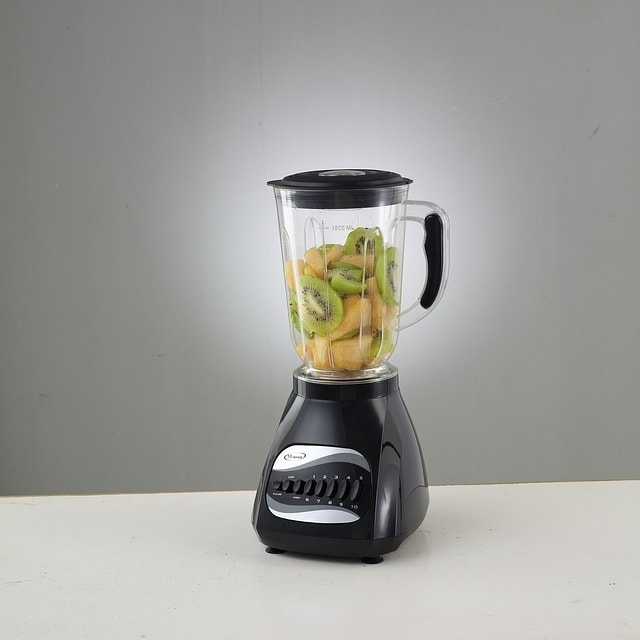 A great blender can help you quickly prepare a broad range of foods, from healthy smoothies to hearty soups. If you're looking for a blender that will last for years and blend even the toughest ingredients, you may want to purchase a model with a durable, attractive glass jar. Though they may be a bit more expensive, these blenders are sturdier, don't stain as easily, and will look better on your counter.
To help you shop, we've tested the best brands and come up with this list of our favorites. Keep reading to discover our comprehensive reviews of this year's 10 best blenders with glass jars, complete with detailed comparisons of price, durability, design, strength, and warranty. You'll be on your way to a high-quality blender in no time!
---
Our Favorites of 2023 Compared
Rating
Image
Product
Details

Best Overall

Braun JB7350

Fast
Quiet
Large capacity jar
CHECK PRICE

Oster Reverse Crush

Great at blending
Programmable
Lasts forever
CHECK PRICE

Best Value

Hamilton Beach 54221

Super-affordable
700-watt motor
Fair blending job
CHECK PRICE

Oster BLSTMB-CBG-000

Dual-direction blades
Programmable
Smoothie to-go cup
CHECK PRICE

BLACK+DECKER FusionBlade

12-speed
Inexpensive
Easy to clean
CHECK PRICE
The 5 Best Blenders with Glass Jars
1.

Braun JB7350 WHS Glass Jar Blender – Best Overall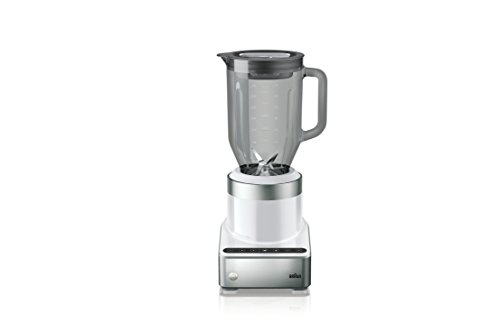 The Braun JB7350 WHS gets high marks.  This is a simple blender, but if all you want to do is make smoothies or gazpacho or crush ice, this is the machine for you.  Its 1000-watt motor takes care of every job quickly and remarkably quietly.  It gives you three settings – chopping, smoothie-making, and ice crushing – and three speeds. The lid has an inset measuring cup, which makes it easy to pour in extra liquid while it's running.  With a 7-cup capacity, it allows you to blend for a crowd, plus it's easy to clean.  Design aficionados will appreciate its sleek and modern look – this is an appliance people will ogle over.  If Braun's goal was to make a simple, powerful, gorgeous blender, they have succeeded with this model.
Pros
Fast
Quiet
Large capacity jar
Spiffy design
Easy to clean
---
2.

Oster Reverse Crush Glass Blender
The Oster Reverse Crush BVCB07-Z00-NP0 came in a close second, garnering high praise for durability and long lifespan.  Plenty of motor power and dual-direction blades make short work of ice and smoothies plus it's programmable.  Many users report simply replacing the blades when they wear out – Oster sells a good supply of replacement parts for this machine – so you don't have to feel guilty about filling landfills with used-up blenders.  You can even separately purchase specific blades for particular jobs, like for making milkshakes, further prolonging the lifespan of not only your regular blades but the entire machine.  Alas, this thing it super-loud, plus when not in use, the jar only rests on the base, giving an aura of instability and wobbliness.  Overall, though, this is a strong contender.
Pros
Great at blending
Programmable
Dual-direction blades
Lasts forever
Plenty of replacement parts available
Cons
Loud
Blender just sort of rests insecurely on base when not in use
---
3.

Hamilton Beach 54221 Glass Jar Blender – Best Value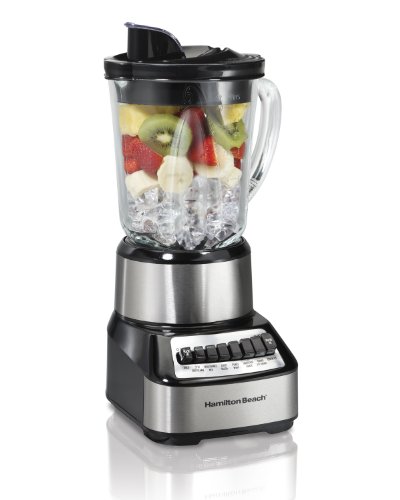 If you have your heart set on a glass jar blender but don't want to spend a lot of money, consider the Hamilton Beach 54221.  At a fraction of the cost of our Top Pick, you get a 700-watt blender with a 40-ounce jar that can handle ice, smoothies, or milkshakes.  Does it sometimes need a little help with blending if you've overstuffed it with frozen fruit or ice?  Yes, but you likely won't mind spending a few extra seconds with this blender since you paid so little for it.  Some users struggle with getting the lid off, but this almost seems like a problem you'd want to have in your blender and you can be sure your smoothie won't wind up on your ceiling.  This machine is a respectable blender for the price.
Pros
Super-affordable
700-watt motor does a fair job blending
Cons
Struggles a bit with large frozen fruit
Lid can be hard to get off
---
4.

Oster BLSTMB-CBG-000 Blender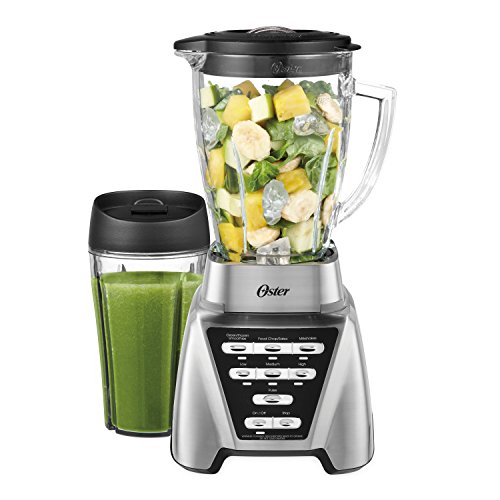 You'll want to like the Oster BLSTMG-CBG-000.  It comes with a powerful motor, a smoothie to-go cup, and programmable settings.  Users like the extra-wide base of the jar and its blades spin in both directions, further enhancing its blending abilities.  But the smoothie cup has multiple design flaws which lead to a quick demise and if you don't exercise exceptional care when reassembling after cleaning, you're likely to wind up with a leak.  All blenders are loud, but this model is particularly loud, further lessening its appeal.  But most alarming is reports of blades that break while in use, leaving bits of metal in your smoothie, an obvious and serious safety hazard.  This could've been a fantastic blender but didn't quite come through in the end.
Pros
900/1200-watt motor and dual-direction blades
Comes with a smoothie to-go cup
Programmable
Cons
Blades break while in use
Smoothie cup has a variety of design flaws
Loud
---
5.

BLACK+DECKER FusionBlade BL1110RG Glass Blender
Sometimes you get what you pay for.  The only aspect of the Black + Decker FusionBlade BL1110RG that anyone particularly liked was that it's easy to clean.  Its 12-speed, 550-watt motor may sound like it's working hard, but it just doesn't get the blending done, even if you give it more than enough time.   This blender is very inexpensive, but it has a distressing tendency to just die after only a handful of uses.  You might wind up with merely a nice 6-cup/48-ounce measuring jar, which would be fine if it weren't also supposed to be a blender.  For just a few more dollars, you'd be much better off with the Hamilton Beach 54221 listed above.
Cons
Doesn't blend well
Takes a long time
Lots of lemons out there
Loud
---
Buyer's Guide: How to Buy the Best Blenders with Glass Jars
Although most of the famous blenders these days use plastic jars, or pitchers, you've got your heart set on glass.  You're not alone, as evidenced by the array of choices you still have amongst glass blenders.  If all you've got is a sort of vague gut feeling that glass is better, rest assured there are some real reasons to go with glass.
Hot liquids
Fervent health enthusiasts stay away from all plastic as much as possible, but even moderately health-conscious people avoid putting hot liquids in plastic.  Not only can the heat cause microscopic particles of plastic to leach into your food, but plastic blenders – particularly the lower end models – are more likely to crack as a result of the higher pressure exerted by a heated liquid.  You must use common sense precautions when processing hot food, but a glass blender is rarely going to crack from heat exposure.
Although many people buy blenders to make smoothies and frozen drinks, the more recent trend for bulletproof coffee has people using blenders for hot drinks every morning.  If that's what you expect to be doing with yours, glass is definitely the way to go.
Aesthetics
They haven't yet invented a plastic pitcher that looks prettier than even the most mundane glass version.  A glass jar will remain clear, whereas the plastic will become scratched up, especially if you use it to chop ice, and discolored, if you use it for anything vivid, like berries.  The plastic jar will look like you've had it forever within a few short months.  If this is an appliance you plan to leave out, there's no reason you can't find one that's at least moderately attractive, and some are downright eye-catching.
Taste
Plastic absorbs odors and sometimes even the dishwasher can't quite get rid of them.  Glass doesn't have that problem.  You probably don't want last night's gazpacho as an undercurrent of flavor in this morning's banana smoothie.  (And what if you do decide to make compost?)
Price and performance
You won't pay any more or less for glass and the performance of your blender is going to depend on other factors, so there's nothing gained or lost in your decision to go with glass.
Function
A glass jar pitcher is going to have the blades at the bottom and, if it's working effectively, it will create a vortex that circulates all the ingredients to ensure full blending.  A plastic jar blender might have the same design, or it might have a central post with blades at varying heights, not just at the bottom.  Neither design inherently is better at blending, so any glass jar pitcher can blend just as well as any plastic one.
There are a few additional questions you'll want answered about any glass jar blender:
How well does it blend?
It's called a blender for a reason!  There's no reason to settle for a blender that isn't a workhorse.  At the very least, your blender should be able to make smoothies, chop ice, and puree a soup.  Your smoothies and soups should be free of any lumps (unless you like them that way) and your ice should be ready to fulfill its destiny in a margarita.  You shouldn't need to stop to stir it with a big spoon, cajole the ingredients to blend with a series of precision pulses, or wait 15 minutes for the frozen strawberries to thaw halfway.
How long does it take?
If you're accustomed to getting your hands dirty, literally, every time you use your blender, if you're accustomed to doing its work, and enacting a 17-step plan to get from frozen fruit to finished smoothie, you'll be thrilled to hear that a blended or frozen drink should be ready less than five minutes and probably even faster than that.  This increased speed means you have fewer excuses for avoiding your daily servings of fruits and veggies.
How much power does it have?
Blending efficiency and speed are very closely related to the power of the motor.  Blender motor power is usually expressed in watts, and more watts will usually mean a more gung-ho blender.  What about descriptions that give you two wattages?  The higher number is the peak blending power – when you first turn it on, or when the blade meets a particularly resistant chunk of fruit, peak power is engaged.  But peak power only lasts for a brief second or two, so it's the lower number that more realistically reflects the usual watts behind the motor.  Be sure you're comparing apples to apples – sustained watts and sustained watts instead of peak and sustained figures.  (If you see any blenders whose power is described in horsepower, leaving you with no way to compare blender motors, keep in mind the internet will happily convert horsepower to watts for you.)
How hard is clean up?
A lot of glass jar blenders are easy to clean.  Some people put the entire pitcher, assembled and including the screw on bottom and blades, upside down in the dishwasher.  Others remove that bottom portion and wash those pieces by hand and put only the glass jar in the dishwasher.  And still others put a drop of dishwashing liquid and some water into the blender and then blend it clean.  You'll need to be careful handling the blades, but otherwise, clean up with a glass jar is simple and easy.
Is it programmable?
There's no reason your glass jar blender can't be programmable.  Put the ingredients in – in the order described in the manual – select the corresponding setting, make sure the lid is on, and walk away.  By the time you return, the blender will have turned itself off and all you have to do is pour.
How big is it?
Glass jar capacity of our reviewed models ranges from a high of seven cups/56 ounces to a low of five cups/40 ounces, but capacity has no significant relation to performance; our Top Pick is the largest, so a larger jar doesn't equate to less effective blending.  If you're feeding a crowd, be sure to look for a high capacity blender.
The other size aspect you should think about is height.  Do you want it to fit under upper cabinets while the jar sits in the base?  Don't assume it will.  Be sure to measure your vertical space and compare it to the appliance measurements.
Can you repair it?
A blender has quite a few moving parts and if one of them breaks, you're probably not blending anything.  We may live in the era of disposable everything, but wouldn't it be nice if you could keep an appliance for years instead of months?  Many blender manufacturers offer replacement parts for sale, so if you drop the jar on your tile floor, or your toddler hides the lid, or the gasket begins to degrade, you can spend just a few dollars and buy a new part.  There's even one blender maker on this list that sells replacement blades, allowing you to keep your blender in tip-top shape indefinitely.
---
Conclusion:
The Braun JB7350 WHS excels at one specific thing – being a terrific glass jar blender.  This is a great example of how having the right tool for the right job makes all the difference.  As an extra bonus, you'll love looking at it on your counter.
At this price point, you won't find another blender that beats the Hamilton Beach 54221.  It's compact, lightweight, and does a decent job of blending.  If you're just starting out in life and are watching your pennies, this is a nice entry-level blender.
Maybe you've chosen to go with a glass jar blender for health reasons, or maybe it reminds you of your grandma's, or maybe you're a recent convert to bulletproof coffee.  Whatever the reason, rest assured there's a blender out there that's right for you.  We hope these reviews put you one step closer to finding it.
Related Reads: