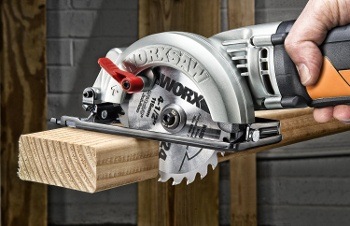 Lightweight and easy to maneuver, compact and mini circular saws offer a greater degree of control than their larger counterparts. Designed for accomplishing quick work without sacrificing cleanliness and attention to detail, they are ideal for DIY and home improvement projects.
Whether you're an old pro or entirely new to using circular saws, finding the best products available today can be a real hassle. To bring you this definitive guide to compact circular saw reviews, we've taken the time to thoroughly test and examine every saw we could get our hands on. By the time you're finished reading, you'll know exactly which mini circular saw is perfect for your DIY needs.
Comparison Table (updated in 2021)
Rating
Image
Product
Details

Best Overall

Rockwell RK3441K Compact Circular Saw

Top-of-the-line cutting power
Laser guide helps with precision cuts
One-handed operation
CHECK PRICE

TACKLIFE Circular Saw with Metal Handle

Powerful 5.8-amp motor
Fold-out handle
Laser guide for accurate cuts
CHECK PRICE

Rockwell RK3440K Mini Circular Saw

Exceptionally lightweight
5-amp motor
Ideal for small projects
CHECK PRICE

Worx WX429L Compact Circular Saw

Excellent cutting power
Super lightweight
Comfortable
ergonomic handle
CHECK PRICE

Dremel SM20-03 Mini Circular Saws

Most powerful motor available
Easily cuts through wood
plastic
or metal
Extremely lightweight
CHECK PRICE
The 6 Best Compact Circular Saws
1.

Rockwell RK3441K Compact Circular Saw – Best Overall
When you're looking to buy a compact circular saw, you may not know the full scope of projects that you'll one day end up using it for. Because of their inherent versatility and ease of use, mini circular saws can be used for a much wider variety of tasks than you might expect. That's why we love the Rockwell RK3441K: Of all the saws we reviewed, it had the best performance across the widest variety of uses.
The 4-amp motor provides the RK3441K with an impressive 3500 RPM blade speed, making it nearly as powerful as many traditional circular saws. This allows it to cut through tile, wood, sheet metal, plastics, and flooring with relative ease.
With its one-handed operation, laser guide, and easy depth adjustments, this saw from Rockwell really is prepared for almost any job. Right out of the box, it comes with a carbide-tipped blade for wood, as well as specialized blades for aluminum, PVC, and ceramic tile. If you're looking for one saw that can handle any small job in your home, we recommend the RK3441K.
Pros
Top-of-the-line cutting power
Cuts through wood, tile, metal, plastic, and more
Laser guide helps with precision cuts
One-handed operation
Cons
Not ideal for left-handed users
Laser guide requires separate batteries
---
2.

TACKLIFE Circular Saw with Metal Handle – Best Value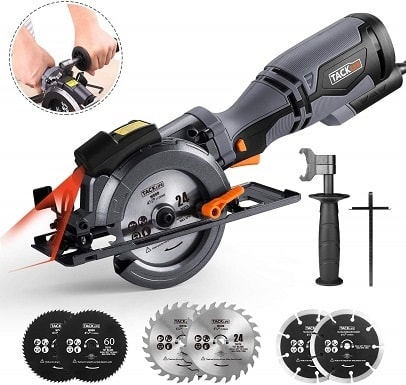 This TACKLIFE circular saw proves that you don't have to pay an arm and a leg to get started on high-quality home improvement projects. With a fantastic combination of power and portability at an unbeatable price, we think it's the best compact circular saw for the money that you can find.
A high-powered 5.8-amp motor produces a 3500 RPM blade speed, making the TACKLIFE competitive with even the most expensive compact circular saws. Where it really draws our accolades is in its innovative design: A metal fold-out handle means that you can operate with one hand for convenience or two for complete control and accuracy.
Other features of the TACKLIFE that impressed us include a laser guide, easy depth adjustment, and double trigger safety switch. Perhaps its only downside is a slightly heavier design, weighing in at around 7 pounds.
Pros
Powerful 5.8-amp motor
Inexpensive, but still rugged and durable
Fold-out handle for one- or two-handed operation
Laser guide for accurate cuts
Cons
Heavier than most compact circular saws
---
3.

Rockwell RK3440K Mini Circular Saw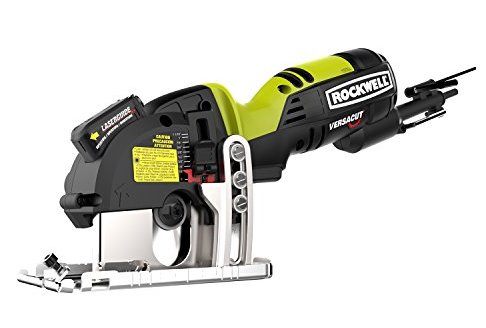 Lightweight power is the name of the game with the Rockwell RK3440K. Weighing in at a mere 5 pounds, yet still as powerful as any other saw in our review, it's a pint-sized powerhouse that's ideal for small projects.
A 5-amp electric motor produces a remarkable 3500 RPM blade speed. This is easily enough power to handle home repairs and small DIY projects. A slim in-line grip helps it to fit into tight places, and its diminutive size makes it easy on the hands, arms, and shoulders.
Being this small does come with a downside, though. With a maximum cutting depth of just 1-11/16", it's not capable of as wide a variety of jobs as many other saws we reviewed. Overall, we recommend the RK3440K for smaller people who might struggle with heavier power tools, as well as anyone looking for a quick-to-use tool for small projects.
Pros
Exceptionally lightweight
5-amp motor
Slim, in-line design lets it cut in tight spaces
Ideal for small projects
Cons
Shallow cutting depth
Small size can feel limiting in larger hands
---
4.

Worx WX429L Compact Circular Saw
Fully equipped to cut through 2x4s with ease, the Worx WX429L is another excellent option for a lightweight saw. Its 4½-pound weight is supported by an ergonomically designed handle that we found easy to use and comfortable even for long days of work.
The 4½-inch blade on the Worx has a maximum speed of 3500 RPM, putting it in the highest class of cutting power for compact circular saws. Depth and bevel are easily adjusted, giving it great versatility for all sorts of woodworking projects.
At a similar price and with nearly identical features to many of the saws we reviewed, the WX429L really stands out for its warranty: A 3-year, full coverage policy is better than that offered by any other product on our list. The only downside? You'll likely want to replace the factory-provided blades as soon as possible because they're not as accurate as we had hoped for. Also, this particular design could prove to be rather troublesome for left-handed people.
Pros
Excellent cutting power
Super lightweight
Comfortable, ergonomic handle reduces wrist strain
Easy adjustments for depth and bevel
Cons
Provided blades are inaccurate
Lightweight design can feel awkward in larger hands
Not good for lefties
---
5.

Dremel SM20-03 Mini Circular Saws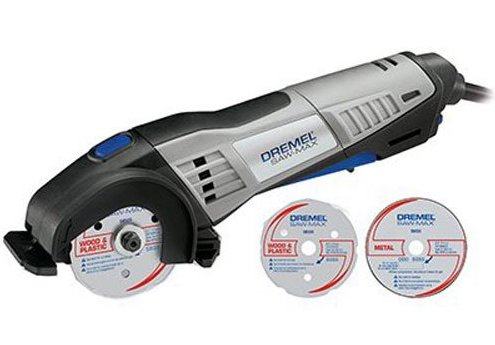 The Dremel SM20-03 is an odd duck amongst compact circular saws. With a maximum cutting depth of just ¾-inch, it's never going to be your go-to tool for cutting boards to size – but it's extremely lightweight design and ridiculously efficient motor make it so easy to use for detail work. While it may never replace your table saw, it's an incredibly useful tool that shouldn't be ignored for home DIY projects.
Equipped with a 6-amp motor, the Dremel SM20-03 is the most powerful of any compact circular saw in our review. The proprietary Dremel blades that come with the tool can cut through wood, plastic, or metal with ease. Backup blades can be a little bit pricey, which is a downside of choosing this tool over a different saw.
In short, this Dremel saw is the lightest and most powerful saw we found to review but is limited in its utility by a shallow cutting depth and proprietary blade design.
Pros
Most powerful motor available in a compact circular saw
Easily cuts through wood, plastic, or metal
Extremely lightweight
Cons
Shallow cutting depth limits its uses
Proprietary blades are expensive to reorder
---
6.

Genesis GCS545C Compact Circular Saw
On first inspection, the Genesis GCS545C might seem like a great option for a compact circular saw. With a high-powered 5.8-amp motor and 3500 RPM blade speed, it matches the cutting power of any other saw on our list. Lightweight and easy to handle, its blade depth is large enough to make it versatile for all sorts of DIY and home improvement jobs.
With all of these good things going for it, why is the Genesis at the bottom of our list? Well, it seems that a portion of the saws being produced have a serious defect. The bolts and screws responsible for holding the blade in alignment consistently cause problems, leading to either inaccurate cuts or complete blade failure. For this reason, we recommend finding a different compact circular saw for your needs.
Pros
Good power and cutting depth
Lightweight and easy to use
Cons
Blade system rapidly develops problems
Screw and bolt design can lead to tool failure
Only made for small jobs
---
Buyer's Guide
Because they're most often used for small, quick work, compact circular saws need to be considered differently than full-size saws. When we're looking for the best mini circular saw for our needs, we judge each product based on three categories:
Power
Even though you won't be using a compact circular saw for heavy-duty work, choosing one with sufficient power for your projects will make work easier and more enjoyable.
For the best performance, look for saws with at least a 4-amp motor. The higher the amperage, the more torque the saw will produce – making it easier to cut through harder materials. If you plan on using your saw to cut through metal, choose a product with 6 amps of power or more.
Revolutions Per Minute, or RPM, are another measure of sawing power. For almost all DIY or home improvement jobs, any saw that produces 3000 or more RPM will be suitable for your needs.
See also: our favorite circular saw of 2020 (not limited to compact models).
Ease of Use
Since you'll usually be operating them with just one hand, the ergonomics of compact circular saws are doubly important. As a rule, people with smaller hands should choose lighter saws, while those with larger hands will find heavier saws more comfortable.
Furthermore, consider how easy it will be to adjust your new saw. Will you be changing your depth or bevel often in your projects? If so, it's worthwhile to look for a saw designed for quick adjustments. The time you save will make your projects that much more efficient and enjoyable.
Accuracy
The smaller projects that compact saws excel at often require an attention to detail, as well. For this reason, we always look for saws that rate highly in precision and accuracy of cuts; even a small mistake in a saw's design can cause serious problems with finer work.
Some of the features that assist with making accurate and precise cuts include:
Low vibration
Laser guides
Physical guides
Dust management systems
Versatility
Mini saws are often the first tool that you'll consider for quick jobs. Because of this, choosing a versatile saw will go a long way towards getting your money's worth out of it. We look for saws with adjustable cutting depth and bevels, as well as those that have slim profiles for fitting into tight spaces.
Still uncertain what type of saw you need for the job you have in mind? Try watching this video from SKIL power tools to decide if a compact circular saw is right for you.
Conclusion:
Of all the saws we considered in our reviews, the Rockwell RK3440K Mini Circular Saw stands out as the best option for most users. Powerful, durable, and easy to use, it significantly outperforms its price point. We can heartily recommend it for any small job around the house you might want to tackle.
With remarkably similar features at a fraction of the price, the TACKLIFE Circular Saw with Metal Handle is the perfect choice for anyone on a tight budget. It's heavier than most of the other saws we reviewed, but the ability to use two hands for precision work makes it an excellent alternative.
We appreciate you taking the time to read our guide to the best compact circular saws of 2020, and hope that it helps you to decide on the perfect saw for your needs!
Related posts:

Pete has been working in the trades since high school, where he first developed a passion for woodworking. Over the years, he has developed a keen interest in a wide variety of DIY projects around the home. Fascinated by all sort of tools, Pete loves reading and writing about all the latest gadgets and accessories that hit the market. His other interests include astronomy, hiking, and fishing.
As the founder of House Grail, David's primary goal is to help consumers make educated decisions about DIY projects at home, in the garage, and in the garden.