5 Best Latex Paint Sprayers of 2023 – Top Picks & Reviews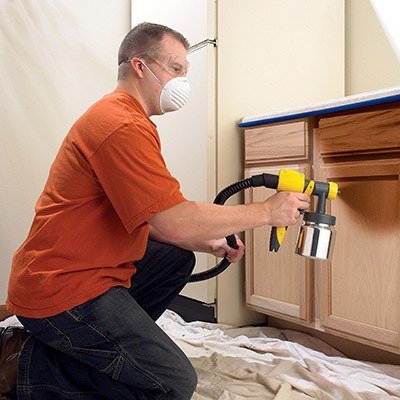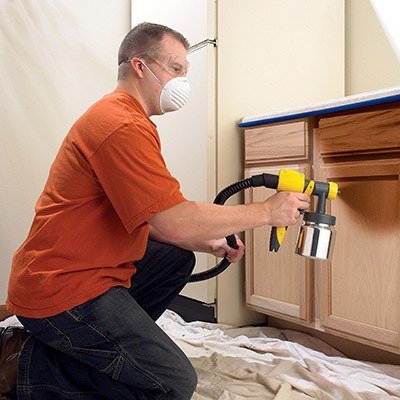 Paint sprayers are great because they allow you to quickly and efficiently cover a particular surface with paint. There are different types of paint sprayers on the market and this includes latex paint sprayers. We highly recommend you consider a latex paint sprayer thanks to the many advantages that they provide. Let's take a look at just a few of the reasons to buy one!
First of all, latex paint sprayers are capable of providing a beautifully smooth surface. This is something that can be difficult to achieve with a paint roller or brush. Secondly, latex paint is better for the environment since it is non-toxic. Also, it's much easier to clean up if you make a mistake! Finally, it's very fast-drying so it's a great choice if time is not on your side. As you can see, latex paint sprayers are very useful indeed!
What better place to start than with our top 5 latex paint sprayer reviews! Here you can find a great product to suit your budget. What's more, you can continue to our buying guide and find out about all of the great features to consider and other useful information such as how to get the most out of your new paint spraying purchase!
---
Our Favorites of 2023 Compared:
Rating
Image
Product
Details

Best Overall

Graco Magnum X7

Start-up is quick
No thinning paint needed
Cleaning is easy
CHECK PRICE

Graco Magnum X5

Durable metal build
Adjustable pressure
Quick and easy cleaning
CHECK PRICE

Best Value

Wagner 0518080

Different spray patterns
Only weighs 11.2 lbs
Reduced hand fatigue
CHECK PRICE

Wagner Flexio 590

Very lightweight
Easy to use
Features 9 different speeds
CHECK PRICE

HomeRight C800766

Comfortable to use
Versatile
2-year limited warranty
CHECK PRICE
5 Best Latex Paint Sprayers – Reviews:
1.

Graco Magnum X7 Latex Paint Sprayer – Best Overall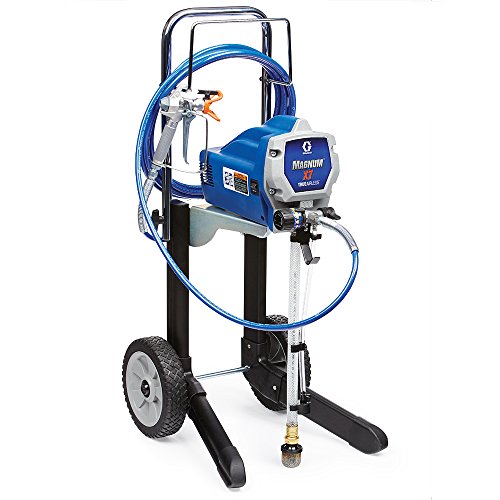 A latex paint sprayer that performs well in all areas, it's little wonder that the Graco Magnum X7 Cart is our top pick. This airless paint sprayer features fully adjustable pressure so that you can control your paint flow. There's no need to thin paint before using this product since the stainless steel piston pump allows you to spray unthinned paint at high pressure. Such features make this a very convenient option. Another example of this is the fact that you can connect the adapter to your garden hose which makes cleaning so much quicker and easier!
While those are some of the main features of the product, there are a number of smaller things that help make the X7 Cart stand out. In particular, the ability to reverse the tip when it gets clogged is something that we appreciate. We also like the start-up button which is fast and reliable. Because this is a fairly powerful unit, it's definitely on the bulky side. It weighs 26 lbs and has dimensions of 19 x 15 x 37-inches. This weight can be significantly heavier when you factor in a paint container. Thankfully the cart has a handle and two durable wheels so portability is not a problem. For all of these reasons, this is the best latex paint sprayer on the market.
Pros
Adjustable pressure to control paint flow
No need to thin paint before use
Cleaning is easy as you can connect adapter to garden hose
Start-up is quick and reliable
Cons
This is quite a big and heavy option
---
2.

Graco Magnum X5 Airless Paint Sprayer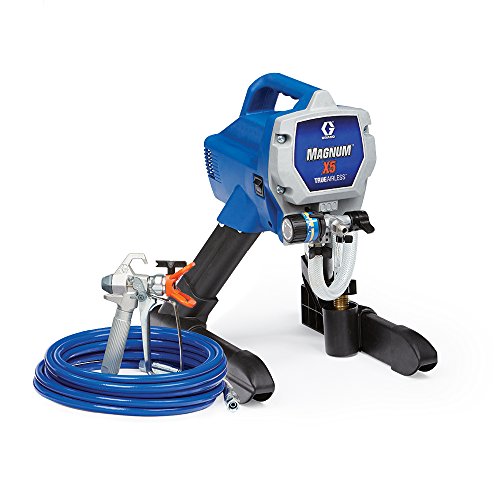 A very close runner-up is another Graco product. It's the Graco Magnum X5 Stand which is also an airless paint sprayer. Whether you're working indoors or outdoors, you can rest easy knowing that you have a high level of control. This is provided via the adjustable pressure which is well suited to when you have a variety of different projects. Because you'll likely be taking this latex paint sprayer from place to place, it's good to know that it has a durable build. Made of metal, it should be able to withstand the odd bump or scrape without any problems.
Weighing a little under 20 lbs, the X5 Stand is not the lightest of paint sprayers. We feel that this product would benefit from wheels. If portability is of priority to you, we'd recommend you look elsewhere. At the very least, there is a handle which adds an element of portability. Another feature worth mentioning is the PowerFlush adapter which connects to your garden hose for convenient cleaning. There's also a SwitchTip and an in-handle filter in the spray gun which both work to avoid annoying clogging. While there's only a 1-year warranty manufacturer defects, we're confident that this latex paint sprayer will perform as expected.
Pros
Suitable for a wide range of projects thanks to adjustable pressure
Durable metal build which should help its longevity
Connects to garden hoses for quick and easy cleaning
SwitchTip and in-handle filter prevent potential clogging
Cons
At almost 20 lbs, this unit would benefit from wheels
Only a 1-year limited warranty but better than nothing
---
3.

Wagner HVLP Paint Sprayer – Best Value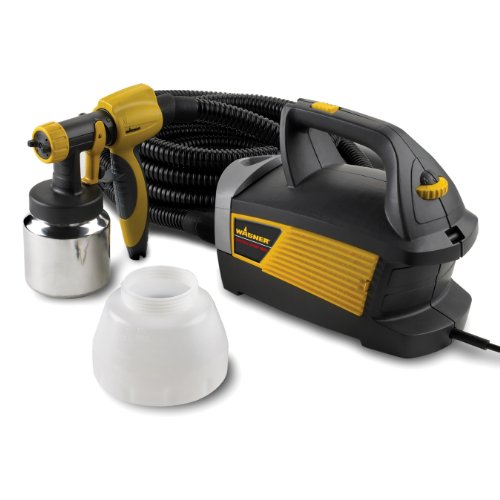 If the aforementioned airless paint sprayers are beyond your budget, don't worry. The Wagner Control Spray Max is an HVLP paint sprayer that we believe is the best paint sprayer for latex paint for the money. Offering excellent quality for the price, it has a variable control trigger that allows you to have a spray pattern from 1-inch to 10-inches, depending on the project you're working on. Three different options of spray patterns and variable air pressure control mean that you've plenty of choices when it comes to how you want to approach a particular task. This is where the Wagner Control Spray Max excels.
Weighing 11.2 lbs, this HVLP paint sprayer is a much lighter option than most of the airless paint sprayers on the market. The construction is fairly compact though it is made of plastic which means that it's not as durable as those that are of metal. Another thing we're not so keen on is the hose which measures only 20 ft. This is just not enough for certain tasks and, as such, a longer hose may need to be purchased separately. However, we do like the spray gun which is very light and helps avoid hand fatigue during particularly long paint spraying sessions. If you can look past the plastic build and short hose, this is a great value option.
Pros
Spray patterns from 1 to 10 inches for different paint spraying tasks
Only weighs 11.2 lbs so much lighter than airless paint sprayers
Spray gun is nice and light which means reduced hand fatigue
Cons
Plastic construction means it's not as durable
The hose is too short for certain projects
---
4.

Wagner Flexio 590 Latex Paint Gun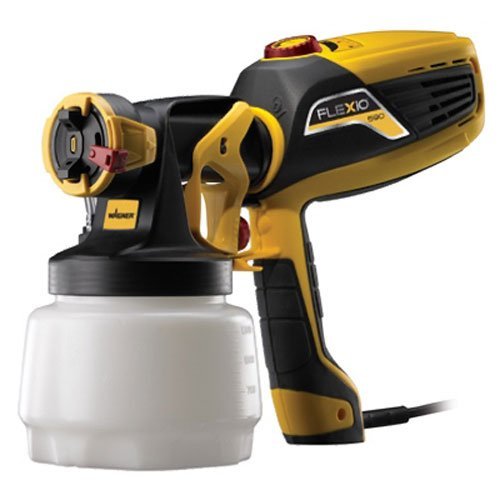 For the price, we're impressed with the power offered by the Flexio 590. It features 9 speeds and you can have a great deal of control over your paint spraying thanks to the power dial. The product comes with two different nozzles and cups which help when it comes to different types of paint spraying projects. Such convenience makes this a particularly good latex paint sprayer for both indoors and outdoors. This is particularly the case when you look at the weight which is just 2.1 lbs. As such, it's comfortable to move around and hold over long periods of time. This means that you don't have to stop early due to discomfort.
As we've mentioned, this is a fairly powerful paint sprayer but this does come with a downside. Overspray is significant and, as such, we recommend some pre-painting prep as well as plenty of post-painting cleaning! Despite the power (and the mess), the Flexio 590 is surprisingly quiet which may or may not be important to you, depending on when and where you're using it. It's also relatively simple to use since the gun design lets you change nozzles quickly. Overall, we're impressed by what this latex paint sprayer has to offer. While the 1-year warranty isn't particularly impressive, there's enough here for us to see past that.
Pros
Very lightweight which makes it comfortable to use
Easy to use with nozzles that can be quickly changed
Features 9 different speeds for versatility
Cons
There's quite a lot of overspray so cleaning is required
1-year warranty is shorter than we'd like
---
5.

HomeRight Finish Max Paint Spray Gun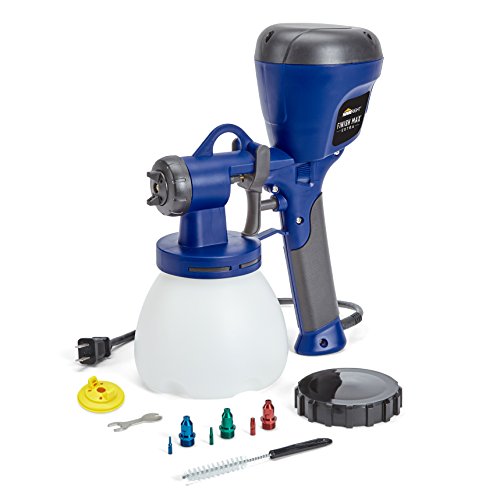 Another budget option, the HomeRight Finish Max is a latex paint sprayer that offers excellent value for money. There are no air compressors or hoses to contend with since this HVLP paint sprayer is self-contained which makes things much easier. While it isn't capable of doing any heavy-duty paint spraying tasks, it's more than capable of providing good performance to small projects such as on furniture and crafts. Made of plastic, it will need to be treated with care if you want to have long-term use out of it. On the plus side, the brass spray needle is at least durable.
While a plastic build isn't as tough as metal, it is at least fairly light. In this case, a weight of just 3.4 lbs means that you'll have no problem using this latex paint sprayer for extended periods of time. This is in contrast to heavier equipment which can cause hand and wrist fatigue. One of our favourite aspects of the HomeRight Finish Max is the adjustable spray control. The possible spray patterns are horizontal, vertical and circular which means that you have an element of versatility when you're tackling different jobs. Add in the fact that this product comes with a 2-year limited warranty and you've got a very good option at a competitive price.
Pros
Versatility offered with different spray patterns
Lightweight build means no hand or wrist fatigue
Comes with a 2-year limited warranty
Cons
Not built for anything other than light paint spraying
Plastic construction lacks durability
---
Buying Guide – Purchasing the Best Latex Paint Sprayer
It's not easy to choose between the many great latex paint sprayers on the market. For this reason, we've provided this buying guide to help you narrow down the options. Here you'll find all sorts of information, starting with the main advantages of buying a latex paint sprayer.
5 Reasons to Buy a Latex Paint Sprayer
With latex, you can have super smooth surfaces which look great. So whether you're painting kitchen cabinets or some homemade crafts, latex can make such things look beautiful.
It's non-toxic so it's better for the environment. This means that you can work without needing to worry about toxic fumes and the like. Such peace of mind cannot be understated!
Easier to clean up which saves time and mess! Nobody wants to spend hours on end cleaning up after paint spraying. As such, latex is ideal for quick and easy projects without all the hassle.
Fast drying which is ideal if you're in a hurry. Some materials can take all day to dry but latex can dry within an hour or two. Thus the whole project can be finished much more quickly.
You can use it for more than just latex paint. While this buying guide is about latex paint sprayers, they're capable of spraying all sorts of materials. We love the versatility offered by this tool.
Which Type of Paint Sprayer to Buy for Latex
There are 3 main types of paint sprayers to consider: airless paint sprayers compressed air sprayers and HVLP paint sprayers. All of these types have models which can handle latex paint but some of them do it better than others! One of the most common types is the airless paint sprayer. The better models of this type often let you spray the latex without having to thin it beforehand. Thinning the material means you may have to apply more than one coat which can be time-consuming. While latex is generally easier to clean up, it's even easier with an HVLP paint sprayer which is generally considered to be easier to clean. In summary, the best type is either the airless paint sprayer or the HVLP paint sprayer.
Key Latex Paint Sprayer Features
Adjustable Settings
When you're spraying your latex paint, you want the ability to change up the spray speed, pattern and thickness quickly and easily. This allows you to adapt to different surfaces and have the desired effect. Adjustable settings are available on most paint sprayer models so this should be something that you can get without difficulty. We think you'll really like the flexibility that this feature offers.
Garden Hose Connection
It's not as interesting a feature as the adjustable settings, but the garden hose connection is no less useful. This allows you to hook up your latex paint sprayer to your garden hose. The benefit of this is cleaning that is quicker and easier. And considering latex paint is already relatively simple to clean, this means you'll be doing a lot less cleaning as a result.
Size
The size of your paint sprayer could be anything from handheld to something the size of a small vacuum cleaner! This really depends on the type that you choose. So it's really important that you take the time to consider where you will be using your latex paint sprayer. If you're planning on using it indoors and outdoors, you may wish for a more portable product. On the other hand, opting for power means a bigger unit.
Weight
The bigger the paint sprayer, the heavier it will likely be! Of course, this is also down to the materials used in its construction. Many paint sprayers nowadays are of plastic construction though those higher-end products are made of metal. Again, it really comes down to where you want to use the latex paint sprayer. If you're planning on moving around, a lightweight product will be of benefit. However, power means a heavier unit. Perhaps it's best to strike a balance between the two.
Capacity
Connected to size and weight is the capacity of the latex paint sprayer. This refers to how much paint it can hold at once. The larger the capacity, the less often you'll have to go for refills. On the other hand, it also means a heavier unit. Again, this is really down to your personal preferences so think long and hard about what you really need.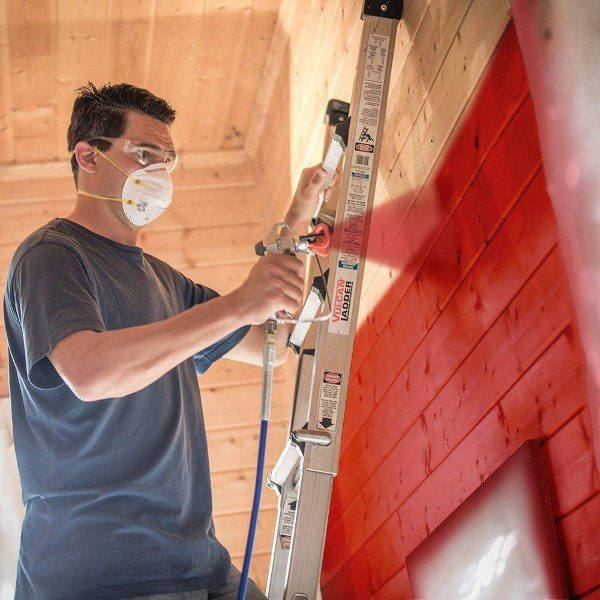 Key Latex Paint Sprayer Accessories
Wand
Having a wand means that you can extend your spray gun's reach. This allows you to spray surfaces high and lower with greater ease and comfort.
Hose
Much like a wand, a hose lets you reach what you're trying to spray! The longer the hose, the more flexibility you have as to where you go.
Spray Tip
You'll want to make sure that the spray tip you're using is of an appropriate size. There's plenty of variety so it will be down to your personal preferences when it comes to the spray pattern and so on.
Filter
If you're not thinning the latex you're using, you may find that the unit becomes clogged on a fairly regular basis. Filters can help limit this which means fewer interruptions.
How to Use Your Paint Sprayer in 10 Steps
One of the first things you should do is prepare the surface you want to spray. This means thoroughly washing the surface and allowing it to fully dry.
Overspray is usually a factor when using a paint sprayer. Unless you want the whole area covered in paint then you should cover objects in your surroundings.
Due to the overspray and the paint fumes, you should really wear a facemask. Goggles and protective clothing are also highly recommended for your safety.
It's a good idea to practice your latex paint spraying technique before you get to the serious stuff! Experiment with different spray patterns and so on.
Spraying from side to side should help provide a nice, consistent finish. The tip should be 6 to 12-inches from the surface and maintain a consistent distance.
It's good to spray in sections as this will limit the amount of moving around you have to do. This makes the work much more manageable.
You may need to apply more than one coat of latex paint, depending on the type of paint sprayer you're using and how good the model is.
Give the surface plenty of time to dry. Latex thankfully doesn't take long to dry so you may only need to give it a few hours.
Thoroughly clean your paint sprayer after use. This ensures that it's ready for the next time you want to use it and helps the product live a little longer.
Paint spraying comes with a learning curve so reflect on what you could have done better and how you can improve your results next time around!
---
Conclusion:
The benefits of latex paint sprayers are numerous so rest assured that you're making a great decision. The hardest part is finding the product that best suits your needs. By using our reviews of latex paint sprayers and our in-depth buying guide, you should save a lot of time and energy and soon have a great product.
One thing that is a real positive is the fact that paint sprayers are constantly improving. We find it fascinating to see units that are more powerful yet somehow more portable. Overspray is reducing as technology improves and prices are becoming more competitive each year. Needless to say, this is a great time to buy a product that can serve you well for years to come.