5 Best Paint Edger Tools of 2023 – Top Picks & Reviews
Finding the right paint edger for your home requires research. You want to make sure you find the best one that will live up to your needs. But in a world where you barely have time to sit down, how can you be expected to research painting products?
It's a fair point. That's why we did the homework for you. We've looked at a ton of different paint edgers and found five of the best options out there.
So just relax, and read on for reviews of the best paint edgers:
---
A Quick Rundown of our 2023 Favorites
Rating
Image
Product
Details

Best Overall

Accubrush Jumbo Kit

11-piece
Very versatile
Twice as quick to use as masking tape
CHECK PRICE

Wagner Smart Paint Edger & Roller Tool

User friendly design
Onboard paint reservoir
Thumb trigger for easy paint dispersal
CHECK PRICE

Best Value

Emery Paint Brush with Edger Tool

Best for the money
Reliable
Simple design
CHECK PRICE

Mr. LongArm Smart Tool

Very affordable
Performs basic edging tasks
Horizontal and vertical guide wheels
CHECK PRICE

Shur-Line Premium

Enticing price
Two guided wheels
Can be used with extension pole
CHECK PRICE
The 5 Best Paint Edger Tools
1.

Accubrush Jumbo Paint Edger Kit – Best Overall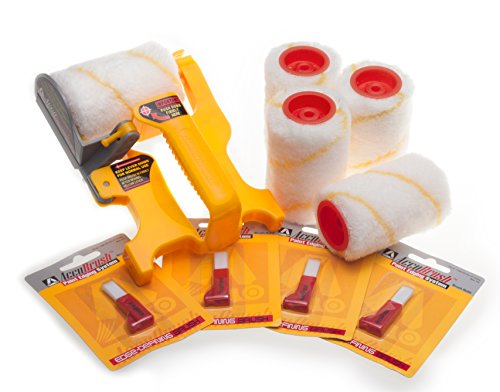 In our first place slot for best paint edgers we have the Accubrush MX Paint Edger 11 piece kit. This is the sort of package you might find yourself going with if you have a really big project on your hands. The eleven piece set means you won't have any trouble at handling whatever the paint gods throw at you.
The size of this set lends itself well to versatility. You should have no trouble at all using it on doors, windows, ceilings and more.
This set is prized for providing the accuracy of a paint brush while still allowing you to do edging work in half the time it would take to use masking tape.
Sounds great, right? It actually is, but before you get too excited, there is one thing to keep in mind. This kit will cost you more than most of the other options on our list today. Part of the price is due to the size of the set. You get a few replacement rollers and brushes which should last you the entirety of your job (or jobs).
Still, if you can't afford the sticker price, this set might not be in the cards. For those that do have the money though, you'd be hard put to find a better, more consistent option on the market.
Pros
11-piece
Very versatile
Twice as quick to use as masking tape
Cons
Pricier than many options out there
---
2.

Wagner Smart Paint Edger & Roller Tool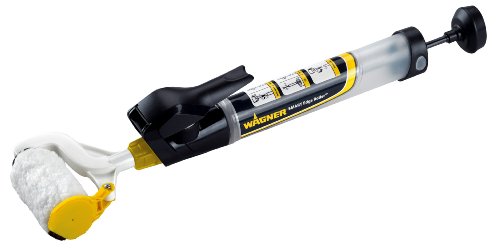 Wagner is a big name in the world of paint supplies in general, so it's no surprise at all to find them near the top of our list of best paint edgers. The Smart Edge Roller features a comfortable plastic handle, speedy roller, and onboard paint reservoir to give you everything you need in one convenient package.
As a result, the unit is very user-friendly, and even includes a thumb trigger on the handle for easy, precise paint output.
The concept for this tool is outstanding but there are a couple of pitfalls keeping it from its full potential, and from our number one slot.
The first of these issues pertains to its price. Though it's less than our top slot, it also comes with a lot less, creating concerns about its overall value.
It also just struggles a little bit with actual edging. The smaller size of the head does well to get it into the mix on tighter spaces, but it can be a little bit awkward to use for true edging jobs.
With a few tweaks, this design could be a difficult one to contend against, but until these issues are fixed, it finds itself second on our list.
Pros
User Friendly Design
Onboard Paint Reservoir
Thumb Trigger for Easy Paint Dispersal
Cons
Lack of value relative to last unit that we looked at
Design struggles with some edging projects
---
3.

Emery Paint Brush with Edger Tool – Best Value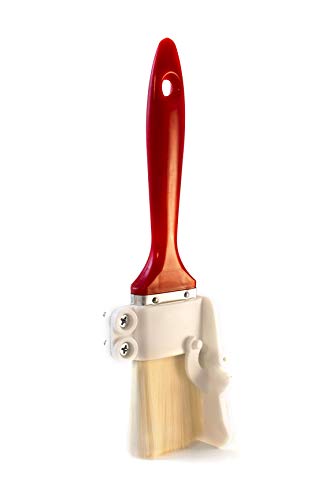 We now go to our best for the money pick. The Emery Edger Paint Brush Edger Tool earns extra points for being both reliable and affordable.
The design is really quite simple here. At a glance, it looks just like any ordinary paint brush. However, a closer look reveals one key difference—an attached paint shield on the ends that ensures the precision required for an edging job.
It's a great concept, especially for buyers who are trying to keep things simple. However, there are some cons inherent to the design to keep in mind. For one thing, traditional paint brushes are great for lots of things, but speed isn't' one of them.
There is a reason the products in our top two slots were both rollers. This product is going to be a little bit slow to use, which may turn buyers off that want something to maximize the efficiency of the process.
There is also a learning curve you will need to navigate. You might want to try the brush out on a practice surface before putting it in action for your project.
Still, buyers looking to save money will find much to like in this simple but effective package.
Cons
Learning Curve
Slow to operate
---
4.

Mr. LongArm Smart Paint Edger Tool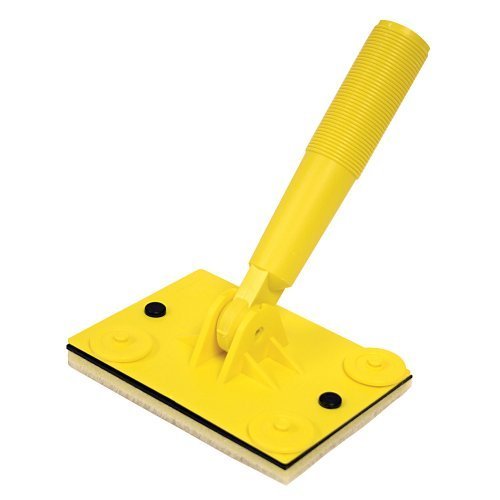 Second to last, the Mr. LongArm 0470 Paint Edger. This is actually the most affordable option we've seen to this point, though as we get into the review, it might become clear why that is.
First, let's focus on the good though. With this affordable package, you will be able to perform basic edging tasks. It can even be used in cooperation with an extension pole for high ceilings if need be.
The biggest concern with this product is that it's really challenging to produce a pure, clean line. If you're able to get the perfect balance of paint and pressure, it will work alright, but this is achieved only with immense time and testing. Something lots of people don't have at their disposal.
It's also really challenging to find pad refills for this product. You can order them online but then you will need to pause your project to wait for the brush to ship.
Ultimately, this tool will get the job done, but buyers might find it more prudent to opt for something that is a little bit easier to use.
Cons
Difficult to use
Replacement pads are hard to find
---
5.

Shur-Line Premium Paint Edger
Finally, we have the Shur-Line 2000874 Premium Paint Edger. This is yet another tool with an enticing price, but features that might make you think twice. It doesn't look terrible at first. You get two guided wheels for quick, accurate performance, and it can be used with extension poles for enhanced versatility.
But as you use the tool, it quickly becomes clear that the cons outweigh the pros. For one thing, the Shur-Line struggles to get into tight corners, which for some will defeat the entire purpose of using it.
It's also just hard to use accurately. You need to apply a lot of pressure to create a pure line, which can cause problems of its own if you haven't applied the right amount of paint. The problem then becomes mitigating the risk of applying too little pressure, and leaving the paint runny, or too much pressure, and making it globby.
If you aren't looking to spend much, this might be an alright option to consider. Otherwise, you're better off spending more money to get a better product.
Cons
Struggles with corners
Hard to use
---

Conclusion
Now that you have read your best paint edger tool reviews, it's time to decide for yourself which product is right for your DIY job. Different projects, and different budgets will ultimately go with different products.
However, there are some general rules of thumb that may apply well to your situation. For example, if you see quality as the most important thing, and you're willing to pay to get it, think about the Accurush set. Our pick for the best paint edger earned its honor by providing a robust set of quality tools.
But we also understand some buyers are on a restrictive budget. If that's you, no sweat. Think about going with the best for the money pick, the Emery Edger Paint brush Edger tool instead.
Then again, you're the expert now that you've read this review. So choose for yourself with confidence. You've got this one!
Here's some more equipment found in every painter's arsenal: