20+ Basement Decorating Ideas in 2023 (with Pictures)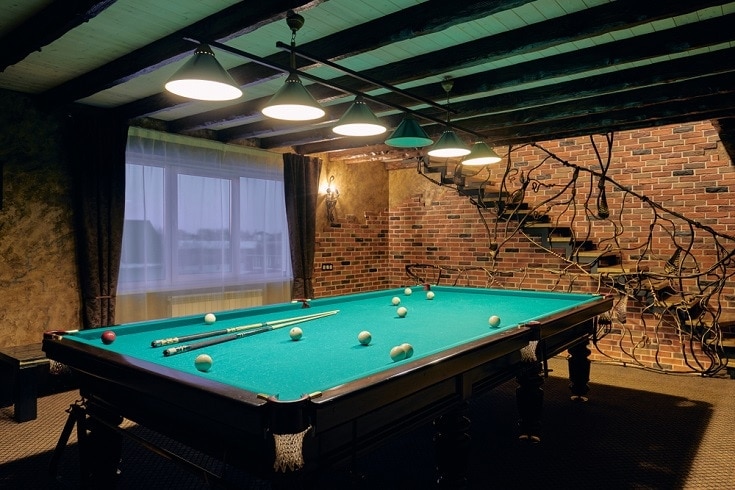 If you are redoing your basement, you can update it to look as modern and attractive as possible. From thoroughly modern homes to shabby chic ones, there are so many ways you can dress up your basement, so it matches your style while still looking modern.
Below, we will look at over six basement decorating themes with several ideas to get you ready for this year. These ideas are separated into different categories so that you can easily find the types of decor and basement trends that interest you most. Let's take a look!

Basement Decorating Ideas for 2023
Some of the most popular basement decorating ideas for this year include making it into a game room or movie theater. Likewise, some more adult homes prefer to turn their basement into a chic hang-out with light color schemes. Other ways to upgrade the basement include adding a snack bar, upgrading the stairs, and hiding your storage.
The Top 4 Game Room Basement Ideas
Many families purchase homes with basements so that all the children and family members have space to spread out and enjoy themselves. If you have children, turning the basement into a game room is one of the best options. It provides your children a place to play in without dirtying up the rest of your home.
The great thing about game rooms is that you can design the game room to match the age in question. For example, you can add arts and craft stations or a chalkboard wall to the game basement if your children are younger. However, teenagers and even adults can love a game room designed around sports and more adult fun.
In fact, game rooms are great for households without any children at all. You can easily transform your basement into a sports-watching hang-out for you and your adult friends. In other words, there are no limits about who can have a game room in their basement.
1.

Darts and Table Football
---
2.

Table Tennis for Game Night
---
3.

Go Artsy
---
4.

Style The Walls

The Top 3 Movie Theater Basement Ideas 
One of the most popular designs for basements has been movie theaters. Even today, transforming your home basement into an at-home theater is a fantastic choice. Like the game room idea, it is perfect for homes with or without children.
It's up to you for how you design the theater. You can go the classic movie theater route to feel like you are transporting yourself to the movie theaters of your childhood. You could also use clean colors and crisp lines to create a movie theater that is thoroughly modern and suitable for other basement purposes as well.
If you decide to turn your basement into a movie theater, you mainly only need a TV and a super comfy seating area. You can also add additional movie theater decorations, a snack bar, or DVD/gaming console set.
5.

Man Cave
---
6.

Candy and Popcorn Bar
---
7.

Lights On!
---
The Top 5 Snack Bar Basement Ideas 
Snack bars are a great addition to any basement. Whether you want to turn your basement into a game room, movie theater, or simply hang out, your guests and family members will certainly appreciate a good snack bar.
Like the ideas above, a snack bar is a great addition to any basement, regardless of the ages in your home. If you have children, the snack bar can be filled with treats and candies, but you can also serve more adult beverages if you plan to entertain adult guests more often.
If you have older children who live in the basement, you might even want to consider adding an entire mini kitchen area. This will allow the guests to have snacks or food any time of the night without disrupting the rest of the home.
Just make sure to add a little caddy for the snacks to sit on. You might also want to add a mini-fridge or a full-size fridge for drinks and other items that need to be refrigerated. Adding letters on the wall that spill out "Snacks" or "Bar" will make the snack bar really pop. If you have extra cash, consider adding a bar or seating area as well.
8.

Rustic
---
9.

Go For The Bricks
---
10.

Don't Forget the Bar
---
11.

Airbnb Designs
---
12.

Vintage Brown

The Top 4 Chic Hang-out with Light Colors Basement Ideas 
If you are more into relaxed settings and want an extra area to hang out in your home, you can turn your basement into a chic hang-out. Even though old basements are typically drab and drafty, you can easily decorate the basement to make it look chic and welcoming.
The best way to do this this year is to paint the walls of your basement white or light gray. Have the ceiling, pillars, and walls all match to create a unified look. Change the floor, so they are light as well, but add pops of colors throughout, such as black, dark gray, or navy blue.
The basement will look incredibly chic and really brighten the whole area up with these color schemes.  All the while, you will want to relax with your comfy cushions and pillows. You can add a bookshelf, TV case, or anything else you might want to do in this chic area.
13.

White
---
14.

Cozy Chic
---
15.

Farmhouse Inspired
---
16.

Wild

The Top 3 Upgraded Stairs Basement Ideas
To get to your basement, you will need to walk down a flight of stairs. Don't forget to give your stairs some attention and love during your basement decoration. You will generally want the staircase to be upgraded to match the rest of the basement.
If you opt for a chic hang-out, paint the stairs so they have the same color scheme. Most modern staircases have white fronts and sides, with the top step being black, dark gray, or wooden.
You can even consider upgrading the door at the top of the staircase. Some people have really enjoyed adding doors with window panes to make the area much more open and brighter.
17.

Traditional Staircase
---
18.

Staircase Board
---
19.

Coastal Chic

The Top 3 Hidden Storage Basement Ideas 
The main reason why many basements stay looking dated is because of their storage function. Don't get us wrong, basements make fantastic places for storing your extra items, but your basement doesn't have to look dirty, messy, or dated in the process.
If you have excess money to spend on your basement renovation, add hidden storage underneath the staircase. The space underneath your stairs is often underutilized, but it can allow you to store your extra items while still making your basement look chic.
There are some affordable ways to hide storage as well. Something as simple as putting fake paintings or pictures over your command center or extra DVDs is a way to keep things organized and clean-looking. At the very least, you can put a matching curtain over the storage area so that it is hidden from view.
Any one of these ideas will allow you to continue storing items in your basement while still upgrading your basement to a more attractive finish.
20.

Storage Under The Stairs
---
21.

Blank Space
---
22.

Behind The Bricks

How Do You Modernize a Basement?
The best way to modernize a basement is to add a fresh coat of paint that is warm and bright. This year, you want your entire home to be warm, bright, inviting, and clean-looking. As a result, neutrals like white, cream, gray, and tan look beautiful in a basement. Not only will these colors make your basement look more modern, but they will also make the space look larger.
Another important thing to do if you want to modernize your basement is to incorporate hidden storage into its design. Instead of letting boxes stack up, find innovative ways to store items in your basement without them being seen by your guests.
How Do You Decorate a Basement?
Decorating a basement isn't as hard as you might think. The most important thing to do during the decoration process is to have a very clear idea of what you want the basement to look like whenever the process is over.
Ask yourself what the main idea is from the basement. Do you want a movie theater, game room, or something else? Having a clear idea of what you want from the basement will make the decoration process so much easier.
Once you know what you want the end product to look like, begin with the big items, such as painting your walls, changing the floors, and investing in new furniture. You might also want to add separations, a bar, or other items to the basement.
The last step of decorating the basement is your final touches. Add any small games, pictures, and other small details throughout. These small details will pull the whole basement together at the end.

Final Thoughts
If you want to decorate your basement this year, we recommend considering turning it into a game room, movie theater, or chic hang-out. You can also add a snack bar, upgrade your stairs, and incorporate hidden storage throughout.
No matter which option you choose, spend a lot of time in the planning phase. This will ensure that the basement you end up with is the basement of your dreams.
---
Featured Image Credit: Dimaris, Shutterstock