9 Best Solar Pool Heaters of 2023 – Reviews & Top Picks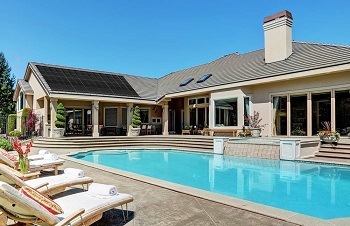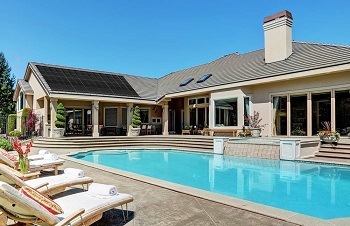 Weather is something we cannot control — yet. Until then, we have to hang onto the last of the summer months.
So, why not find a way to extend the amount of time you have with your backyard summer haven? What if you could extend pool season, cut down on your bills, and do it while being a good steward of the environment?
With these reviews of solar pool heaters, we can do all that and more! So, break out your pool noodles, and let's dive right in.

A Quick Comparison (updated in 2023)
Rating
Image
Product
Details

Best Overall

GAME SolarPRO Solar Pool Heater

Adjustable legs
Panel cover traps energy
Curved design for maximum sun
CHECK PRICE

Best Value

XtremepowerUS Solar Panel Pool Heater

No greenhouse gas
Wonderful value
Rolls up like a yoga mat
CHECK PRICE

Premium Choice

Smartpool Sunheater Solar Pool Heater

Extends swimming season a whole month
Heats water quickly
Easy setup
CHECK PRICE

SunQuest Solar Swimming Pool Heater

To be used with above- or in-ground pools
Heats or maintains heat
Easy setup
CHECK PRICE

Intex Above Ground Pool Water Heater

Works wonderfully*
Lightweight
Easy to set up
CHECK PRICE
The 9 Best Solar Pool Heaters
1.

GAME SolarPRO Solar Pool Heater — Best Overall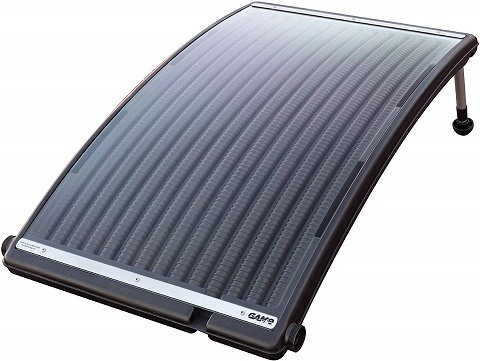 When we make these lists, we expect much out of the products we put on them. As our pick for the best solar pool heater overall, this pool heater is no exception, as it is reliable in all conditions and works well with both in-ground and above-ground pools. The manufacturer boasts that this pool heater can heat 8,000 gallons of water five degrees over four to five days. So, the only types of pool you don't want to use this with is a kiddie pool! This product was smartly designed with adjustable legs so you can move it to get maximum exposure to the sun. It is also curved to add to maximum energy retention. Along the same lines, it comes with a cover so it can trap in the heat that it gained that day. For plumbing purposes, the ports are treaded to aid in cleaning. Setting up this product is easy — the company has stated that even a young child can do it!
There are a few things to note with this product. The legs can be a bit shaky, so be careful with them! Also, this product is intended to prolong your pool season, not your pool day. Don't expect this to heat your pool overnight!
Pros
Adjustable legs
Curved design for maximum sun
Panel cover traps energy
---
2.

XtremepowerUS Solar Panel Pool Heater — Best Value
You would think that using a solar heater would already mitigate your carbon footprint, and it does, but solar panels still do give off greenhouse gases. That is not the case with this product from XtremepowerUS, as they claim to have made a solar panel that releases no greenhouse gas whatsoever. Of course, that's not the only reason that this comes in at number two on our list of the best solar pool heaters! The construction of this product is awesome. Made of flexible high-grade materials (polypropylene), this solar panel was built with extreme weather conditions in mind, as well as easy storage. When rolled out, this looks like a pool heater, but when rolled up and put away, it could easily blend in with your bucket of yoga mats. When it comes to storage for the off season, this is a huge advantage. There isn't a definitive statement on how much how quickly this panel works, but if you need more for extra heat, it won't cost you an arm and a leg.
As opposed to our top pick, this option is meant to heat your pool the day of as opposed to elongating your season. While this solar panel thrives and exceeds expectations in that department, there are durability issues. Still, there is a reason we picked this as best value solar pool heater. It won't last 10 years, but it's not going to cost ten years of savings to replace either.
Pros
No greenhouse gas
Wonderful value
Rolls up like a yoga mat
---
3.

Smartpool Sunheater Solar Pool Heater — Premium Choice
Much like our first product, this is not intended to heat a pool in one day. That being said, it is on the higher end of the products you will see on this list and comes in at number three for a reason. With a great deal of power and absorption, one of these panels (4×20) can heat a 10,000 gallon-pool. This item is not small, but it comes with great results. If you keep this attached to your pool for the entire season, you could extend pool season all the way up to a month! This solar panel pool heater is only meant for above-ground pools.
If you leave this on for a full week, you can notice temperature increases of around 20 degrees in a pool of 24 square feet. It is preferable to use this product with a 1 and ½ horsepower pump. Setup is easy, as there is an easy-to-follow instruction manual included. This item will generally last between three and four years.
Pros
Extends swimming season a whole month
Heats water quickly
Easy setup
Cons
Only to be used for above-ground pools
Not very durable
---
4.

SunQuest Solar Pool Heater
This product from SunQuest is our heaviest and most expensive so far, but it's still a wonderful product. It finds itself at number four on our list because of the price point and because once you have it installed, you might want to just leave it there. This solar panel is wonderful for heating up your pool up to 20 degrees in the span of about a week or keeping your pool at the perfect swimming temperature, even in the early to mid-autumn. Made with the MAX-FLOW design and fitted with 2" OD headers, SunQuest has made a product that not only heats your pool but is also easy on your water pump and allows for better water circulation. The setup, while a bit heavy, is still quite simple and comes with an easy-to-follow instruction manual. Most everything needed is included, minus the piping that goes from the panels to the pool. This item is capable of working with both above-ground and in-ground pools.
The only real gripes we have with this SunQuest offering is the weight and that the panels bubble up a bit and don't lay perfectly flat. Otherwise, they are durable and do exactly as advertised!
Pros
To be used with above- or in-ground pools
Heats or maintains heat
Easy setup
Cons
Panels don't lay flat
Heavy
---
5.

Intex Above Ground Pool Water Heater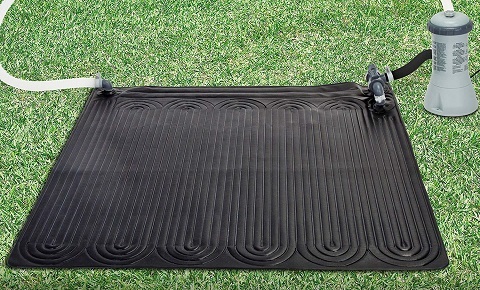 This is the first product on the list that we have had wildly different and inconsistent experiences with. On one hand, this product does exactly as it claims to do: It heats your pool over a consistent period of time and can heat it up quickly on a cool day. On the other hand, this item has issues with rupturing or just not heating at all. The saying, "You get what pay for," seems to hold true here, albeit with a few positive results.
Out of the package, the Intex 28685E doesn't look too great. The material is thin and seems easily torn. But if you do happen to get a working mat, this product is amazing for the price. Lightweight and easy to install, there are only two connecting points, and then you are all set. Because of this product's construction, it can be easily disconnected and rolled away, taking up little storage space.
This item is probably popular in Las Vegas because it is absolutely for the gambling type. Fortunately, it only takes a small investment to get in on the action.
Pros
Works wonderfully*
Lightweight
Easy to set up
Cons
*When it works
Often does not work
Tears easily
---
6.

Doheny's Solar Pool Heater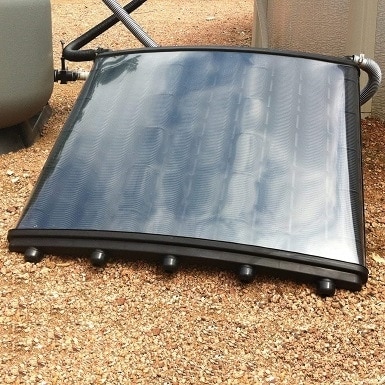 This solar panel from Doheny is close in structure to our top picks. Made with the same curved design, this product is meant for both above-ground and in-ground pools. It comes with a polycarbonate cover to help produce a greenhouse effect, which traps energy inside the panel, helping it heat even more. Clean-up is easy, as it is a quick disconnection followed by draining the device.
That all sounds great, so why is it number six on our list? While it is compatible for both above-ground and in-ground pools, you will have to buy an adapter to make it work with in-ground pools or pool that use pumps of one horsepower or more. These panels also have a propensity to leak. We will add, however, that these are aesthetically pleasing, and we would love to have them next to our pool — if they worked.
Pros
Aesthetics
Works with both above ground and in ground — with adapter
Cons
Leaks
Doesn't heat very well
---
7.

HELIOCOL Pool Solar Heating Panel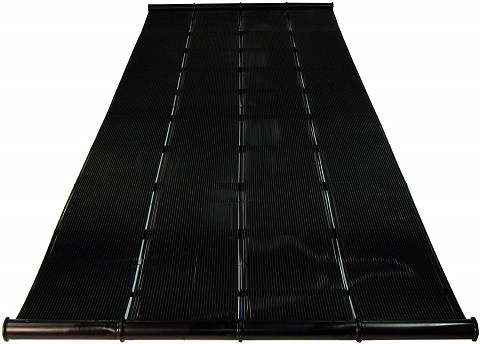 Originally designed to be a replacement for a different product, this turned out to be a decent enough standalone model that it's sold as is. Not much is known about this product, but it is self-sustained, albeit not terribly user friendly. These are individual panels all rolled together as one, so if one breaks or pops a leak, you can just replace that specific one instead of replacing the whole system. But there's no warranty or any other guarantees.
Cons
Not user friendly in the slightest
Unknown in the market
---
8.

GAME SolarPRO Solar Pool Heater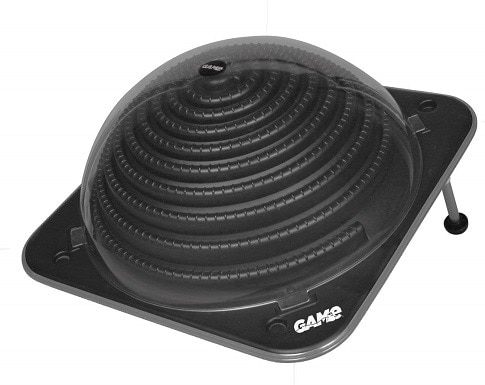 Adaptable for all types of pools, this is a nifty little item that looks like a miniature spaceship is parked next to your swimming pool! For use with pools up to 10,000 gallons and with a 1.5 horsepower pump, this solar panel, or solar bump, seems to be the industry standard. Made to extend pool season as opposed to heating up a pool quickly, this heater claims that it can heat a pool five degrees over the course of seven days. Why is it so low on our list, then?
For starters, five degrees in a week isn't much, and there are other products on this list that can do that and better within the same price point. This item also leaks a lot and isn't very durable. Water constantly leaks into the dome, causing the whole thing to short circuit. Solar panels that only last a year are considered liabilities, and this product is good for less than a season. Basically, it'll do what it is designed to do, but only about halfway, then you'll need to get another to finish the job.
Pros
Works with all types of pools
Cons
It doesn't really work
Leaks a lot
Works for less than a season
---
9.

Solar Sun Rings Pool Water Heater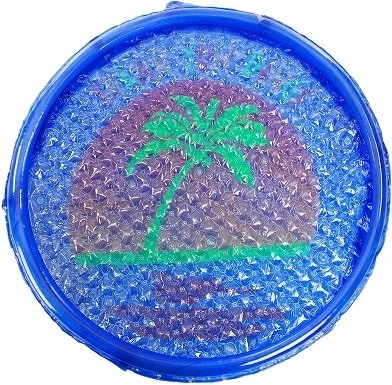 These work unlike anything else on our list, and there is reason to be skeptical, but also reason to look at them and think, "How cute!"
Basically, here's how this "solar panel" works. It is a piece of plastic that you put in your pool, and the sun heats it up. The plastic then transfers the energy into the water.
There are people who really love these things, but they're quite big and will take up so much of your pool space. They're also not to be used as flotation devices. However, they are also quite budget friendly and come in packs of nine.
Do they work? Maybe. Are they cute? Cute enough to be number nine.
Pros
Cute
Technically works as advertised
Cons
Large
Takes up a great deal of space
Can't float on them
Won't heat your pool effectively

Buyers Guide – Finding the Best Solar Pool Heater
The fact that you are looking for a solar pool heater tells us that you care for the environment, and kudos to you! Maybe you're also looking to save a few bucks on your monthly bills. So, how do we find the solar pool heater that is right for you? That can depend on several things.
Do your due diligence.
Some pool heaters are compatible with all types of pools, but others are not. Make sure that the heater you are buying is compatible with the pool you have. If you make a mistake and accidentally buy a heater that is not compatible, don't fret! There are adapters that can help, it'll just cost you a bit extra.
Consider off-season storage.
In the world of solar pool heaters, it is definitely not one-size-fits-all. Some of the items on our list can be stored away to the point where they are hardly noticeable, while others might need a whole carriage house to themselves. How much space you have is an important factor to consider.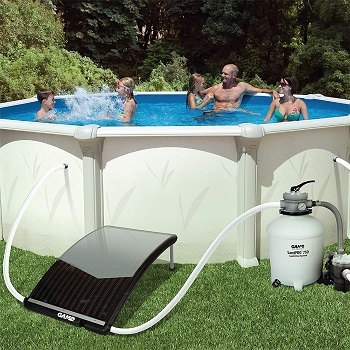 How big is your pool?
Depending on the size of your pool, you might have to buy several solar pool heaters. Top-line solar pool heaters can heat pools up to 10,000 gallons, but it is not unheard of to have to buy four to eight solar pool heaters at a time.
Consider warranties.
We're dealing with pressurized water, so you know what that means: malfunctions! Even the best solar pool heater is liable to break, so make sure you are well versed in how long the warranty is and how reliable the customer service team is.

Conclusion
Solar pool heaters are a great way to trick yourself and your guests into thinking that the summer is a month longer than it actually is. Whether you have your pool outfitted to the sleek curve of our pick of the best solar pool heater from GAME, or you're a value hunter and love what you see from XtremepowerUS, you can't beat the idea of an extra month of swimming and summertime bliss. We hope that we have helped you find the perfect product in these reviews. Of course, once the summer ends, it'll be time to start looking for the perfect hot tub.