Shindaiwa EB802RT Backpack Blower Review 2023 – Pros, Cons, & Verdict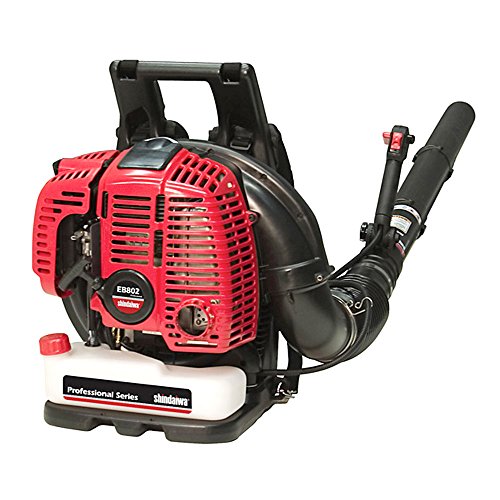 We give the Shindaiwa EB802RT Backpack Blower a rating of 4.4 out of 5 stars. 
Build Quality: 4.7/5
Power: 4.1/5
Features: 4.3/5
Price: 4.2/5
Warranty: 4.8/5
Review Summary
Shindaiwa is another regular contender in the high-end backpack blower category. Shindaiwa offers a full line of handheld and backpack landscaping maintenance equipment. When compared to competing models in the same price category, the EB802RT doesn't stack up as well—it's underpowered and less comfortable than other brands. It does come with a strong warranty (which is especially useful for the homeowner who wants professional level equipment), and the blower feels light and easy to maneuver. Overall, this might be a better choice for the homeowner than the professional.

Shindaiwa EB802RT – A Quick Look
Pros
Feels light on the back and easy to operate
Excellent control layout and accessibility
Equipment foot keeps the blower upright when on the ground
Cons
Minimal vibration isolation, rough on user
No active cooling, a standard feature on other models in this price range
Underpowered in comparison to competing brands
Specifications
Brand name: Shindaiwa
Model: EB802RT
Product dry weight: 22.7
Product dimensions without hose and nozzle: (L x W x H): 14.6" x 18" x 5"
Engine: 79.2 cc, two-cycle, CARB & EPA compliant
Idle speed: 2,000 RPM
WOT speed: 7,500 RPM
Fuel: Regular unleaded, max 10% ethanol content
Speed at nozzle tip: 210 mph
Sound level: 76 dB(A)
Newtons: 28
Excellent warranty for homeowners
The EB802RT has an excellent 5-year warranty for homeowner use and a reasonable 2-year warranty for commercial users. The company also offers a 7-day, money-back guarantee which is among the best for backpack blowers in this price range. However, the warranty is not transferable to a second purchaser.
Cruise control standard
For long periods of work, the cruise control is a nice feature. The Shindaiwa EB802RT comes with one standard, its throttle lock. It also offers an easy to access kill switch, so you can turn it off without hesitation if necessary.
Excellent durability
Shindaiwa blowers are reported to be quite durable and reliable, essential traits for commercial and homeowner applications.
FAQ
How loud is this blower?
The EB802RT is one of the quieter backpack blowers on the market. Rated at 76 dB(A), it's actually lower than traffic noise which averages 80 dB(A). Hearing protection is still recommended.
What is the difference between the EB802RT and the EB802?
The EB802 is identical to the EB802RT with one exception—it uses hip controls, as opposed to the throttle handle mounted on the EB802RT's tube.
Can homeowners use this blower?
There's no reason for homeowner's not to use this blower. The fact that Shindaiwa offers a 5-year consumer warranty indicates that it's quite frequently purchased by homeowners. The caveat to this is cost. The price difference between a commercial and a homeowner blower is going to be substantial. If you don't have a lot of property to maintain, a commercial blower might be overkill.
General user impressions
Research into how users rate their experience with the EB802RT is almost universally positive regarding durability and reliability. One user reports giving an 8-year-old Shindaiwa blower to his son and purchasing a new one for his business. Longevity doesn't seem to be an issue with this model.
Users also comment on thoughtful design elements such as the air intake which minimizes leaf build-up and subsequent blower overheating. Attention to detail in the finish and coatings applied to the engine further illustrate that Shindaiwa builds its blowers for heavy use.
According to user opinion, the blower falls short in power and user comfort. The EB802RT does little to isolate the user from the blower's vibration. Excessive vibration is rough on the user, especially during a full day of use. With no active cooling (a standard feature for many other brands), use on a hot day will be uncomfortable at best.
When compared to other brands in its price range, the blower is underpowered. It generates an impressive MPH, but that's offset by a poor Newton rating. The Newton's rating shows the amount of work performed for an input of energy and, at 28, the EB802RT has one of the lowest power outputs for blowers in its price range.
Conclusion
The EB802RT is a capable backpack blower. Even though it has less power, and is harder on the user than other competing brands, its long lifespan and reliable operation mean that it will perform well in commercial applications. Does this make the EB802RT a poor choice for commercial users? Not in the least. Competition at this level is high, and the performance differences can be slim. The Shindaiwa will get the job done for years—just not as comfortably or as powerfully as other options.
For the homeowner who wants commercial grade equipment, this blower might be ideal if they're comfortable with the price and aren't planning to use it for extended periods. If they anticipate long periods of use, they might want to consider other brands with active cooling and better vibration isolation.
Related Reads: