How Much Does It Cost to Finish an Attic? (2023 Update)
Most people do not think about their attic unless it develops a problem. Attics are often large spaces that can be finished to add a lot of additional square footage to your house. Whether you want to create a more usable storage area or want to add an entirely new owner's suite, there are multiple ways to finish an attic and boost your living space considerably. But how much does it cost to finish an attic in today's market?
The price to finish an attic can vary wildly. On the low end, you are looking at a few thousand dollars, but the high end can soar upwards of $50,000 or even $100,000. There is a lot that goes into finishing an attic and depending on what level of finish and the condition of your attic, the price will vastly differ.
Here is how much it costs to finish an attic this year. There are multiple ways to finish an attic, and we have included pricing for all of them.

Basic Finishing Costs
Not everyone wants their attic to be the neighborhood's best new multimedia room. Some people just want their attic to be usable. A usable attic means you can climb up and down with relative ease, won't bake in the summer, and can use the space for storage. Basic attic finishes include adding drywall, maybe a simple light, and insulation. A basic attic finish can help keep your house cooler in the summer and warmer in the winter by bolstering the insulation value.
Many people have wholly unfinished attics. Unfinished attics have exposed beams, exposed joists, little to no insulation, no electricity, and no way to store things because of a lack of floors.
Basic attic finishing jobs typically run between $3,000 and $7,000. The final cost will depend on how deep you want to go with the materials and the size of your attic. Some people have very small usable attic spaces, but some attics can be absolutely massive. The bigger the attic, the higher the cost. The all-in cost for basic attic finishing jobs generally runs between $30 and $60 per square foot.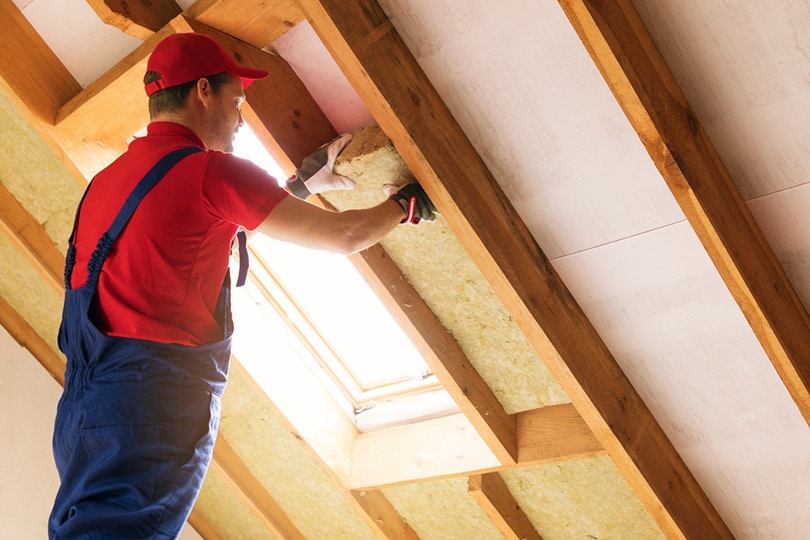 Cost Per Square Foot
| | | | |
| --- | --- | --- | --- |
| Price | Low | Average | High |
| $/Square Foot | $30 | $45 | $60 |
The two biggest things that go into a basic attic finish are insulation and drywall. If you insulate the attic and put drywall over top of the new insulation, the room will feel completely different without turning it into a whole new bedroom. Just doing drywall and insulation won't cost too much and can quickly turn unusable attic space into a usable space. The thing not considered here is the need for flooring. If your attic has exposed floor joists, meaning you don't have any floors, that is going to add more money to the final cost. Plywood for subflooring is between $2 and $3 a square foot, and if you are trying to cover a large space, it could add up quickly.
---
Basic Finishes
| | | | |
| --- | --- | --- | --- |
| Type | Low | Average | High |
| Insulation | $1,500 | $2,000 | $2,500 |
| Drywall | $1,000 | $2,000 | $3,000 |
| All In | $3,000 | $4,500 | $6,500 |

Full Finishing Costs
On the other end of the spectrum, you have full finishing. Full finishing turns an attic into a brand-new living space. It is similar to finishing out a basement as a subterranean apartment. Most people do not choose to finish their attics in this way because there is a lot more that goes into it than finishing a basement. Fully finishing an attic can range anywhere from $30,000 to $100,000, depending on the conditions.
At a minimum, you are generally looking at about $150 per square foot for a full remodel job in the attic. That means if you are trying to finish a 15×20 space at the low end, you are looking at a $45,000 price tag. The highest end finishing costs can run $200 to $225 per square foot. The discrepancy in cost is due to the fact that there is a lot that needs to happen to an attic to make it livable. New windows, closets, plumbing, electricity, paint, egress, code, ceiling height, and more all have to be considered and adjusted in order for an attic to become a bedroom or a bonus room. That all adds up to big money in most markets.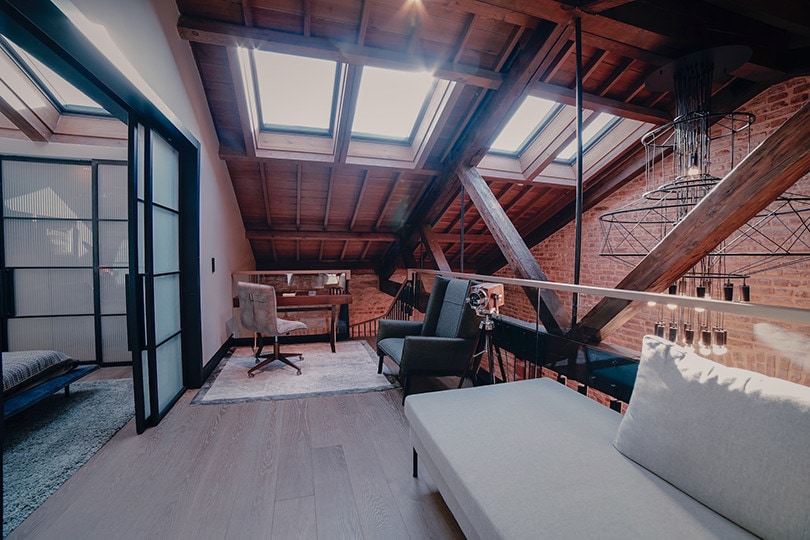 Cost Per Square Foot
| | |
| --- | --- |
| Level of Finish | Cost Per Square Foot |
| Basic Living Space (Living room, loft) | $150 |
| Upgrade Living Space (Medium bedroom, office, studio) | $180 |
| Fully Finished (Master suite, in-law suite, spa) | $200+ |
Like most things in construction, the size of the project generally dictates the price. There are small attic spaces and things like finished rooms over the garage (FROG) that won't need a second mortgage, but there are large attic spaces that will easily run over $50,000. You can do a small FROG or corner attic for $10,000 at the lowest end, but that is for a space that is just 10 x 10 feet or smaller.
An average bedroom measures 12 x 14 feet. Finishing that space at the highest end will cost roughly $35,000 all in. Remember, these costs are to turn a completely unfinished attic into a bedroom that meets code and can be put onto an official realtor listing.
---
Attic Bedroom All-In Finishing Costs
| | | | |
| --- | --- | --- | --- |
| Size | Low | Average | High |
| Small | $10,000 | $20,000 | $40,000 |
| Average | $20,000 | $40,000 | $60,000 |
| Large | $30,000 | $60,000 | $75,000+ |

The Most Expensive Parts of Finishing an Attic
If you are having sticker shock about the potential final cost of finishing an attic, you are not alone. Finishing out an attic can be surprisingly expensive and time consuming. If you are looking to save money on your build or want to break the project down into segments, these are the most expensive parts of the attic to attack at one time.
Running electricity to an attic can be very expensive, especially if there is no existing electrical infrastructure. At the high end, you can expect to pay $3,000 to run all new electrical through an attic. If you want to add lighting or ceiling fans to the mix, you can tack on another $500. If you have a small attic or existing wiring in the space, the cost can be as low as $1,000. Forgoing electricity in the attic can save you quite a bit on the final estimate.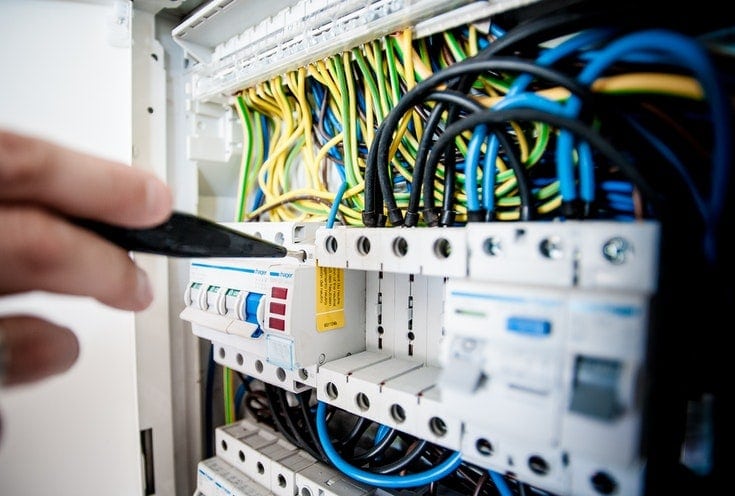 ---
HVAC systems are another potential money pit for your attic project. Central air conditioning needs vents, ducts, insulation, and electrical to be installed along with it in order to properly cool the space. Attics, unlike basements, are naturally hot and are often the hottest place in the house, so air conditioning is pretty much necessary. Unfortunately, if you need to tie into an existing central air conditioning system, expect to pay a lot of money. The ductwork and electrical upgrades, and vents will often cost at least $8,000. The highest ranges can push $15,000 or more.
You can save money by installing a split system, portable air conditioner, or window AC unit. You can get enough cooling power to keep the attic cool for as little as $1,000 if conditions are right, but then your space will not have fully functional central AC like the rest of the house.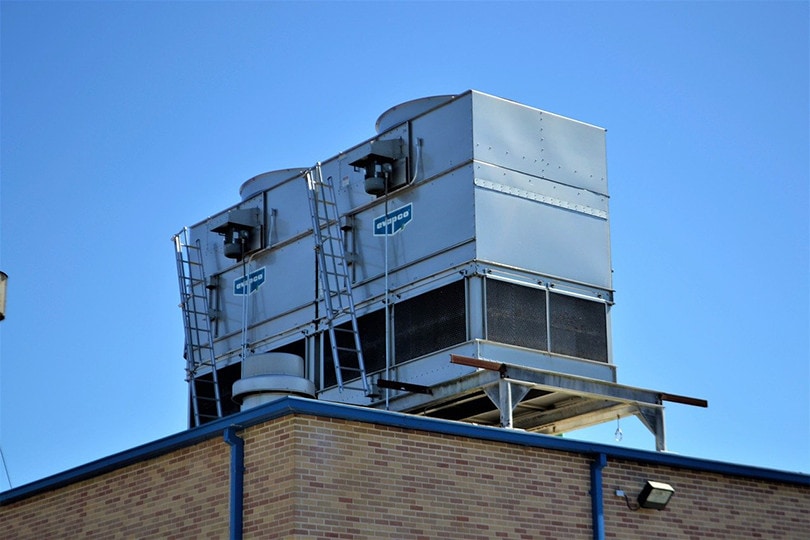 ---
The last thing to look out for is the installation of new floor joists. Ceiling joists meant to hold up a roof are not the same as floor joists. If your existing attic does not have strong enough joists to support a floor, the entire structure will have to be removed and replaced. That is a huge job that will require a lot of brand-new material and a lot of labor, and it could also lead to your ceiling having to come down. Yikes! Depending on the state of the existing joists and the size of the attic, you could be looking at costs as high as $10,000. Some houses are built with existing joists strong enough to support a floor, but not all of them are. If you hear joist replacement, you know you are in for a lot of money.
Additional Costs and What to Consider
Permits and Inspections
Finishing an attic can be an extremely involved process. If you are going all the way and adding plumbing, electricity, new stairs, windows, and HVAC, that is all going to come with a bevy of permits and inspections that will need to be purchased and filed properly. Each phase of the build will require a permit, and many of the features of the attic will need to be inspected. Sometimes, you will need to have something inspected multiple times.
One of the biggest costs associated with this process is time. Getting an electrical inspector in to check the power so you can hook it up to the AC so you can get the AC inspected can take days and sometimes even weeks, depending on the season. Be sure to plan for a lot of time and money to be tied up in permits and inspections for a full attic redo.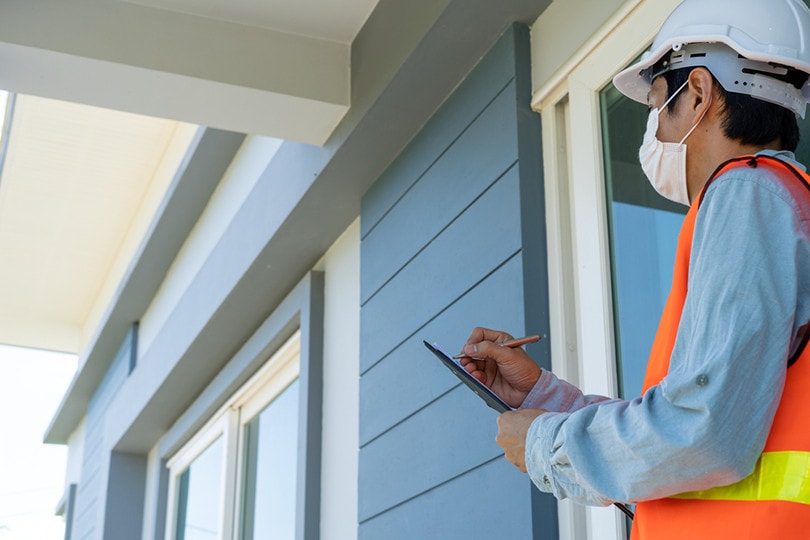 ---
Furnishings
Do you want to furnish your attic? If so, you need to make sure the furniture can fit through your attic access. Whether it is stairs, a ladder, or a pulldown contraption, the attic access has to be large enough for your furniture in order to get it up there. Otherwise, you will be stuck hoisting boxes through the access. Do you need new furniture to add to the newly refurbished space? Add that to the budget as well. There is no use refitting your attic into a place to watch the big game if you don't have any money left in the budget for a comfortable couch and large television.
---
Code Adjustments
One thing to consider is the adjustments you might need to make to the attic in order for a finished space to meet code. For example, if you want to turn the attic into a bedroom that you can add to your official listing, it will need windows, egress space, and a closet. Most attics do not include windows or proper egress. If you are planning on turning the attic into a livable space that passes code, you might need to make more adjustments than you initially realized.
Similarly, if you add electrical and plumbing to your attic, those things will also have to meet the most recent building codes when it comes to pipe placement and new electrical panels. Another common source for code problems is the ceiling height. Ceilings have to be at least seven feet tall in a living space, and many attics do not meet this. That might mean you have to raise the roof to get your attic up to code, and that can also get extremely expensive if you are not careful. Permits, inspections, code adjustments, and rebuilds can all add up to a hefty price tag if you are not prepared.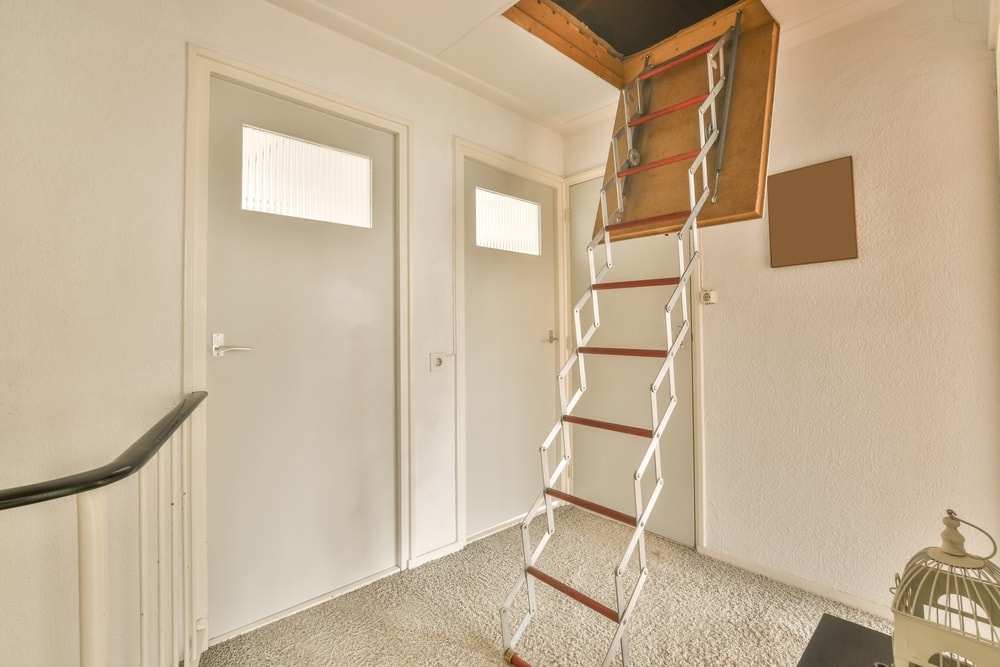 ---
Stairs / Attic Access
Another thing to consider is what kind of stairs or entryway you are going to have to your attic. If you want to finish the attic completely and turn it into livable space, you are going to need something better than a pulldown ladder. Adding a staircase to a house can be expensive and time consuming. Stairs also take up a lot of space.
A staircase addition will need to meet code and must be inspected in order to make the attic official. Modern staircases are wide and require a certain amount of overhead space and railings. You cannot get away with adding a steep and narrow staircase as you see in old homes. Before you dive in and start planning your brand-new attic oasis, make sure you consider how you are going to access the upstairs space.
Conclusion
If you want to fully finish your unfinished attic you should start saving money now. It is not a cheap or easy process to turn an uninsulated crawlspace into a fully functional living space, but it can be done. You can do a quick and simple finishing job on an attic to make it more usable for cheap or you can break the project down into segments and phases and finish the attic slowly over time as you get the money. There are numerous ways to finish an attic. You just have to factor in the time, the codes, the money, and the unforeseen problems that often arise when you go digging in the bowels of a house.
---
Featured Image Credit: dugdax, Shutterstock