10 Deck and Decking Trends in 2023 – Design Ideas for a Modern Home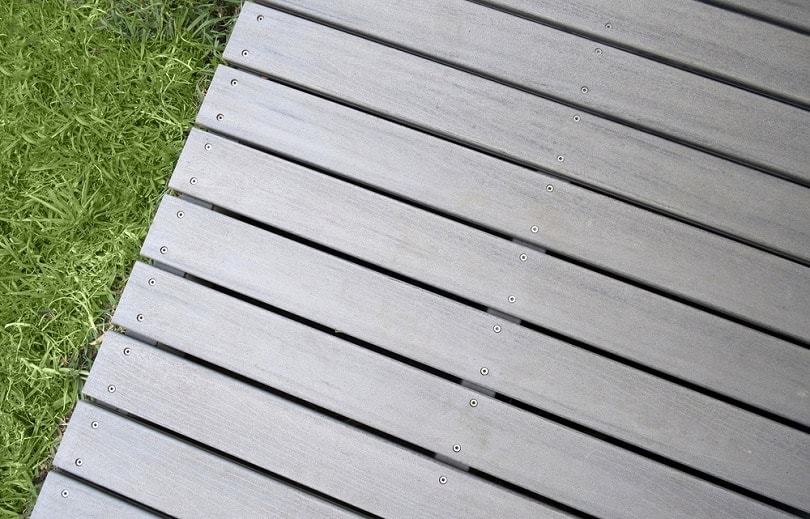 Update your deck with some of the hottest trends this year. These trends can make your deck more attractive, more inviting, and more functional. Whether you have a giant deck or a small one, these deck and decking trends will make your deck pop.

The Top 10 Decking Trends in 2023
1.

Updated Railing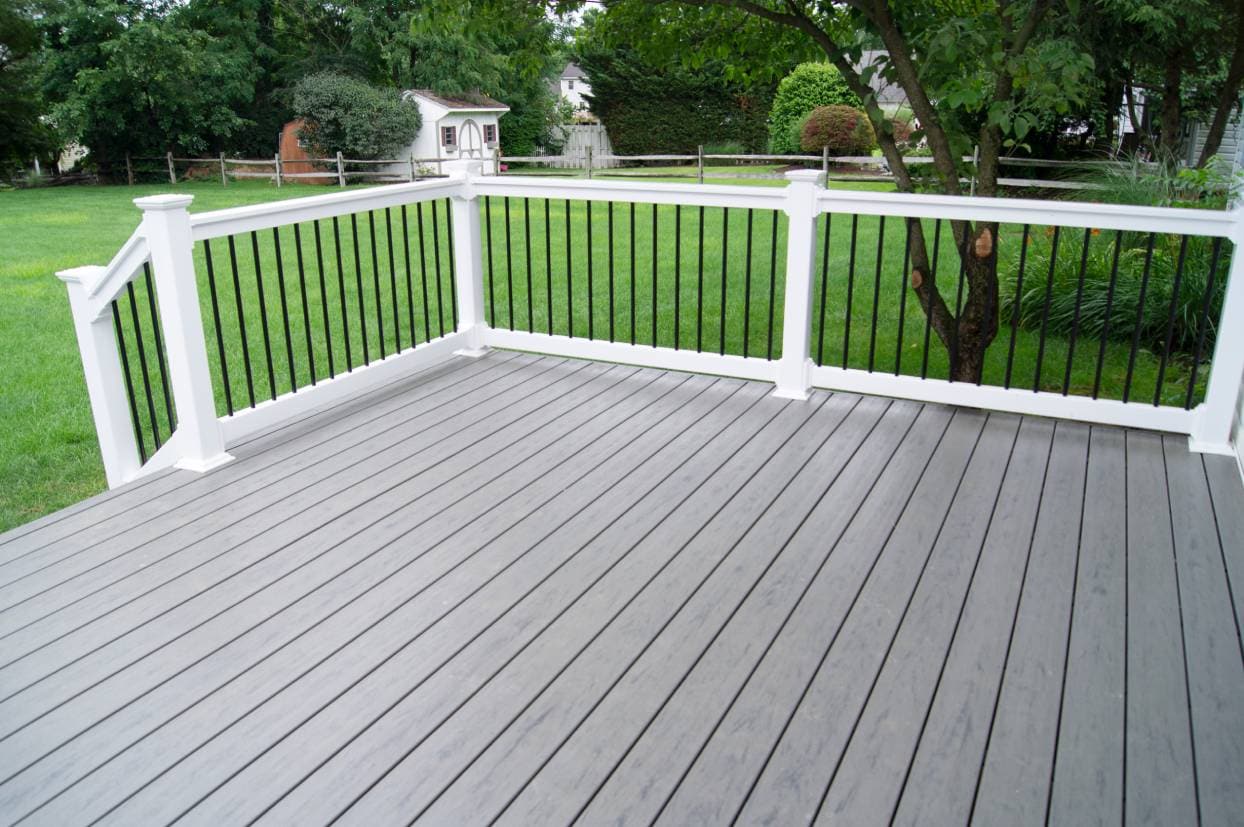 Almost all decks have some form of a railing. One of the best ways to instantly make your deck look more modern is to update the railing system. Today, metal balusters are quite trendy. Even if the railings themselves are wood, make the individual balusters metal. Another hot trend is making the balusters run horizontally, not vertically.
---
2.

Lights Attached to Railing
If you like to sit on your deck at night, consider adding LED lights to the bottom of your deck railing. The LED lights will make it easier to see where you are going and add lighting throughout the deck instead of just in one spot. Placing the light specifically underneath the railing is all the rage right now. It creates cleaner looks that are also fashionable.
---
3.

Outdoor Living Rooms
One way to ensure that your family and friends love your deck is to turn it into an outdoor living room. Outdoor living rooms offer all the comforts of a living room in style. All the while, you also get to enjoy the fresh air and nature.
When creating your outdoor living room, you want to select outdoor-friendly furniture that is both functional and comfortable. Sofas, chairs, and tables are a must. Set up the furniture just as you would your inside the living room. Add throw pillows and other touches to make the outdoor living room even more comfortable.
If you have a little extra cash for decoration, you can even add an outdoor TV. This outdoor TV can make your barbecues the most fun in the neighborhood, especially on game night.
---
4.

Outdoor Kitchens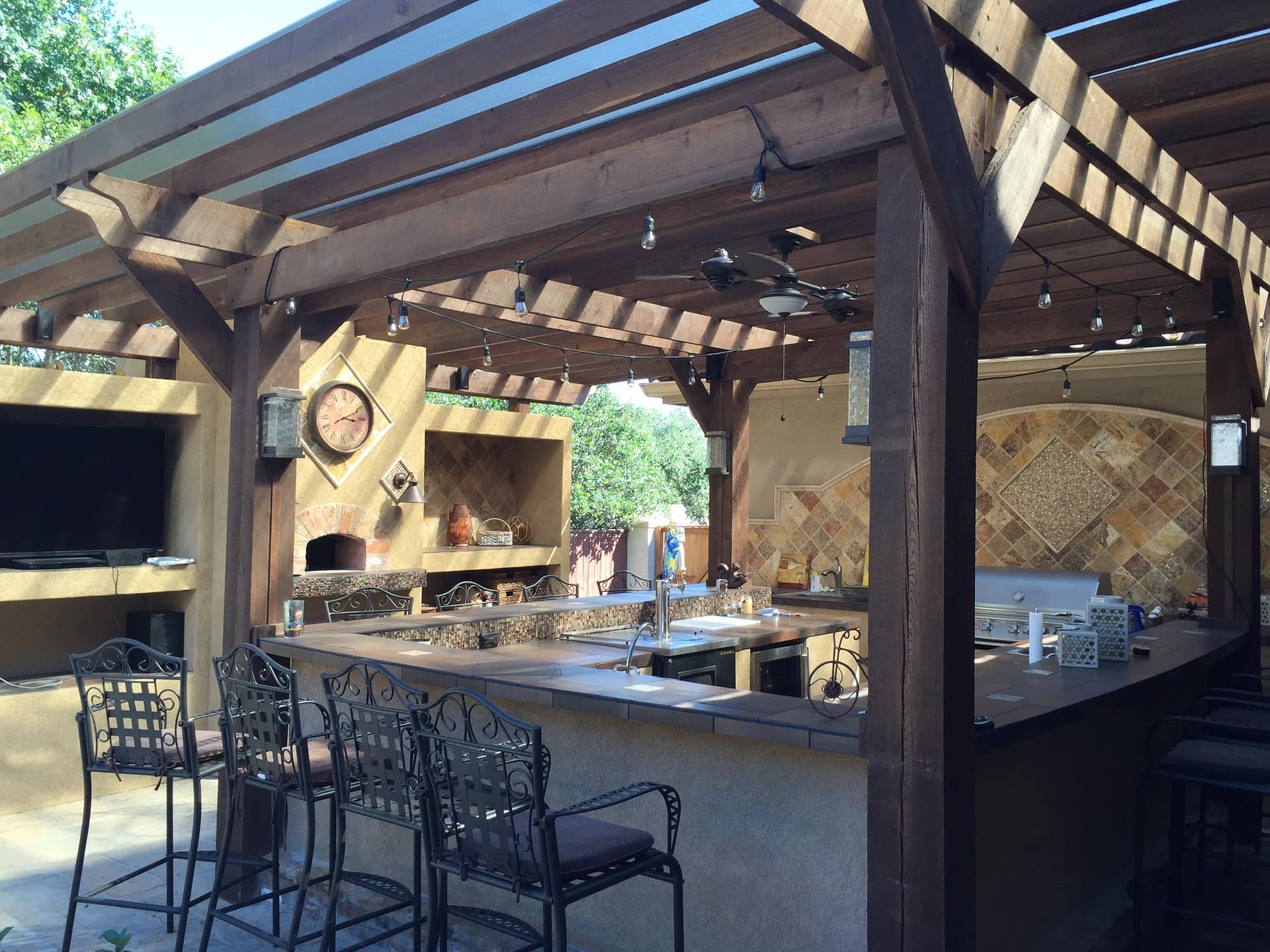 If you love eating outside, create an outdoor kitchen. Outdoor kitchens will upgrade your barbecues and grills up a notch. These areas often have built-in grills, as well as food preparation stations. Some even have sinks, refrigerators, and more.
The trend is especially fun if you have a seating area. You can pair it with an outdoor living room, or you can just add a nice outdoor table so you can cook and eat your meals outside.
---
5.

Outside Bar
If you enjoy a drink or two, you can even add an outside bar to your deck. Depending on your budget, you can install a full-out bar, or you can add a simple yet effective one. It's ultimately up to you how many features you add to your bar.
---
6.

Temperature Control
Gone are the days of having to sit outside uncomfortably. To make sure you get full use of your deck, no matter the time of year, add temperature control features to the deck. Adding fans to the deck ceiling or fire pits and other heating devices, you can make sure your deck is comfy and cozy all year long.
---
7.

Pergola Additions
A pergola consists of columns to support a grid of roofing beams and rafters. What makes pergolas so interesting is that they offer a little bit of shade while also offering space for plants to grow or open breezes to come through.
One of the best trends right now is adding a pergola over the top of your deck. This is a great way to make your deck classier while adding additional shade. You can string lights to the rafters or allow vines to grow around them. The options are practically endless.
---
8.

Relaxing Features
Decks don't have to be about glitz and glam. Instead, they should be super relaxing and encourage you to unwind after a tough day. Adding relaxing features to your deck is the best way to get this done. The beautiful part about this trend is that you can consider tons of relaxing features.
Comfy sofas, hammocks, hot tubs, and even swings are popular relaxing features. Just select a feature that will help you unwind every afternoon.
---
9.

Bright Colors
Decks are supposed to be fun and inviting. Add pop-up pizazz to your deck by selecting bright colors. The bright colors can just be on throw pillows, or you can select bright-colored furniture. It's up to you.
---
10.

Herb and Vegetable Gardens
There is nothing better than cooking with fresh herbs and vegetables. Make sure that you have an endless supply of these things by growing your own veggies outside. No matter what size your deck is, you should be able to decide on a plan that allows you to grow various herbs and vegetables.
If your deck is large, you can opt for regular box planting designs. However, you can also select vertical planters. Vertical planters maximize space and look very modern. They are especially great for small decks, but they look fantastic as decoration on large decks as well.

What Is the Best Decking Material for 2023?
The hottest decking material is composite decking. Composite decking is a mixture of wood and plastic. More specifically, composite is comprised of wood fibers, but these wood fibers are encased in plastic. If built correctly, composite decking can last longer than other decking materials, all without the worry of splinters.
The trick of composite decking is to make sure they are properly installed. The composite deck is not as strong as regular wood. As a result, it needs to be supported properly. Make sure to hire a professional who is experienced in composite decking to install it correctly. Have an idea of everything you're going to put on the composite deck so that you know how much support it needs.
How Can I Make My Small Deck Look Great?
It's not too difficult to make a small deck look great. Even though there are fewer decoration options for small decks than large ones, there are plenty of designs to choose from.
Just adding a chair or two with some vertical planters is a great way to liven up the space, no matter its size. Vertical planters will take up minimal space, all while adding beauty that is functional as well. You can add a small little table to serve as a breakfast nook if you have extra space.
Don't forget about lights, either. Lights are a great way to spruce up a small deck while not taking up any floor space. Select string lights and other decorative lights to add warmth to the area that looks fashionable and well thought out.
Final Thoughts
As you can see, there are plenty of deck and decking trends this year. Select the trend that is best for you based on your deck usage, personal style, and budget. You can't go wrong!
See also: Can You Power Wash a Trex Deck? What You Need to Know!
---
Featured Image Credit: xshot, Shutterstock