11 DIY Palm Tree Plans You Can Make Today (With Pictures)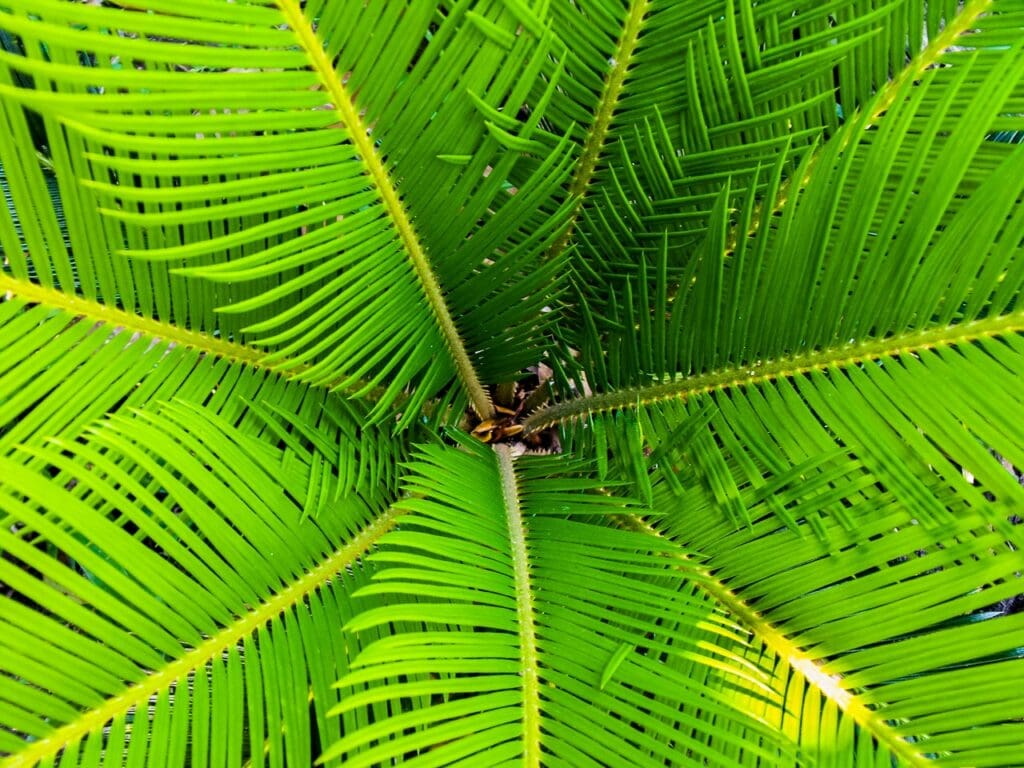 If you are a DIY enthusiast and interested in having a palm tree on your property, this guide is for you!
There's something about palm trees that makes them look extraordinary. Whether it's because of their unique look or impeccable structure, you can't help but notice them when passing by. If you have some near you, consider yourself lucky. Not everyone gets to enjoy these trees on a daily basis.
For those who love palm trees and want more of them, the good news is that making a DIY palm tree is easy and cheap. In this guide, we'll walk you through some cost-effective DIY palm tree plans that you can make today.

The 11 DIY Palm Tree Plans
1.

Paper Palm Tree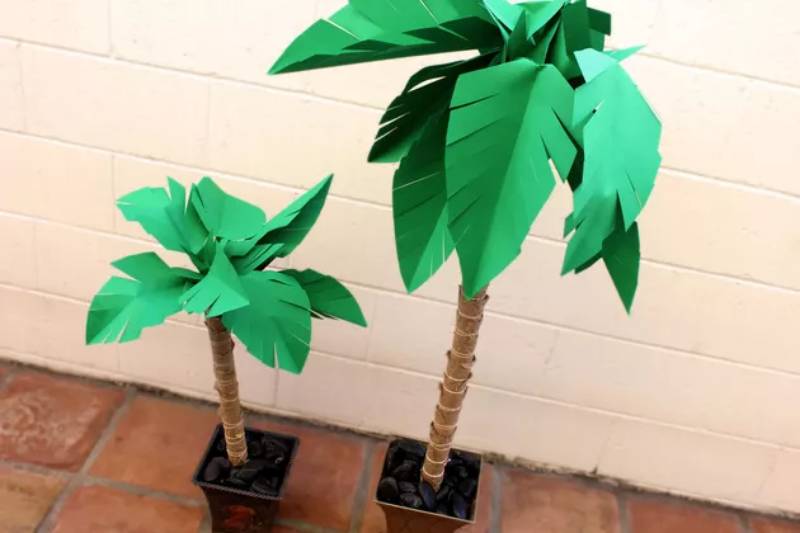 | | |
| --- | --- |
| Materials: | Brown paper, cardboard tubes, rubber bands, container with sand or pebbles, and green construction paper |
| Tools: | Scissors, duct tape, and a stapler |
| Difficulty Level: | Easy |
Palm trees are popular as yard decorations, but they don't have to be complicated to make if you can't grow them. For instance, a paper palm tree is an excellent project for kids and adults alike. The best part is that you don't need special tools or supplies. You can even use different paper colors for each section.
First, you'll use cardboard tubes to make the palm tree's stem. Then, use duct tape to tape the ends of the cardboard tubes. Tear pieces of brown paper and wrap them around the stem using rubber bands.
The last step is preparing the green construction paper for the leaves. Then, fill a large container with pebbles or sand to make the palm tree stand upright. You can make these palm trees in any shape or design you want. It's a great way to add a rustic feel to your home decor.
---
2.

DIY Palm Tree Party Décor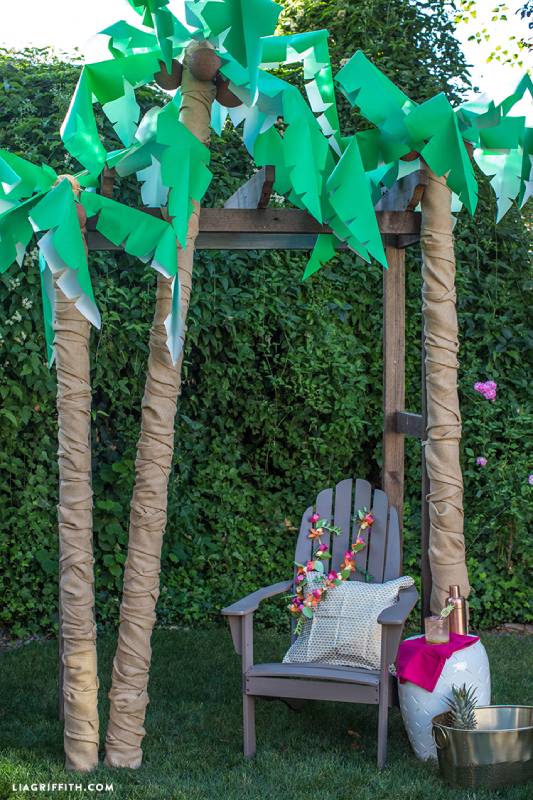 | | |
| --- | --- |
| Materials: | Carpet inner tubes, glue, foam balls, and green school paper |
| Tools: | A hot glue gun, duct tape, and a pair of scissors |
| Difficulty Level: | Moderate |
Palm trees have been used as a backdrop for the holidays. Now, they are the focal point of many celebrations. You can create a palm tree party décor that's not only beautiful but also functional to add an instant tropical flair to your yard and make it feel like you are on vacation in Hawaii or the Bahamas! These are ideal for outdoor weddings, baby showers, and other special events.
You can DIY palm tree party decor by placing colorful ornaments around the base of your palm tree. Ensure you add some leafy greens to highlight the five-pointed star at the top of each branch. The carpet tubes will form the trunk.
Then, cut strips of burlap fabric and wrap them around the carpet tubes and glue them together. Attach the green school paper to the stem to create the leaves of the palm tree. Also, attach the foam balls to the top of your palm tree for some cute coconuts.
---
3.

Pineapple Palm Tree for a Serving Tray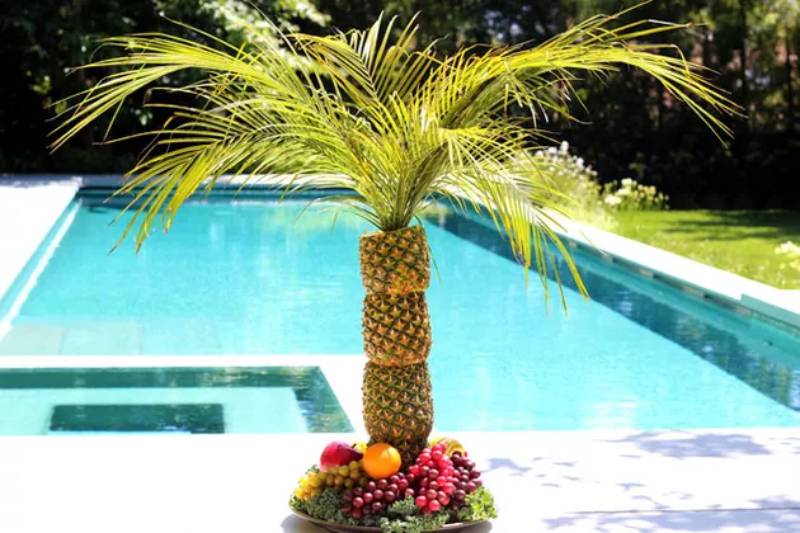 | | |
| --- | --- |
| Materials: | Palm fronds, wooden skewers, aluminum foil, four or five pineapples, wood screws, PVC pipe, and wood disc |
| Tools: | Knife, serving platter, and a PVC pipe cutter |
| Difficulty Level: | Easy |
This pineapple palm tree is ideal for a holiday table. You can also use it as an elegant centerpiece for your dining table, perfect for serving drinks, food, and other items.
Start by screwing the PVC table cap to the base of the wood. Then, cut the PVC pipe and insert it into the table cap. The next step is to cut the tops and bottoms of your pineapples and core them. Then, put the base on a serving platter and insert your pineapples. Insert your palm fronds and cover the bottom with different kinds of fruits.
---
4.

Gum Paste Palm Trees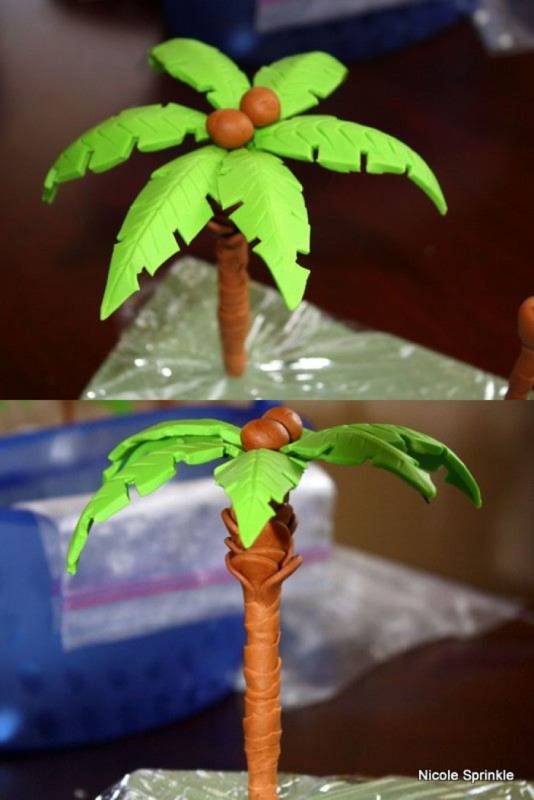 | | |
| --- | --- |
| Materials: | Brown gum paste, piping tip, green gum paste, and floral wire |
| Tools: | A wooden dowel and a pair of scissors |
| Difficulty Level: | Beginner |
Believe it or not, gum paste is an effective medium for making palm trees. It's cheap and easy to work with, and you can make a bunch of palm trees at the same time it takes to make one from scratch. It's the way to go if you're looking for something more natural to use.
The gum paste palm trees are sturdy and look great in front of a window or patio. Besides, it's a great idea if you have kids in your house. They'll love decorating these palm trees with their hands.
You can mold gum paste into different shapes with your hands. It doesn't shrink or crack when you bake it. Roll brown gum paste to form the stem and wrap it using a wooden dowel. Then, cut circles and layer them on top. Use green gum paste for the palm leaves. Cut and attach them using a floral wire.
---
5.

DIY Dollar Store Palm Tree
| | |
| --- | --- |
| Materials: | A bucket, pool noodle, broomstick, palm bushes, burlap, coconut plant liners, foam balls, and glue sticks |
| Tools: | A glue gun, foam bricks, and a pair of scissors |
| Difficulty Level: | Advanced |
Palm trees are an inexpensive way to add that perfect touch of greenery to your home or garden. It's easy to make one and the best part is that it doesn't take a lot of time! You can complete the Dollar Store Palm Tree in one afternoon. It's also a great way to get kids involved in the process.
Simply buy some supplies from your local dollar store. You can even use the same pallet to build a second tree, should you want one! First, insert the broomstick into the pool noodle to make it firm and stable. Then, stick the broomstick into a bucket. Add rocks to support the tree trunk.
Take the palm bushes and stick them to the top of the pool noodle. Then, wrap the burlap around the pool noodle to make it appear like a palm tree trunk.
---
6.

DIY Classroom Palm Tree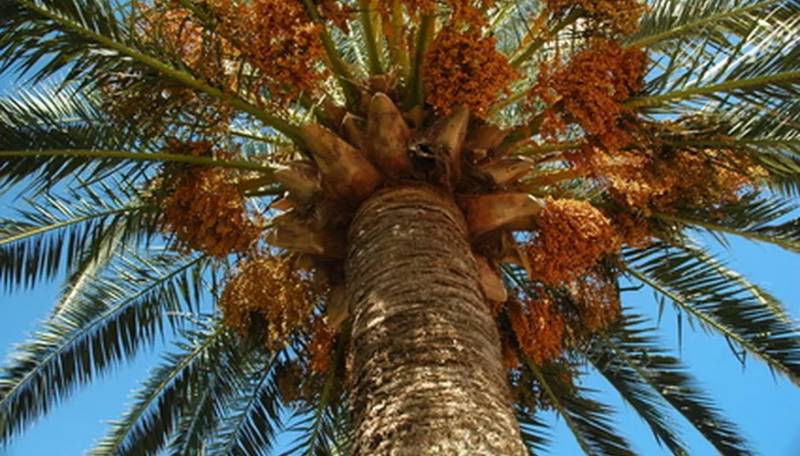 | | |
| --- | --- |
| Materials: | A large clay plant pot, a bag of play sand, metal hangers, Styrofoam block, white glue, and pieces of green tissue paper |
| Tools: | A handsaw, scissors, knife, and wire cutters |
| Difficulty Level: | Easy |
This classroom palm tree is an excellent way to make a statement about your love for the environment. It's easy to build, and it would look great in your child's classroom or lobby. You could also use it as an entryway into a community center or any other building. This project is perfect for anyone who wants to make their home greener and more beautiful while impacting the world.
You can make this palm tree in a day with some DIY skills. Also, the kids can help with the project. You can use materials you already have at hand. Cut the height you need from the carpet roll tube and make it stand upright in a large pot. Then, fill it with sand.
Use metal hangers to act as leaf support. The last step is to cut out the leaves from the green tissue paper and glue them to the tree trunk to form the palm tree.
---
7.

Realistic Palm Trees With Wafer Paper and Fondant
| | |
| --- | --- |
| Materials: | Sheets of wafer paper, wires, glycerin, green gel, water, aluminum foil, and unflavored gelatin |
| Tools: | Bowl, scissors, spoon, and a brush |
| Difficulty Level: | Easy |
One of the easiest palm tree ideas you can create is the realistic palm tree using wafer paper as the leaves and branches. You can add a bit of fondant to make it look even more realistic. This DIY project is easy for children to make, and it even looks beautiful in a child's room.
First, prepare a solution that you'll use to paint the wafer paper after cutting them. Adding green gel gives the wafer paper the green color for the leaves. Then, cut out the wafer paper to form the palm tree leaves.
Attach the wafer paper pieces using glycerin. Then, paint them using the solution you formed. Use the wires to shape the leaves. The next step is to assemble the leaves to the tree trunk, and you'll have made a palm tree. Use these steps to make several other palm trees.
---
8.

Faux Palm Tree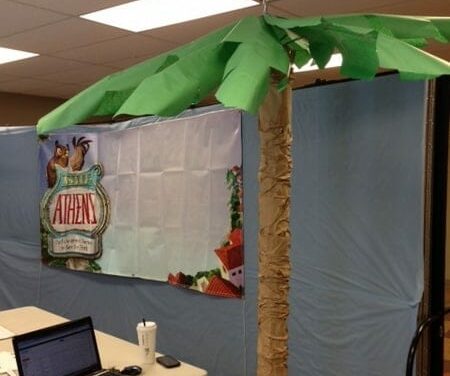 | | |
| --- | --- |
| Material: | Old carpet roll, brown paper, microphone stand, old umbrellas, fake palm tree branches, green butcher paper, straws, scotch tape |
| Tools: | Wire cutters, scissors |
| Difficulty Level: | Easy |
If you are looking for the aesthetic of a palm tree without the responsibility of keeping it alive, this is a great tutorial. It is a great plan to help you DIY a palm tree that can easily look realistic at first sight. They are made using carpet rolls which you could source from your local carpet store, and you can craft your own leaves or attach fake ones. This project may require some patience, but it's easy enough for you to enjoy and even get the kids involved.
---
9.

Miniature Palm Trees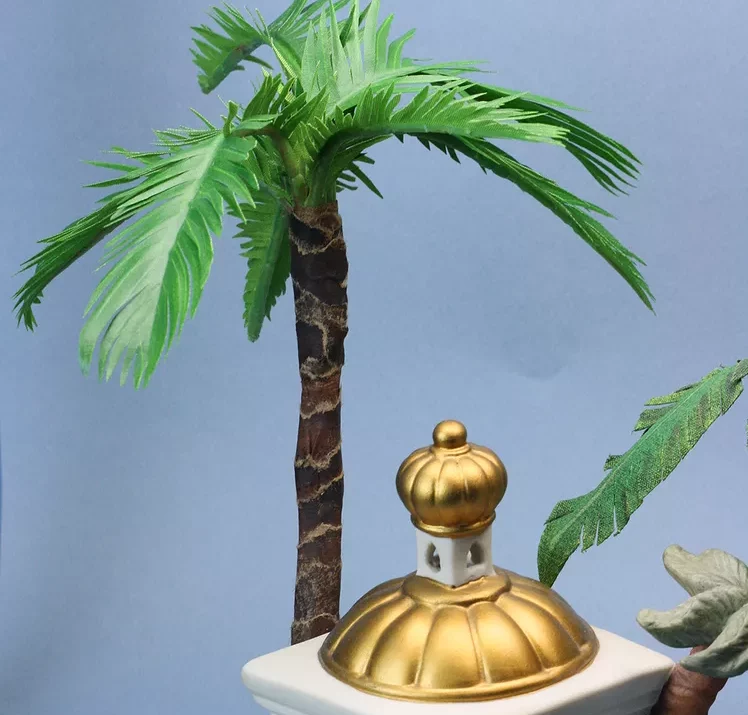 | | |
| --- | --- |
| Material: | Acrylic paint, Kraft paper, fabric leaves, PVA glue, florist tape |
| Tools: | Scissors, wire cutters, ruler, paintbrush |
| Difficulty Level: | Easy |
These miniature palm trees are simple to construct in a variety of scales and styles for many uses, including dollhouses, table or cake décor, or any other activity that may require a miniature palm tree. The materials are cheap and easy to work with, and you can make a whole bunch in a matter of hours. If you have children in your home, they will also have fun with this project.
---
10.

DIY Party Palm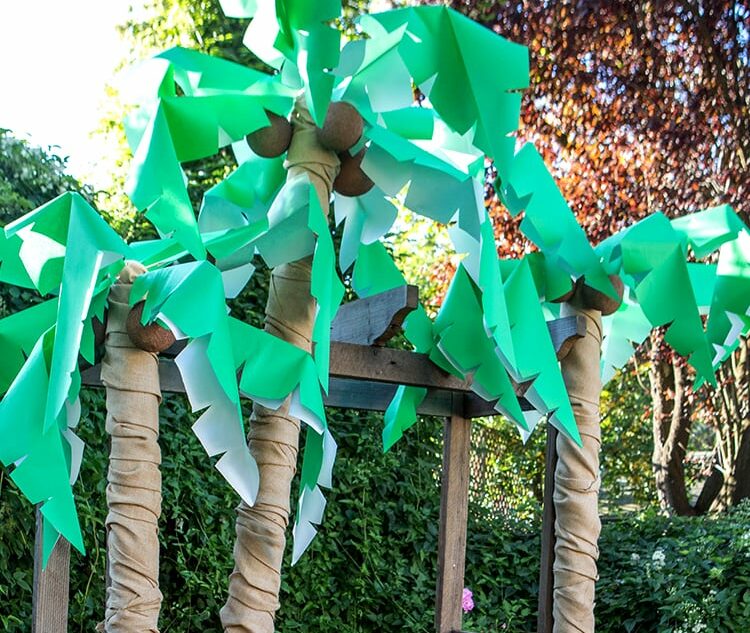 | | |
| --- | --- |
| Material: | Carpet tubes, burlap cut into strips, foam balls, green paper or cardboard, bamboo skewers |
| Tools: | Glue gun, scissors, craft knife |
| Difficulty Level: | Easy |
Hosting your own Luau for a summer party is a great idea, but palm trees are a must to complete the theme. Buying an established palm tree is expensive, especially if you don't have the right environment for it to thrive once the party is over, so the best solution is to DIY one! These palm trees will be the stars of your garden and have all your guests wowed, and best of all, they are easy to make, inexpensive, and disposable.
---
11.

Recycled Pool Noodle Palm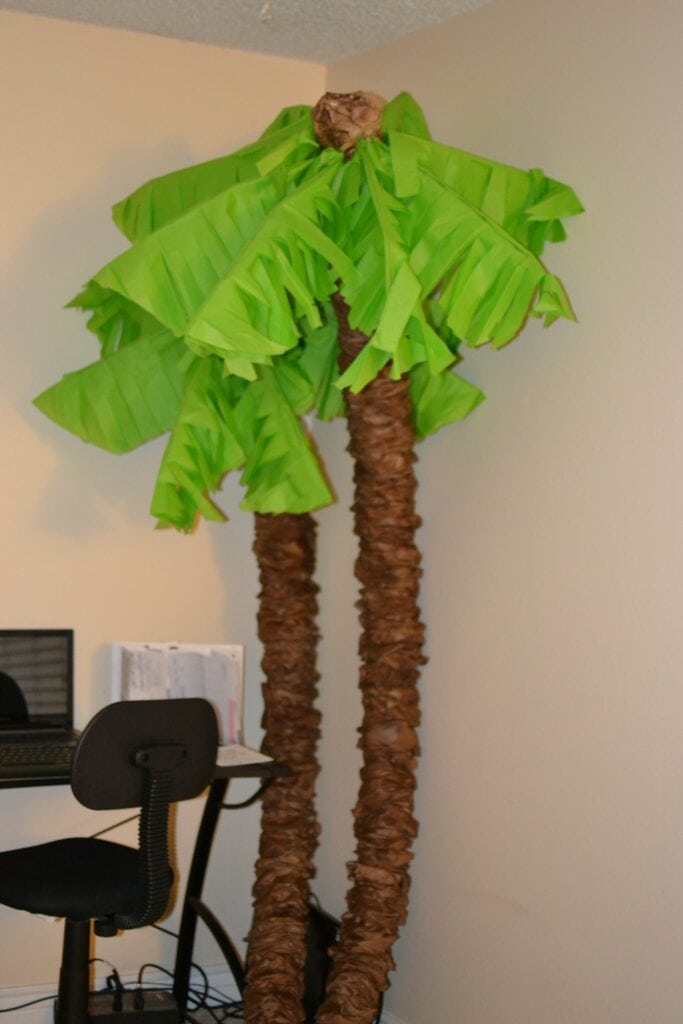 | | |
| --- | --- |
| Material: | Pool noodles, brown paper lunch bags, brown spray paint, green tissue paper, 16 gauge floral wire, duct tape |
| Tools: | Glue gun, scissors |
| Difficulty Level: | Easy |
Palm trees have become a popular choice of décor, especially for beach parties or backyard barbeques, and making one doesn't have to cost you hundreds of dollars or hours of your spare time. This plan is great if you are looking for the perfect party palm, and the kids can easily get involved. All you need is a pool noodle and simple craft items to create a tropical palm tree. The palm won't stand on its own, so you'll probably need to use a fishing line to suspend it from the ceiling or find another creative way to keep it upright, but adding some other island-style décor with the palm tree will complete the tropical aesthetic.

Benefits of DIY Palm Trees
Palm trees are an excellent addition to any indoor or outdoor space. They also add a fun touch of color and texture to your room.
DIY palm trees have many advantages. They are inexpensive and easy to make. Besides, you can make them from materials easily obtainable in various sizes. The biggest benefit perhaps is that you can use your imagination to create something unique and beautiful.

Conclusion
Palm trees are beautiful plants, but most of us live in an apartment or home where we don't have the space for these tall trees. However, you can still bring the beauty of palm trees into your life by building a few DIY palm trees.
With these plans, you now know how to make a DIY palm tree in your home today. Remember to stay organized and keep track of the materials you need. This way, they're easy to access when you need them. Otherwise, it is time to add some interesting design features to your home using easy-to-make palm trees.
---
Featured Image Credit: Josch13, Pixabay