12 Volkswagen Facts – 2023 Statistics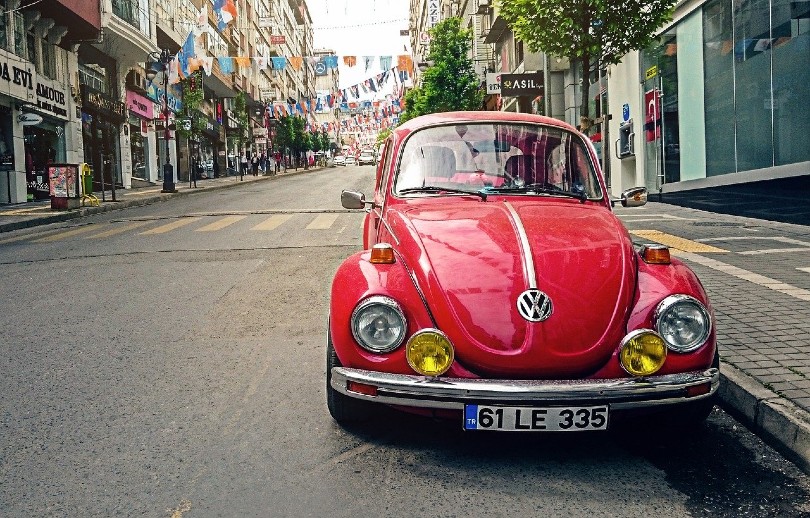 Note: This article's statistics come from third-party sources and do not represent the opinions of this website.
Volkswagen is one of the oldest and most iconic car companies globally. It produced the wildly popular VW Bug and VW Bus, both of which are cultural standouts still today. They are also the world's second-largest car company and one of the world's largest companies. There is a good chance you have driven or owned a Volkswagen vehicle yourself.
But many people might not know that in between putting out best-selling cars, Volkswagen has somewhat of a sketchy past and somewhat of a dark history. Not only is Volkswagen a hugely successful brand, but it also tells a fascinating tale.
Here are 12 facts you might not know about Volkswagen, including:

The 12 Volkswagen Statistics & Facts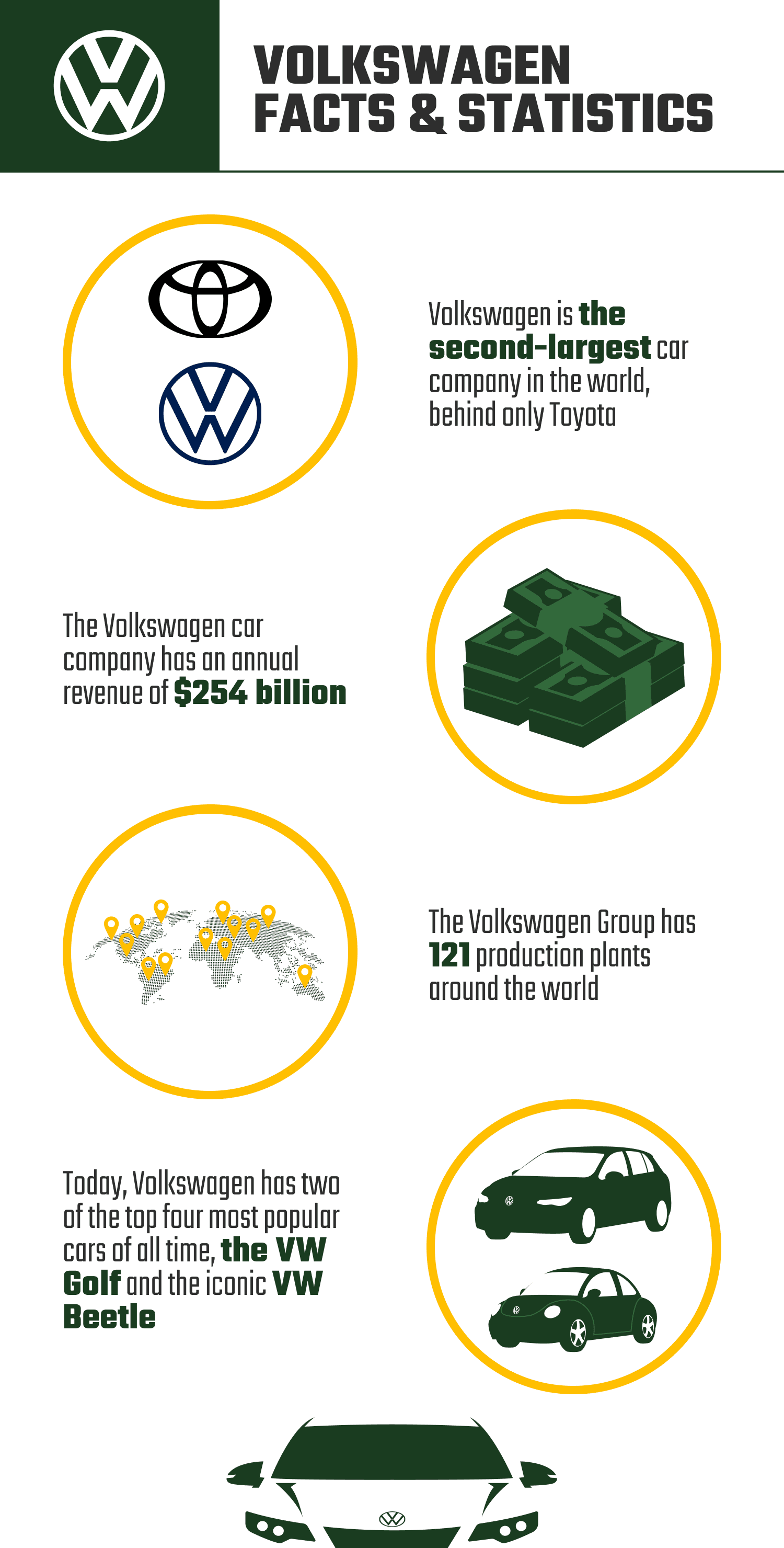 Volkswagen By The Numbers
1.

Volkswagen is the second-largest car company in the world.
(Statista)
Volkswagen is one of the largest companies on earth and is the second-largest car company in the world. Only Toyota is larger than Volkswagen in terms of both sales and the number of cars produced. It grew from a modest European car company into a global business juggernaut. One of the reasons that Volkswagen continues to dominate the market in terms of revenue and number of units is that Volkswagen is adept at buying and absorbing other companies. The aggressive expansion has kept Volkswagen's business on offense. While other car companies such as General Motors are on the decline, Volkswagen has managed to maintain its position at the top of the mountain.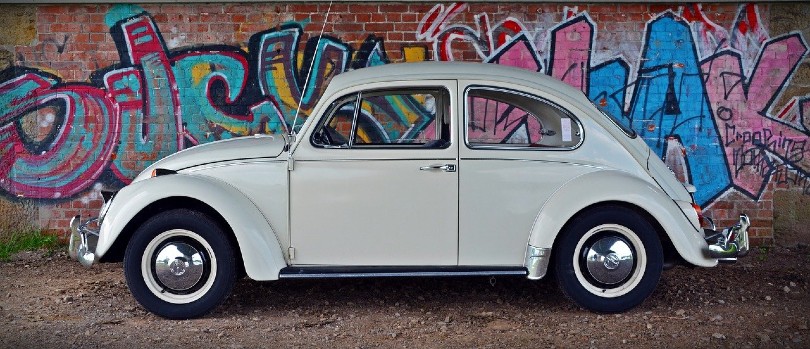 ---
2.

Volkswagen sells 9.3 million units per year.
(Statista)
Volkswagen's annual production totals roughly 9.3 million vehicles—that is a lot of cars! In fact, only Toyota makes more. Toyota makes an average of 9.5 million vehicles a year. Not all of these cars are Volkswagen Beetles either. Volkswagen makes cars of all kinds with markets all over the world. The company has an extensive footprint all over Europe and is extremely popular in the United States as well. Volkswagen makes everything from classic Beetles to diesel-powered Jetta and even electric vehicles. The newest model, ID.4, is an all-electric vehicle made by Volkswagen that is supposed to debut in 2023, barring any delays.
---
3.

Volkswagen has an annual revenue of $254 billion.
(Statista)
Volkswagen makes a lot of money. They post annual revenue of over $250 billion per year. That, again, puts them behind Toyota for second place. Volkswagen pulls in $75 billion more than the third-place company, Daimler, and over $100 billion more than fourth place Ford Motor Company. Daimler AG is the parent company of Mercedes-Benz, another German auto manufacturer. Of that hefty revenue, Volkswagen posts over $5 billion in profits to the delight of their shareholders.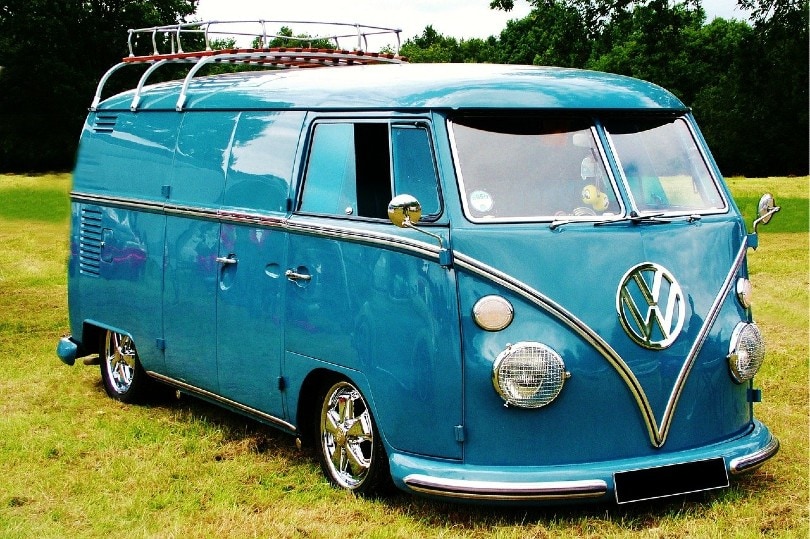 ---
(Market Watch)
Volkswagen's data is public because it is a publicly-traded company. Volkswagen Group trades on the German stock exchange called Xetra under the market code VOW. Recently, the stock took a big jump from around 160 euros at the start of 2021 to about 275 euros, where it is now. Volkswagen continues to be a popular stock due to its continued success as a global manufacturer. The stock has an impressive market cap of 121 billion euros. The company nets an extremely healthy 383,000 euros per employee.
---
5.

Volkswagen Group includes 10 globally renowned brands, including Volkswagen.
(Volkswagen Group)
If you thought that Volkswagen was simply Volkswagen, think again. Volkswagen is a brand that falls under the parent company Volkswagen Group. The Volkswagen Group is a massive corporation that encompasses ten unique brands. In fact, some of the most popular car brands in the world fall under Volkswagen's jurisdiction. Volkswagen owns many European luxury car brands enjoyed by Americans.
The 10 brands owned by Volkswagen are Volkswagen, Volkswagen Commercial, Skoda, SEAT, Cupra, Audi, Lamborghini, Bentley, Ducati, and Porsche.
Of the 9.3 million cars produced by Volkswagen, some are Beetles, some are Lamborghini Urus, and others are Audi A8s. These globally recognized brands make Volkswagen one of the top companies in the world.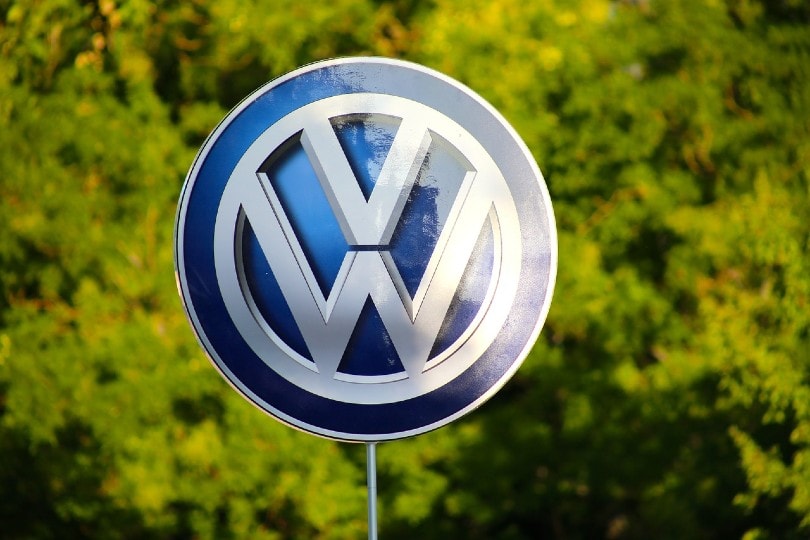 ---
6.

Volkswagen Group has 121 production plants around the world.
(Volkswagen Group)
There are Volkswagen factories around the world. In order to meet the demand for these popular cars, Volkswagen has opened factories on five continents. There are 63 factories in Europe, where the company is headquartered. Asia has the second most factories with 34. The Asian factories exist mostly to target the massive Chinese market.  North America has 10 factories. South America also has 10 factories. Africa has four such factories, for a grand total of 121 separate, unique production plants.
Volkswagen has 307,000 salaried employees, and many of them no doubt work in the large production factories sprinkled around the globe.
---
Grim Origins
7.

Volkswagen was founded in 1937 by the Nazi party in Germany.
(History)
Volkswagen was founded on May 28th, 1937, under a much more onerous name. Volkswagen was originally known as Gesellschaft zur Vorbereitung des Deutschen Volkswagens mbH. Thankfully, the company was quickly renamed Volkswagenwerk, meaning "The People's Car Company." The name was shortened even further to simply "Volkswagen" or "People's Car."
Unfortunately, the original company was founded during the fascist period in German history. Like many companies at the time, Volkswagen was founded, owned, and operated by the central government. In 1937, that government was the Nazi Party.
Despite the evil nature of the founding government, Volkswagen had a noble goal, even then. They wanted to build a series of modern highways and provide the German people with an affordable, reliable mode of transportation.
---
8.

Volkswagen produced thousands of wartime military vehicles for Nazi Germany.
(BBC)
When World War II broke out in 1939, just 2 years after Volkswagen was founded, all civilian production was halted. Instead, the company was pressed into service building vehicles for the war effort. From 1940 until 1945, Volkswagen was pumping out thousands of open-topped cars similar to American Jeeps. (Autoweek)
These war vehicles were known as Kübelwagens, and they became ubiquitous and iconic in Europe. During the 5-year stretch of the war, Volkswagen made over 50,000 of these cars.
---
9.

Volkswagen was under the control of the British Army following WWII.
(BBC)
After the war and the subsequent defeat of Nazi Germany, the British Army took control of Volkswagen. The factory was heavily damaged and nearly useless. Instead of dismantling the complex like many other wartime factories, the British instead decide to revive it to supply cars to war-torn Europe.
Under British oversight, the company was renamed to its present name, Volkswagen, and continued to build cars. The British officials saw the potential of the company and offered it to various nations, including the United States, Britain, and France, but they all turned down the offer. (A decision they would regret if they saw the company now!)
After 3 years of British stewardship, the company is returned to German hands in 1949.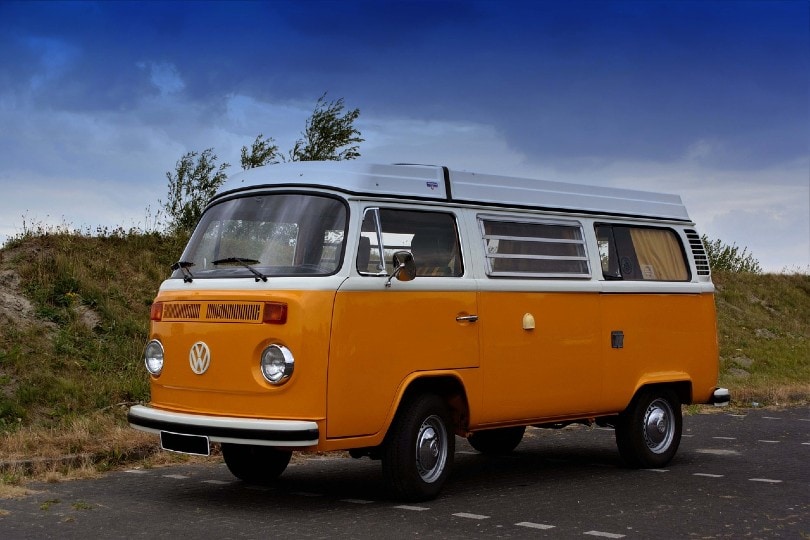 ---
A Modern Resurgence
10.

Today, Volkswagen has two of the top four most popular cars of all time.
(Info Please)
After getting off to a somewhat rocky start, Volkswagen quickly became a German cultural icon and produced two of the top-selling cars of all time. The Volkswagen Golf and the iconic Volkswagen Beetle occupy the third and fourth spots respectively on the list of the most popular cars of all time.
The VW Golf sold 27.5 million units, and the VW Beetle sold 23.5 million units worldwide. Those numbers only come behind the Toyota Corolla in first place and the Ford F-Series trucks in second place. Volkswagen has a third entry on the list, the VW Passat, which comes in ninth place all-time with 15.5 million units sold. There are no other European cars in the top 10.
---
11.

Volkswagen was caught up in an international emissions scandal in 2015.
(BBC)
In case you missed it, Volkswagen caused quite a stir when it was discovered that their cars were programmed to fool environmental testing. Many places in Europe and the United States require cars to get an annual inspection. These inspections often include emissions testing. If a car is producing too many harmful emissions, the owners are taxed or required to get their cars serviced before they can officially pass inspection.
Volkswagen programmed some of their cars to detect when they were emissions tested and turn down the engine to produce less harmful gasses. The scandal rocked the company and caused international outrage. (BBC)
The story was an odd combination of shady business, ingenious engineering, and public outcry. Since then, the company has sworn off such deceit and was ordered to pay hefty fines and replace or modify thousands of the affected vehicles.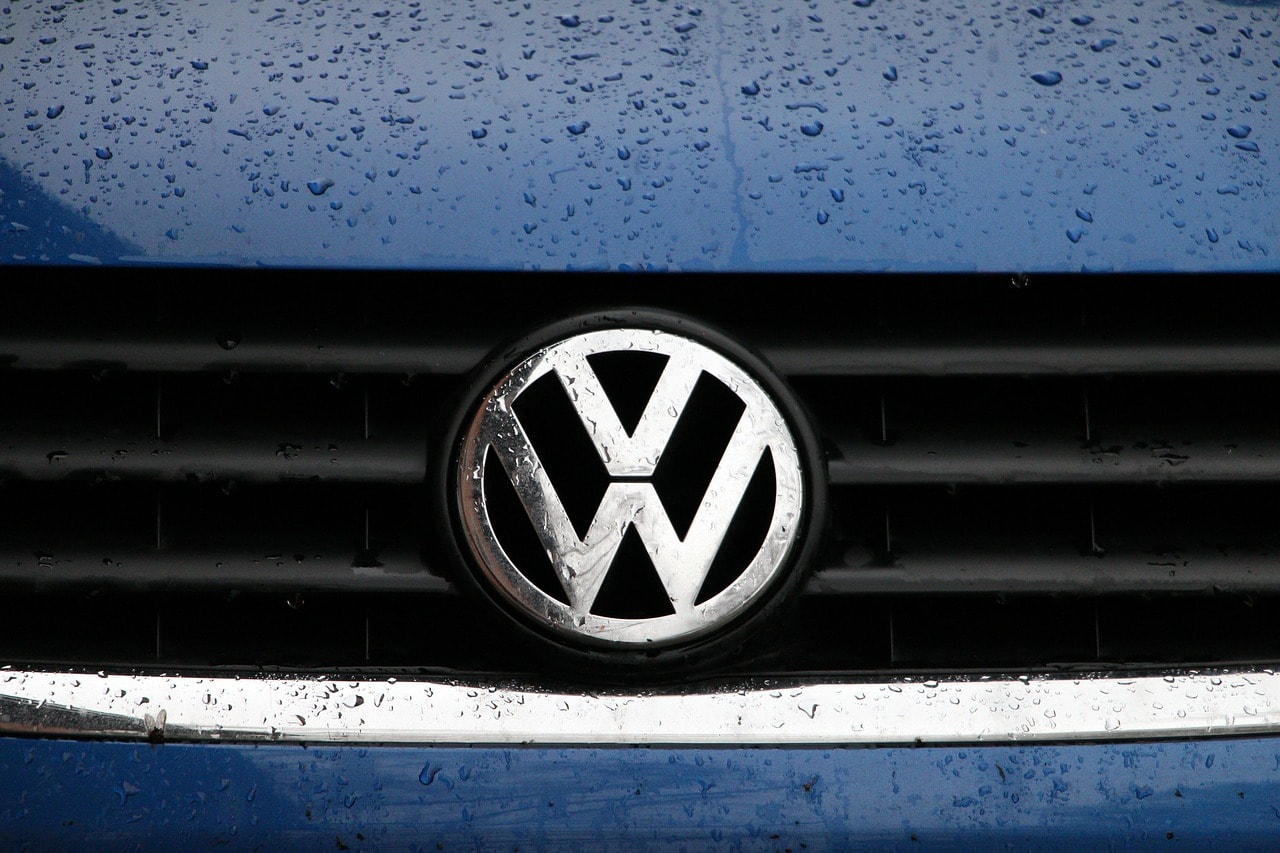 ---
12.

Despite its past, Volkswagen still has a cult following with clubs all over the country.
(VW Club)
Volkswagen has become somewhat of a cultural icon. In the US, in particular, Volkswagen has become a cult classic company. There are Volkswagen enthusiasts all over the world. The brand is so popular that there are clubs that exist for people who own, buy, and sell VW cars. These clubs are located all over the United States, and they often show up to weekend car shows with their Beetles and buses in tow.
Old VW Buses and 1970s model Beetles still turn heads today. There are hundreds of people who spend their time sourcing and restoring these classic vehicles. Chances are, you've stopped to appreciate the unique designs of an old VW Bus in your time.

Frequently Asked Questions About Volkswagen
Are Volkswagens good cars?
Yes. A company does not land two of the top four most popular cars of all time unless they are good. Volkswagens are affordable, reliable, and durable. There are hundreds of VW cars on the road that were made decades ago. They are primarily small and straightforward cars that are easy to recognize and maintain.
Are Volkswagens affordable to own?
Yes. Contrary to popular belief, Volkswagens are some of the cheapest cars to maintain. According to data compiled by Your Mechanic, Volkswagen ranks 22nd out of 30 possible brands in maintenance cost. It is possible that people mix up Volvo, which ranks fourth, with VW, which ranks 22nd.
Volkswagen averages $780 per year over the first ten years in maintenance. For comparison, the most expensive brand on the list is BMW which costs an estimated $1780 per year to upkeep.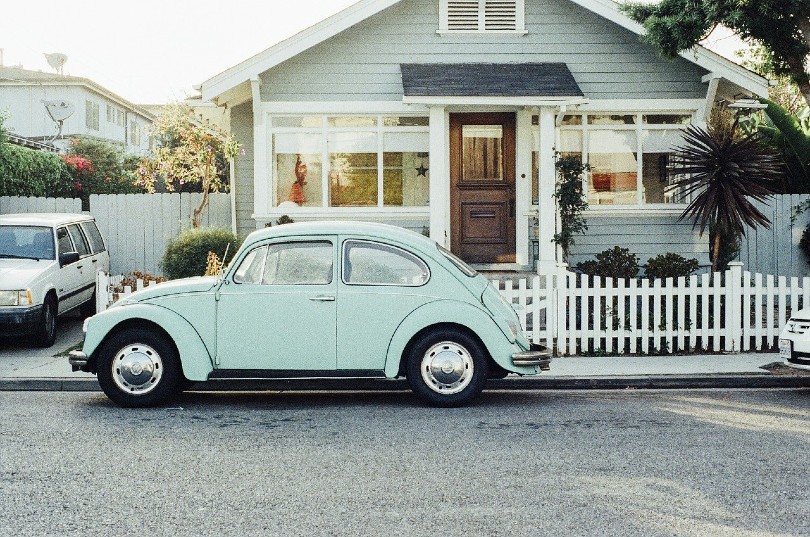 What makes Volkswagen so popular?
Volkswagen has the benefit of having some of the best brand recognition and brand loyalty on Earth. Their VW Bugs and VW Buses from the 1970s and 1980s are some of the most recognizable machines ever created. That draw and classic allure make Volkswagen one of the most sought-after brands for its style and history.
On top of that, they are cheap to buy and affordable to maintain. Volkswagen became wildly popular in West Germany during the Cold War, and it has carried that popularity into the 21st century as a global brand.
Should I be worried about Volkswagen's emissions scandal and checkered past?
That is up to you. It is true, the original company was founded in Nazi Germany, but it has evolved quite far beyond its roots. Today, it is an international corporation that owns Audi, Porsche, and others. Their factories also spent time making cars for the victorious Allied powers after the fall of Nazi Germany.
The recent emissions scandal shocked the world, but many of the bad apples were weened out in the aftermath. Volkswagen is still a reputable and respected brand around the world. But it is understandable if some things in their past make people uncomfortable. Buy from and invest in companies that you feel good about.

Conclusion
Volkswagen is genuinely a fascinating company. Its history is a wild rollercoaster of success, grim history, and cultural superstardom. It is now the largest European carmaker and the second-largest carmaker in the world. It overcame World War II, grew from a Cold War company in a divided Germany, and is now the proud owner of some of the most iconic vehicles ever made. And now you know.
---
Featured Image Credit: Pexels, Pixabay