16 French Interior Design Ideas (With Pictures)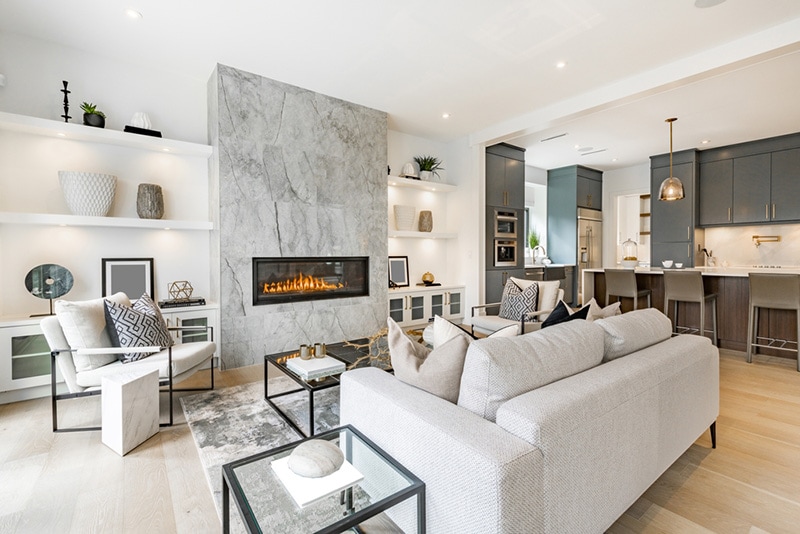 France is the most visited country on the planet, famous for its marvelous paintings, sculptures, and architecture. And Notre Dame, the Louvre, and the Eiffel Tower are just the tip of the iceberg. France has a unique art style that has influenced millions of artists around the globe. And today, we want to talk about the best French interior designs.
The elegant forms, neutral colors, and beautiful mix of luxury, comfort, and practicality are worth all the praise. But how do you put all these elements together and create the right tones and layouts? By learning from the best, of course! Join us, and let's check out the most aesthetically pleasing, functional, and easy-to-use French interior design ideas!

The 16 French Interior Design Ideas
1.

Door-Size Windows in the Bedroom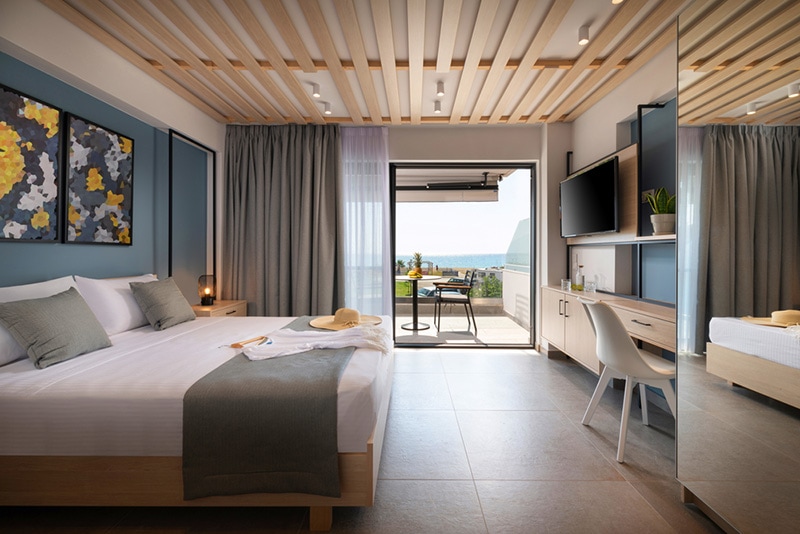 If you want classic French vibes in the bedroom, give the trademark windowed doors a try. They stretch from the floor to the ceiling and give quick access to the terrace. These windows don't cost a fortune yet can instantly make the room feel bigger by letting in more natural light. The best thing about this décor element is that it works in almost any setup.
To make it more authentic, paint the walls white or beige, add a picture or two on the wall(s), and opt for a bed with linen sheets. Solid bedding is another staple of French interior design. And, just like the windowed doors, it's a flexible, easy-to-fit piece.
---
2.

Larger-Than-Average Fridge and a Neutral Tone
French people are known for their food culture; that's why they often buy large refrigerators for their kitchens. These larger-than-life appliances look great when combined with wooden floors, farmhouse-style chairs, and all-white cabinets. To make the kitchen more inviting, use neutral, toned-down colors. That would be white, creamy, beige, gray, and natural wood.
The custom-made light fixtures, tiny vases, and sleek countertops are a nice touch as well.
---
3.

Vintage and Rustic Elements in the Kitchen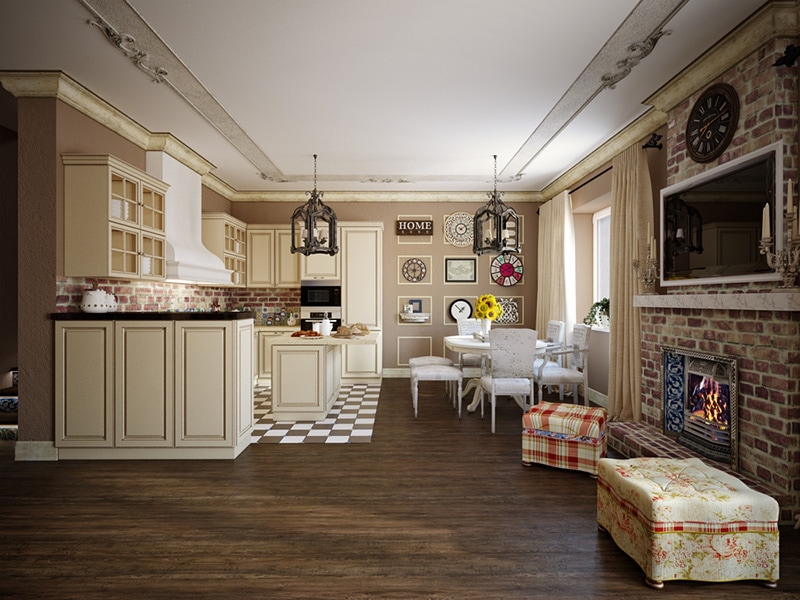 Here, we have another beautiful French kitchen design, only this time around, it's a combination of retro furniture and cabinets paired with country flavor. Again, the environment is mostly dominated by two colors: white and beige. But you can always try something new and introduce bold décor pieces to make the space feel more alive.
The brick fireplace, retro chandeliers, and separated zones (the kitchen, dining area, and resting area) make for a cozy layout.
---
4.

Luxurious, Provence-Style Bedroom
The designer furniture, beautiful wall décor, and big mirror right above the bed instantly make this bedroom look expensive. And then we have the tall, blue curtains with a chic pattern that grabs the attention yet works in harmony with the rest of the room. And let's not forget about the rug, fancy ceiling light, and pillows with different textures.
It's often the little things (like the lamps and vases) that add interest and momentum to an otherwise generic setup. The room itself isn't that big, yet the warm, comforting colors, moldings, and furniture complement each other and work together in sync in a true Provence manner.
---
5.

Minimalism in an All-White Interior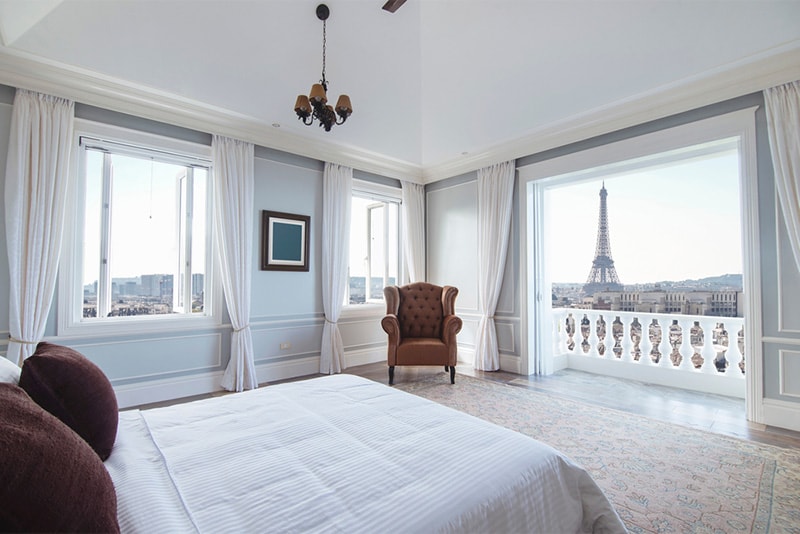 Scandinavian and Minimalist design styles are big believers in the "less is more" philosophy. The same applies to French interiors, especially bedrooms and living rooms. As always, the main color of choice is white. It covers the walls, floor, carpet, blinds, and even the bed. That said, the brown pillows and the lonely armchair create a beautiful contrast.
There isn't much to look at in this bedroom except for a lonely chandelier on the ceiling and a picture on the wall, but that's the whole idea. And if you're lucky enough to have large doors/windows looking out to the Eiffel Tower, it can't get any more French than that!
---
6.

Ample Seating and a High Ceiling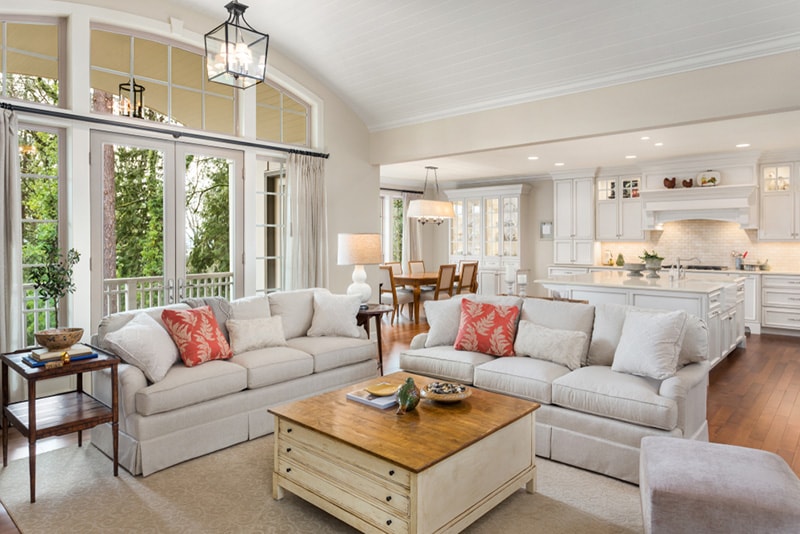 If you're regularly having family and friends over, it's important to make sure the guests don't feel cramped up. For this reason, most large living rooms in French interiors have at least two couches and a pair of chairs. As for the coffee table, it can be of any shape, size, or color. A vintage or repurposed coffee table will look perfect in a French-inspired space.
The neutral colors, natural materials, tall windows, and the high ceiling fit the picture as well.
---
7.

Retro Furniture and a Fireplace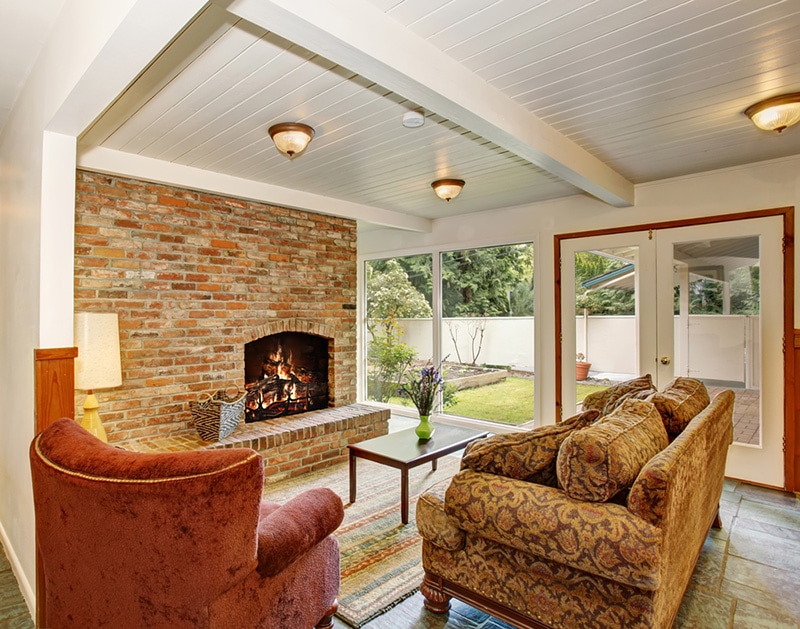 Who doesn't like vintage stuff? It can be an electronic device, piece of clothing, collective object, or, in our case, furniture. Also, if the couch and the chair are a bit "roughed up", that's even better for recreating a Baroque and French country atmosphere. And then we have a brick wall with an integrated fireplace, door-size windows, and a white wooden ceiling.
On their own, these elements might not look much, but when combined, they do classic French interiors justice.
---
8.

Classic French Bathroom With Vintage Vibes
What does a typical bathroom in France look like? Well, it's not that different from all the other rooms in the house. All the "usual suspects" are there, including white walls, creamy/beige floors, and a blend of vintage and modern touches. The vanity cabinet with two sinks and the in-wall shelf for the plant pots go well with the really big window and mirror.
The bathtub isn't particularly fancy, but it doesn't have to be. It's similar to the tubs from the 60s and the 70s, which is perfect for this classic bathroom.
---
9.

Parisian-Style, Farmhouse-Inspired Bedroom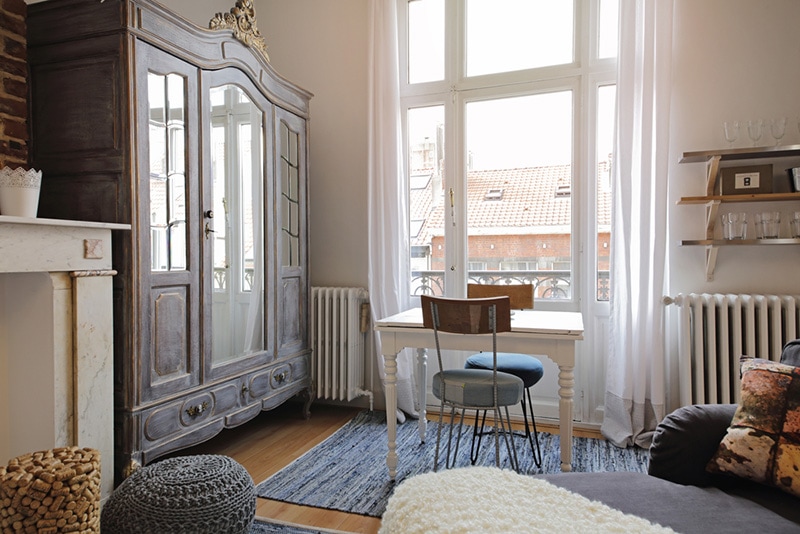 Cozy, practical, and romantic, this Parisian-style bedroom is a perfect example that you don't need to buy expensive furniture or accessories to embrace French interior design. Every single element in this bedroom is rather cheap yet looks great in the big picture. Speaking of the design, it's a combination of farmhouse, rustic, and Baroque styles.
The furniture is very old and makes you feel like you're in a retro French movie!
---
10.

Displaying Art Pieces on the Walls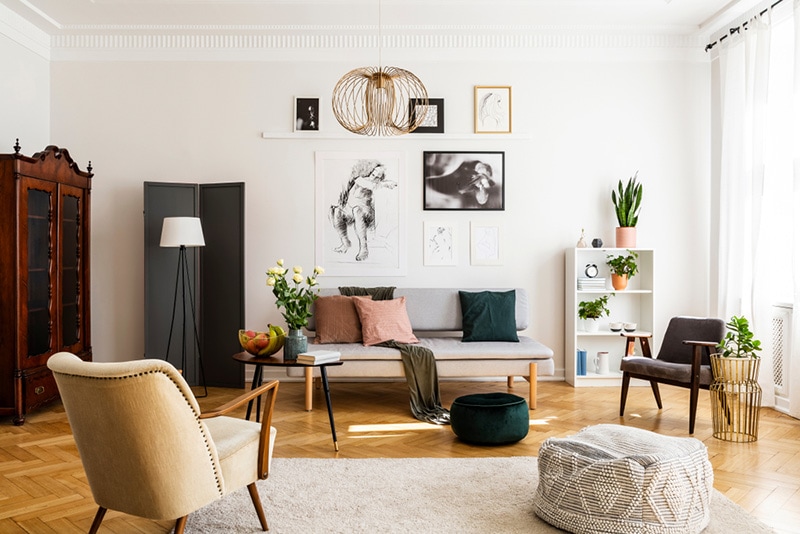 Art is an integral part of French designs and carries more than just an aesthetic value. With it, you're free to go with family photos and cute pet pictures or make a statement through paintings and antiques. But what about the arrangement—what's the right pattern for wall art here? The truth is, there aren't any have-to-follow rules here.
The frames can differ in shape and size and be placed in a chaotic order. Take some time to experiment with the art until you find the perfect placement for each piece. Even if you only have a tiny spot on the wall for hanging stuff, don't be afraid to put a picture or two up there and see how that looks.
---
11.

High-Vaulted Ceiling, Large Windows, and Striped Chairs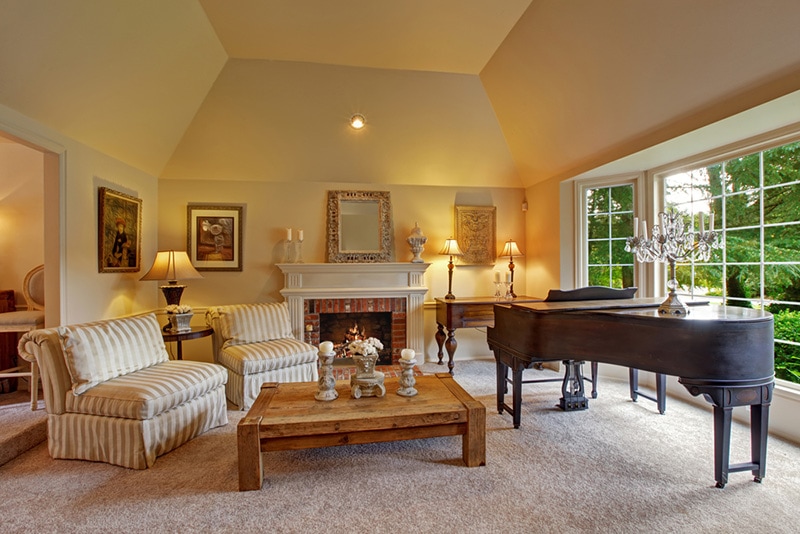 French like nothing more than to enjoy a glass of wine while taking in the view from a striped armchair. So, why not try and bring that kind of vibe into your own interior? The wooden table, tall ceiling, and carpet (that covers the entire floor) will help you make the living room even more comfortable and relaxing. These are the main elements that do the heavy lifting in this design.
The room also includes luxury elements like expensive pictures, windows that take up half of the wall, and a gorgeous piano.
---
12.

Antique Furniture with Minimal Décor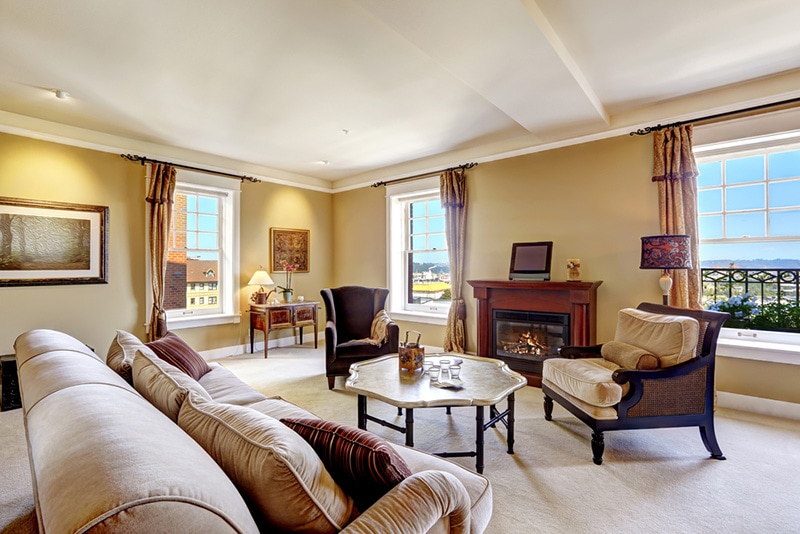 When the bed, couch, or chairs look like that, you don't really need any extra features in the room to make it shine. We're talking about antique furniture here, of course. The best way to display it in a French interior design is to make sure there's enough traffic flow and that there are little to no decorations cluttering the space.
Also, see that the living room gets plenty of sunlight in the morning. Color-wise, light brown, beige, and white are a safe bet.
---
13.

Dark Wood, White Furniture, Creamy Walls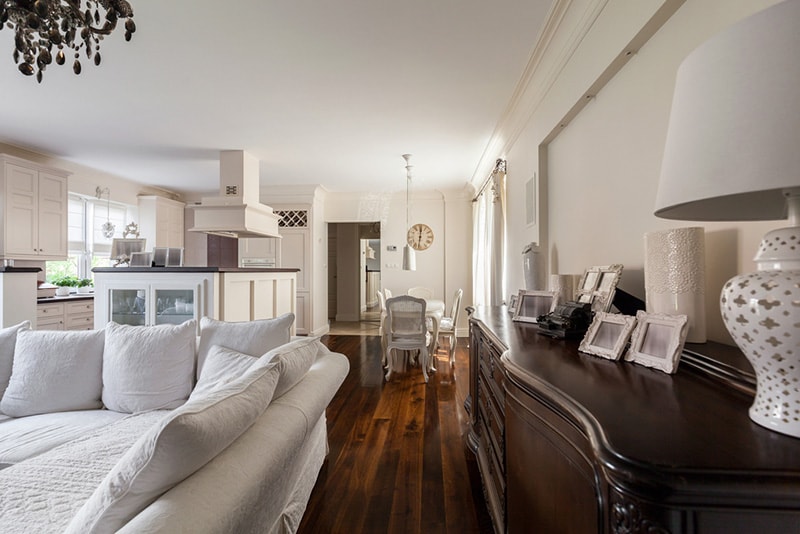 Spacious rooms have one big advantage: they allow you to visually divide the available square feet into different areas while still making it cohesive. This traditional French interior design does exactly that. We have the kitchen zone, dining spot, leisure area with cozy furniture, and a branded darkwood commode on the other side.
The stained wood floor and the vintage chest of drawers serve as a "counter agent" for the rest of the room, which is mostly white.
---
14.

Wall-Tall Curtains and Exposed Beams
Warm and welcoming—that's the best description for this next French interior design idea. It instantly sets the right mood with the thick, tall curtains, oldie-but-goodie chandelier and lamps, and the white bed. We also want to mention the elegant bench, the tiny rug right in front of it, and the wood beams on the ceiling. They keep the design interesting without adding too much to it.
---
15.

Metallic Utensils on Display
Another all-time classic in French design is when you hang pots, frying pans, and other kitchen accessories on the walls. Or you can use rails for that while leaving the walls intact. Ideally, the utensils should be made of metal (steel or bronze, for example), but wood and plastic will also work. Spoons, tongs, spatulas, and even box graters deserve to be in the spotlight!
If you don't want to display the cutlery that you actually use every day, check out your local antiques shop. Chances are, they'll be happy to sell you some old stuff for cheap.
---
16.

Stone Floor, Wooden Moldings, and Lush Furniture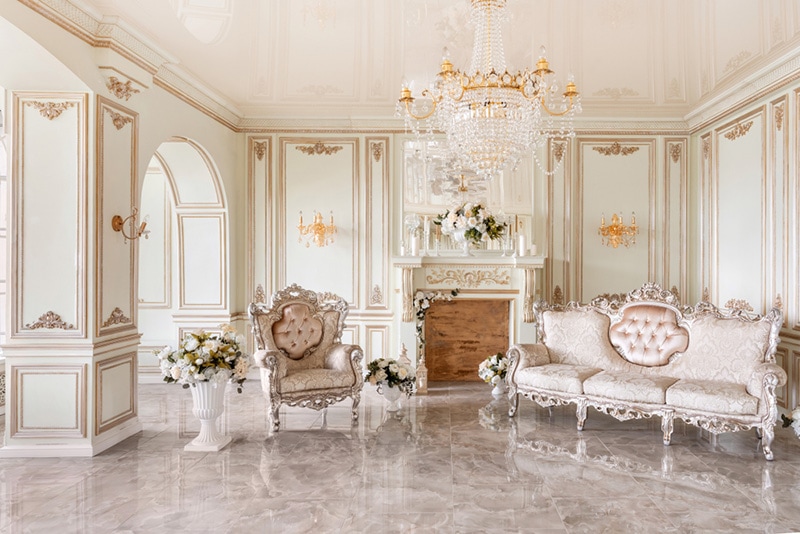 Finishing up, we have a living room design worthy of kings and queens. It features a luxurious chandelier hanging from the middle of the ceiling, chic and premium wood molding, and three white vases full of freshly cut flowers. But the main attractions here are the sofa and the chair. It's not going to be cheap (or easy to get your hands on), but, if you're going for opulence, it doesn't get much better than this furniture!

French Interior Design Roots: A Short History Course
It all started in the 17th century, during King Louis XIII's reign. Back then, many European artists were moving to France to work and study. We're talking about architects, painters, novelists, composers, and, of course, designers. Georges Haussmann, a famous baron, is another key figure. He single-handedly invented the Parisian art style with the tenement house and chic interiors.
As for the French Country style, it aims to bring beauty and comfort together. The key elements include rustic furniture, warm, neutral colors, muted tones, and large spaces. Simple, functional, and elegant, these designs were a perfect fit for the country folks. They successfully "married" Baroque/Rococo elements to primitive, abstemious layouts from rural areas. Later, French Country evolved into modern French interior design.
French Interior Design: How Do You Make It Work?
If we break it down into the core elements, we'll get a spacious room with tall windows, a neutral tone, and lots of natural light (inspired by Provence). Sometimes, French interior designs are painted in bold and bright colors, but white, gray, and beige are the most popular picks. Speaking of the materials, natural is the way to go; primarily, that means wood (painted, stained, or all-natural, depending on the composition).
French interior designs aren't at all complicated and don't have any super-strict rules like the more conservative styles. That's why we often see luxurious beds or couches paired with all-white or beige walls, décor-less walls, and rustic chairs and tables. Vintage touches do play a key role in French interiors, yet they don't always take the attention away from the other elements.
Can You Mix French Interior Designs With Other Styles?
The short answer is yes, you most certainly can!
First, a traditional French design has quite a few elements borrowed from rustic, farmhouse, minimalist, and Art Deco styles. Secondly, the claiming tones, elegant furniture, and trademark doors and windows can work in a wide range of environments. You can also try and match a French setup with Modern, Baroque, Vintage, and Shabby Chic.
Again, these popular styles have lots in common, which is partially why most contemporary interior designs are eclectic. That said, we wouldn't necessarily recommend mixing a French design with Maximalist, Industrial, or Japanese vibes. True, it's very much possible to bring these exotic combos to life; but you'll need experience, sleight of hands, and a little bit of luck to make interiors like that look good.

Conclusion
As one of the oldest nations in Europe, the French have their own, one-of-a-kind take on everything, including food, clothes, and art. As for the world-famous French interior designs, they're equally chic, fancy, and glamorous yet simple, minimalistic, and modest. Natural materials, neutral colors, and décor elements that blend with the interior are just some of the staples.
French interior designs aren't that complicated and work in a wide range of scenarios. With that, if you want to master this beautiful, rampant art style, you need to think outside the box. Follow unorthodox, bold decisions, mix vintage with modern, and be willing to experiment. Also, don't forget to use the ideas from our guide to get inspired!
---
Featured Image Credit: Sheila Say,Shutterstock