8 Futuristic Interior Design Ideas to Get You Inspired (with Pictures)
There's no doubt that interior design has become a highly technical and subjective field in recent years. With the rising demand for new interior designs and modifications, many trends have developed with time.
Interior design trends come and go, but they never fail to amaze us with their ingenuity and originality. If you're looking for a way to spruce up your office or home's interior, it's challenging to know where to start. You have to choose from the thousands of options available. If you enjoy dressing up your home with extra style and visual flair, you'll be drawn to the iconic and eye-catching designs of futurism in this guide.
We have picked eight futuristic interior design ideas. They will appeal to homeowners, designers, and property managers across various age groups. Without further ado, let's get right into it!

The Top 8 Futuristic Interior Design Ideas
1.

Retro and Colorful Interior Design
| | |
| --- | --- |
| Dominant Color: | Shades of pink, white, and blue |
| Suitable Rooms: | Living room and bedroom |
This futuristic interior design will give you a great deal of pleasure. The retro style is an excellent choice for your home décor, given the bright and cheerful colors and all sorts of different elements.
The cute bubble-gum-shaped furniture adds personality. It doesn't overpower the space with bold colors or patterns, and it has been placed in a way that makes it easy for you to move around the room.
The colors are crucial in this room, they have a retro feel to them, but they also feel futuristic at the same time. The wall colors throughout the room are bright, adding a lot of contrast to the overall look of the space, making it vibrant and fun! There are bright pops of pink and blue throughout with white accents on the walls and furniture.
The best part about this style is that it still carries some of the vibrancy and freshness of the classics.
---
2.

Biophilic Futuristic Interior Design
| | |
| --- | --- |
| Dominant Color: | Green and white |
| Suitable Rooms: | Bedroom, living room, and study room |
The biophilic futuristic interior design is a combination of nature and technology, bringing out the best of both worlds into one space. The elements from nature mixed with advanced technology creates a comfortable and functional space.
This design also creates a sense of calmness and serenity by using natural materials such as wood, stone, and glass. You can also use plants and flowers to bring nature into your home, which improves moods and helps with stress relief.
Another crucial advantage of the biophilic futuristic interior design is that it can help you live longer. Plants, trees, or other greenery have been known to lower rates of heart attack, stroke, and respiratory problems.
---
3.

Futuristic Villa
| | |
| --- | --- |
| Dominant Color: | Purple |
| Suitable Rooms: | Living room, bedroom, and kitchen |
In this example, the villa is located on the island of Ibiza in Spain. A villa is a place where you can take a break from the stress and enjoy life. It's a beautiful place for friends and family to come together and enjoy a good time.
The house has a futuristic interior design that combines modern elegance with minimalism. The main hallway houses a large granite table. It provides space for entertainment and dining. The living room features a large TV screen. Several large windows fill the interior with plenty of natural light.
Consider the design of the villa you want if you want a beautiful interior design for your home. It'll help you decide on what type of furniture to use.
---
4.

Modern Apartment Design with Futuristic Vibe
| | |
| --- | --- |
| Dominant Color: | Gray, white, and black |
| Suitable Rooms: | Kitchen, bedroom, and living room |
The modern apartment is one of the most popular types of apartment designs that combines modern and futuristic designs to create a unique look. It has a futuristic vibe that adds a whimsical and colorful touch to your home. It's visually appealing and it can help you express your personality.
Building a futuristic home can be a challenge, but it doesn't mean you have to choose a traditional style. You can fill a large, open space with modern furniture and technology while maintaining its futuristic feel.
The white walls, wooden floors, and gray leather sofa create a relaxing atmosphere. On the flip side, the modern kitchen adds some color to the room. Using white for the walls will give off an impression of space and openness. White is one of the most commonly used colors in modern architecture.
---
5.

Futuristic Interior Design Shapes
| | |
| --- | --- |
| Dominant Color: | Gray and blue |
| Suitable Rooms: | All rooms |
This common form of interior design is based on technological inspiration. It incorporates technology to create shapes that make a room look futuristic. The look is appealing to the eyes because it combines modern with futuristic designs, making a unique combination.
For example, if you want to use a circular design in your living room, you can use circular furniture pieces and other accessories to give the impression of a round shape. You can also opt for other furniture shapes such as squares or triangles depending on your preference and what style you want in your space.
The design also has futuristic wall shelves cut across the nook of the living room. You can also put a lounge chair to correspond with the living room's blue floor.
Besides, you can also choose between various materials such as wood, metal, and glass. You can even add some decorations to create your preferred style and make it even more beautiful.
---
6.

Futuristic Black and White Apartment
| | |
| --- | --- |
| Dominant Color: | Black and white |
| Suitable Rooms: | Bedroom, kitchen, office, bathroom, and living room. |
A black-and-white design is an excellent way to express personality in your space. It's not only about decorating but also about ensuring you have suitable furniture, lighting, and accessories to make it work for you.
The simple color scheme works perfectly with the white sofa and chairs. The dark walls and floor give a sense of depth to the space and give it an air of elegance. The flooring is made up of black marble tiles which contrasts beautifully with the neutral tones of the apartment.
The living room features black carpeting, a huge television, a white leather wraparound couch, and a shiny, black coffee table. Apart from being chic, it is also a perfect way to bring out the modernity in this apartment.
---
7.

Futuristic Interior Design for Technology Lovers
| | |
| --- | --- |
| Dominant Color: | Gray, white, and black. |
| Suitable Rooms: | Bedroom, kitchen, study room, and living room |
The future is here, and it has a lot of cool stuff. One of them is this beautiful design ideal for technology lovers and high-tech living. The designers used eco-friendly materials to give it an authentic look and feel.
The design has a futuristic look with its white walls, modern furniture, and sleek design. The main room has a flat-screen TV on the wall and a futuristic-looking couch. It also has a beautiful kitchen with marble countertops and a huge dining table. The bedroom has a king-size bed and window shades that lighten up the room at night. There's also a bathroom with glass walls.
The color palette used in this design is vibrant, appearing more modern than other designs. The bright colors in this space reflect its futuristic nature perfectly.
---
8.

Futuristic Design Features
| | |
| --- | --- |
| Dominant Color: | White, beige, brown, and taupe |
| Suitable Rooms: | Kitchen, bedroom, and living room |
The best way to create a futuristic interior design is by using bold colors. You can also use contrasting textures, patterns, and furnishings with futuristic features. The perfect example of this is the dual-key executive apartment futuristic interior design.
The apartment features a sleek, contemporary feel. It has a white sofa and chair, white walls and flooring, fine art on the wall, and a modern kitchen.
The design is inspired by the concept of duality, modern architecture, and technology. The white color scheme gives an impression of coldness, but it's warm due to the use of light colors.
The geometric TV feature wall adds a futuristic look, giving the room a sense of modern nobility. Also, there is ample storage room, thanks to the customized closed cabinets and open shelves.
You can choose from several colors to make this space look more impressive. Also, you can add some modern furniture, such as sofas or armchairs. This way, you'll make it feel more comfortable or relaxing when you get home after work or school.

Characteristics of Futuristic Interior Design
Futuristic interior design combines functionality and aesthetics. It is both practical and aesthetically appealing. Some of the characteristics of futuristic interior design include:
Modern Technology
There are countless ways to make your interior futuristic. The most common characteristic of futuristic interiors is the use of modern technology to create a more modern look. It is one of the most popular trends in contemporary homes. Computers and electronic devices in futuristic appliances and interiors make the whole idea functional.
They're Clean and Tidy
Futuristic interior designs have little clutter around the home. It makes them easier for the homeowner to maintain. You don't have to worry about piles of dirty laundry or dishes in the sink.
Different Color Schemes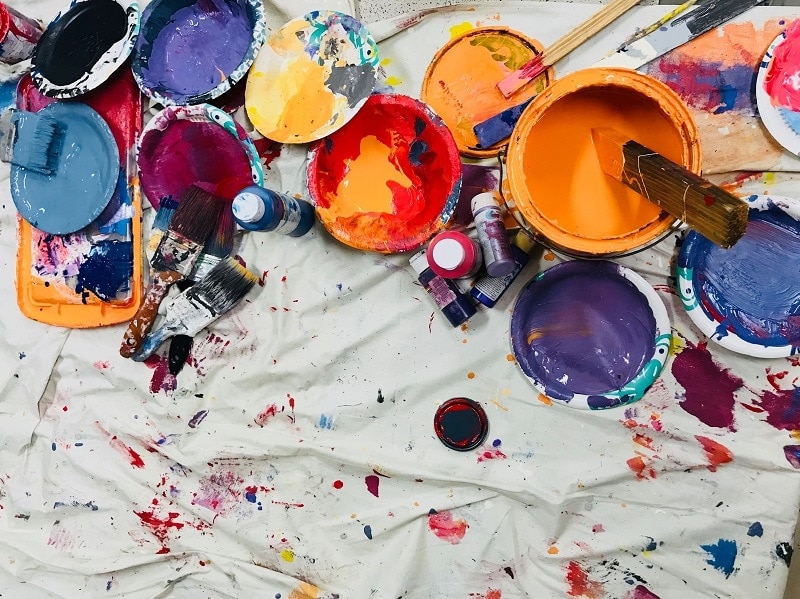 Another common trait of futuristic interiors is the use of color schemes inspired by nature. These colors create a dramatic effect while still looking elegant and stylish at the same time.
The color combinations used will depend on the style of the room and the mood you want to create.
Futuristic Furniture Pieces
Also, furniture in futuristic interior design is made of metal, plastic, glass, or leather. They're either angular or curved.
Futuristic Lighting Fixtures
Futuristic lighting fixtures are also part of futurist interior design. It gives a unique look to your home or office space. These fixtures come in different shapes and sizes, including chandeliers, sconces, pendant lights, and wall sconces.
Different Flooring Patterns
The flooring patterns should also be different from traditional designs to give your home a futuristic look. Use marble tiles, laminate, or wood flooring to achieve this goal. But it's recommended that you choose tiles with a glossy finish to reflect light and make your home brighter and more attractive than before.
Eco-Friendliness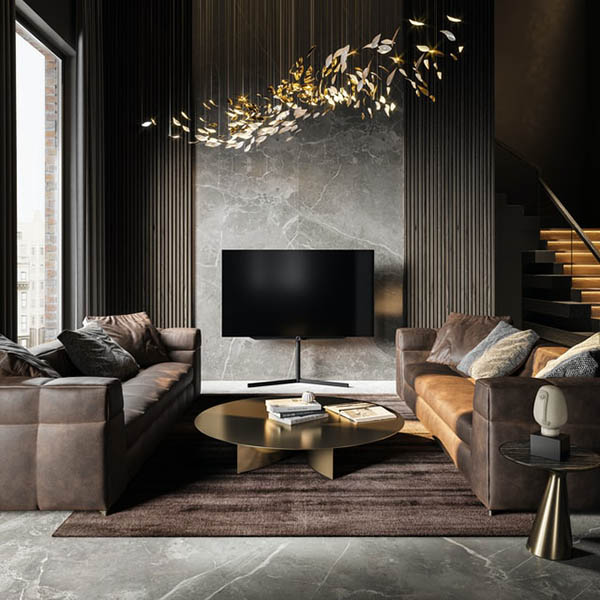 Interior designers creating futuristic interior designs try to ensure a more sustainable world. It means that the products and materials used in their creations must be sustainable.
•How to Decorate a Small Bedroom: 17 Great Ideas

Conclusion
When it comes to designing your home or space, the possibilities are limitless. There's a futuristic interior design idea that will work for you and your space regardless of the style of interior you like best.
The futuristic design is all about utilizing whatever new technology is available. Virtual reality, 3D printing, and the Internet of things are some of the most recent technological innovations.
As you can see, the future is filled with lots of different innovative ideas. They'll change the way we live our lives. So, go ahead and experiment with these futuristic interior design ideas and make your space fantastic!
See also:
---
Featured Image Credit: Max Vakhtbovych, Pexels