12 Futuristic Interior Design Ideas to Get You Inspired (With Pictures)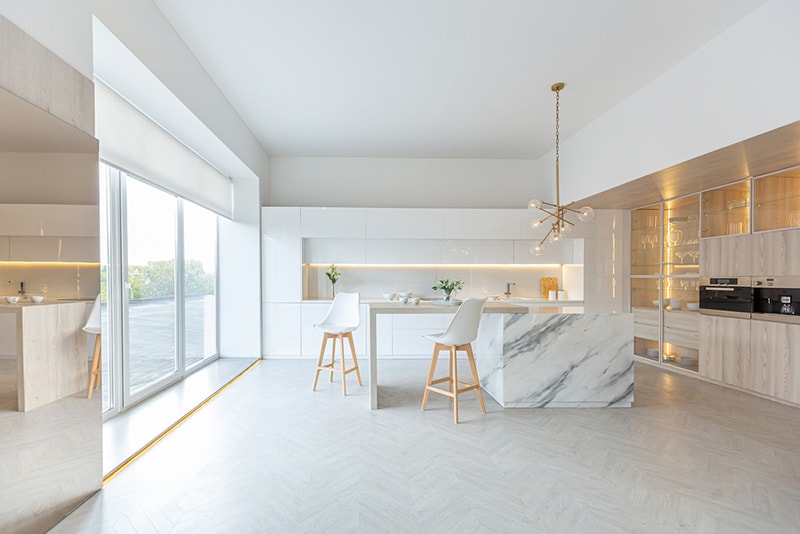 Glossy, metallic finishes, clean, smooth lines and shapes, and reflective surfaces: that's what futuristic interior design is all about. Smart technology and automated systems play a big role as well. So, if you're a big fan of sci-fi movies, spaceships, and elegant décor and want to bring a piece of that into your life, you came to the right place.
But where do you begin? The following list includes some of the best futuristic interior design ideas that will guide you in the right direction. Check them out, get inspired, pick a design that "speaks" to you, and get to work!

The 12 Futuristic Interior Design Ideas
1.

Large Windows, LED Lights, and a King-Size Bed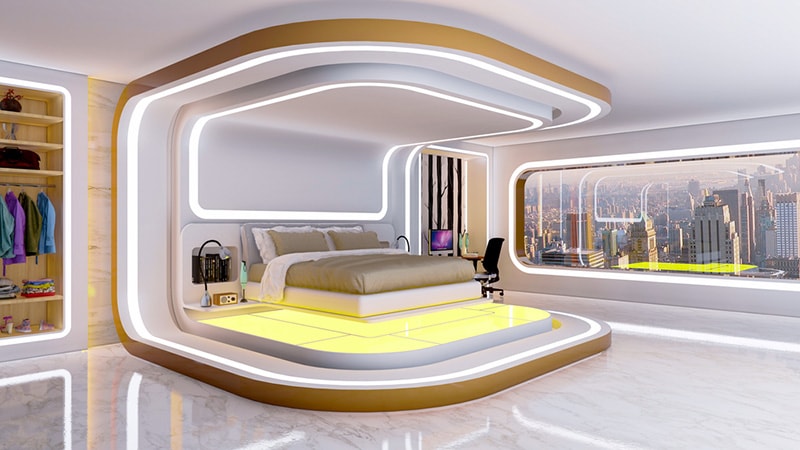 Everything about this room is futuristic. First, it has large windows, a tall ceiling, and lots of space to use to your liking. Secondly, there's a huge installation in the middle of the room and a lifted bed for catching your daily dose of Zs and enjoying the view. Lastly, the LED lights give this futuristic interior design sweet 80s sci-fi vibes that fit the concept perfectly.
There's also a desk where you can work and a wardrobe for clothes. True, this bedroom setup might not be ideal if you live in a tiny apartment, but that doesn't mean you can't borrow some of the ideas and put them to good use in your own room (like the line lights, for example).
---
2.

Curved Furniture, Lots of Space, and LEDs
Here, we have another apartment design with all the right elements of futurism. The lines and contours are smooth, and there's a huge LED light stripe and a chandelier on the ceiling. At the same time, the furniture is curved, and that creates a beautiful contrast. The room is not all cluttered: we only have a spacious white couch, a chair, and a table sitting in the middle.
The LEDs on the floor are a nice touch, just like the laminate flooring and the windows that occupy an entire wall. The best thing about this concept is that none of the elements stand out. Instead, they all work together to create a smooth, relaxing environment.
---
3.

Beautiful Color Combination and Minimalism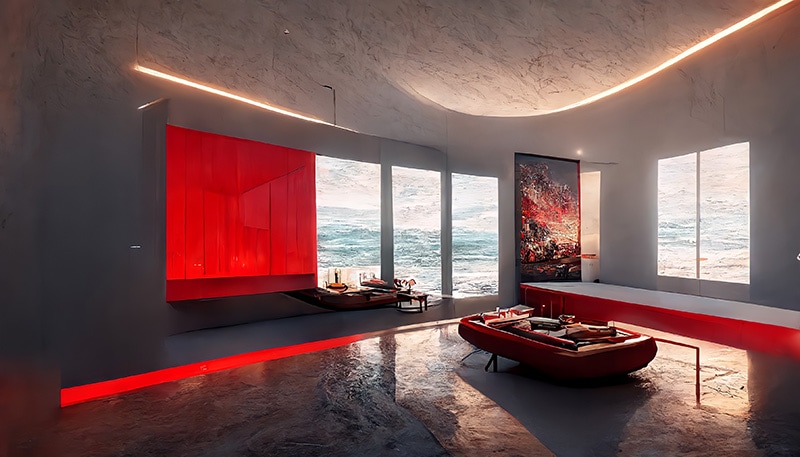 This next futuristic interior design is built around two things: the color palette and the minimalistic approach. The room is dominated by gray/white and red, and these colors create just the right atmosphere. This is a low-effort, ascetic concept that only includes the bare minimum of furniture and a big painting/art piece in the corner.
And then we have larger-than-life windows and a reflective floor that screams hi-tech. Folks that appreciate bold, creative solutions and want their interior designs to stand out will find this idea to be worth a try. It's certainly not for everyone, but in the right hands, this minimalistic "man cave" can make heads turn.
---
4.

Leather Furniture with Subtle Tones
It takes one quick look at this magnificent futuristic interior to fall in love with it. The leather furniture, simple yet elegant table, lamps, and thick drapes in the background recreate iconic, cyberpunk-inspired vibes. There's a little bit of Blade Runner, Matrix, and Tron mixed up in here for a unique yet oh-so-familiar design.
The subtle tones make the whole thing so much more alluring and enthralling. More good news: you won't have to spend long months or big bucks to copy this idea and apply it to your own bedroom or living room. If we break it down, this is actually a very simple setup!
---
5.

Futuristic Chairs, Couch, and Wavy Walls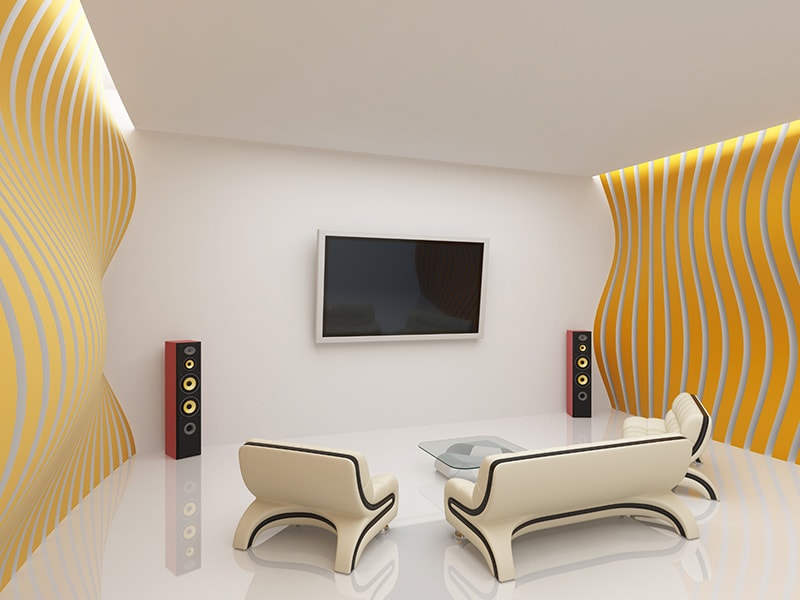 If you're not in the mood for over-the-top designs and would rather go with something a bit more down to Earth, this next idea should work for you. The TV, speakers, and table are not the big crowd-pleasers here. Instead, let's focus on the walls with a catchy mix of yellow paint and gray waves and the 70s-like furniture. Just like the previous concept, it won't take much effort to bring it to life.
---
6.

Violet Furniture with Futuristic Lights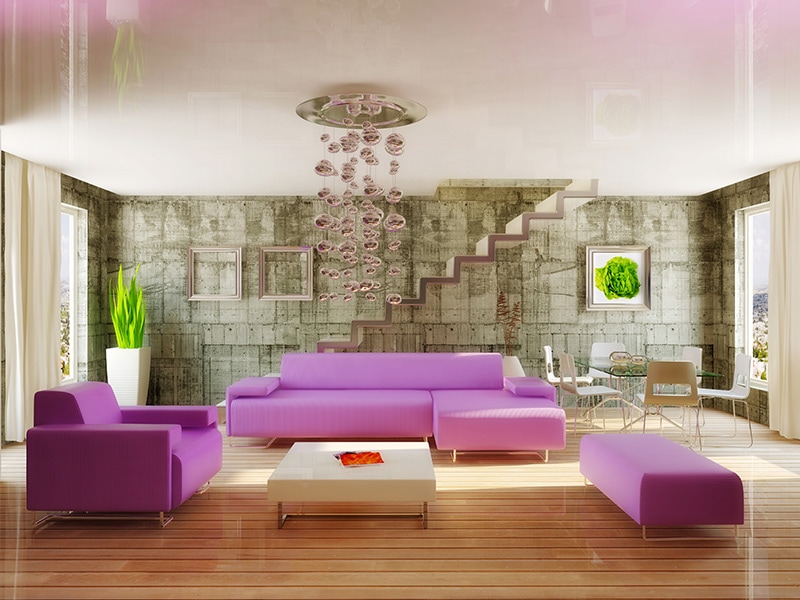 Pink, purple, and violet are all safe bets for a futuristic interior design. And all these colors look exceptionally well on furniture. For the best effect, opt for a vintage couch and chairs with round, curvy shapes. But what about the rest of the room—should you add any extra accents or put all the focus on the furniture? For the floor, ceiling, and walls, we would recommend neutral tones.
And if you want to take the initial idea to the next level, hanging a futuristic chandelier like the one in the picture will do the trick.
---
7.

Clean, Stylish, and Illuminated Bathroom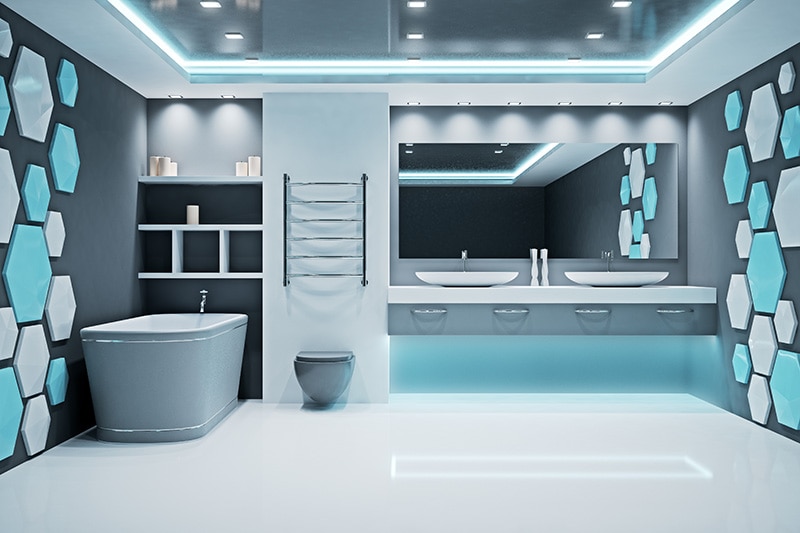 Sometimes, futurism is bright, warm, and colorful; but it can also be dark and cold. This design works wonders in bathrooms and makes you instantly feel like you're in a science fiction movie. The mirror on the ceiling, reflective floor, and clever mix of black, white, and blue turn it into a work of art. The lines are smooth, and there's a lot of symmetry between the walls, sinks, and tiles.
The bathtub, toilet, and shelves are barely visible, and that sets just the right mood here.
---
8.

Bright Colors and the Right Accents
Futurism doesn't necessarily have to be moody or mysterious, and this project is a great example of that. True, the floor is gray, while the walls are white, but the furniture is purple, yellow, and orange. The graphic wall decorations are also in pastel colors and much brighter than the rest of the room. Add golden accents all over the walls (including a LED strip), and you'll instantly see the appeal.
---
9.

Black and White Office with a Classy Table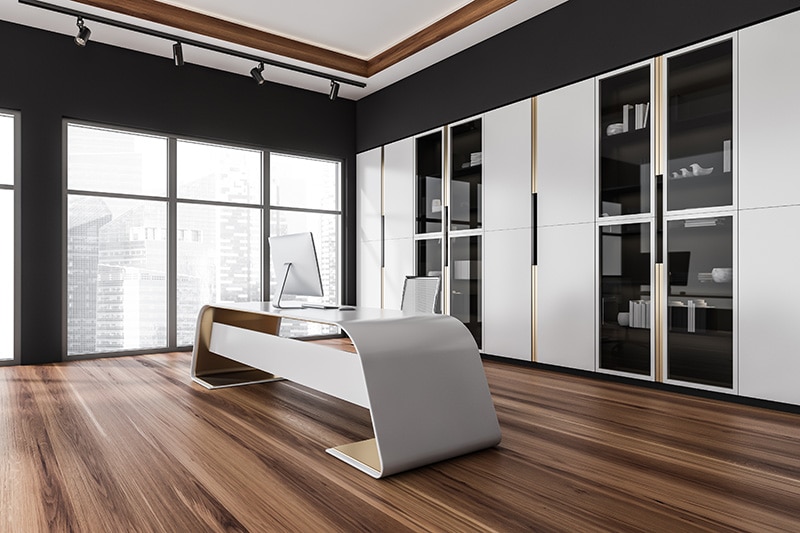 The classy yet futuristic table is, of course, the first thing that grabs the attention in this design. But the room has a lot more to offer. The copper details, exquisite cabinets, and the lush wooden floor elevate this idea to where it needs to be. There are no curtains in this particular example, but you can always experiment to see what works for you best.
---
10.

Dark Tones and a Lifted Bed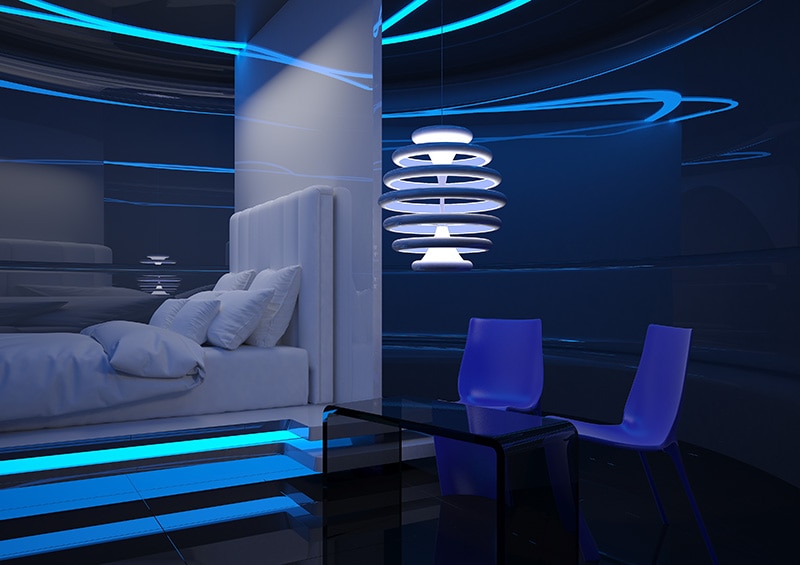 Ever wanted to step foot in a future spaceship pilot's chamber? This futuristic concept is the closest thing you'll get! The "wow" effect here is achieved by having a tall backing wall for the bed (which sits slightly above the ground) and hanging the lamp/chandelier low. The table and the chairs are extremely simple by design yet look amazing in this particular setup.
This will be a great project for a teenager's room that likes everything futuristic.
---
11.

Black and White Minimalism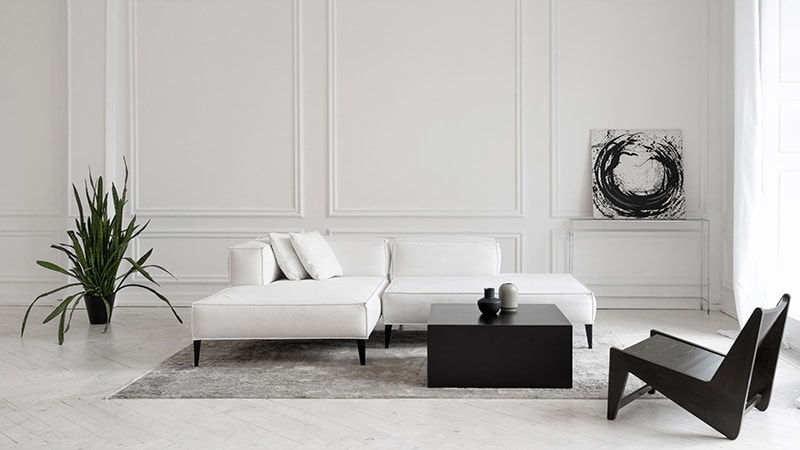 Since the dawn of time, black and white have been the dominant colors in art. By using various shades/hues and picking the right shapes for the objects, you can turn a very basic setup into an outstanding work of art. Here, we have a designer couch, a gray carpet that matches it in length, and a chair with a peculiar design. There's also a black table with two vases and a plant in the far corner.
The walls and the floor have a milky color, and there's only one art object sitting in the right corner. This futuristic layout/concept is as minimalistic as it can be, and—yep, you guessed it—it won't take a degree in design to pull it off on your own. Plus, you're free to play around a bit with the colors and shapes.
---
12.

Decorated Wall, Tall Windows, and Retro Furniture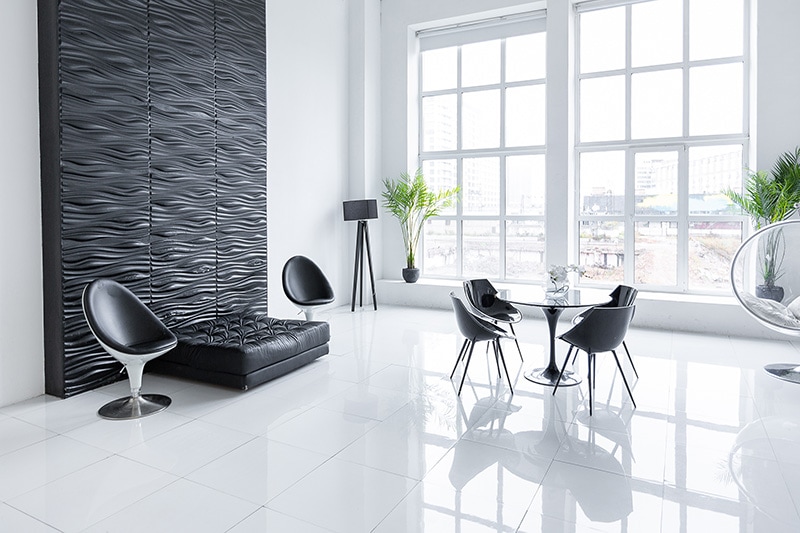 Finishing up, we've got yet another creative combination of black and white tones. Only this time around, the chairs have stolen the show, while the bed/couch is much smaller. The chairs are equally hi-tech and vintage and can seat up to six people. Plus, like in most futuristic designs, the windows are very tall and take up most of the wall, letting natural light in.
White is the prevalent color here, of course, but the decorated black wall evens it out. It shifts the focus a bit and turns all the other black objects in the room into a cohesive composition. The plants are optional yet add life to the futuristic design that otherwise looks a bit too "clean".
Futuristic Interior Design: Breaking It Down
This visual art style is mostly characterized by perfect geometric shapes and symmetry and heavy use of tech. Sometimes, futuristic interior designs have a cold, overly "sterile" vibe, yet they are incredibly stylish, trendy, and enticing. If you're seeing minimalist décor and lots of unique, forward-thinking solutions in the design, that means you're dealing with a cleverly put-together futuristic interior.
The same is true for surfaces and materials like chrome, acrylic, glass, and metal. Lastly, futurism goes hand in hand with the latest developments in technology, which is why it's often the design style of choice in smart Internet of Things houses. We're talking about doors and windows that open by command, automatic temperature, humidity, air circulation control, and more.
The Best Uses for Futuristic Interior Design
Minimalism, clean lines, and functionality are the cornerstones of futurism when it comes to architecture and design. If your bedroom or home office is chaotic, unorganized, and doesn't make good use of the available space, a futuristic interior design will help fix that. With a little bit of luck, you should be able to turn the place upside down to your benefit.
Order, optimization, and efficient use of every single square foot: that's what you'll get with futurism. Or, if you're mostly happy with the interior design in your room yet would like to spice things up a bit, a futuristic design can be a reasonable choice as well. It's the perfect style for someone that wants to fulfill their childish dreams and turn the home into a hi-tech fortress.
Futurism: When Did It Originate, and Where?
Pioneers in art have always been looking for new ways to express themselves. That's how baroque, impressionism, and symbolism were invented. As for futurism, it emerged in the early 20th century in Italy. Russia also used to have a substantial futurism following. Originally, it was an artistic movement, but slowly evolved into a social statement. Technology, dynamism, and youth were at the heart of this brand-new art form.
Futurists from all across the world came up with a fresh new take on old concepts and ended up inspiring fellow art movements, including Art Deco and Surrealism. The list included painters, sculptors, filmmakers, writers, and, of course, designers. Unfortunately, futurism died in 1944 when Filippo Marinetti, its creator, passed away. But his legacy lives on.

Conclusion
Futuristic interior design hasn't been around for ages: it's a relatively new trend, albeit a rapidly growing one. And it's not always easy to implement hi-tech elements in your average bedroom or living room. That said, compared to some of the more sophisticated forms of interior design like Scandinavian, Eco, and Neo-Classic, futurism doesn't have to be overly complicated or expensive.
As long as the main elements are there and you know exactly what you want to achieve, it's very well possible to manually pull a futuristic interior design off. Just remember to take it slow, consider all the pros and cons, weigh in the estimated cost, and, of course, get motivated by our team's top picks!
Might Also Interest You:
---
Featured Image Credit: Pinkystock, Shutterstock