16 Garden Snail Facts and Statistics in 2023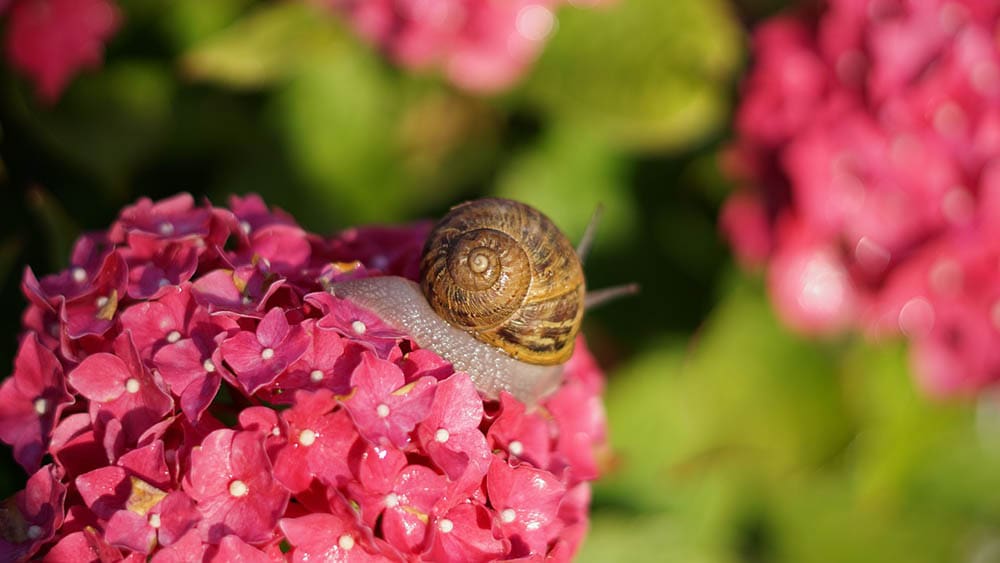 Note: This article's statistics come from third-party sources and do not represent the opinions of this website.
The chances are that if you have a garden, you're quite familiar with these shelled animals. The story of the Common Garden Snail (Cornu aspersum) is a complicated one, starting with its scientific name. Scientists know it by at least three other names. They can agree that this species is part of the class Gastropoda that includes snails and slugs.
As a group, snails inhabit every continent on the planet. They have similar body structures with noticeable shells, feet, and tentacles. Nevertheless, they are a diverse category of animals. Few others have such a broad range of uses relevant to humans. After reading our list of facts, we think that you might view that lowly Garden Snail a bit differently. The stats are grouped into the following categories:

Top 16 Garden Snail Facts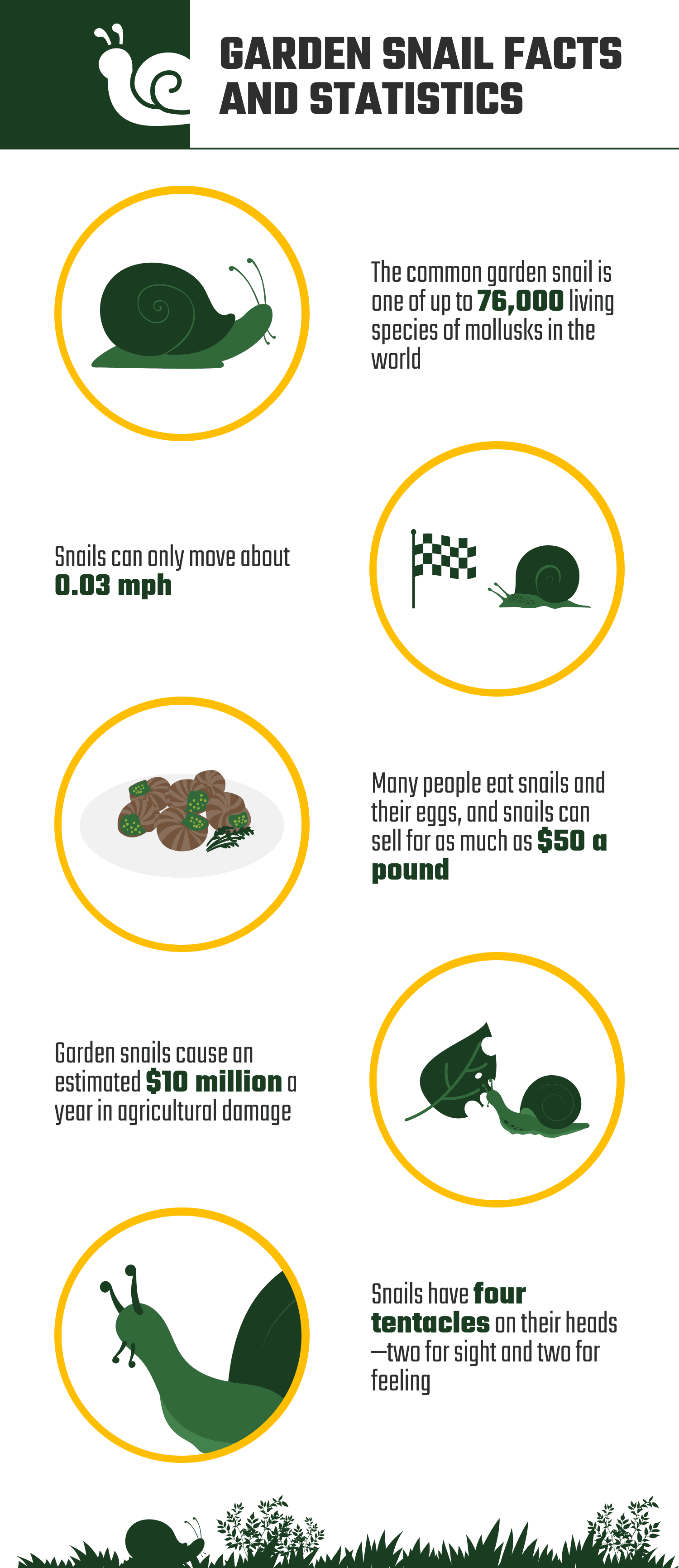 Being a Snail
1.

Garden snails are invertebrates that are part of the Mollusca phylum.
(AZ Animals)
One defining characteristic of gastropods is the absence of a backbone. The fact that snails have a shell puts them into the Mollusca phylum. That group includes many familiar animals, such as mussels, clams, and scallops. Are you sensing a theme with this list?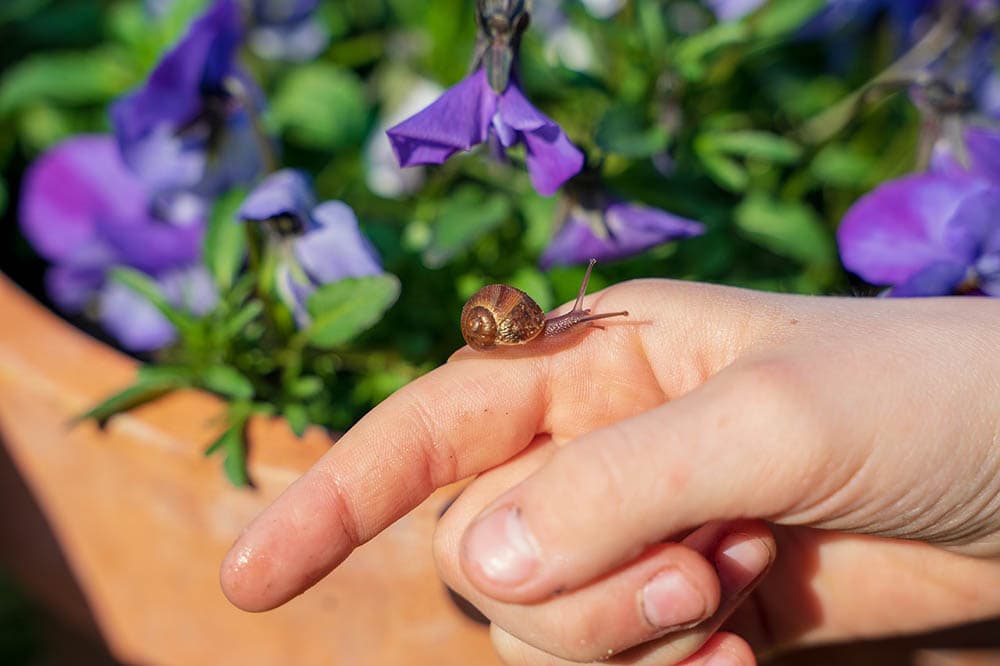 ---
2.

The Common Garden Snail is one of up to 85,000 living species of mollusks in the world.
(LibreTexts)
Identifying and classifying snails is challenging. The remote habitats of some species are formidable obstacles. Estimates for the number of mollusks vary anywhere from 34,000–200,000. Recent scientific evidence puts the figure at 85,000 species. It's safe to say that the Garden Snail is in good company.
---
3.

Snail shells are made of proteins and calcium carbonate.
(ScienceDirect)
The body of the Garden Snail—and all mollusks—is covered by a layer of tissue called a mantle. This structure secretes special proteins, some that mix with calcium carbonate to form their hard shells. The latter is also the material in seashells, eggshells, and pearls.
---
4.

Garden snails are drought-resistant.
(NCBI)
The environment is a source of stress for animals, plants, and humans. An organism's response to its pressures determines whether it'll survive. You'd think that a soft-bodied creature like a snail would have a difficult time during hot spells or droughts. The opposite is true for these resilient gastropods. It turns out that they are quite drought-resistant and may even benefit from climate change.
---
Natural History
5.

Garden snails are not native to the United States.
(Den Garden)
Garden Snails didn't always live in the United States or in your backyard. Their native land is Europe, where they are found across the continent and over to Great Britain and Ireland. They also occur in the Mediterranean. Snails made it across the pond, probably both accidentally and intentionally.
---
6.

Snails can only move about 0.03 mph.
(How To Create)
The word snail entered the English language before 900 AD. Snail-like animals came on the scene during the Cambrian Period about 500 million years ago. Therefore, it's safe to assume that the animal-inspired the word's meaning. You may wonder just how fast a snail's pace is. Thanks to the World Snail Racing Championships, we know that they average 0.03 mph.
---
7.

Garden snails have varying eating habits.
(BioExplorer)
Being an omnivore is a good strategy for an animal. After all, it ensures that you'll always be able to find something to eat. Garden Snails are typically herbivores. That fact will come into play later in this article. However, they will also scavenge on various materials, including worms and even other snails. Suffice to say that they are not fussy eaters.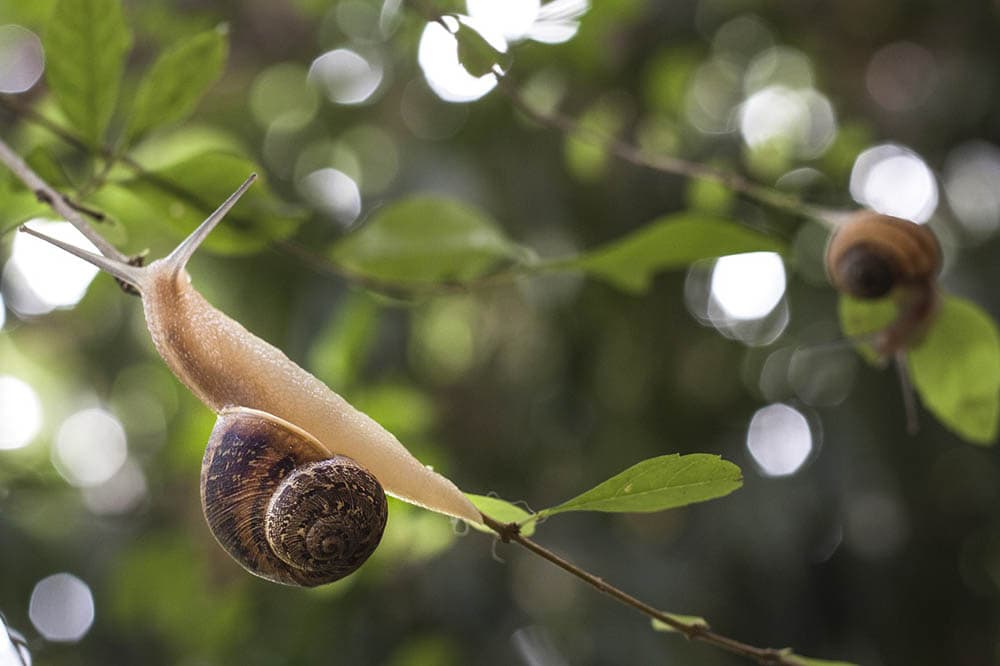 ---
8.

A snail's shell is a permanent fixture.
(AquaHome)
We talked earlier about how a snail's shell forms. The next question you may have is what happens when it grows out of it? The answer is that it doesn't. The shell grows with the creature inside of it. Remember that it's the snail's protection. Going out of it to get into a new one leaves it vulnerable to predation.
---
9.

Snails have four tentacles on their heads.
(The Snail Wrangler)
One of the other characteristic features of snails is the tentacles on their head. They provide vital sensory functions for the animal. Two of them are for seeing, which is appropriate, given their appearance. The other two are for feeling the snail's way around its space. Incidentally, snails can't hear.
---
10.

Garden snails are nocturnal.
(Lisbdnet)
Like many prey species, Garden Snails are nocturnal. It's a vital survival strategy. They are also active after precipitation and on cloudy days when they may have some cover. Otherwise, they spend their days out of sight, quietly munching on whatever they can find.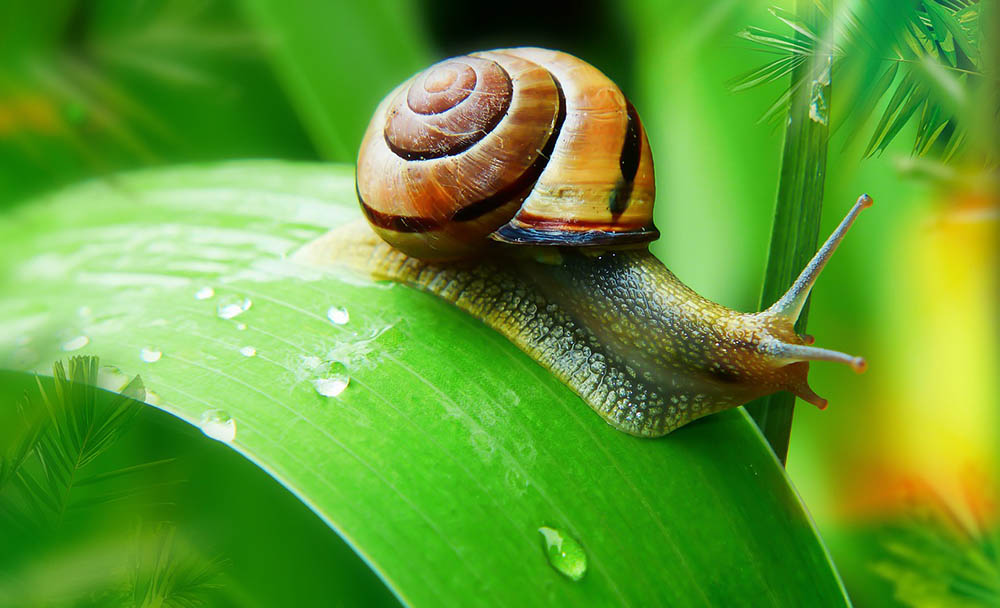 ---
Relationship With Humans
11.

Many people eat snails and their eggs.
(Jebfoods)
You probably know that people eat snails. It's a delicacy and a classic French Christmas dish. What you may not be aware of is that their eggs are cultivated as a plentiful and affordable caviar substitute. While they provide similar amounts of protein and fat, the snail eggs pale on the nutritional front.
---
12.

According to the International Union for Conservation of Nature and Natural Resources (IUCN), the garden snail is a species of least concern.
(IUCN)
It's a safe bet that Garden Snails aren't going away anytime soon. According to the IUCN, their numbers worldwide are stable. Their populations aren't fragmented. You can even go so far as to call them global travelers.
---
13.

Some hobbyists keep snails in their aquariums for algae control.
(Fish Keeping Advice)
Snails in both your garden or aquarium are the proverbial double-edged swords. They eat decaying matter, which can benefit either situation. Some people like to put them in their tanks to keep the algae under control. However, these are not your everyday Garden Snail. They are different species that can tolerate an aquatic environment.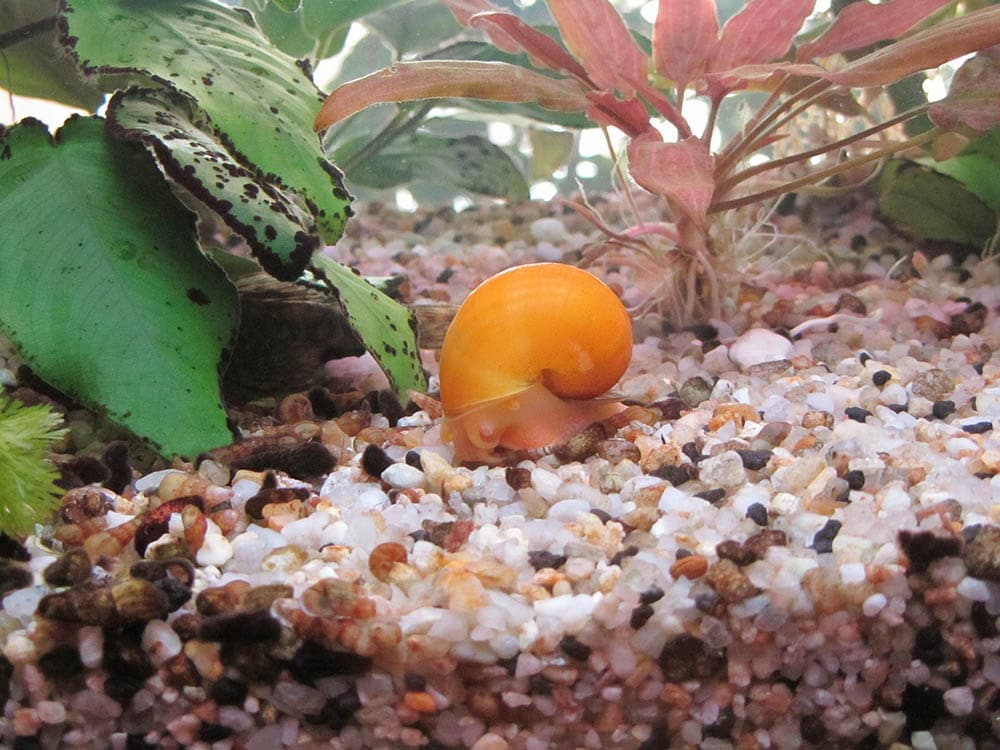 ---
14.

Garden snails may provide chemical compounds to develop new medicines for humans.
(Biomedicines)
We started by saying that Garden Snails are complicated. This fact proves our point. Research has found that snails have antibacterial properties that may provide the basis for new human medicines. The different immune systems of these animals equip them with antibodies and biological mechanisms to survive. Scientists are hopeful to learn how to harness these properties.
---
15.

Garden snails cause significant agricultural damage.
(UC IPM)
While Garden Snails may provide some benefits, they also cause significant crop damage. Unfortunately, few options are available for widespread control. Estimates from California put the cost at up to $10 million a year.  It's not just here in the United States. It's a global problem that involves many snail species.
---
16.

Caffeine and copper are excellent snail repellents.
(Department of Primary Industries and Regional Development)
Of course, prevention is often a less expensive way to control Garden Snails. Fortunately, you have several options. Surprisingly, the caffeine in your used coffee grounds can help with a snail problem. Copper bands on trees will also deter these pests. If repellents don't work, you can use pesticides that target snails and slugs.

Frequently Asked Questions About Garden Snails
Is It True That Beer Kills Snails?
The thinking behind the beer theory is that it will attract the snails and cause them to drown. The key is how you set up your trap. Many recommend a glass dish half filled with beer and planted into the ground. It can also handle slugs in the same way. It's not that the beer is killing them if they ingest it. It is the attractant that leads them to drown in it.
(National Gardening Association)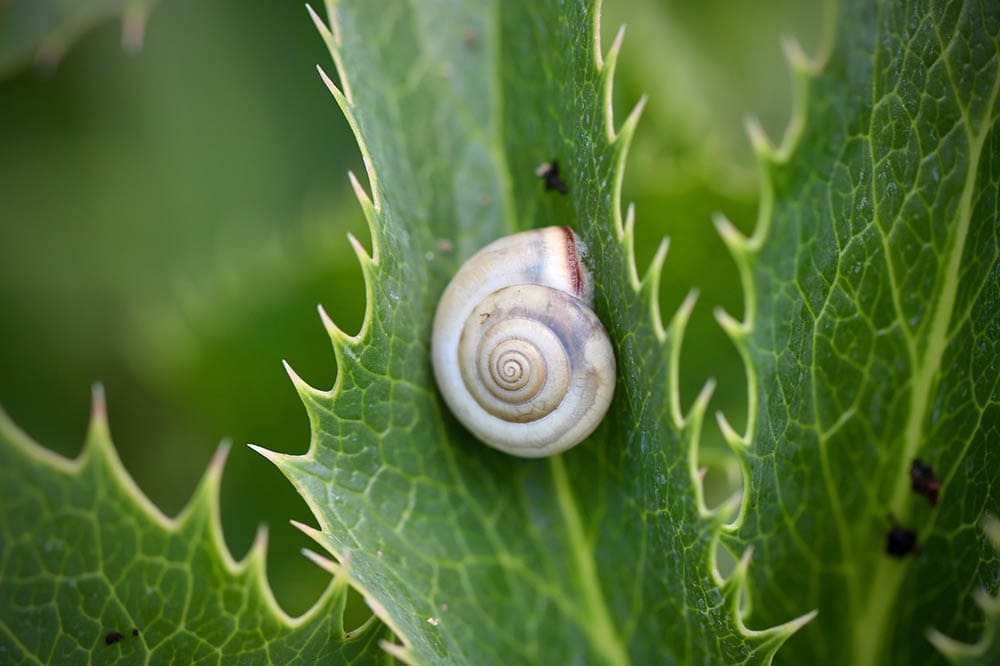 Why Do Snails Leave Slime Trails?
One of the more unpleasant things about snails and slugs is the slime trails they leave. It helps the Garden Snails move by giving them some traction. It also gives them staying power to climb vertical surfaces. The slime also keeps their bodies moist so that they don't dry out if the temperature rises.
(Indiana DNR)
What Are Some Predators of Snails?
Garden Snails have many predators outside of humans. They are a frequent target of birds, rodents, and reptiles. Unfortunately for Garden Snails, they are on the lower rungs of the food chain.
(Carnegie Museum of Natural History)
How do Snails Eat?
Garden Snails have a structure called the radula. It allows them to scrape and tear at their food so that they can ingest it. The invertebrate's weight on the foodstuffs keeps it in place for the snail to feed.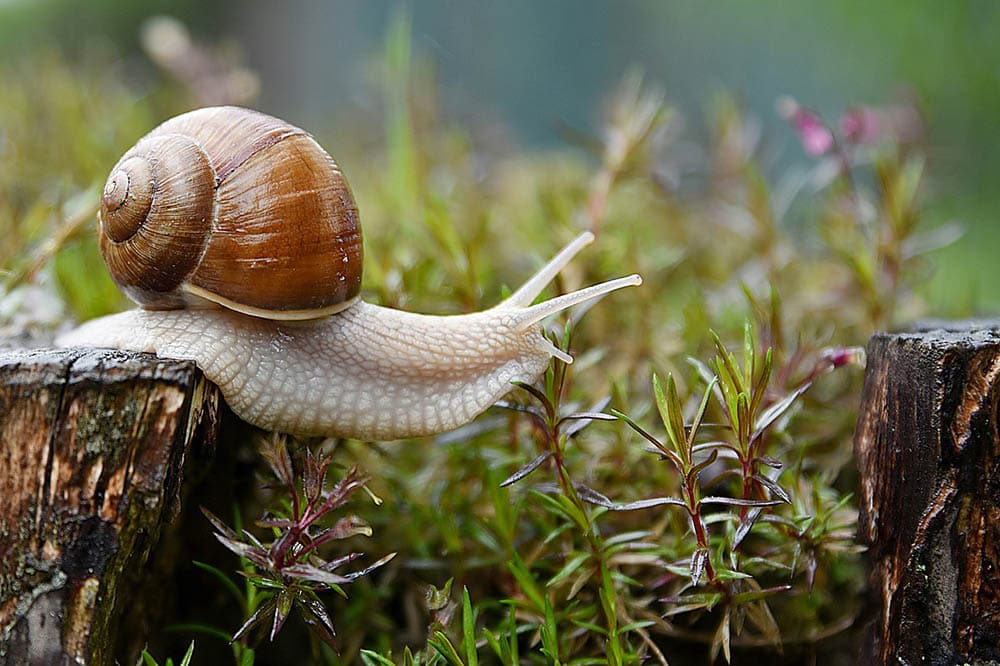 Can a Snail's Slime Hurt You?
While unpleasant, a snail's slime or mucus can't hurt you. After all, snails are edible. However, an exception exists with the illegally introduced Giant African Snail (Lissachatina fulica). The animal can carry a vector for meningitis. Its large size also poses an even greater threat to agriculture than the Garden Snail.
(Pests Banned)

Conclusion
They say that a weed is a misplaced plant. Perhaps we can say the same thing about Garden Snails. If they get rid of rotting vegetation, that's fine. Unfortunately, they often become pests. Luckily, they are easy to control with repellents and traps. You can also remove them manually. For all their good and bad points, these animals are still fascinating creatures with a beneficial role in the environment as prey.
---
Featured Image Credit: Mylene2401, Pixabay