How Much Does It Cost to Mount a TV in 2023?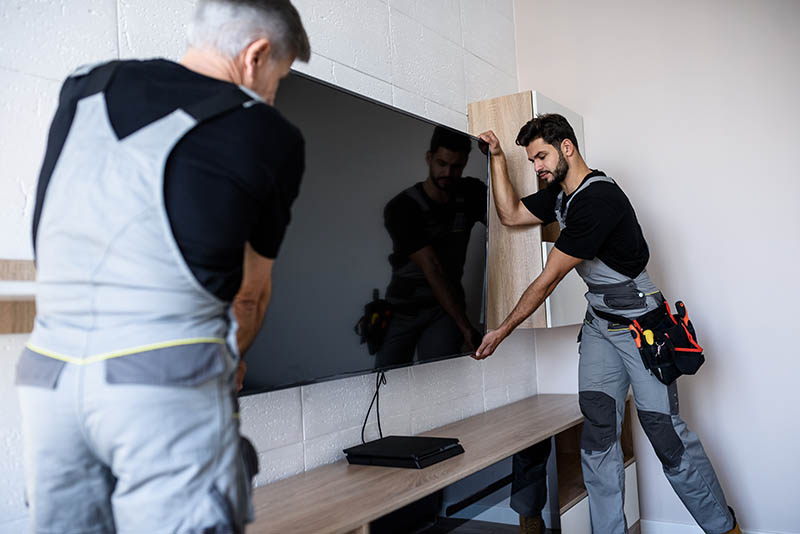 These days, people have more than one TV in the house. And the best way to secure the TV to a wall is to get a mount set. It will come at an affordable price and includes all the necessary hardware. So, how much should you expect to pay for it?
What's the average cost to mount a TV? Do contractors charge a set fee or hourly? Can you do it manually, or not? These are the most popular questions for the average TV fan, and we have all the answers! Join us, and let's go over the current prices, including additional costs, and more!

The Importance of Mounting the TV
There's nothing quite like enjoying your favorite movies/shows on a big TV after a hard day at work. And with a mount/bracket kit, you won't ever have to worry about the TV tipping over. In addition, most brackets are manufactured following strict industry standards. That means they are compatible with a wide range of wall types and don't require any "fine-tuning".
You will, of course, have to pick a different mount depending on how big or heavy the TV is. But, once you find the right kit, it will be 100% worth it. First, TV mounts give room for maneuvers. You can put it as high or as low as you want. Second, they free up precious space in the house. Finally, wall brackets are safe and will be a perfect solution for a minimalistic design. So, how much do they cost? Let's find out!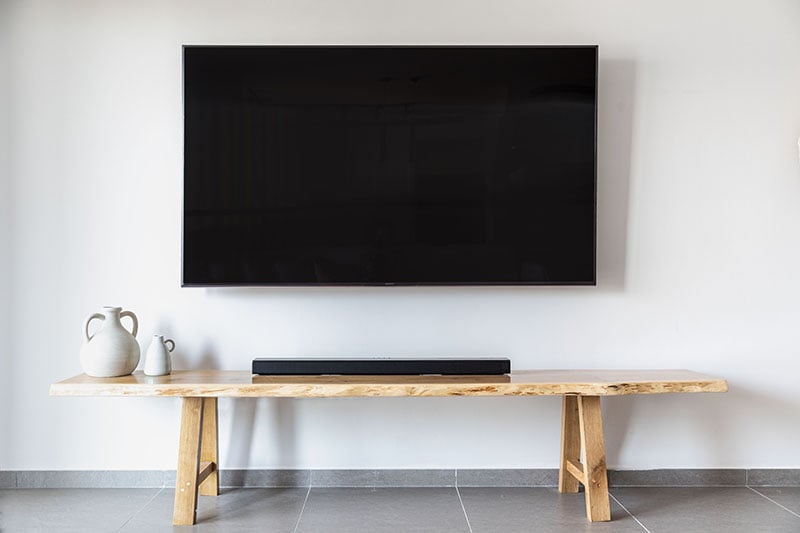 How Much Does TV Wall Mount Installation Cost?
In 2022, the average cost for television wall mount installation is $120–300. Most American households end up paying $200 ($150–600 for the installation and the mounting kit). For that kind of money, you'll get professional installation of 35–40" fixed/tilting wall brackets. The actual price depends on the size and weight of the TV, along with the mount type.
If you want cable management, that will cost extra. High-end installation prices come in at $1,200. We're talking about an in-wall or full-motion mounting gear for a 65–70" TV, a cable covers kit, and more. You won't have to pay nearly as much if it's a small, 25–30" TV, though. Installation technicians from a local store will charge as little as $75 for it.
| | |
| --- | --- |
| The average cost in the US: | $120–300 |
| How much most homeowners pay: | $200 |
| Installation + parts cost: | $150–600 |
| The low-end TV mount cost: | $75–100 |
| The high-end TV mount cost: | $1,200 |
TV Mount Cost by Different Regions
Mounting brackets are available in every corner of the US—there's no shortage of supplies no matter where you live. However, in some states, it will cost you more to buy a mounting kit. This has to do with the location. For example, the Midwest is one of the cheapest regions in the States, while the East and the West Coasts are known as some of the more expensive parts of the country:
| | |
| --- | --- |
| The East Coast: | $150–320 |
| Midwest US: | $120–270 |
| The West Coast: | $130–300 |
TV Mount Cost by TV Size
Unfortunately, there are no universal mounts on the market: you can't buy a random kit and expect it to fit both a 25" and a 70" TV. That's why it's important to know exactly how big your TV is before investing in a mount. And the rule of thumb is, the bigger the television set, the more expensive the mounting gear will be. Here's how much they'll charge you for the gear depending on the size:
| | |
| --- | --- |
| 10–25" TV: | $15–100 |
| 25–35" TV: | $20–180 |
| 35–55" TV:   | $25–270 |
| 55–65" TV: | $35–390 |
| 65–75" TV: | $55–500 |
| 75–90" TV: | $70–770 |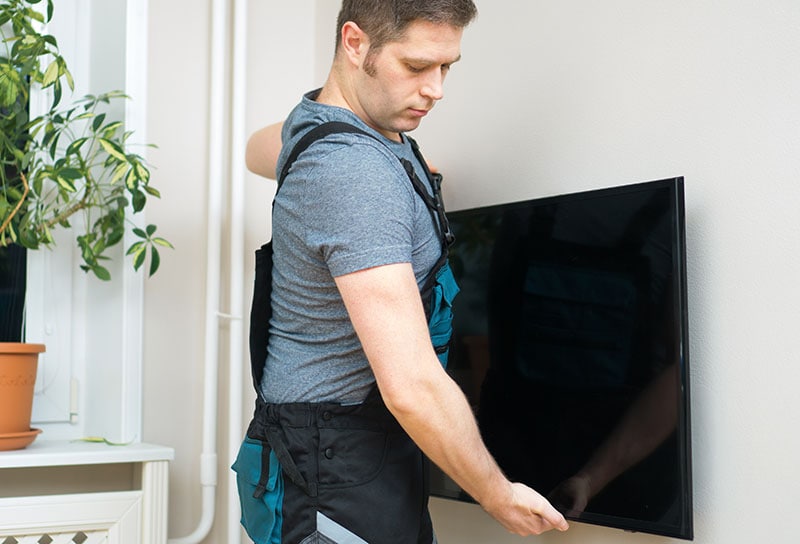 TV Mount Cost by TV Weight
The weight doesn't affect the price nearly as much as the size of the TV. But, it's still a factor, and you will have to pay more to have a big, bulky, and heavy TV set installed. This is true both for the hardware and the labor. Now, most wall mounting gear is designed to handle a wide range of weights. With that said, weight limits are very much important.
That's because the manufacturing company has to invest in high-quality engineering and materials. Otherwise, the mounting gear simply won't be able to hold a gigantic TV.
| | |
| --- | --- |
| 10–30 pounds: | $15–50 |
| 30–45 pounds: | $15–65 |
| 45–60 pounds: | $18–90 |
| 60–75 pounds | $20–100 |
| 75–100 pounds: | $35–280 |
| 100–150 pounds: | $50–400 |
| 150+ pounds:  | $70–480 |
TV Mount Cost by Wall Type
Drywall takes very little effort to penetrate; the same can't be said about concrete or stone. And that's why the cost to install a TV mount will vary greatly depending on the material of the wall. A quick note: all hard surfaces cost pretty much the same as they require a similar set of tools to work with. Make sure to let the contractor/service provider know about the wall type before you get an estimate for the job.
| | |
| --- | --- |
| Drywall: | $80–310 |
| Concrete: | $180–770 |
| Stone: | $200–780 |
| Bricks: | $200–800 |
TV Mount Cost by Mount Type
Fixed and under-cabinet TV mounts are the cheapest options (you can get one for $15). Ultra-thin and over-the-door kits, in turn, are worth $30–300, depending on the size. A tilting TV mount allows for bending the television set at different angles to achieve the best viewing experience. It will set you back $50–300. And if you want to move the TV not only up and down but also to the sides, go with a full-motion kit ($100–500).
| | |
| --- | --- |
| Under-cabinet: | $10–90 |
| Fixed wall mount: | $15–140 |
| Over-the-door: | $20–190 |
| Ultra-thin/low-profile: | $25–300 |
| Tilting mount kit: | $45–300 |
| In-wall TV brackets: | $80–480 |
| Full-motion/swivel set: | $100–500 |
| Ceiling TV mount: | $140–500 |
| Over-the-fireplace:    | $150–520 |
How Much Do Contractors Charge for This?
This greatly depends on the person or company that you hire for the installation. For example, an installation team from an electronic store will request $50–60 for the labor. Handymen change $60–80 per hour or up to $400 for the gig. The hourly rate of an electrician is even higher ($50–110 per hour). On average, the labor cost makes up 30–60% of the total cost.

Additional Costs to Anticipate
Alright, now that we've covered how much TV mounts cost, let's talk about extra expenses. If you want to hang the TV over the fireplace, that will cost up to $700 (for the parts and the labor), as it involves extra work. A new set of cables isn't cheap, either, and will set you back around $100, or even more. Here's a more detailed look at all the additional costs:
| | |
| --- | --- |
| Mounting over the fireplace: | $220–700 |
| Cable management/hiding the cables: | $150–500 |
| A set of HDMI or A/V cables: | $20–230 |
| Motorized TV mount installation: | $150–320 |
| TV outlet installation: | $100–250 |
| TV mount stand: | $150–600 |
| Surround speaker set: | $200–4,000 |
| Wi-Fi adapter installation: | $20–160 |
| Cord/wall shelf: | $25–300 |
Manual Installation Cost. Breaking It Down
Can this be done manually? Absolutely, and, you'll be able to save $50–200. To successfully mount a TV to a wall on your own, you'll need to use a level tool. Otherwise, the TV won't be straight and that will ruin all the fun. Also, make sure that you're screwing the brackets into a stud, not drywall. Now, television sets aren't exactly lightweight.
So, for this to work, ask a friend or family member to help you out. When there's an extra pair of hands, it will be much easier to align the mounting gear with the wall. And one more thing: you'll have to spend at least $100 on the gear. Here's a complete list of the required tools and materials. You probably already have some of this stuff:
| | |
| --- | --- |
| Electric drill + bits: | $75 |
| Phillips screwdriver: | $5–15 |
| Stud finder/scanner: | $10–25 |
| Magnetic level tool: | $10–15 |
| Tape measure (optional): | $5–10 |
| Cord cover (optional): | $20 |
How Long Does TV Mounting Gear Last?
If you picked the correct size and did everything right during the installation, the brackets will last for the life of the TV. Most mounting kits on the market are crafted from reinforced steel. Plus, they go through a series of tough durability and longevity tests. This guarantees that the brackets will be strong enough to secure the TV to the wall without damaging it.
And that's why it's so important to buy a kit that fits not only the size of the television set but also its weight. A quick note: some brands cover their wall mounts with a one-year warranty. However, we would recommend investing in a company that's confident enough to back its product with a 10-year/lifetime guarantee.

Conclusion
Unless you prefer to place the TV on a table or stand, a wall mount is a must. The good news is you won't have to spend all your family savings on it. Entry-level fixed wall mounts can be as cheap as $15–20. Contractors do tend to charge a lot, though, especially if you hire an electrician or a handyman to take care of the installation.
On the bright side, wall mounts last for many years, if not decades. So, you'll only have to pay once! Or, better yet, why not try to do it yourself? If you know how to follow instructions and have the right set of tools, this can be done in 30–60 minutes tops!
---
Featured Image Credit: BAZA Production, Shutterstock