Husqvarna 450 vs Husqvarna 455 (2023 Comparison): Which One's Best?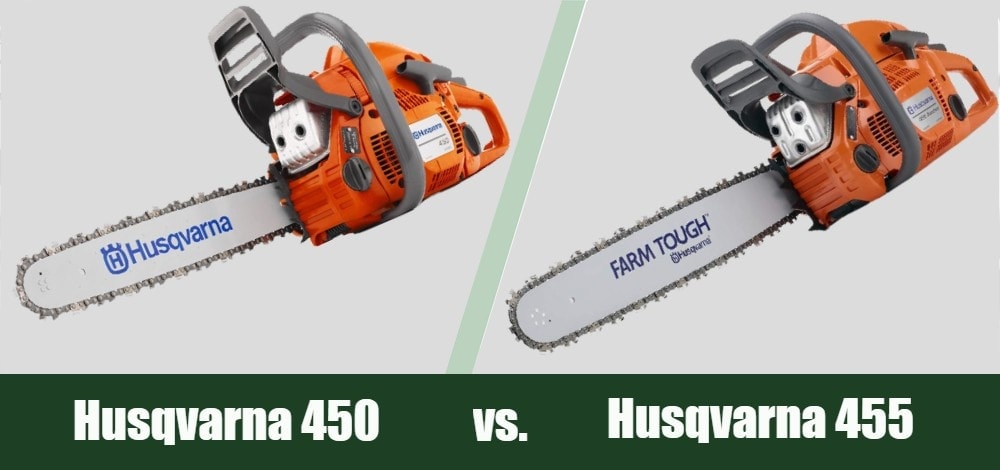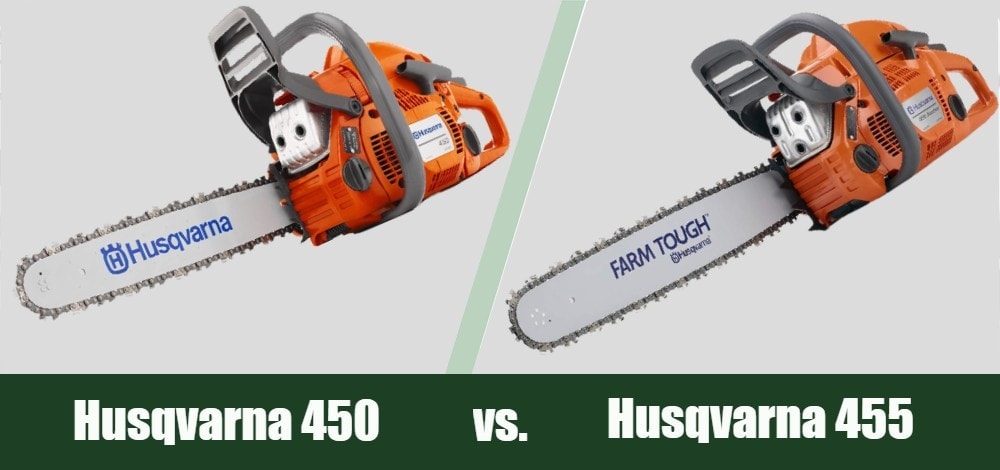 Rating
Image
Product
Details

Best Choice

Husqvarna 450

Great value
Comfortable
Dependable
CHECK PRICE

Most Powerful

Husqvarna 455

Reliable
Powerful
Snap to start
CHECK PRICE
When comparing Husqvarna's 450 and 455 chainsaws, the issue of which is better is a matter of math. It would have been simple to look at power, assuming that everyone needs as much as can be delivered at any cost. Things that might have differentiated these saws if they came from different manufacturers just didn't apply here. Most Husqvarna chainsaws now come with the X-Torq engine and the same basic safety and maintenance features.
We went with the 450. It's noticeably less powerful than the 455, but it had a lower price and weight and a larger fuel tank. The tradeoff of more weight for more power, plus a smaller fuel tank, made us conclude that the 450 is a better chainsaw for most people. Most users won't need the added power, but the difference in price saves the cost of a trip to the grocery store and means fewer knotted muscles over a day of work.
You really can't go wrong with either model. We looked at this from the standpoint of which one will deliver superior service to most homeowners, who might need a chainsaw occasionally, rather than people who'd use it all the time and who would have to deal with a lot of hardwood trees.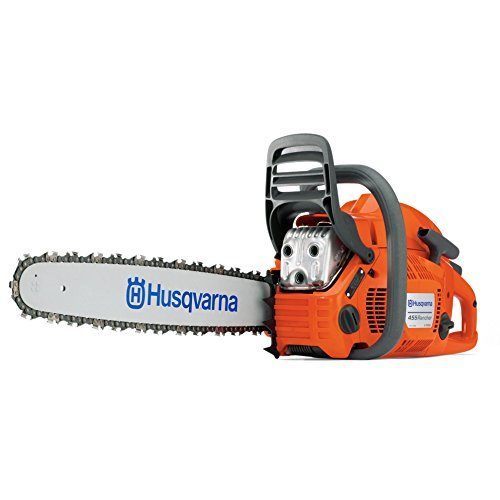 What's the difference between them?
Power
The 455's 55.5 cc engine puts out 3.4 hp of power, while the 450's 50.2 cc engine can crank out 3.2 hp. It's not a lot of difference if you're just chewing up a handful of palm or pine trees the morning after a storm. If you've got a dead oak tree to convert into winter firewood, however, that difference is enough to be noticeable if your chains are of equal sharpness. A dull chain will always surpass the differences in engine power.
Price
This boils down to a matter of numbers. The 450 is less expensive than the 455. It's less expensive enough that if you're on a budget, it delivers a superior value. The 455 has a more powerful engine, but the difference in performance is such that the kind of work you can do won't change significantly if you're forced to spend a little less. The 450 isn't just more affordable; it also gives you more bang for the buck.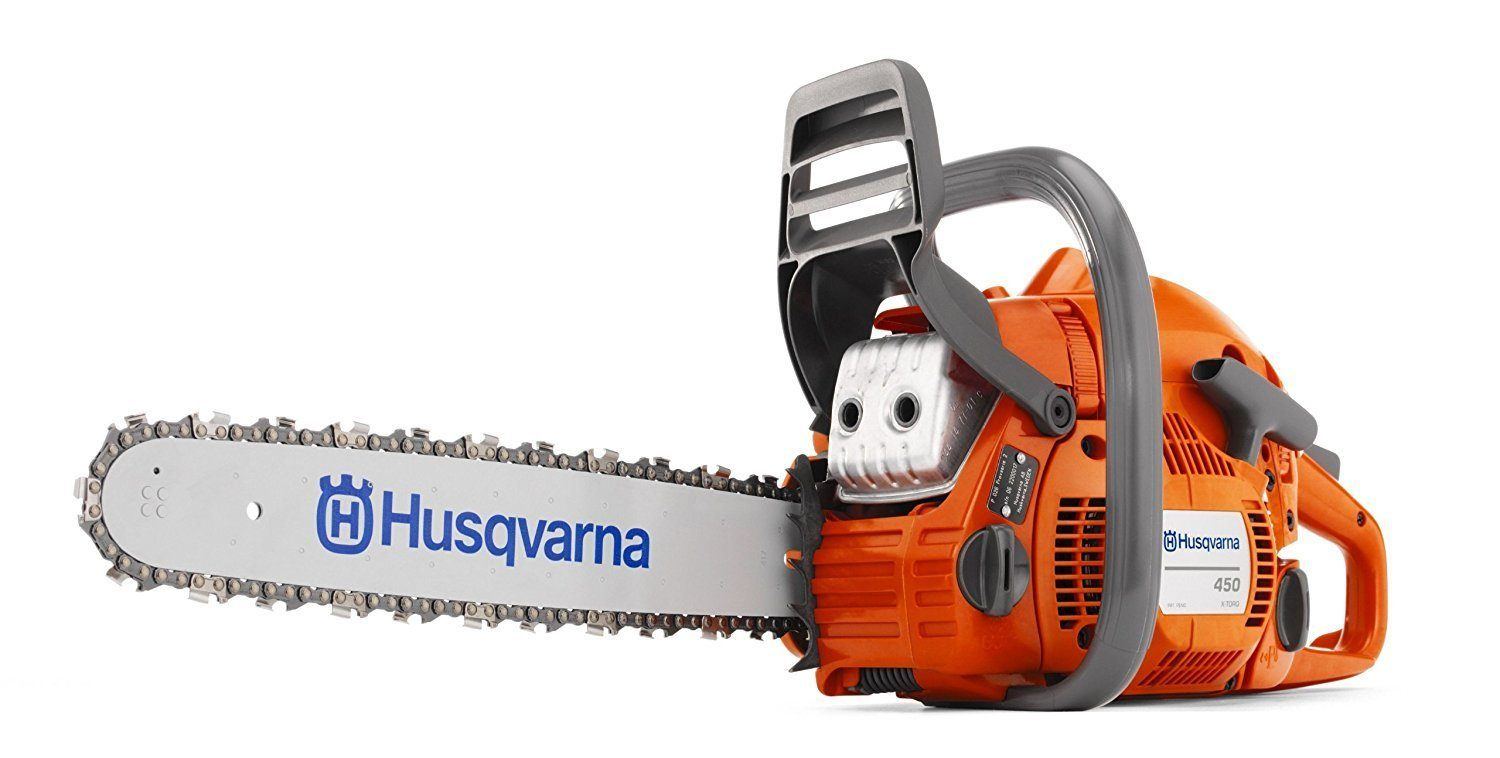 Comfort
The 455's powerhead is about a pound-and-a-half heavier than the 450: 12.6 pounds compared to 11.24. That's pretty negligible at the start of the day. At the end of it, Husqvarna's comfort features notwithstanding, you're apt to feel all of it. Based on weight and how that might affect performance, especially for people with limited upper body strength or smaller frame size, the 450 gets a slight nod here.
Both saws have features that reduce vibrations to minimize wear and tear on the operator's wrists. Both are ergonomically designed to promote more comfortable all-day usage. They also distribute their weights equitably so that neither is appreciably more comfortable than the other right out of the box. When compared based on overall weight, the nod goes to the 450 because it weighs less.
Fuel usage
At 0.9 pints, the 450 has a slightly larger fuel tank than the 455's 0.75 pints. Both chainsaws also come equipped with Husqvarna's X-Torq engine, which maximizes fuel usage. That means you can work longer with the 450 than you can with the 455 before you have to refuel.
Quick Rundown of Husqvarna 450
Husqvarna's 450 is a great all-around chainsaw. It's dependable, runs like a Swiss watch, and can do any job you toss at it. It pushes out enough power that professionals might like to add it to their inventories while still being attractive as the one saw that homeowners place at the center of their collections. The only hitch is that sometimes it can be a problem to get started. There are very good reasons why this is one of Husqvarna's most popular chainsaw models.
Pros
Dependable
Comfortable
Great value
Cons
Doesn't always want to start
Quick Rundown of Husqvarna 455
The Husqvarna 455 is a slightly more powerful cousin of the company's workhorse 450 model. It can chew up hardwood a little more easily because of it. It's designed to operate in the gray area between heavy home use and professional grade. It's also a little heavier and a little more expensive, and the gas tank is slightly smaller. If you need the muscle, it's a solid choice. If you don't, you should go with the less expensive model.
Pros
Powerful
Comfortable
Reliable
Snap to start
Cons
Heavier
Pricier
Smaller fuel tank
Conclusion
Based on what most homeowners need from a chainsaw, our nod goes to the Husqvarna 450. Both models are great chainsaws, and most people would be happy with either. Both come with Husqvarna's basic suite of features for fuel efficiency, emissions reductions, safe operation, and comfort. We preferred the 450 over the 455 for a couple of reasons.
While the 455 has a little more power, that extra power means a markup in sticker price, such that the 450 is a better value. The 450 is also a little lighter and has a slightly larger fuel tank, so users can keep at it longer between refueling breaks. That means less time at work. Due to these factors, we think most people will find the 450 a better chainsaw than the 455.
Related Reads: